As a product of Chicago and the daytime television it pumped out throughout the 1980s and 1990s — from Phil Donahue to Jenny Jones to Jerry Springer to the mighty Oprah herself — much of my frame of reference came from what flickered from my parents' TV during those late-morning, mid-afternoon hours. This, of course, immediately requires a "for-better-or-worse" caveat, because each of those programs (even Oprah at the start) and its NYC-based brethren were basically freak shows with the convenient patina of some sort of news program — a study in spectacle and exploitation as opposed to legitimate human interest.
And yet, the story of David Rothenberg (aka Dave Dave) — for all its inherent exploitative, freak-show qualities, which daytime TV naturally milked for everything they were worth — somehow transcended the genre, sticking with me forever as one of the most tragic things I'd ever heard. Here was a 6-year-old kid who was abducted by his father, flown to California under the false pretense of going to Disneyland and then burned alive in an Orange County hotel room.
Somehow, Dave Dave lived. (As an adult he ditched his given last name, the "Rothenberg" designation another painful reminder of his father.) His burns, however, were unimaginable. And so, back to daytime TV: Given Dave Dave's condition and his story, Donahue et al happily trotted him out for the viewing public. But again, this 6-year-old somehow remained untainted by it all. In particular, I remember being amazed by his grace and perspective. In that way, the miracle wasn't just that he had lived, but that he had such a remarkable outlook on life.
That's why, of all the great work we did here at MEL this year, Zaron Burnett III's elegy for Dave Dave, who died in Vegas in July at the age of 42, stands above the rest for me. Like the Dave Dave TV appearances of my youth, Zaron somehow balanced horror with hopefulness, even humanizing Michael Jackson in ways that, Capturing the Friedmans–style, helped explain the repugnant acts that forever stain his legacy. (The King of Pop and Dave Dave were longtime friends; per Zaron: "Their stories were actually remarkably similar. Both of them had abusive fathers. Both of them had famously caught fire. Both of them knew the pain of plastic surgery. Both of them were child stars in a world that feeds on innocence.")
Seeing how Dave Dave lived out the rest of his years — as a renowned artist, as someone who never felt sorry for himself, as an example of how even unspeakable evil can be overcome — should forever be a gut check against the seemingly insurmountable bullshit we too easily let bring us down.
In other words, after you finish reading the rest of the MEL staff's favorite pieces from 2018, immediately go check out Zaron's "The Boy That Fire Couldn't Destroy: The Life and Death of Dave Dave." You will be hard pressed to find anything else on the site — or the internet for that matter — so affecting. — Josh Schollmeyer, Founder / Editor-in-Chief
* * * * *
I enjoyed reading this Miles Klee takedown of shitty Rick and Morty true believers more than anything else this year. Not only because I have sometimes fallen prey to the kinds of thinking and behavior Klee masterfully excoriates; and not only because "fandom" in 2018 — whether it's of Jordan Peterson, Rick and Morty or even Ariana Grande, for chrissake — is almost an across-the-board negative and hateful experience for all involved, and thus deserves all the shit Miles gives it. But also because he's just so damn right. — Jeff Gross, Audience Development
Hussein Kesvani's feature-length investigation unravels the story of Priya, a woman in Calcutta who fell in love with an ISIS soldier named Hamza online. This one relationship acts as a way of looking at the larger phenomenon of "jihadi dreamboats" in which ISIS would trot out its attractive, young soldiers in order to recruit Western brides. Between 2013 and 2015, hundreds of Western women made the trek to Syria after being groomed online, though many were captured in refugee camps on the Turkish border. Priya never travelled to meet Hamz — he disappeared before she every really grappled with it. But the central tension of her story remains: Was Hamza merely an ISIS plant or the attractive, conflicted fighter Priya so desperately believed him to be?  
I'm most impressed with the reporting behind this piece. Kesvani first came across Priya over a year ago when he was working on a different story about British ISIS fighters. Deep in the ISIS community on Twitter, he saw that she was asking where a fighter named Hamza was, and if anyone knew anything about him. Looking closer, he found that her social media profiles were littered with pictures of him and deep proclamations of love. Drawing on these — and her intense desire to find out what happened to Hamza — Hussein was able to build a relationship with Priya and convince her to tell her story. He mined through old chat logs, Instagram posts, encrypted messages and verified information obtained in Russian. There were also security risks regarding protecting confidential sources at a time when the British government had seized laptops and usb drives of reporters working on stories about terrorism.
Bravo! —Alana Hope Levinson, Deputy Editor
This piece holds a special place in my heart because Tumblr (RIP) held a special place in my heart. I've used it as an archive for my weirdness for about five years, so to see it go was genuinely heartbreaking. I mean honestly, look at this: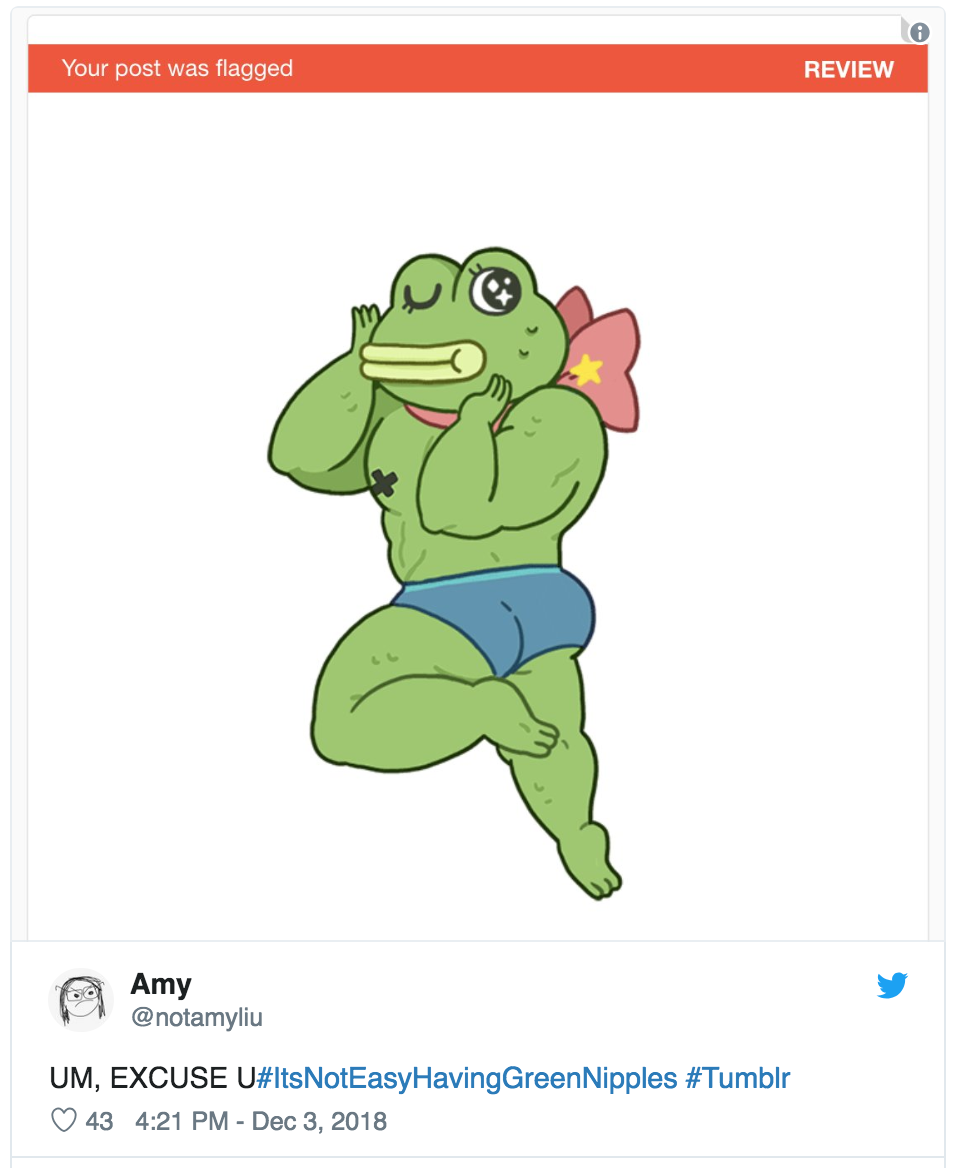 *weeps* —Erin Taj, Art Director
I usually start my day by having Miles Klee teach me about the bizarre internet thing he's covering. On this special day, Miles and I spent most of the afternoon laughing and giggling while we sent each other links to Pornhub videos on work slack — e.g., this amazing video, "SHREK'S DANK KUSH":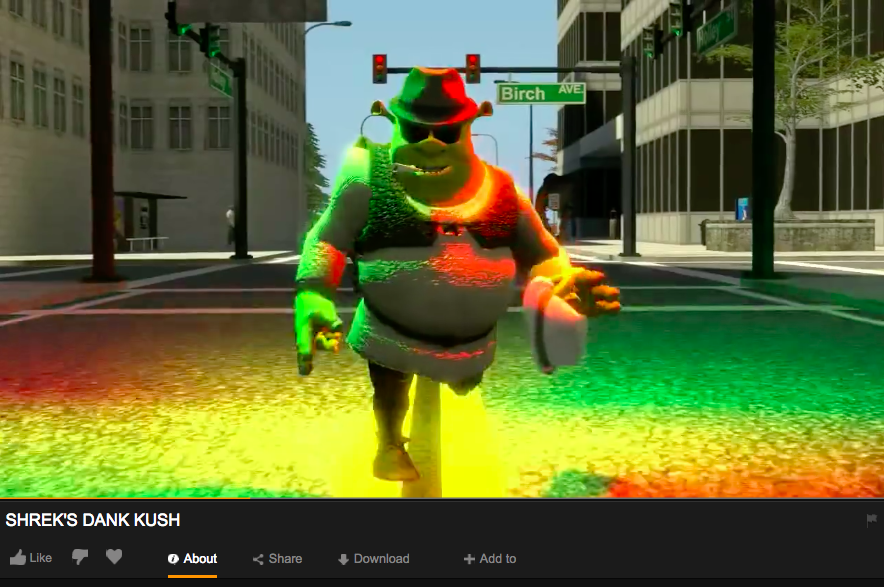 I won't spoil it for you; just please promise me you'll make it the basis of your new religion. — Sam Dworkin, Senior Designer
I loved Quinn Myers' piece on "vooping," or vaping while you shit. Yes, I'm a "vaper," but no, I will no longer be taking my vape with me into the bathroom. Now that I know the amount of poop particles I'm inhaling, any satisfaction from the act is gone. Thanks for the useful knowledge, Quinn.  — Bryan Jones, Staff Designer
My favorite story of 2018 is C. Brian Smith's meditation on a sex doll brothel in Toronto. It's not because the subject itself is interesting, though it is: The idea of a brothel for sex dolls needs no pitch. It's not because it's important. It's that, too. That we've come to the point as a society where we need not just sex dolls but gathering places to fuck them is an intersection of sex, technology and masculinity that demands investigation. It's my favorite because it does what's so difficult to do with stories that are already so lurid and appealing they practically write themselves: It manages to balance a personal experience with important social context. It manages to restrain itself, not blowing its load on voyeuristic word count when it could get away with it. And it manages to understand what it means not just for the kind of men who want or need this sort of sexual interaction, but for women who live and exist in the world as mostly objects in a sexual chess game.
It's a perfectly calibrated snapshot that blends the personal impersonal, the moment and the zoom-out, the meaning and the absurdity, all in a read so fast the words never get in the way. — Tracy Moore, Staff Writer
In a year of nonstop horror, a single ray of hope cut through: Tracy Moore's joyous and scientifically supported announcement that the fabled "summer penis" is real. Bigger, better erections abound in warmer weather, the result of "a temporary dick fluctuation" that helps to explain why Hawaii and hot tubs are ideal for horndogs.
I love this story for teaching me something actually pleasant about my own anatomy (a virtually unprecedented event) and seizing the truth of what might have remained an urban legend or private confusion for decades to come. All this time, dudes were asking themselves, "Am I crazy, or is my junk a little beefier in July?" — and now, at last, they are gifted with the confidence to know that it is.
Tracy even managed what I consider the highest honor in media: getting her piece picked up by a trashy British tabloid that linked back to her report. I eagerly await a follow-up feature that answers the most haunting question she posed: "How many women have had summer flings with a man with summer penis and then went on with their lives, remembering a much bigger dick than was really there?"
You know, I might just hibernate until spring this year.  — Miles Klee, Staff Writer      
From the beginning, MEL has been at its best when its writers are curious and self-examining, questioning their biases while trying to learn more about a particular (and often misunderstood) subject. So I loved reading Miles Klee's first-person piece about being poly, which expanded into an investigation regarding whether the polyamorous are persecuted in our society. There are no easy answers or pat conclusions in Miles' story — just a lot of conversation with his fellow polys that's as revealing to him as it was to me. — Tim Grierson, Contributing Editor  
"We called ourselves 'rats' — a mafia of high school cheaters with various ranks, responsibilities and expertise. Our operation infiltrated every subject, from precalculus and physics to Spanish and statistics." From the moment I read the opening lines of Andrew Fiouzi's confessional look at high school cheating rings, I knew I needed it to be made into a movie immediately — ideally some bastard cross between Brick and Fast Times at Ridgemont High. I can see the opening credits perfectly in my head: It's essentially the first 10 minutes of Goodfellas, only with Ray Liotta's nasal drawl replaced by a dorky teenage lateral lisp. This needs to happen. Please, Hollywood? — Nick Leftley, Senior Editor
What better way to spend 10 minutes than by learning that Mozart — the man behind some of the "classiest" tunes ever — was super into butt stuff. At the end of the day, this article just goes to show that the world's ridiculous, everyone's wacky and nothing is as it seems. What's not to love? — Ian Lecklitner, Staff Writer
I've been in the back of a lot of drug dealers' cars, which Hussein Kesvani transported me right back to in the lede of this bizarre profile. But these guys weren't moving white powder in little baggies; rather, they were pushing blue pills in see-through plastic bags. Far out. I've always been intrigued by the ease with which one could get their hands on codeine in the U.K., so it didn't surprise me that the British government made Viagra available for purchase without a so much as a doctor's note. Still, Hussein has an enviable talent for tracking down shady sources, and he didn't disappoint here, wrangling dudes making a killing from British men's reluctance to show their faces when buying legal boner pills. — C. Brian Smith, Staff Writer
I genuinely thought someone was fucking with us when this piece was published. Like seriously, what the fuck? I couldn't believe there were people in the world who were willing to fight through cramping, muscle pain and general uneasiness to avoid drinking the most tasteless of fluids. Then, while on a fellowship in Albany, New York, I met a woman who said she hated water, too, and that she'd only drink it if she desperately had to.
Instead, her all-too-real daily liquidation largely consists of black coffee, Coke, wine and spirits. This also comes at a time when the famous hypebeast fashion designer Virgil Abloh is teaming up with Evian to produce DESIGNER-BRANDED WATER. I predict then that 2019 is going to be the year when water becomes a lifestyle, and the internet will be defined by a generation of "hydrated influencers" on TikTok. — Hussein Kesvani, Contributing Writer
I had no idea my colleague C. Brian Smith, a 40-year-old man, was going trick-or-treating for a story until his travails were already published. My first thought: That's a cool, nifty idea. Then I read the story and realized that this fearless gonzo journalist went trick-or-treating as a 40-year-old man, unironically, and without telling the people he'd go on to meet that he was, in fact, a writer dressed up as a cluster of grapes for a story.
Not only did he check with the LAPD to make sure trick-or-treating as an adult wouldn't accidentally lead to his name being added to the sex offender registry, but he continued to engage with other adults even after the guy behind the first door he knocked on threatened to pop his purple balloons. I mean, sure, this is the same guy who went to a sex doll brothel and tried to fuck an inanimate plastic doll, but Halloweening as an adult? That takes some serious balls. — Andrew Fiouzi, Staff Writer
I loved Magdalene Taylor's story about how a store called "Cig World" in the Valley became a destination for celebrities interested in procuring rare sugar-y cereals and beverages. I live pretty close to Cig World, and have seen it a thousand times without having a clue about what actually happens inside.
I particularly enjoy how the piece reads as a series of scenes in the store, featuring characters such as Offset, Murda Beatz and even Pimp C (in the form of a vending machine). It feels like a musical Clerks and documents a juicy intersection between suburbia and celebrity. It also taught me about the existence of Peach Sunkist and Peach Minute Maid, a considerable discovery in a beverage-lover's world. — Tierney Finster, Contributing Writer
There's an anecdote in this MEL classic that's haunted me for months now. Amanda Mull writes of an elite collegiate rower who, in the shower, "exfoliates" his face with the "thick, rough calluses" on his hands, raking his poor punim with cheese-grater palms.
My jaw dropped when I read it. I was about to turn 30; I wasn't unlike these guys, a clueless troglodyte about my own skin care. I spent my entire teen- and adulthood washing my face and body with the cheapest bar soap I could find at the drugstore. I refused to indulge myself! Why? Did I think it was less than manly? And who the fuck cares? My wife has always kindly offered me things like under-eye cream — I clearly need it — and once I finally did, I loved it.
Today, my routine is far from Patrick Bateman's, but I have a humble collection in my bathroom mirror, and regardless of what these creams actually do, using them makes me feel like a prince.
I should mention that Mull's piece is doubly meaningful for me. When I read it, I thought, "Wow, I really, really want to work at this weird-ass men's site." Now I have soft, tingly cheeks and a new job. — Cooper Fleishman, New York Bureau Chief
Also a professional demarcation point, this piece marks the first time I became a part of MEL. C. Brian Smith uses his longtime penchant for trying to fuck guys he meets on Craigslist as a lens through which to analyze men's sexuality and internet culture, while also functioning as a kind of coming-of-age, coming-out narrative. Now that I've been at MEL for about six months — and get to witness the absurd, fascinating work that Smith and the rest of my co-workers do every day — this story serves as a reminder of how lucky I am. — Magdalene Taylor, Editorial Assistant
I laughed so hard and then facepalmed just as long at Maddie Holden's epic depiction of how dumb and narcissistic the average guy can be on a first date. I knew the stories would have funny and horrible details, like the dude who mansplained how to eat pho to a Vietnamese woman. But it also painted such a heinous picture of why and how men fail so spectacularly at times to communicate with women. What does it say about us that we can have a one-sided conversation and walk away thinking it was a good date? What does it say about the people who taught us to fall in love? — Eddie Kim, Staff Writer
Alana Levinson's article on the concept of changing names in your phone contacts to give context to romantic interactions summed up dating in the digital age for me. Being extremely interested in the human condition, its concept and details fully explain the love-hate relationship I have with other people romantically. Because I, too, have a contact in my phone under such a name — in my case, "Will Probably Slash My Tires." But do I delete and block that contact? Of course not, because no matter how much I know she's not good for me, I love the attention.
So yes, I will continue to rename contacts in my phone — from "DNA" (Do Not Answer) to "Stage 5 Baby" (Stage 5 Clinger). Because no matter my experience, logic or common sense, I want the option of ruining my life one text message at a time. It does feel good, though, to know that I'm not alone. — Ernest Crosby III, Video Editor