For such a public-facing entrepreneur, there are a lot of videos of Brian Sloan getting blow jobs on the internet. The first appeared in the late 2000s, when he was advertising the initial iteration of his invention: the Autoblow, now the world's most famous blow-job machine. According to Playboy, the clip features Sloan, head out-of-frame, demonstrating how the Autoblow works, eventually orgasming as the video's techno soundtrack continues to blare. In later, slightly more SFW clips, Sloan receives a pixelated machine blow job in his car, gets "caught" by his "now ex-girlfriend" using the Autoblow in bed and, on one occasion, gets a seemingly real blow job while advertising the 3Fap, Autoblow's three-holes-in-one stroker.
Say what you want about Sloan, but he's certainly a man who knows how to sell his, er, product.
And sold it has — more than 450,000 Autoblows have been whisked off their online shelves since the device's second iteration, aptly called the Autoblow 2, was crowdfunded into existence in 2014. The machine is fairly simple: It's a hands-free, rechargeable device, with a silicone "mouth sleeve" that you stick your dick into (you can also get a vagina or an ass sleeve). When you switch it on, the sleeve moves up and down on your penis, applying pressure as it goes. Once you cum, you just remove the sleeve from the machine, rinse and repeat.
If you think that sounds like everything you want from a sex toy, think again. In 2019, Sloan upped his and the sex industry's game by designing the Autoblow A.I. (also crowdfunded) — a revolutionary device that offers 10 different types of blow jobs, each realistically mimicking the movements of a real-life BJ. And, if you want something different every time — just like in real sexual encounters — there's even a mode that uses machine learning to never give the same blow job twice. According to Sloan, it's one of the first adult devices ever to incorporate artificial intelligence.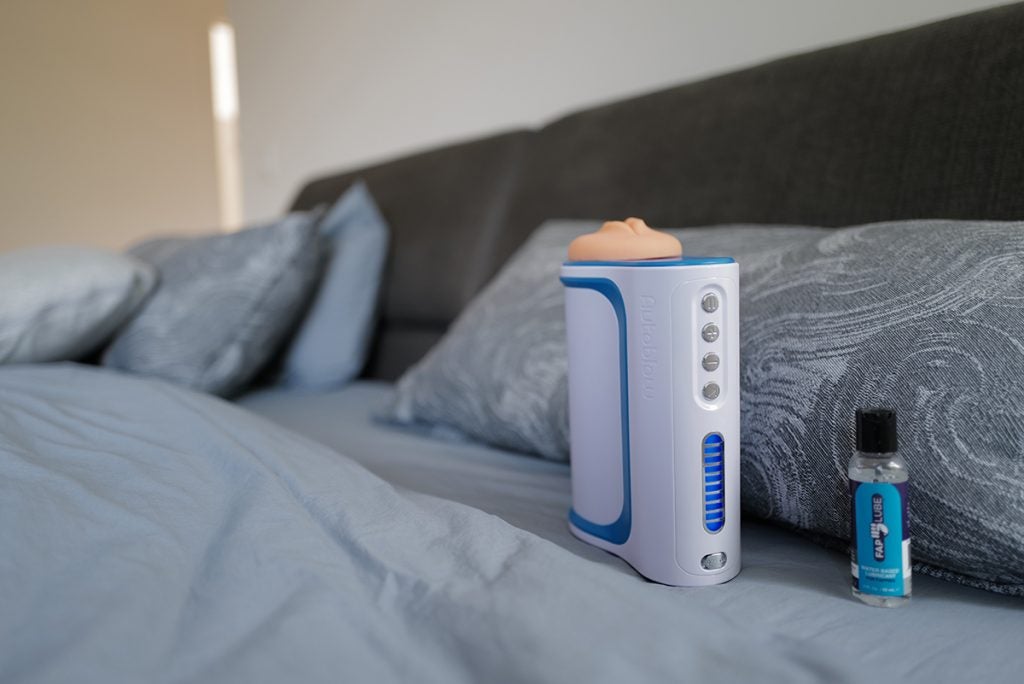 None of this innovation would have been possible without the unprecedented viral success of Sloan's crowdfund campaign for the Autoblow 2, which, he believes, was related to the fact that he starred in the pitch video instead of a porn star: "At that time, there hadn't been an adult company founder who also acted as the public face of the company." But, of course, it wasn't just about Sloan's irreverent charm — the product literally blows its competitors out of the water. "All automated products for men prior to the Autoblow 2 were really just novelties," Sloan continues. "I decided to build one to the quality level of a kitchen appliance and, from the reaction of the now 300,000 plus men who've purchased one, it's something they were waiting for."
Just how much were they waiting? When the machine went on sale, the scores of horny guys waiting to get their hands (and dicks) on it ended up crashing the Autoblow site.
It makes sense why — the Autoblow 2 does boast a number of features other toys are lacking. For example, "an all-metal industrial-strength motor commonly used in remote-controlled curtains, a three-size removable sleeve system so that men of different penis girths could experience the same level of sensation and a spring-loaded stroking mechanism that has a better grip to cause more stimulation to the penis than any previous automated stroker."
The Autoblow A.I. takes all of this a step further, too. "The new stroking mechanism and silicone sleeve more accurately replicate the gliding and sliding action that occurs during a real blow job," Sloan explains. "Our machine-learning study of the actions that occur during blow jobs informed the Autoblow A.I.'s movements, so that it acts more like a human and less like a machine."
To achieve this, a group of six lucky researchers analyzed over 100 hours of human blow job videos (according to VICE, they weren't experts, just friends of someone named Dalibor Copic, who works for Sloan's marketing company Very Intelligent E-Commerce Inc). When studying the videos, the "researchers" mimicked the action of the blow job they were watching by moving a cartoon head on a dick via a moveable slider — the head was allegedly known as "Sliderman." They then passed their findings onto machine-learning engineers, who then created the model for the Autoblow.
Sloan told VICE that his pitch was rejected by seven companies, before one finally said yes — even then, the scientists involved did the work anonymously, for fear of being dropped by their other clients. The whole process took three years, and the result — the aptly named "Blowjob Paper" — cost $30,000.
Still, despite all this research, whether there's such a thing as a "perfect" blow job is up for debate. But Sloan says there are two main categories of feeling to consider when designing optimum oral — physical and psychological. For Sloan, the physical portion was easy to crack: The paper identified the aforementioned "sliding and gliding" action as feeling good, hence the Autoblow's moving and gripping mechanism. The psychological aspect came later, when he designed the Autoblow A.I. "We didn't just tell an engineer to 'give us 10 modes,' which is what everyone else does — we put real effort into figuring out what people do in real life, and then programmed our device to do that," he explains.
Sloan wanted to design the machine to be as close to real-life as possible — even convincing the user that he's experiencing an actual, unpredictable, human blow job. "One thing we found in our study is that real-life blow jobs include pauses," he continues. "So we implemented [them into the device]. These pauses bring in the human element, and our customers find that the pauses assist them in building up to bigger and better orgasms."
Before he was the world's most famous robot blow-job expert — quite the title to hold — Sloan was a regular guy in a regular job. When he thinks about the career he almost had, he's reminded of a 1962 song by folk singer Malvina Reynolds, called "Little Boxes." It goes: "All the people in the houses / All went to university / Where they were put in boxes / And they came out all the same." Sloan's little box was in law, which he studied at Penn State after already graduating with degrees in philosophy and political science from the University of Missouri. "I just felt a deep fear that I would end up unhappy, utterly boxed-in and stuck," he reflects. "The whole thing freaked me out."
Although diverting from his rigidly mapped-out future to create the Autoblow took a little time, it was a decision that came easy to Sloan. "My key takeaway from law school was that working as a lawyer would be a complete waste of my abilities," he tells me, describing himself as "a creative person who thinks differently." But unlike his law degree — which solely taught him not to trust lawyers — Sloan's philosophical studies had a huge impact on his approach to entrepreneurship. "To attempt to understand philosophical writings is to force yourself to think as the philosopher thought," he says. "In hindsight, that's not unlike putting myself in the shoes of a man who wants to make masturbation feel better, and, crucially, more like sex with another person."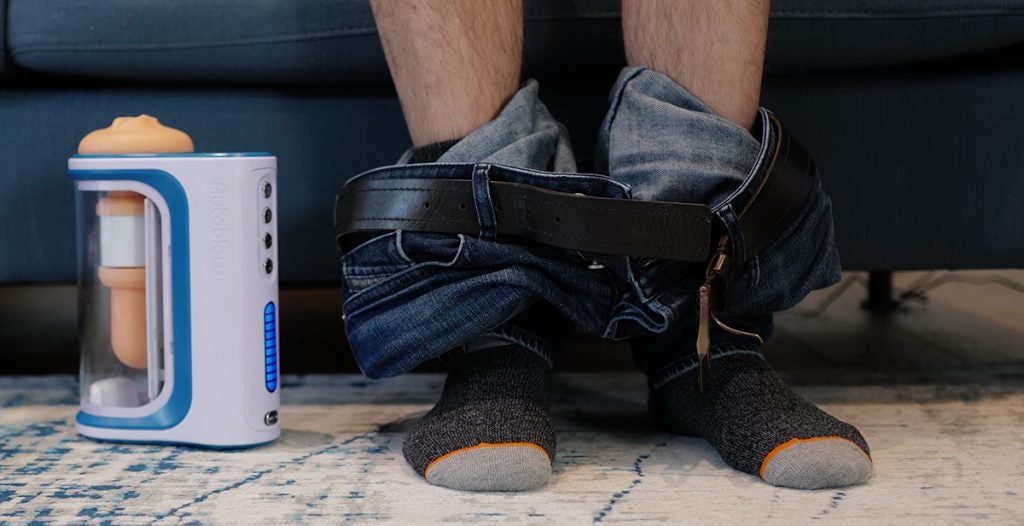 This desire — to make a blow-job machine that's near-indistinguishable from a real person — was partly born out of spotting a gap in the market. After graduating from law school, Sloan moved to Chicago, and spent two years making a living by selling things he found at auctions on eBay. But while most were fairly innocuous — ancient manuscripts, horn-rimmed glasses, vintage police handcuffs — one item got him accused of murder. Sloan had bought a human skull from a supplier in China, and was casually boiling it on the stove (allegedly to remove some stubborn flesh) when a buyer walked into his apartment, saw the skull and called the cops. Sloan was eventually let off with a warning, but from there, he decided to stick to less risky — but still leftfield — investments, most notably latex fetish wear (Sloan had an in-depth knowledge of what sold well on eBay, and fetish wear was a popular and open market). "The fact that I came upon a totally underserved market opened my eyes to the possibilities in the adult field in general, particularly because the only reason it didn't have more competition was because people were morally afraid to be a part of it," Sloan says.
After moving to China (where he sourced most of his products) in 2007, Sloan found his latex business to be unscalable, so he instead turned to sex toys — a market which, at the time, was controlled by "older people who didn't understand how to use the internet." Plus, he adds, in the late-2000s, "most of the pleasure products were — and still are — for women, and the male products were of abysmally low quality. It was clear to me that men wanted something that gave them the physical and psychological feeling of someone else doing something to them. No one else was providing it, so I got to work."
The first blow-job machine Sloan sold, known simply as the Autoblow, was actually a stroker called the World Master 2000 that was already being made in a factory in China. Sloan discovered the device in 2008, ordered shipments of it and set up a website dedicated exclusively to selling it. Unlike its best-selling successors, though, the original Autoblow wasn't especially good (though Sloan did sell 30,000 of them). According to Playboy, "it broke down regularly" and "the weak motor couldn't power through bigger or curved penises." Sloan told the publication that he envisioned something better. "If we just fixed everything that was wrong with it and made a totally new product, it would rock the male toys niche," he said. And that's exactly what he did.
The Autoblow 2 took three years to develop. But, as luck would have it, in 2012, Sloan met someone at an adult toy event in Las Vegas who owned a factory in China — the two hit it off, and, to this day, that factory manufactures every Autoblow product. Since then, Sloan's design process has always followed the same structure: A "couple guys in the U.S. and Canada" take Sloan's ideas, design the prototype and the printed circuit board, his partner in Romania writes the firmware, and finally, the factory takes the designs, improves them and finds the best places to produce the various parts.
As for Sloan's involvement? "I'm in the center of all of it," he says. "I test the prototypes, I ask for the feature sets, I decide on the direction of the technology we use and I directly work with our factory partner to manage the manufacturing of all of our devices. Additionally, I work with our lawyer to patent my inventions as I conceive of them, and work on growing a patent portfolio." Each device takes around two years from ideation to fruition, meaning Sloan has to "predict correctly what men will want by the time the product is ready."
So, what will men want two years from now? Sloan reckons they'll want sex toys that work in sync with porn videos — something that already exists, but not to the standard that Sloan thinks it should. "There are a couple of products that purport to work in sync with adult videos, but those videos must be pre-programmed manually, which limits the available library to only a few thousand videos," he tells me. "I obtained patents on methods that use machine-learning technology to automatically annotate porn videos while they're being played, vastly increasing the number and types of videos that would be available for syncing."
Sloan is also working on an Autoblow that will be receptive to biometric sensors. "In the same way a human partner controls the actions of a blow job based on the feedback from the receiver, I believe it's possible to connect our device to certain sensors that will receive biofeedback that will change the behavior of the Autoblow, for example by modifying the speed or methods of simulation," he explains. Sloan's got plans for an internet-connected Autoblow as well, with "a feature set that will leapfrog all other internet-connected sex toys," but, he adds, he "can't go into details at this time."
There's little doubt that the Autoblow is the best hands-free blow job machine out there — but, even if it weren't, Sloan's nonstop innovation and visibility at the heart of the company's marketing campaigns would still probably put him a head above the rest. And he knows it. "I really understand what male sex toy buyers want, and work tirelessly to deliver that to them," he concludes. "I think our customers appreciate that I speak for the company and I'm not ashamed to do so. There's no other men in our industry who do that."
There's also probably few men in the industry who would willingly be sucked off by a robot on camera — and get crowdfunded to do it. If that isn't the future the broader sex industry is working toward, who would want it?