I've stopped gassing up my friends' thirst traps. As a young gay man living in New York, my social life exists equally in-person and online. Instagram's Close Friends is how where we flirt, and shirtless selfies on Twitter are how we gain followers.
Recently, with porn wiped from Tumblr and quarantine suspending hookups, already extremely online gay friend groups are throwing caution to the wind and further sexualizing themselves online. This proliferation of unabashed horniness on public accounts attracts strangers and loose acquaintances to hole pics and spamming porn stars. The brave will shoot their shot, hoping to be one of the lucky few to receive a response.
These types of thirsty replies can be revealing. They often inform which body types and sexual preferences a friend on Twitter may have. More often than not, the people who receive the most love are cis white gay men with chiseled abs.
Fearing who might mistake my friendliness for my public thirst, I've stopped replying entirely to gay men I know posting selfies. Why? I don't want to be labeled a Pick Me Gay.
What's a Pick Me Gay?
A Pick Me Gay is the gay version of a Pick Me Girl, a woman who positions herself as "not like the other girls" to gain the attention of a love interest.
• Women Don't Become 'Nice Girls.' They Become Pick Mes.
The phrase was also mentioned in a viral clip from Season Three of RuPaul's Drag Race. Drag queen Delta Work mocks her competitor for wanting to win too badly. She repeatedly ridicules them, using the phrase "Pick me."
While Work used the phrase about receiving RuPaul's motherly approval, a Pick Me Gay is better understood as the queer version of a simp — young men subservient to women in hope of winning them over.
A Pick Me Gay is also a form of Reply Guy — a man (and sometimes a woman) who inundates your mentions and DMs with overt familiarity, flirting, debating, educating and always demanding attention.
What's Wrong With Pick Mes?
Pick Me Gays can be found most commonly on Instagram and Twitter, writing things like "Step on my neck king" under popular thots' thirst traps. Harmless, sure. But when an Instagay finds himself embroiled in controversy over racist language or attending a dance party during the coronavirus pandemic, Pick Me Gays swoop in as the first line of defense.
"I always see Pick Me Gays show up in the comment section trying to defend the Instagay just because they have abs," The B List podcast host and gay influencer B Graeter, 36, tells me. "My first thought is always, 'They're not going to fuck you just because you're defending them.'"
One of the most notable examples of the Pick Me Gay defense came in March when disgraced Illinois congressman and Barry's Bootcamp regular Aaron Schock publicly came out as gay.
In 2016, Schock was indicted by a federal grand jury for using public and campaign funds to pay for international vacations and expensive events, including a Katy Perry concert. Since leaving office, he's largely rumored to be living as an international gay man, seen romping around West Hollywood, heli-skiing in British Columbia and attending Coachella in Indio, California.
Schock's coming-out statement was largely criticized given a six-year congressional stint in which he repeatedly voted down LGBTQ protections, including a "no" on repealing "Don't Ask, Don't Tell."
While some queer people were quick to call out as Schock's hypocrisy, others defended Schock's coming-out. Navy veteran and Mississippi's first openly gay congressional candidate Michael Aycox wrote an op-ed for Queerty asking LGBTQ people to be kind to Schock.
"Yes, Schock chose political success over the LGBTQ community, and it cost him dearly. He must now live with the decisions he made in his previous life and start anew. But, like every LGBTQ member who comes out, he is reborn. He is a new person. He has quit hiding in the shadows and accepted who he is," Aycox wrote.
That's classic Pick Me behavior, Graeter says: Aycox is placating the bad behavior of only cis white gay men. Graeter calls Pick Me Gays "gays who are so interested in assimilating into heterosexual culture that they would throw their own community under the bus." He adds, "It doesn't really have so much to do with what they actually believe in, but to align themselves with someone that they think is hot."
What's It Like Having Pick Me Gays?
Some popular online gay personalities don't see Pick Mes as entirely a negative phenomenon. Often cited as one of the prime examples of cis white gay men with an army of Pick Mes is Carson Eisenhart, a 30-year-old from Dallas, Texas. "Pick Me — I just figured it was something about wanting to be friends," Eisenhart tells me. "I didn't recognize the neediness aspect of it."
Eisenhart benefits from the Pick Me sentimentality, even if he doesn't love all their responses. Having grown over 18,000 followers over several years on Instagram, he joined the Great Gay Migration to Twitter in July 2019. Quickly, he accumulated almost 44,000 followers in five months, the result of shirtless selfies, divisive political opinions and a cringe TikTok.
He doesn't monetize his accounts, so Eisenhart doesn't consider himself an influencer or notable online personality. He's a fashion marketing professional who recently got laid off in March. "I don't think I've been around long enough on Twitter to feel notable. Maybe people with fewer followers would think so, but I don't consider it to be a notable thing," he tells me.
Still, he wields influence online even if he doesn't realize it, stirring up drama on Gay Twitter — a loosely defined term of predominantly cis gay men who interact on the app. Eisenhart is routinely embroiled in online controversies. He publicly supported Michael Bloomberg in the Democratic primary before learning his history of redlining and transphobia, for example.
Earlier this month, Eisenhart was called out again for a now-deleted tweet about the death of 25-year-old Black man Ahmaud Arbery. He chastised his detractors for not acknowledging Arbery's death after they'd previously criticized Eisenhart for ignoring his white privilege.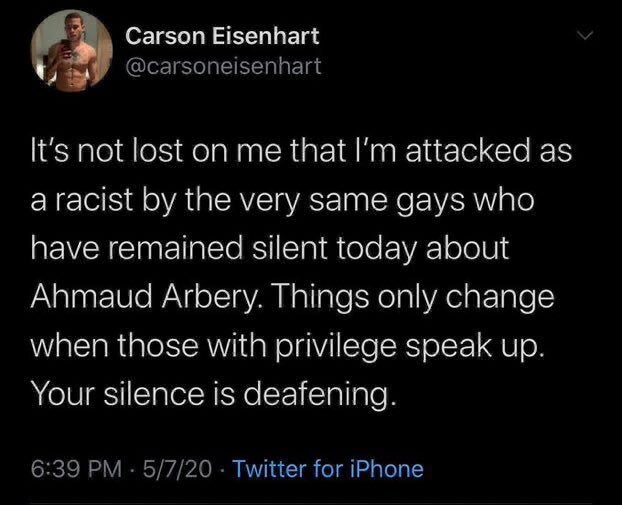 Following further critique centering himself in a tweet about Arbery's death, Eisenhart apologized and deleted his account, saying he wanted to preserve his mental health. "The criticism I got for the last tweet was super-warranted. It was a really bad tweet," he tells me. "I sometimes forget still that I can't just say whatever I think to that many people. There has to be some sort of delicacy."
He says the experience taught him that having tens of thousands of followers comes with responsibility. "I would never discount the fact that being a white gay cis male makes it easier for me to have a larger following," he says. "I had to realize that I had a big enough platform to make things amplified to a huge audience, and I have to be really careful with how I say what I'm thinking."
What It's Like to Be a Pick Me
Why does it matter what Eisenhart tweets? While Twitter drama can often seem unrelated to real life, queer people in small towns and communities lacking LGBT scenes turn to popular gay personalities for a sense of pseudo-friendship.
Tofi Alonte, a 31-year-old gay man from the Philippines, identifies as a former Pick Me Gay. "The only way for me to get to know people and connect with others is through social media," he tells me.
He became a Pick Me seven years ago following a breakup with a longtime boyfriend and an enduring bout of low self-esteem. He began commenting on posts by Instagays, seeking their approval and coming to their defense when needed. "I was trying to be more involved and get into the life of these thirst guys on Instagram," he says.
Only in the past few months that Alonte began removing his self-worth from the challenge of getting a hot guy to respond to him."There was a hint of embarrassment because it's a direct jab on your self-realization," Alonte says of learning the term Pick Me Gay.
We're All Someone's Pick Me Gay
While Pick Mes may seem like a faction of the online queer community, queer media expert Evan Ross Katz says it's important to remember the broader picture: Power and influence are all relative on social media. For every small account thirsting for an Instagay, gays with larger platforms and thousands of followers seek recognition from users with even more clout. Reply Twitter influencers are part of the fabric of the platform these days. It's part of what makes it fun to be here.
Anytime Lady Gaga and Ariana Grande tweet, gay men rush to reply with the best memes. (Lorde knows I've been known to spam incoherent nonsense at any digital crumbs my New Zealand queen gives us.) Katz, who has about 35,000 Twitter followers, has spent part of quarantine spamming Gaga's posts about her new album, Chromatica. "My instinct is to defend the Reply Guys. It's theater unto itself. Who can be the most hyperbolic?" Katz tells me.
Pick Me Gays Will Outlast Us All
What role should online hots play in controlling their horny, easy-to-forgive followers? That's unclear. To come up with an answer would mean getting Instagays to accept that they're both attractive and problematic, with a pattern of expressing questionable (if not outright inappropriate or ignorant) opinions.
Eisenhart believes there's another faction of his followers just as pervasive as Pick Mes: Bitter Twitter watchdogs, quick to call out Eisenhart and other Instagays for voicing privileged perspectives. "It doesn't matter what I do or say. They'll find a way to make it seem bad," Eisenhart says. "I'll click on their profiles, and they follow me. It shocks me."
But others say that people who post misguided if not overtly racist posts should be called out freely — such as, say, Instagays offering unscientific advice diminishing the coronavirus pandemic's severity. "Everybody knows that they just have really trash values and really bad takes on most things," Graeter says of certain cis white users with an army of Pick Mes.
So what's the future of Pick Me gays? Most will likely keep thirsting for attention. The apps simply beg for quick replies. "It just comes out of the fingertips so easily," Katz says of turning visceral reactions into immediate replies. "More often than not, it's a thoughtless reaction, the same way you bump your big toe and say 'ouch.'"
While Eisenhart is off Twitter, he's still posting to his Instagram, which he recently made private. His advice for legions of Pick Mes? "Maybe try flirting first before you just start telling me you want to suck my dick, because that came out of left field," Eisenhart says.
Of course, he's lucky if that's his biggest issue. Queer people of color face far worse harassment online than a few needy gays in their mentions. Katz says, "Wouldn't you prefer 'choke me dad' than death threats?"