Rosalie Banner, a queer 22-year-old from Saratoga Springs, New York, is werking the camera like only a queen at a drag celebration could. Her hair is in two top knots accented with gold glitter; she's got on black running shorts and a bright yellow crop top with the word QUEEN scrawled across the front. As she bends down to thwoorp her yellow fan, her shirt flutters up to reveal tape over her nipples.
Taking her photos and directing her sultry poses? Rosalie's 60-year-old father, Shawn Banner.
A schoolteacher by day, Shawn is dressed up in his finest, too, sporting black suspenders under a mesh T-shirt. He rocks magenta-dyed bangs and a glitter beard that shimmers in the fluorescent lights of the Javits Center in midtown Manhattan. The father-daughter pair seems to shine just as brightly as the seven-foot drag queens in stilettos and bodysuits.
We're at one of the biggest drag conventions of the year: RuPaul's DragCon NYC, the immersive manifestation of reality-TV juggernaut RuPaul's Drag Race. Launched in Los Angeles in 2015, DragCon has become the premier daytime event for fans of drag — an art form once regulated to underground clubs and dimly lit gay bars. Now in its fifth year, DragCon has drawn a relatively new crowd — a group that's hard not to notice amid the throngs of teenage girls in Pinterest-inspired makeup looks and bubblegum-pink wigs waiting for a $30 photo with their favorite queen.
The men of DragCon — dads, uncles and family friends — are here and ready to werk the room.
To be sure, most of the parents I see strutting down the pink carpet with their strollers are moms. But the guys supporting the young superfans in their life aren't just chauffeurs — they're fully committed.
"It's great to be one of the dads here," Shawn Banner tells me. This is his third DragCon — an event he says basically changed his life. Shawn recently began identifying as bisexual and gender-fluid. "I am generally by nature a timid and tame soul with a screamer just wishing to come out," he explains. "Because [Rosalie] brought me to this thing and said you can wear glitter, the screamer is coming out."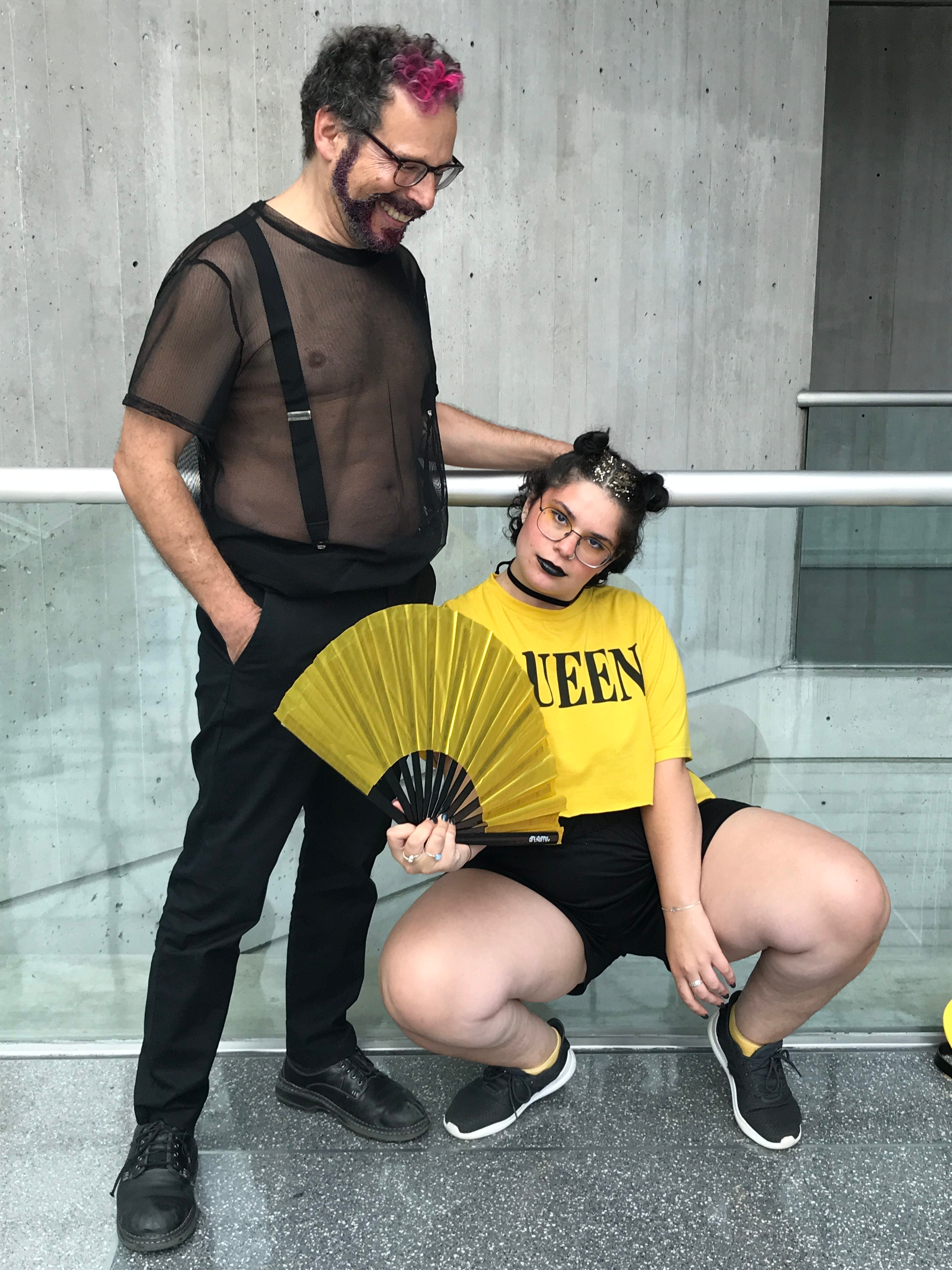 The Dads of DragCon NYC
While his partner waits in line for a photo with Drag Race alum Kameron Michaels, Alex Suarez of Hartford, Connecticut, and his 15-month-old son listen to a drag queen read from a children's storybook. They're at the Kids Zone, which features an inflatable bounce house and lightsaber training by a nonprofit for Star Wars enthusiasts. Suarez and his partner attended DragCon 2018 solo, but they were so impressed that Suarez encouraged his sister — and his 16-year-old nice, Aaralyn Torreira, to join them this time.
"He's a pretty cool uncle," Torreira says of Suarez. "He mentioned the idea to me, and I got so excited. We're all having a good time. It's just really good to see everyone."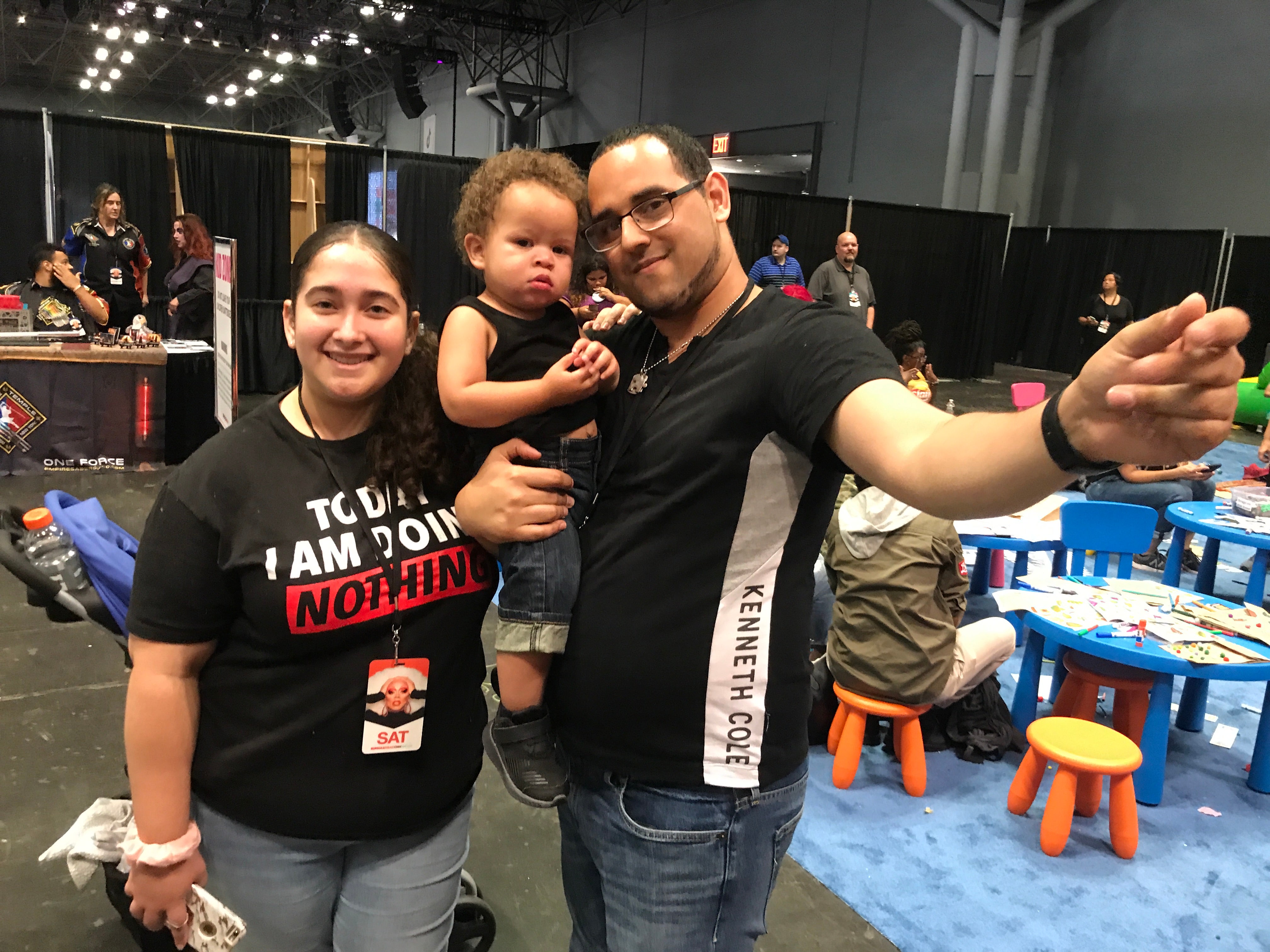 Soon after, I meet two gay couples who made DragCon a playdate for their combined four children. One of the fathers, Joe Williamson, lives just two blocks away from the Javits Center. He came with his husband to show their 6-year-old son, Henry, that "there are so many different kinds of people in the world, and there are no socially defined roles that he needs to subscribe to."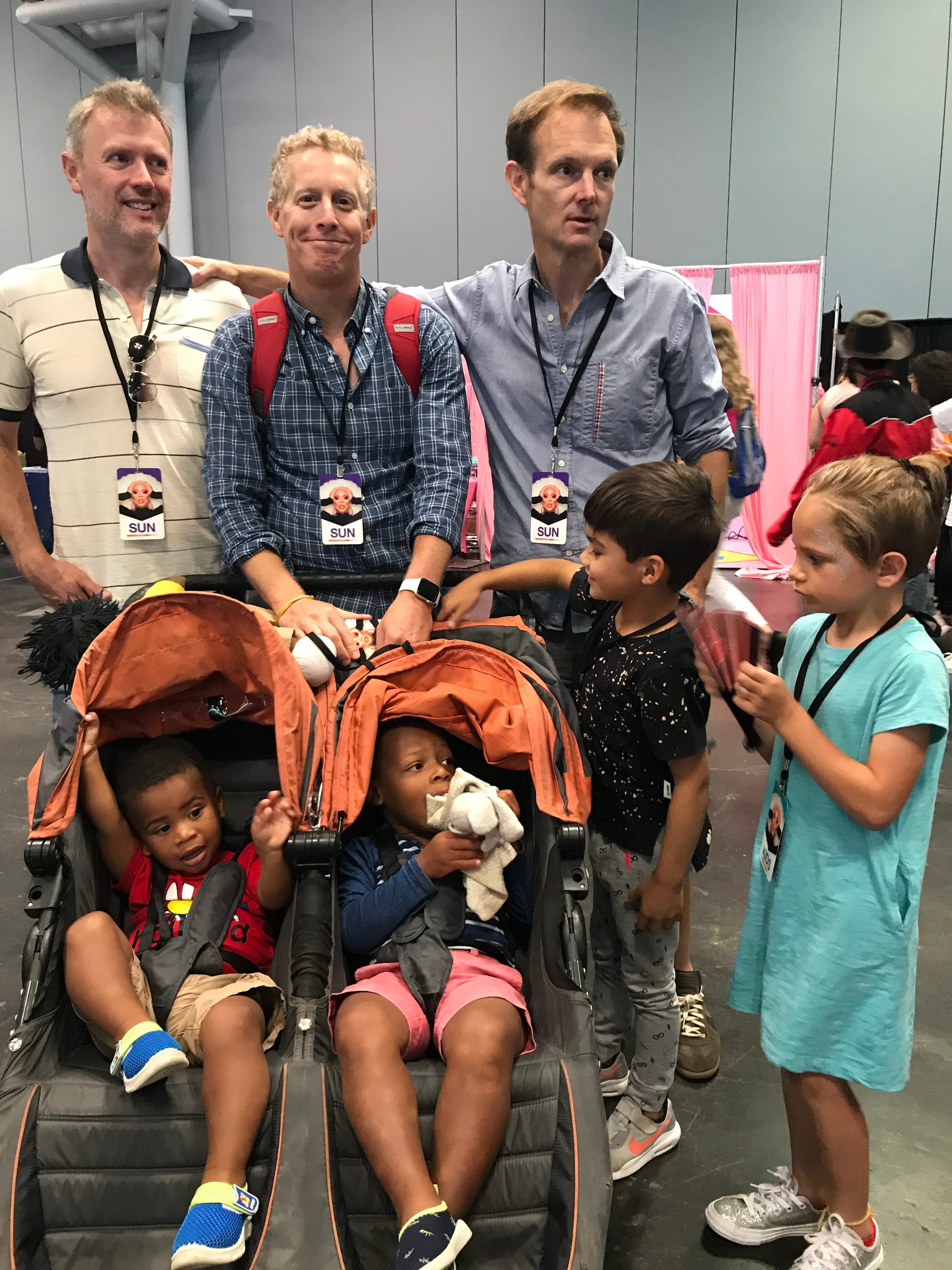 While I spot countless LGBTQ fathers — including celebrity couple Neil Patrick Harris and David Burtka with their two children — I track down a few straight fathers, too. Ben, who lives in New York, stopped by Sunday on a whim with his wife, Katie, and their 4-year-old daughter. "Yesterday, on the subway, my wife saw these two drag queens coming here and said, 'I want to go where you're going.' We wound up here today," he says. Ben and Katie don't know much about Drag Race, but they want to encourage their makeup-loving daughter to appreciate the detailed work the queens put into their looks. Before long, however, the mom and dad get inspired: They find a "pretty amazing" lube, which they plan to test out later that night. "All I saw was a huge smile coming down the aisle," Ben says of his wife.
Mike Kunis, his wife, Samantha, and 6-year-old son, Sterling, live in Moonachie, New Jersey, and came for the entire DragCon weekend. Kunis, who's watched the show for a decade, says Drag Race is a positive influence for the family. "We have Sterling watching it with us constantly so he understands there's no bias in gender or the way you look at yourself," he tells me. "He can do whatever he wants. He can dress however he wants."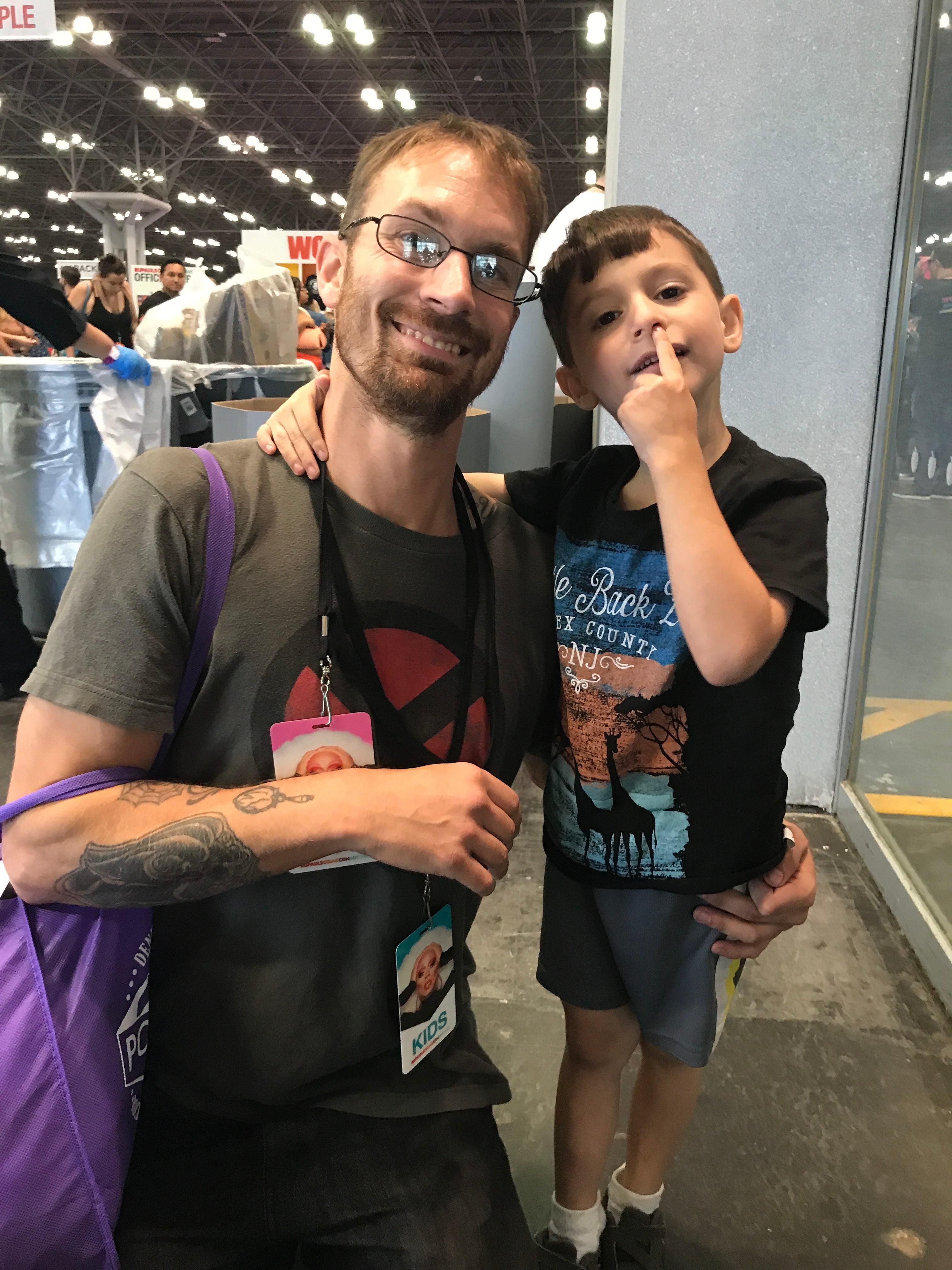 The Gay Uncles and Best Friends
I didn't expect to see so many shades of male mentorship at DragCon NYC. The diverse father figures in attendance include gay uncles and family friends eager to support the youngsters in their life.
John Fishinger, who lives in northern New Jersey, brought his 7-year-old nephew Mikail. "The family he comes from is not necessarily a supportive family, even though there are relatives that are gay," Fishinger tells me. "It's important for [Mikail] to see that everyone is the same."
For some gay uncles, their nieces obsessed with Drag Race are helping them better understand their own community. "Because I'm gay, I'm supposed to love the drag — but I never watched the show," admits Chris Bird, who lives in Trenton, New Jersey. That changed on a recent summer vacation with his family: Bird's nieces Scarlett and Lillie made him watch season 11 of Drag Race. Bird's sister Adrienne Hines and her daughters traveled from Jacksonville, Florida, for the convention, which also served as their birthday and Christmas presents.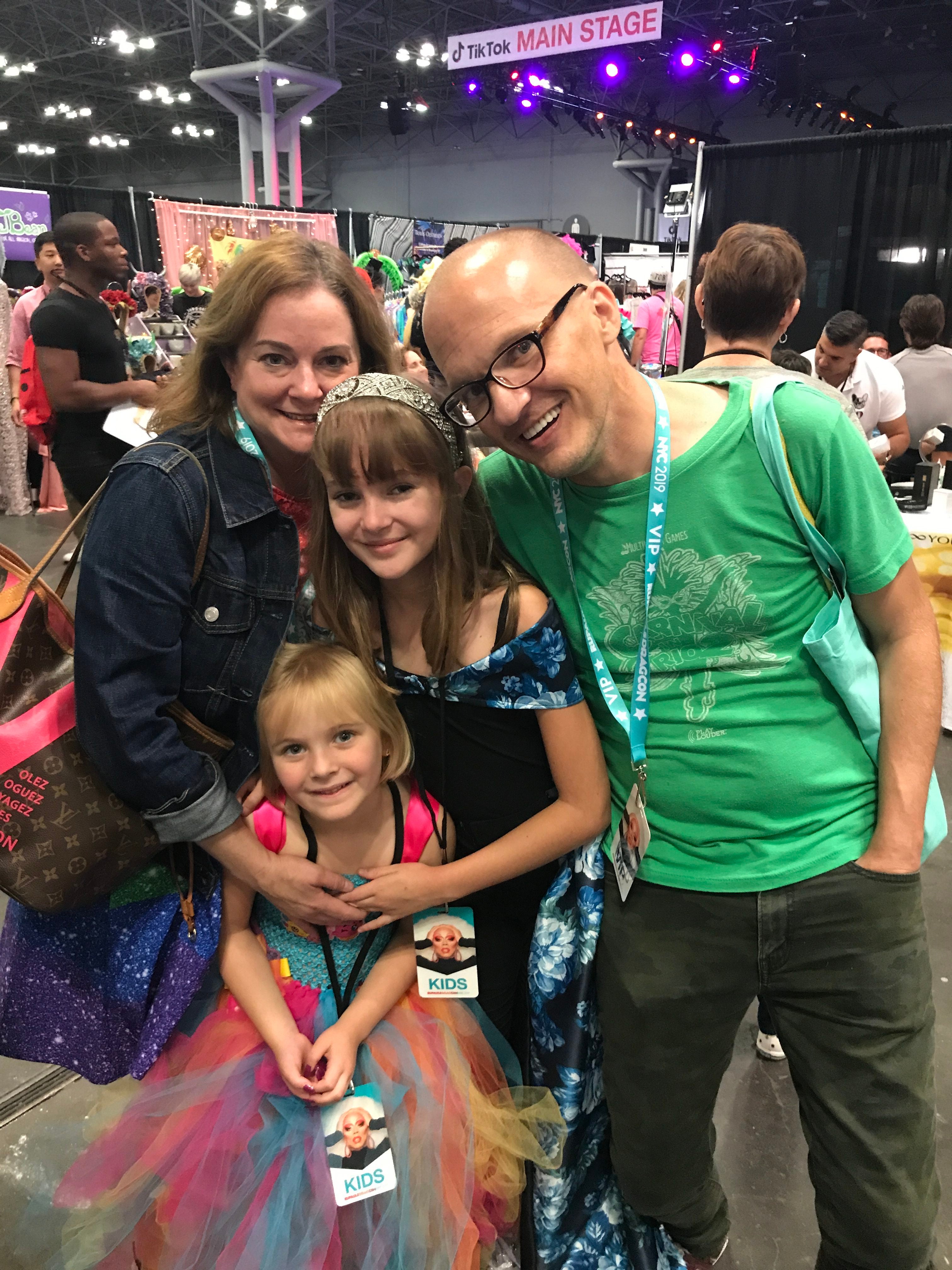 "I did not expect it to be this fun," Bird says. "When kids are excited, it's like Christmas: You get excited even if you don't care." Hines praises her brother's influence on her daughters, including his willingness to wait in an hour-and-a-half line to see viral queen Vanessa Vanjie Mateo. "Growing up, [my kids] learned there's nothing different. No stigma. No nothing," Hines says. Bird returns the compliment: "I'm very proud of them. They're amazing girls."
As the only DragCon on the East Coast — there will be a U.K. version in January — the weekend is a chance for families to make a vacation out of drag worship. "My mom is here as an accompaniment, and my uncle is here because he also probably wanted to come," says Carly, a grade-schooler from Maryland. Her uncle, Matt Wildman, of Boston, confirms: "It's true, RuPaul has been in my whole life." At DragCon NYC, Wildman and his sister Abby "get to see each other, which doesn't happen often, and I get to spend time with my niece."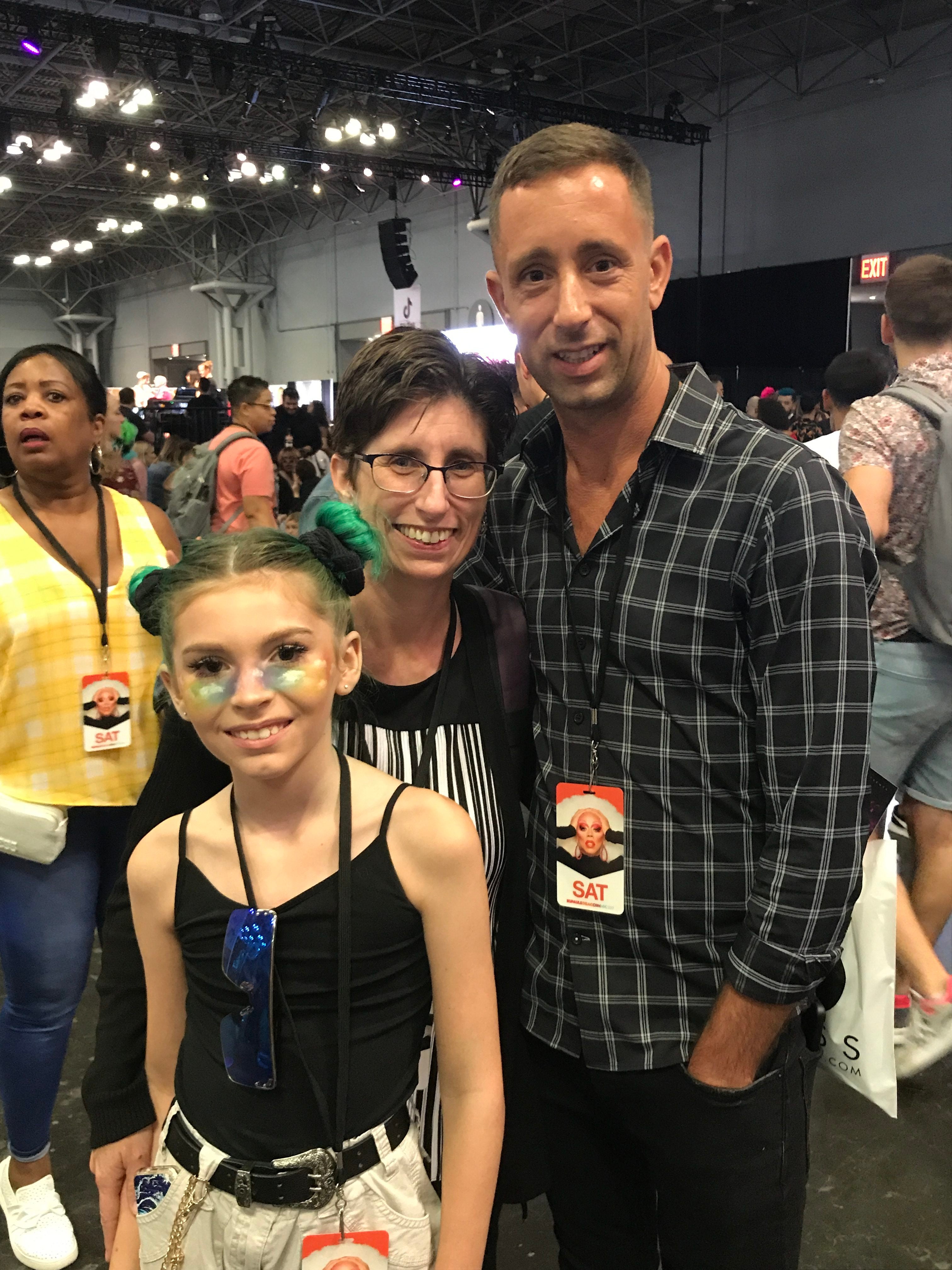 The Dad Turned Best Friend
After finishing their impromptu photoshoot, Shawn and Rosalie Banner walk around the convention center, leaving trails of glitter behind them.
Shawn, a former fashion illustrator, identified as bisexual for decades. He knew he was flamboyant, too, but he didn't know how to let his gender expression and sexuality exist in the heteronormative spaces he occupied. It wasn't until his daughter showed interest in the films Rent and The Adventures of Priscilla, Queen of the Desert, which he'd watch at home, that he learned to express his full self. "It's nice to watch her be so sure that anything is okay," he says of Rosalie's unapologetic queerness.
The influence cuts both ways. "He always had an interest in the pretty, but I might have been a little louder about it. Now we get on the same level and we kiki," Rosalie says. Appreciating drag has "let us build a friendship beyond a parent situation."
Hearing his daughter's praise causes Shawn to tear up. "She came to me a year ago and said, 'Thank you,'" he says. Turning to Rosalie, he thanks her, too: "You didn't say, 'Why are you that way?' I had not even thought about that as a message I was sending. I did that right, without even knowing."