At the 2020 Academy Awards, Laura Dern, honorary mother to gays everywhere, got us all worked up upon winning her first trophy. Fortunately, DamagedBttm was there to get us off.
As one of the top OnlyFans creators, porn star DamagedBttm, 22, live-tweeted the Oscars with NSFW clips and links to his porn account. The man known for being able to take just about anything was the giver on Sunday, offering Gay Twitter his nudes along with a smattering of jokes. In doing so, he earned nearly $2,000 in less than 24 hours.
DamagedBttm, who keeps his legal name a secret, advertises his OnlyFans porn account through Twitter, where he has over 84,000 followers. Like anyone who has to promote themselves for a living, he knows the power of a holiday advertisement. For the gay men who make up the bulk of his subscribers, there are fewer holidays more important than award shows.
So while on vacation in Puerto Vallarta, Mexico, DamagedBttm smoked a joint (he saved the poppers for later) and logged on. He followed the Oscar buzz on Twitter (he couldn't find a free livestream) and tweeted his porn based on trending Oscar memes. If you followed DamagedBttm during the Oscars, you'd see jokes like "Renee is BACK and my back is ARCHED" or "Billie Eilish can sing! I can bottom!" along with autoplaying clips of him getting plowed.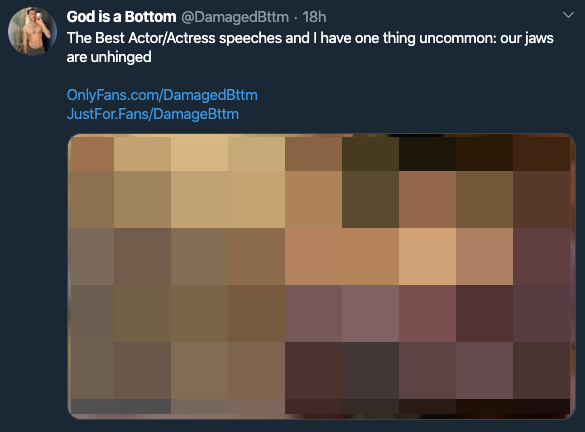 Thirteen porn tweets later, he brought in $1,650 in new or renewing subscribers — 182 new members since 8:00 p.m. EST yesterday. He's on track to hit $2,000 within the first 24 hours. "Gay people love award ceremonies and porn. I don't know what to tell ya," DamagedBttm tells MEL.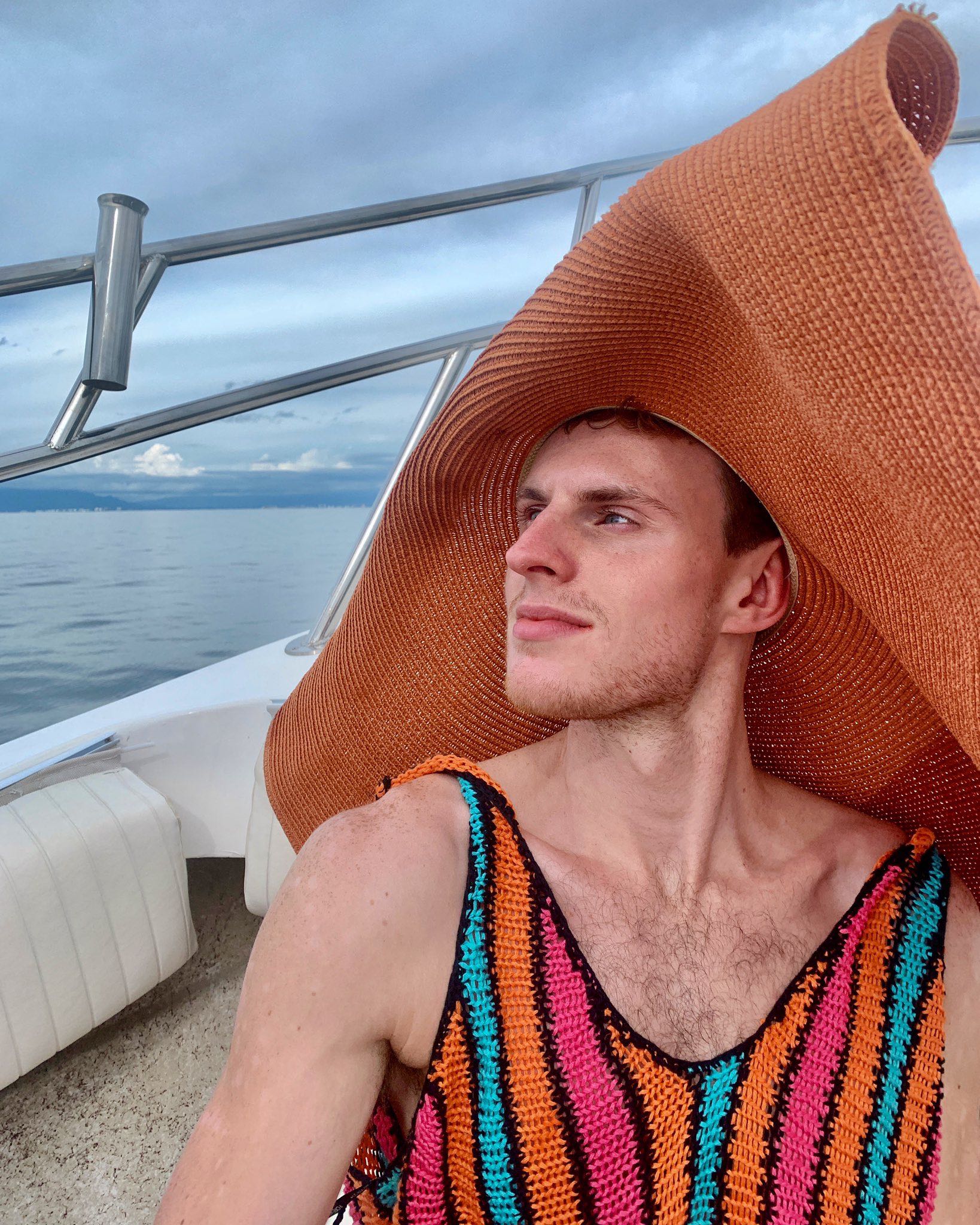 He started live-tweeting links to his OnlyFans during January's Grammy Awards. On music's biggest night, he took home $300 — a normal full day's wages — from a handful of tweets over the course of the under-four-hour award show. His Oscars haul surprised him, though. "I was just, like, giggling to myself the whole time, coming up with these stupid captions and absolutely blasting everybody on my timeline with those videos," he says.
(Twitter's guidelines prohibit accounts marked as adult content from partaking in hashtags that could be viewed by an underaged account. DamagedBttm didn't use any hashtags to avoid the chance of being suspended.)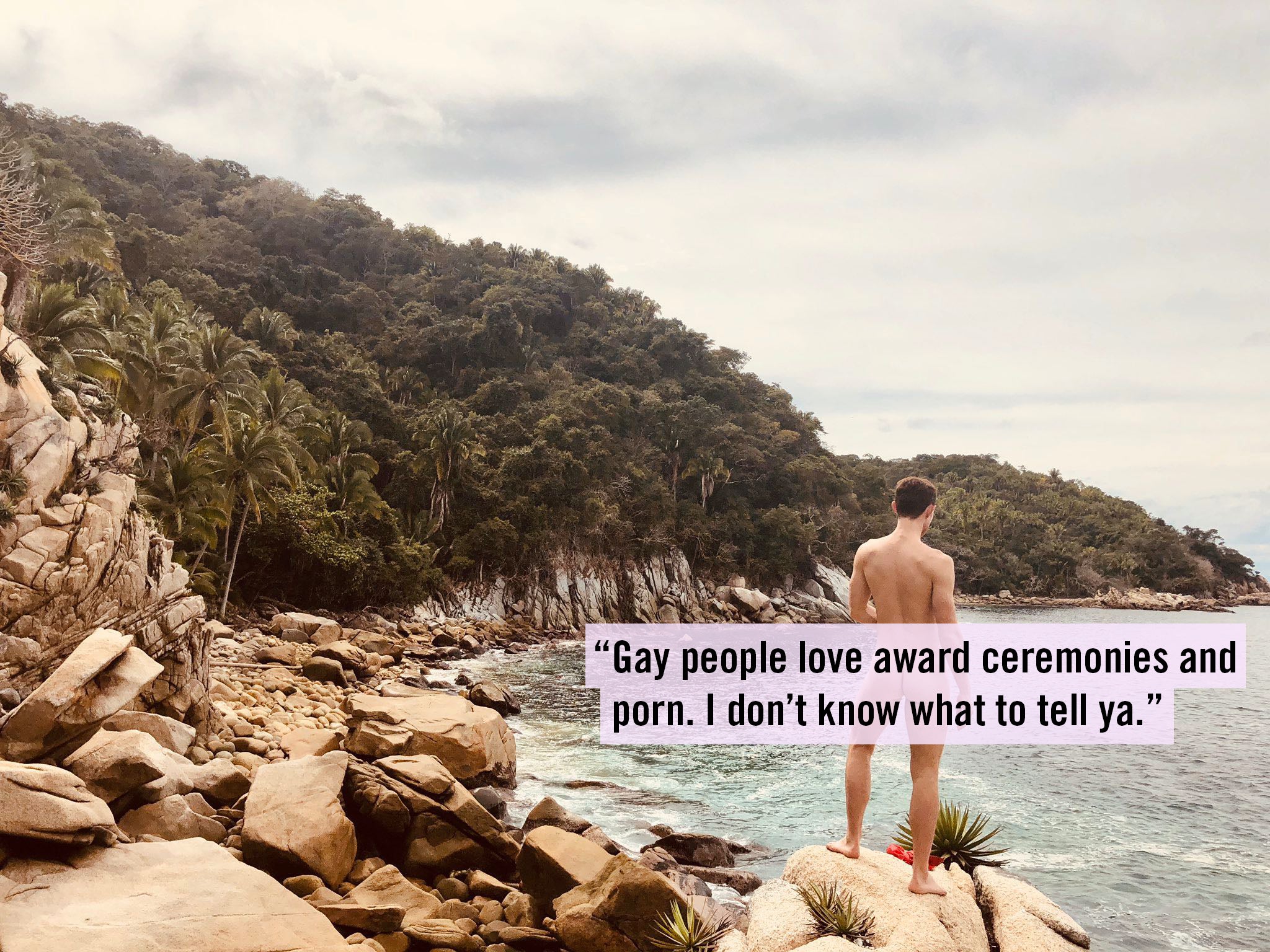 Several new subscribers messaged him on OnlyFans, saying they came for jokes like "Does anyone know who Jane Fonda's plastic surgeon is? I need to book an appointment for my anal rejuvenation." (Fonda has not yet responded.) He recalls one user messaging him, "'I don't even think of you that way, but this was really funny."
While DamagedBttm isn't ready to start a stand-up routine or come for Jaboukie Young-White's throne as the comedy king of Gay Twitter, he'll be back in September to spam the Emmy Awards timeline with his OnlyFans. "I honestly didn't think it would take off nearly as well as it did," he says. "This was probably my best day since like the first day I launched."