Sometimes, a pandemic, wildfires and the death of American democracy align, erasing your enthusiasm for cooking on Thanksgiving. If takeout sounds simpler this year, the good news is that plenty of chain restaurants offer classic Turkey Day dinners. But some are better for you than others, which is why we asked dietary sages to help us rank prepared Thanksgiving feasts by how healthy they are — from decent to death by turkey.
Here are the main guiding principles for our ranking, which were provided by physician and dietary author Cate Shanahan:
The meal should consist of whole foods.

Vegetables

are whole foods, unlike

pasta

.

The meal should be high in

protein

. Shanahan says real meat is preferable to

meat substitutes

.

The meal should incorporate "real" fats, like

butter

, cream cheese and whipped cream, rather than

seed oils

and

dairy substitutes

.

The meal should

not

be loaded with cheap, starchy

breads

and

potatoes

. They can be included, but in smaller portions than the meats and veggies.

The meal should

not

be

deep fried

or contain massive amounts of the

Hateful Eight

seed oils, as Shanahan calls them.

The meal should

not

be packed with sweets.
For a simpler guiding principle, dietician and nutrition therapist Rachael Hartley recommends Thanksgiving meals that involve more produce, simply because all of us should be eating more vegetables.
Now prepare to wade through a whole lot of food.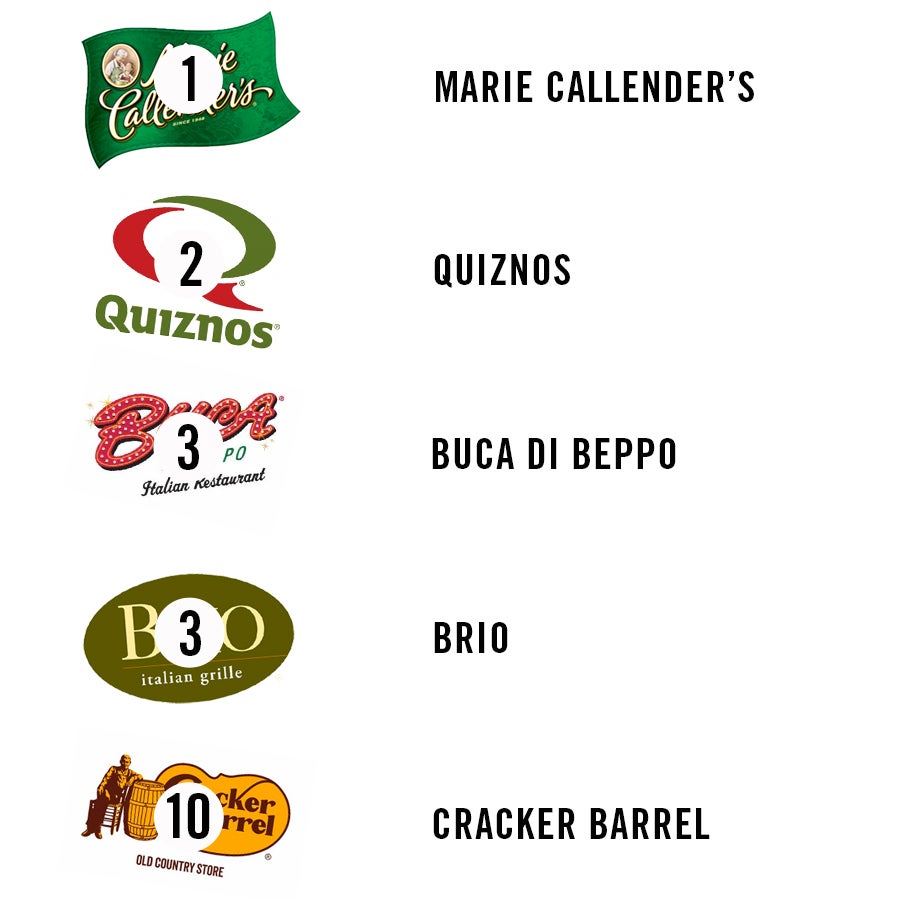 1) Marie Callender's Turkey Breast Feast: This spread consists of roasted turkey breast, apple-sage stuffing, fire-roasted yams with cranberry streusel topping, cranberry sauce, fresh mashed potatoes, turkey gravy, chef's vegetables, fresh baked cornbread and a whole apple or pumpkin pie. It earns first place for two reasons: (1) The breast is often considered to be the healthiest part of the turkey, since it has a lower concentration of saturated fat, which has been linked to heart disease; and (2) the chef's vegetables and fire-roasted yams (which are one of the healthier potato options, loaded with fiber) provide more than just one produce option, unlike many of the following Thanksgiving meals.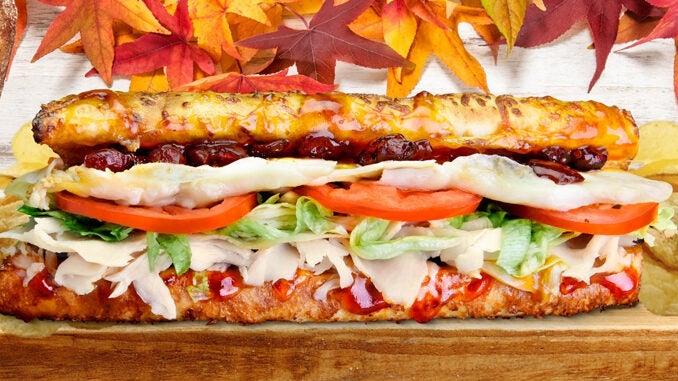 2) Quiznos Winter Turkey Feast: This offering is a sandwich — it comes with rosemary parmesan bread, oven-roasted turkey, cheese, lettuce and tomato, topped with craisins, dried cranberries and honey French dressing — and while it may have a good amount of carbs from the bread and not all that much in the way of vegetables (except some lettuce and tomato), it makes up for it by not coming with a side of sugary pie or anything else like that. Overall, it's pretty simple and doesn't go overboard.
3) Brio Italian Grille Thanksgiving Feast and Buca di Beppo Thanksgiving Feast (tied): These suppers are pretty similar. The Brio one comes with roasted, sliced white-meat turkey topped with herbed pan gravy, homemade pancetta stuffing, pan-seared broccolini, roasted garlic mashed potatoes, orange cranberry sauce, pumpkin spiced bread pudding served with crème anglaise and whipped mascarpone. Meanwhile, the Buca di Beppo meal consists of sliced white-meat turkey, homestyle gravy, roasted garlic mashed potatoes, spicy Italian sausage stuffing, green beans, cranberry sauce and pumpkin pie.
They both feature a side of green vegetables, which is nice, and white meat is healthier than dark meat. But the main gripe I have is that both stuffings include red meat, which is (1) more than enough meat when you already have turkey; and (2) awful for your heart.
5) Veggie Grill Thanksgiving Holiday Feast: This is kind of a wildcard feast, because it comes with a soy-based turkey and shiitake mushroom pot pie, rather than your standard turkey. It also consists of mashed Yukon Gold potatoes, gravy-glazed rainbow carrots, a holiday salad and mini pies, swapping plant-based alternatives wherever meat and dairy would otherwise be. As far as vegetables go, this meal is the healthiest of the bunch — it provides way more variation than any other feast in our ranking. However, because Shanahan warns against soy-based meat and dairy alternatives, it lands safely in the middle of the list.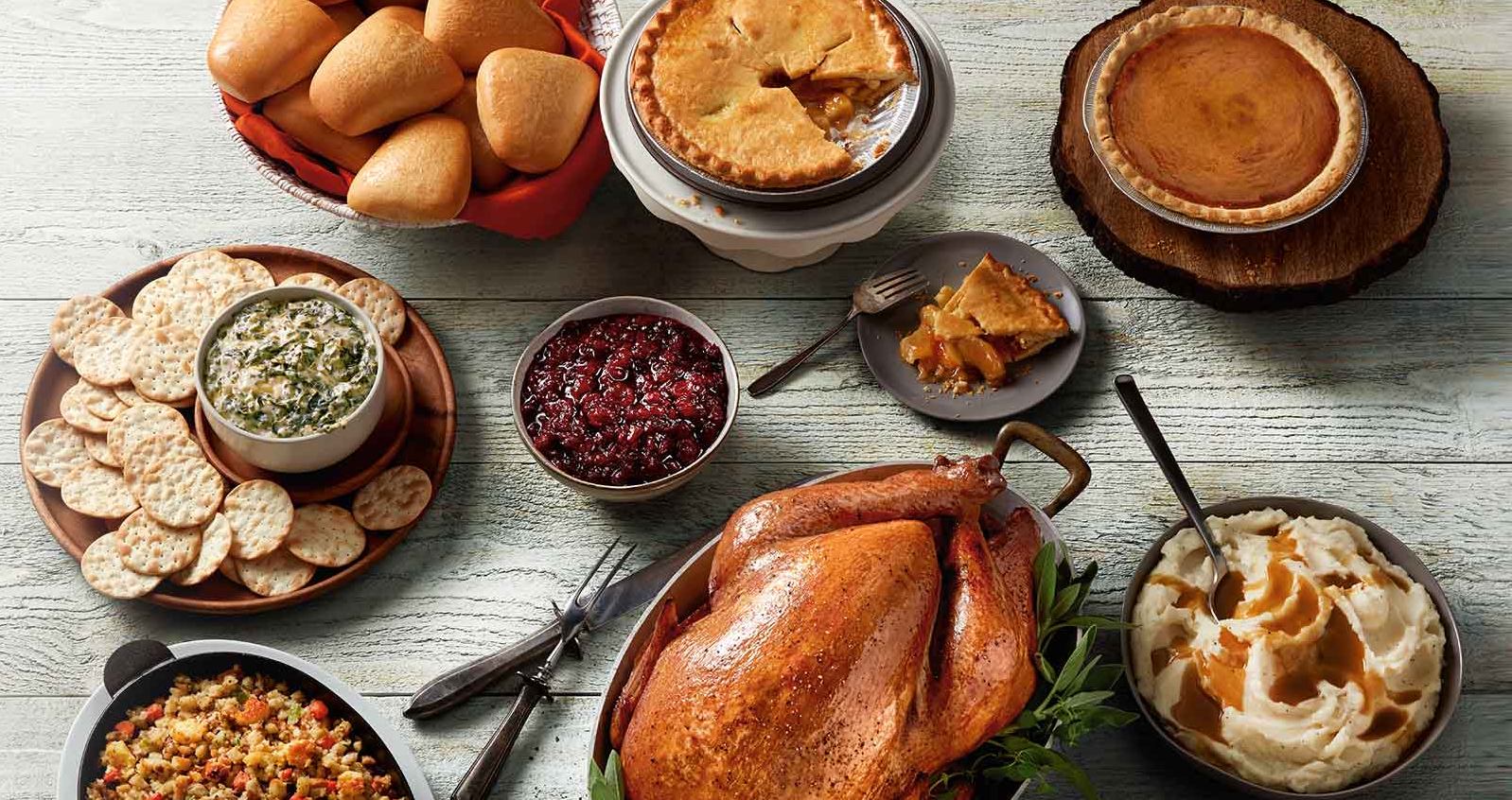 6) Boston Market Thanksgiving Meal: Boston Market offers a no-frills Thanksgiving meal consisting of sliced, roasted turkey breast served with mashed potatoes and gravy, vegetable stuffing, a dinner roll and a slice of apple or pumpkin pie. Even though the stuffing has vegetables in it, the meal falls short in the vegetable department, and the dinner roll is just empty carbs.
7) Dickey's Complete Feast: In true BBQ fashion, Dickey's allows you to pick from an assortment of meats: "Choose from smoked turkey, prime rib, cajun-fried turkey or spiral ham along with cornbread dressing, gravy, baked potato casserole, green beans with bacon and a dozen buttery rolls." The cajun-fried turkey is a bad choice, because fried foods have more unhealthy trans fats. Likewise, prime rib and ham are a lot fattier than straight-up smoked turkey. The other potential downsides here are the baked potato casserole, which is destined to be fattier than the plainer potato offerings listed above, as well as the addition of bacon to their green beans. It may taste good, but it kind of defeats the purpose of having a vegetable.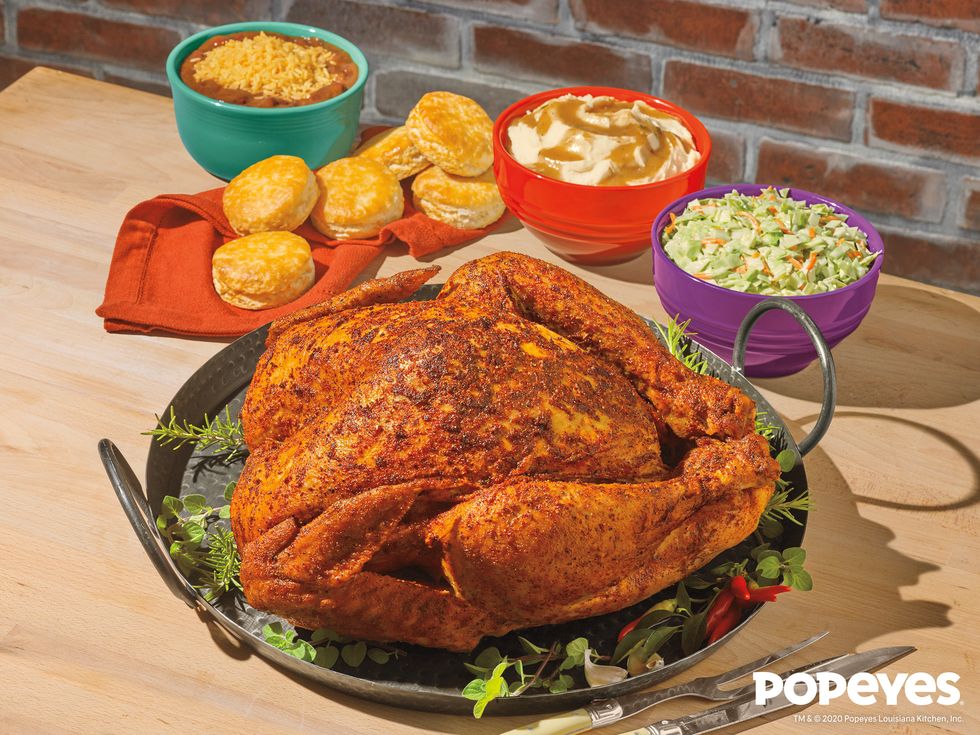 8) Popeyes Cajun-Style Turkey: While the turkey itself is similar to those mentioned above, at least as far as your health is concerned, Popeyes allows you to choose your own sides from their menu — coleslaw, cajun fries, mashed potatoes, biscuits, garlic rice or cajun cheese fries. This leaves you with little in the way of anything healthy whatsoever, because even coleslaw is pretty meh. 
9) Arby's Cranberry Deep Fried Turkey Sandwich: This comes with deep-fried turkey breast, natural swiss cheese, pepper bacon, lettuce, tomato and mayo with cranberry spread on honey-wheat bread. Fried and topped with bacon, cheese and mayo, this sandwich is a heart buster.
10) Cracker Barrel Thanksgiving Family Dinner: Our official loser, Cracker Barrel offers turkey n' dressing with gravy, a sampling of sugar cured ham, cranberry relish, country green beans, macaroni n' cheese, your choice of mashed potatoes or sweet potato casserole and dinner rolls. I appreciate the green beans and lack of sugary dessert, but unfortunately, two meats, plus extra carbs in the form of macaroni n' cheese, drag this meal to the bottom.
Hmm… maybe I'll just order Thai food instead.