If you draw the line at a Filet-O-Fish, news that Subway's tuna may be something else entirely probably prompted a passionate, "I told you so." Tuna or not, how does Subway's mystery sub stand up to other chain restaurant chum hoagies? For advice, I asked Dana Hunnes, senior dietitian at the Ronald Reagan UCLA Medical Center, if she could help me rank fast food fish sandwiches by how healthy they are — from bad to really bad.
Hunnes' initial determination is extremely straightforward: Fried seafood sandwiches are the worst. Besides containing more trans fats, which are awful for your heart, studies show that deep-fried seafood possesses fewer heart-healthy omega-3 fatty acids. In other words, it has more of the bad and less of the good.
Let's take a closer look.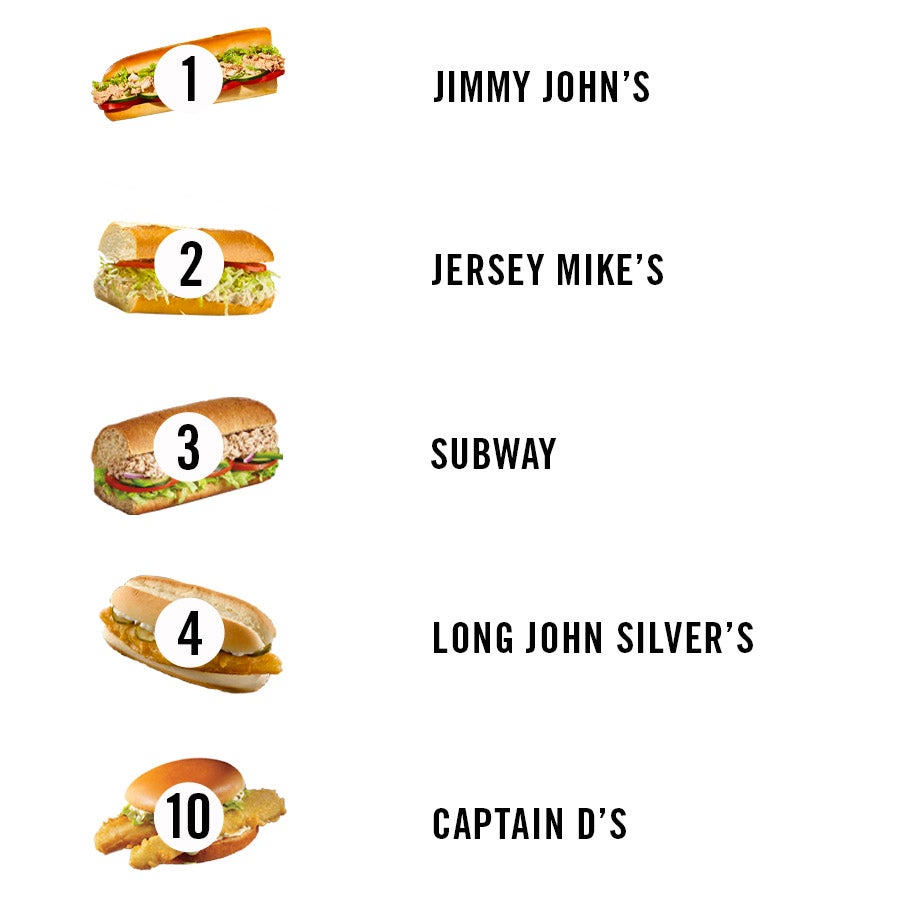 1) Jimmy John's Totally Tuna: This is unfried and made with (hopefully real) tuna, which is high in protein, low in fat and a good source of omega-3 fatty acids. The tuna salad used contains celery, which is rich in vitamins and minerals. That said, mayonnaise skyrockets the unhealthy fat content of this sandwich, and the same can be said for multiple subs coming up. "While not fried, they're mixed with huge amounts of mayo, which may contribute to them being less healthy," Hunnes says.
2) Jersey Mike's Tuna Fish: Jersey Mike's tuna salad appears to be significantly more mayo-infused than what Jimmy John's sells: A regular seven-inch Tuna Fish from Jersey Mike's has 42 grams of fat, compared to only 22 on Jimmy John's eight-inch Totally Tuna on French bread. Not great!
3) Subway's Tuna: While Subway's tuna salad seems to be less fatty than what Jersey Mike's provides (a six-inch contains 25 grams), the lawsuit pushes their tuna — and their place in our ranking — into question. What I will say is, if Subway's tuna isn't real, they're not the only ones: A 2013 study by ocean conservation group Oceana found that 85 percent of so-called "tuna" from sushi restaurants was actually escolar, a cheaper alternative. Blech.
4) Long John Silver's Crispy Fish Sandwich: Our entryway into the fried realm, it only has 16 grams of fat, in part because it doesn't have cheese on it, like some of the following items. And I can appreciate that it's topped with pickles, which contain some much-needed vitamins and minerals.
5) McDonald's Filet-O-Fish: Accompanied by only a half slice of American cheese, the Filet-O-Fish rises up to 18 grams of fat. You may still be hungry after one Filet-O-Fish, but if you can resist the urge to eat another, you're not doing too bad.
6) Burger King Big Fish and Arby's Crispy Fish (tied): These two are pretty comparable. As for the Big Fish, the pickles and lettuce are a nice touch, but they don't negate the 28 grams of fat in this monstrous chum hunk. The Crispy Fish has a similar 25 grams of fat, plus some lettuce. Neither are great.
8) Culver's North Atlantic Cod Filet Sandwich: It may sit on a bed of lettuce, but Culver's Cod Filet sandwich is seriously fatty, boasting 33 grams. The addition of Wisconsin cheddar doesn't help.
9) White Castle Fish Slider: Though it may be but a slider, this White Castle sandwich has 20 grams of fat, and you can definitely expect to have more than one, so do the math.
10) Captain D's Giant Fish Sandwich: At a monstrous 1,010 calories and 73 grams of fat, this beast of a fish sandwich could make you wonder if there are any creatures left in the sea. It's best consumed lying down.
Welp, maybe Subway isn't so bad after all?