How's everyone's weekend so far? Feeling the Sunday Scaries coming on? Well, if you care about not slipping into madness any more than you already have, don't watch the Haunting of Hill House on Netflix. That shit will fuck you up — and not in a good way. I spent last night staring at my bedroom door trying to decide if that dark shape was a shadow or the decayed hand of "The Bent-Neck Lady." At about 4 a.m., I finally convinced myself it was just a shadow.
In lieu of that nonsense, how about you fill the dark recesses of your mind with MEL, instead?
For tears: It doesn't get any sadder than our inane decision this week to order the world's largest deliverable pizza. Let me just say, don't even consider repeating our mistake — unless you like your pizza to be prison-quality. On the other hand, this piece on how little marksmanship training cops get will bring an actual tear to your eye.
For lols: Did you hear about the guy who got in a brawl at a Medieval Times, then got naked and swam with sharks? Now that was a hell of a "lost weekend."
For help: Want to know what to do with the heaps and heaps of loose change you've got stashed away in your sock drawer? We got you covered. Does the idea of asking your boss for time off to grieve the death of a loved one give you anxiety? Here's how to talk to them about it, and what to do when you get the inevitable awkward questions from co-workers, too.
But if none of that is doing anything for you, here's the best of the rest from The Week That Was…
Must Read
"The Generation of the 'Layoff Fund'"
Financial anxiety is common among millennials, a generation that came of age in the midst of the 2008 financial crisis. The oldest millennials, who are now in their 30s, graduated college at a time when unemployment rates were high and wages were low. Meanwhile, younger millennials have watched their parents and their friends' parents deal with layoffs and foreclosures. Add in outrageous health-care costs and student loan debt, and it's no surprise that millennials, when they can save their money, are saving it in preparation of the worst. READ MORE
"Big Bird's Shockingly Dark Life on the Internet"
Arguably, no TV character in the history of the medium is as beloved as Big Bird. Nor is there a character as pure. For that reason, meme lords are hellbent on dragging his oversized yellow ass through the mud.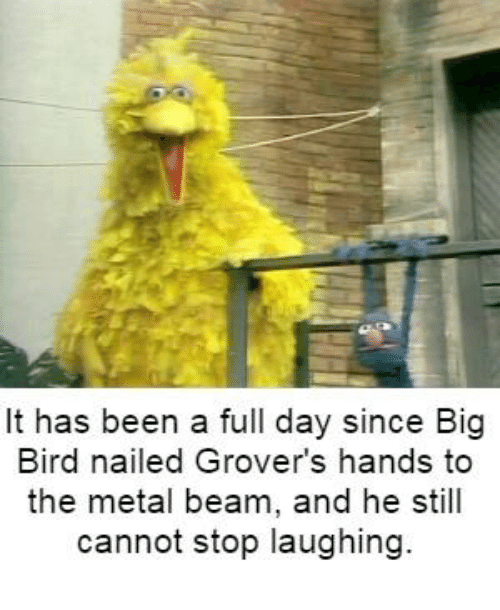 With the news that Caroll Spinney, Big Bird's human counterpart, has decided to hang up his feathers, Miles Klee takes a look at just how dark and full of terrors the internet life of this Sesame Street character has become. READ MORE
"Inside the Thirsty World of Babywearing DILF Instagram"
Twenty, ten, even five years ago, the idea of toting your child around in a BabyBjorn might have given some fathers anxiety. "Is this me?" "Do I want to be that guy?" "What will the bros think?" But this is 2018, and as babywearing in general has become more popular, babywearing dads are becoming more common too — and objects of massive thirst on social media. READ MORE
"This Is What Happens When Sex Work and Local Elections Collide"
Deborah Demander Reno has been running for the City Council of Evanston, Wyoming, a small town on the Utah border. But she recently found herself embroiled in a dirty, ahem, scandal — all on account of her used drawers. You see, Reno had been secretly selling her soiled underwear on the internet under the name of "Mystee Crockett." And this fact, it seems, has become a disqualifying controversy for the pearl-clutching townspeople of Evanston. But c'mon, why can't we elect a woman who sells used panties online? READ MORE
Five Things we Learned this Week
Quotes of the Week
When you're the type of person willing to donate to a GoFundMe set up for a powerful man accused of a sex crime, it isn't about paying for a legal defense. It's about protesting the perceived fact that the accused is guilty until proven innocent. And for that reason, for them, it's worth the money.
First Man is an engaging movie, and a skillfully made biopic. But it also has its issues — like how it projects a certain brand of rugged, macho individualism that's not nearly as fashionable as it once was. And that could make it a rallying point for a certain right-leaning demographic intent on returning us to a more regressive era of American society.
No, it's not just you. Female porn performers are fully aware of — and mystified by — how often they'll find themselves in the midst of a chiseled man in cheap tube socks. And while the practice might appear to be an intentional aesthetic of adult films, it's anything but.
The Weekend Binge: The Movie Deaths That Put Michael Myers to Shame
This weekend sees the return (again) of Michael Myers, the homicidal maniac who first tortured Jamie Lee Curtis' Laurie character way back in 1978. And while he's compiled a considerable body count in the endless installments that have followed over the last 40 years, they don't even remotely compare to the blood-letting in these five films.
Sorry, but I couldn't be scared all by myself.