Over the past day and a half, it's been all over the news: "Chuck E. Cheese Changes Name to 'Pasqually's Pizza & Wings' on Delivery App," cries the New York Post. "Diners Discover That Pasqually's Pizza Is Actually Chuck E. Cheese," blares Business Insider. And it's true! Chuck E. Cheese really is disguising itself as "Pasqually's" on delivery apps, as confirmed by the chain itself.
People especially seem to have taken issue with the seemingly underhanded way in which Pasqually's Pizza debuted. There was no big announcement from Chuck E. Cheese's via a press release or via their social media — instead, Reddit users began discovering the scheme in late April, when they'd order from a new place called Pasqually's and instead receive that all-too-familiar Chuck E. Cheese pizza. Only in recent days has Chuck E. Cheese corporate addressed this, telling Business Insider, "Pasqually's Pizza & Wings, named after another favorite member of Munch's Make Believe Band, shares kitchen space with the Chuck E. Cheese restaurant, ensuring high-quality, fresh ingredients. 'Pasqually's Pizza & Wings' recipes use fresh, homemade pizza dough, just like Chuck E. Cheese, but it is a different pizza that features a thicker crust, extra sauce and new blends of cheeses and seasonings, giving consumers a more flavorful, more premium pizza experience."
Now, this claim — that Pasqually's is somehow a different kind of pizza — set my pizza sense tingling.
Read More
• We Completed the Very Sad Task of Getting Chuck E. Cheese's Pizza Delivered
• I Staked Out My Local Domino's to See How Accurate Its Pizza Tracker Is
• Fuck You, Papa John. I Ate 40 Pizzas in 30 Days
Not only do I have my very reasonable suspicions about Chuck E. Cheese's ability to deliver a "premium pizza experience," I also think the idea that Pasqually's Pizza & Wings is somehow a separate product is highly suspect. No, I suspect that Chuck E. Cheese never wanted people to figure this out in the first place, which is why there is zero mention of Chuck E. Cheese on the Pasqually's website (even in the fine print). Additionally, the only way to get Pasqually's pizza is via delivery on Grubhub — you can't pick it up or call them or anything, as any other means of getting Pasqually's would reveal where it came from.
So while we already know that Pasqually's is Chuck E. Cheese, I want to see if their claim that this is somehow a different pizza holds up. Plus, as a fan of Chuck E. Cheese restaurants more generally, I want to see what the Pasqually's Pizza experience is like, so I resolved to get my own premium Pasqually's pizza. Unfortunately, the two Chuck E. Cheese's nearest me weren't open, so I had to trek to a location an hour away, in Paramus, New Jersey.
Before I pulled out of my driveway, though, I got a call from voice actor Duncan Brannan, the former voice of Chuck E. Cheese, who I'd already reached out to for comment. Brannan tells me he believes that operating under Pasqually's is a good marketing idea: "The whole business of Chuck E. Cheese is designed around the birthday experience, so people don't normally think of pizza when they think of Chuck E. Cheese, even if it is a good product. People think of birthday parties, the arcade and a ball crawl, but not pizza." 
I don't necessarily agree with this, as I think people do associate pizza with Chuck E. Cheese — crappy pizza. But hey, this guy was the voice of Chuck E., so he certainly is an authority. 
"Businesses have done this for years — where they create their own competitor to spread their market," Brannan adds. "I also read that it was a new recipe, so more power to them, especially considering the fact that everyone is hurting from this pandemic — they're trying to figure out how to stay in business." Brannan's point is well made: If this sneaky switcheroo helps keep restaurants in business and avoid layoffs, well, that's obviously a good thing. 
An hour later, I arrived in the parking lot of Chuck E. Cheese's, which was entirely empty but for what I assumed was an employee vehicle parked off to one side. The door to the place was open, and the windows were littered with signs saying, "Open for pick-up." It obviously would have been cheaper and quicker to just call up that Chuck E. Cheese's phone number, but I figured that would mean I was ordering from Chuck E. Cheese's, not Pasqually's, so I placed the order on Grubhub and set the delivery address for the parking lot of the Chuck E. Cheese, about 50 feet from the front door. 
As I sat in front of the Chuck E. Cheese's, I was surprised to see the place busier than I would have guessed. Three cars pulled up within the span of 10 minutes for pick-up orders, and I wondered if these people were Grubhub drivers getting Pasqually's, or hardcore Chuck E. Cheese loyalists. Sadly, I'll never know. 
Around this time, I got a message from another person I'd approached for comment — voice actor Bob West, who played Pasqually P. Pieplate from 1986 to 1999. As I explained in depth in my oral history of those creepy Chuck E. Cheese robots, Pasqually is the chef character from Chuck E. Cheese's gang of animatronics, and he's also the drummer of the aforementioned Munch's Make Believe Band. He's a jolly, mustachioed, pizza-making human who speaks with a thick, faux-Italian accent.
"I don't have any inside info from corporate and I don't speak for the company, but from what I've read, it sounds like they're doing what a lot of companies do: creating a new spinoff premium concept and brand," West tells me. "At the same time, they're helping keep people employed. I think people just enjoy saying 'Gotcha!' even when nothing nefarious is going on. Besides, if they wanted to pull something over, they would never have named it after the drummer in Mr. Munch's Make Believe Band." 
I can't argue with his logic. Pasqually has been a character at Chuck E. Cheese's since they opened in 1977, and if they were really trying to pull a fast one, they likely would have made up something new entirely (or at least spelled "Pasquale" right). And again, as both Brannan and West point out, they're just trying to stay afloat in troubled times and keep their people employed. As for me, I'm just some dick trying to prove a stupid point about lousy pizza. Honestly, I never thought I could feel so depressed from a conversation with the guy who played Barney.
But West lifted my spirits as only the voice actor for a giant robot Italian chef can, adding, "I did speak with Pasqually, though. He said he's very excited about his new premium pizza. 'Magnifico!' he said. 'My best work ever!' He was practically giggling, and even did that chef's kiss thing, so I can tell he's really enthusiastic." 
As soon as I was set with West, I got a notification from Grubhub that my order was received, and within a few minutes, the delivery driver had put it in the back of my SUV's liftgate, as per my instructions. She seemed a bit confused as to why I was getting a delivery right in front of the restaurant, but she didn't question it, and I gave her a 25 percent tip.
My confusion was more about what she'd left behind. Instead of the iconic pizza box with Chuck E. Cheese on it, or even some new design featuring Pasqually himself, the pizza comes in a generic pizza box, much like you'd find at any neighborhood pizzeria. This again suggests that Chuck E. Cheese didn't want people to know that Pasqually's was the same place — after all, there's no way Chuck E. Cheese has been so busy during the pandemic that they've run out of their traditional pizza boxes, that's unthinkable. Instead, it seems like they're trying to disguise the origins of this pizza by placing it in a box that could have come from anywhere.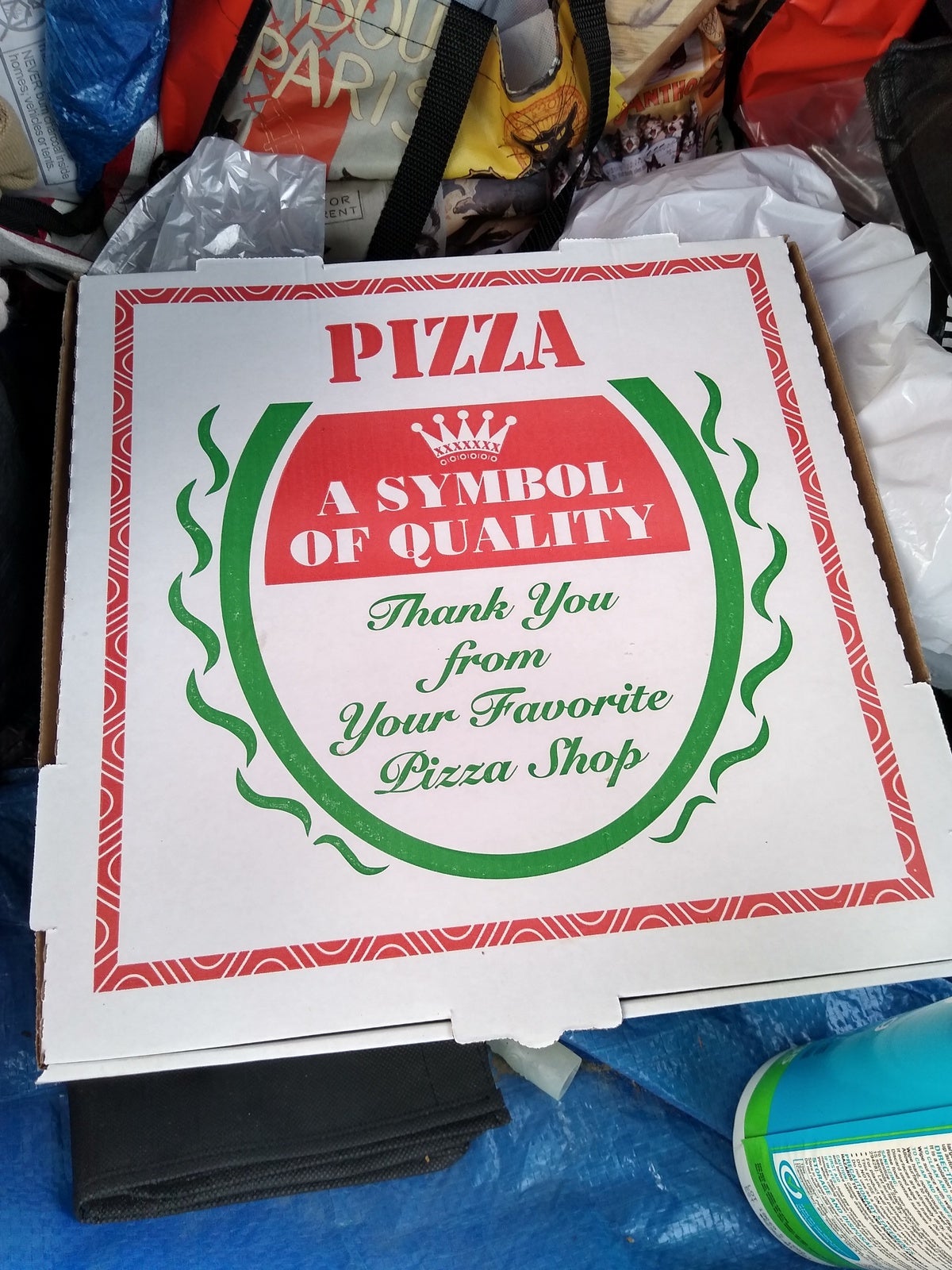 My suspicions only mounted when I opened the box and found a pizza that looked literally no different from any other Chuck E. Cheese pizza I've ever had. It even had the characteristic 12 slices intended for a kid's birthday party, as opposed to the eight slices Pasqually's promotes on its website. Now, I don't hate Chuck E. Cheese pizza — I truly don't. I go there semi-regularly with my wife and daughter, and their pizza is just fine (about what you'd expect from a pizza arcade with a rat for a mascot). My point is that I'm fairly familiar with it, and as I bit into this pizza, I'm 99 percent sure it was exactly the same pizza I've always gotten from Chuck E. Cheese. It was saucy and warm, with plenty of gooey cheese and mildly spicy pepperoni; its crust was thin, but not crispy. It was, again, fine. But it certainly didn't feel like the "premium pizza experience" Chuck E. Cheese promised, and that was supposedly the whole reasoning for changing their name on Grubhub.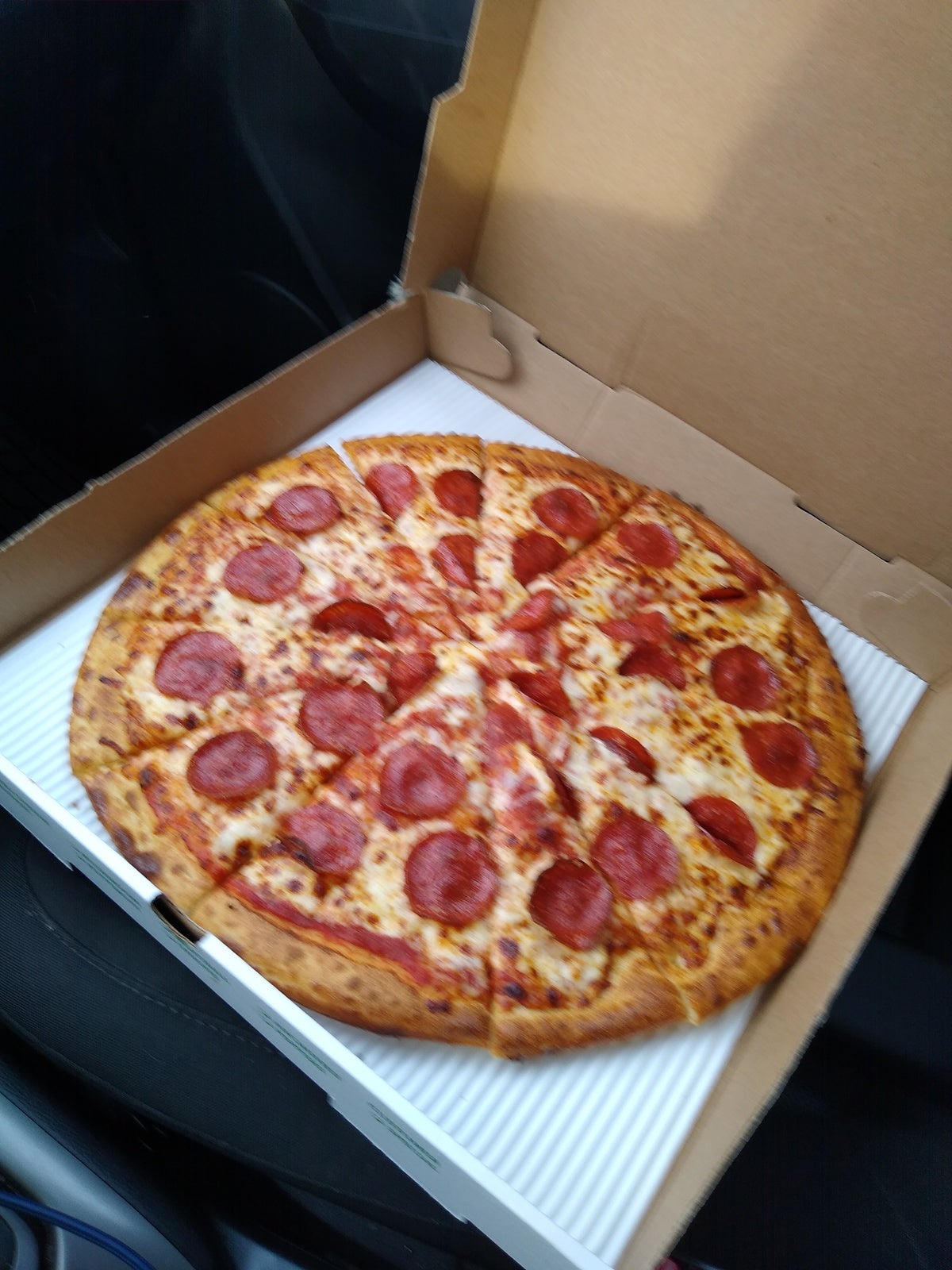 While I sat in my car munching on the adequately satisfying pizza, I decided to check something else about Pasqually's Pizza & Wings — specifically, when the name was trademarked. After all, if it was trademarked before the pandemic, that would suggest that this Pasqually's premium pizza thing was already in the works. If it was trademarked after the pandemic began, that would suggest that they didn't think people would go to Chuck E. Cheese's for pizza alone (in fairness, probably a good bet), and thus, developed this ruse. As it turns out, they filed the trademark on April 16, 2020, which was well into the pandemic, when they likely realized that no one is going to buy Chuck E. Cheese pizza unless they're already in a Chuck E. Cheese's and looking for some okay food in between rounds of Skeeball.
For one last bit of confirmation that this mediocre pizza was indeed the same mediocre pizza that they always serve, I called the Chuck E. Cheese I was sitting in front of and feigned confusion about the whole Pasqually's/Chuck E. Cheese thing. "That's just what we call ourselves on Grubhub," the person on the phone responded.
My follow-up was innocent but straight-to-point: "Is this the same pizza that I'd get from you normally?"
The Chuck E. Cheese employee took an extended pause before tersely stating the obvious: "Yeah." 
Okay, I'm tired now (though my stomach is sufficiently full — I chowed down on my pizza the whole way home). My apologies to West, Brannan and that innocent person on the phone. The pizza was actually pretty good, and I look forward to getting more of it — whatever it's called — when Chuck E. Cheese's reopens.