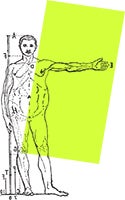 This is the latest installment in the Body Issue, our weeklong examination of the male form, where men get real about what they look like, how they feel about it, and everything in between.
I'd recently updated the "preferred position" in my Grindr profile from "top" to "versatile" in anticipation of working with a gay sex therapist on becoming a bottom. (What can I say? New year, new man.)
The first message I got, though, left me puzzled: "Ass pic?" it read.
As a lifelong top (and Craigslister), I've accrued a cornucopia of dick pics with multiple angles and levels of flaccidity. But I've never been fond of my butt, which now at 40 is drooping into dad-bod territory, despite my having birthed zero children. So I've maintained neither a burning desire to photograph it, nor a clue of how to do so.
Luckily, our 22-year-old editorial assistant, Magdalene Taylor, is a self-identifying PAWG and a bit of an ass pic aficionado. "I've always had a particularly nice butt," she tells me. As she received more attention for it, usually without her consent, my empowered junior colleague owned her ass and began to flaunt it. She counsels that it's important to keep two things in mind when taking an ass selfie:
Set the mood:

"Warm, dim lighting is most forgiving of cellulite or whatever skin details remind you that you're human."

Mind the angle:

"The ass truly looks juiciest from below, holding the phone a foot or less away."
I followed these and a few other instructions (hello, timer!), and behold, my juicy, dad-bod ass pic, which I proudly sent to my Grindr suitor:
Sadly, I never heard back.
It was peak holiday season, however, so I told myself that he was likely busy Christmas shopping, ice skating or doing anything other than pining for my sweet ham hocks. The truth is, though, my ass probably needs work if I expect it to garner attention from the Grindr-verse.
For guidance, I turned to an expert power bottom — my friend Steve, aka "Beastly Bottom," a 40-year-old self-described "cumdump" in San Francisco, who encourages me to never skip leg day. "Many say the way to a man's heart is through his stomach," he notes. "But I disagree: It's through his ass. Your ass is your plume, your signal to the world that either says, 'Look at how bold and rounded I am,' or from my point-of-view as a bottom, 'Look how powerfully I can thrust into you.' In that regard, both tops and bottoms have a stake in the ass argument, and we can agree that shape, tone and volume are critical."
No one exemplifies this derriere trifecta quite like InstaStud Mister Outdoors. For two years, he's delighted his 65,000 followers by stripping down in gorgeous natural settings and posting photos of his Brobdingnagian bubble butt. "This one is my favorite," he writes in an email. "I like the peacefulness of the image, the simplicity and the freedom it represents."
Mister Outdoors, a 39-year-old gay man in L.A., tells me he's received compliments on his butt since he was a teen. "This all started as a fun thing for myself," he explains. "I love being naked outdoors, and it allowed me to have an outlet for that side of me. Once my following got to 20K and kept growing, I realized there's only so much validation my ass needs to get, and it would be good to use whatever reach I have for something good." So Mister Outdoors started a website, BUTTFORGOOD.com, to sell prints of his photos in exchange for donations to charities he finds important. (Prints go for $25 each, and 50 percent of the profits are donated to one of five organizations: Planned Parenthood, Black Lives Matter, the American Civil Liberties Union, Everytown for Gun Safety or the National Park Foundation.)
"Beautiful ass," Steve responds when I send him a link to Mister Outdoors' Instagram account. "Aesthetically pleasing, rounded, muscular. I'd eat it."
When I ask Mister Outdoors for fitness advice on achieving an ass like his, he shrugs. He keeps a regular leg workout, "but honestly, hauling a heavy backpack up a steep hill is probably the best butt workout you can get."
Shit, I think. I have neither a heavy backpack nor a steep hill. But I do have a group fitness class 15 minutes from my apartment that's entirely devoted to tightening up the tochus.
Bünda Training — a name derived from the Portugese slang for "butt" — opened last year in West Hollywood, helmed by former Equinox trainer Katie Lilly. "For too long, the glutes have been forgotten about," Lilly tells me, which is why she based her studio around training the lower body, specifically the butt. Yes, everybody wants a nice ass, but Lilly says people don't realize how important it is to have strong glutes. "Focusing on the 'core' is a sexy concept that's ruled the fitness world over the last 10 years, but people are forgetting that it doesn't matter how strong your core is if you don't have strong glutes. That's what stabilizes your lower back and knees and aids in everything from posture to weight loss."
Lilly's philosophy is if you train your lower body hard enough, you'll eventually change your whole body. That's because the gluteal muscle group — comprised of the gluteus maximus, gluteus medius and gluteus minimus, known collectively as the aforementioned "glutes" — is the largest muscle in the body by volume. I'm told that working it burns the most calories because you're generating more heat in the body, expending more energy and inducing metabolic stress, which is essential for muscle growth. "In most workouts, people will only train the gluteus maximus muscle with movements like squats and lunges," Lilly explains. "But the medius and minimus play a huge role in lifting the butt. In order to have a well-rounded rear, you must train and target all three."
When I step into the Bünda lobby at 6 a.m. for my first "butt and leg" class, there's no doubt I'm in the right place. There are butts everywhere, from coffee-table books to coffee mugs. Naturally, too, the "B" in the Bünda logo is designed to be a butt: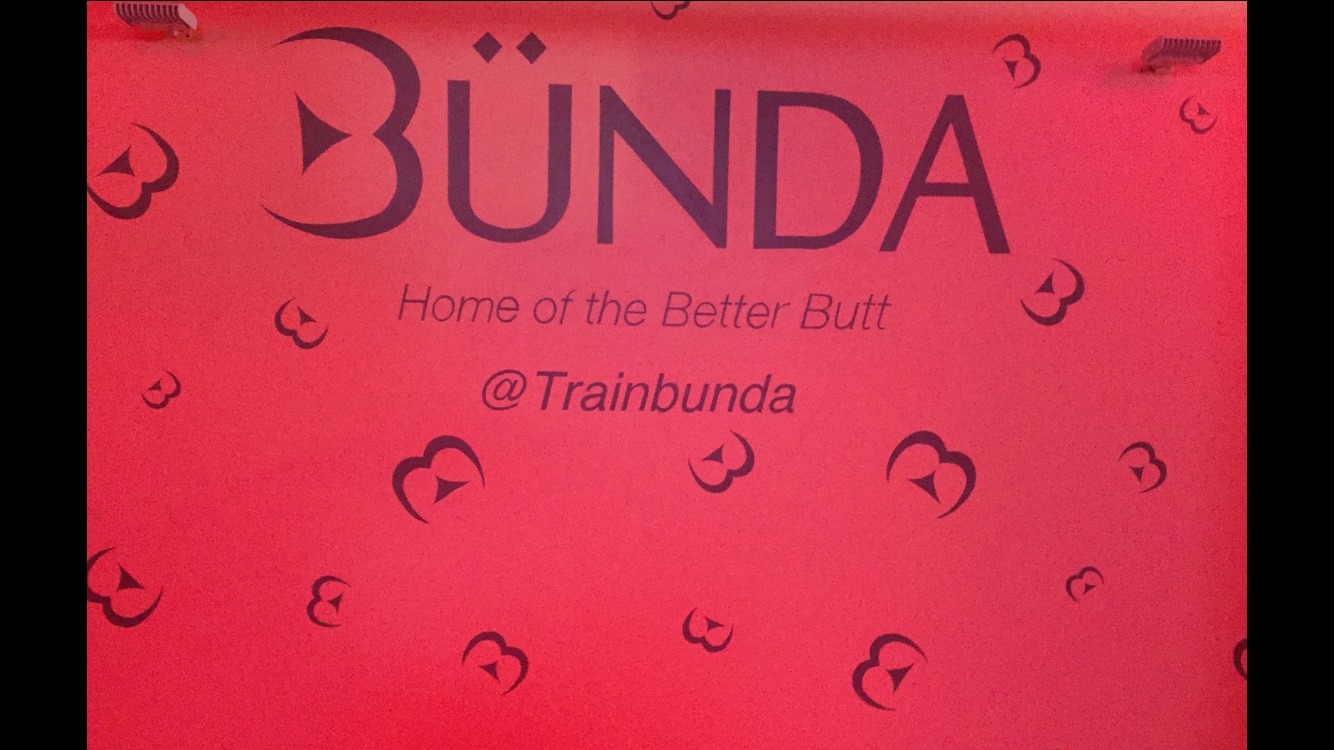 A pink hue sweeps over the studio as color-coded bungee cords of varying resistance are clipped to ankle cuffs as we do a series of leg raises, fire hydrants and donkey kicks. A separate elastic band is worn over both legs during lateral lunges, and a Bünda bench is lowered to assist in feet-elevated pelvic bridges, while a pair of Bünda booties are slipped on to effortlessly lunge over a glossy wooden strip.
I mention to Lilly that I'm surprised we're not doing any squats, since I've always been told that's how you strengthen your glute muscles. "Squats are the last movement I'd suggest for somebody to do to grow a butt," she says matter-of-factly. "The squat is a knee-dominant exercise. It focuses on the quads, the front of the legs. There's little activation through the glutes and the hamstring in a squat."
"She's not wrong," says Tom Holland, an exercise physiologist and author of Beat the Gym: Personal Trainer Secrets Without the Personal Trainer Price Tag. "But it's crazy to throw out one of the most tried-and-true glute exercises. There are a lot of squat variations that take pressure off the knee and target glutes. There's a big movement now to pooh-pooh the traditional and say things like, 'Never do straight cardio,' 'Never do a squat,' 'Never do a crunch,' but that's crazy — you definitely should."
"If squats are done right, you're actually stretching the quadricep," adds Robert Forster, founder and CEO of Forster Physical Therapy and the PHASE IV Scientific Health and Performance Center in Santa Monica. (Under his care, athletes have earned 54 Olympic Medals in addition to Wimbledon, wrestling and MMA titles.) "Squats are usually tolerated well by the knees if you do them right. That is, the squat has to be done where you're sitting backwards, and your knees never move forward past your toes. When you do that, you're not putting undue pressure on the knees, and it's a good glute hamstring exercise. And that's a good thing."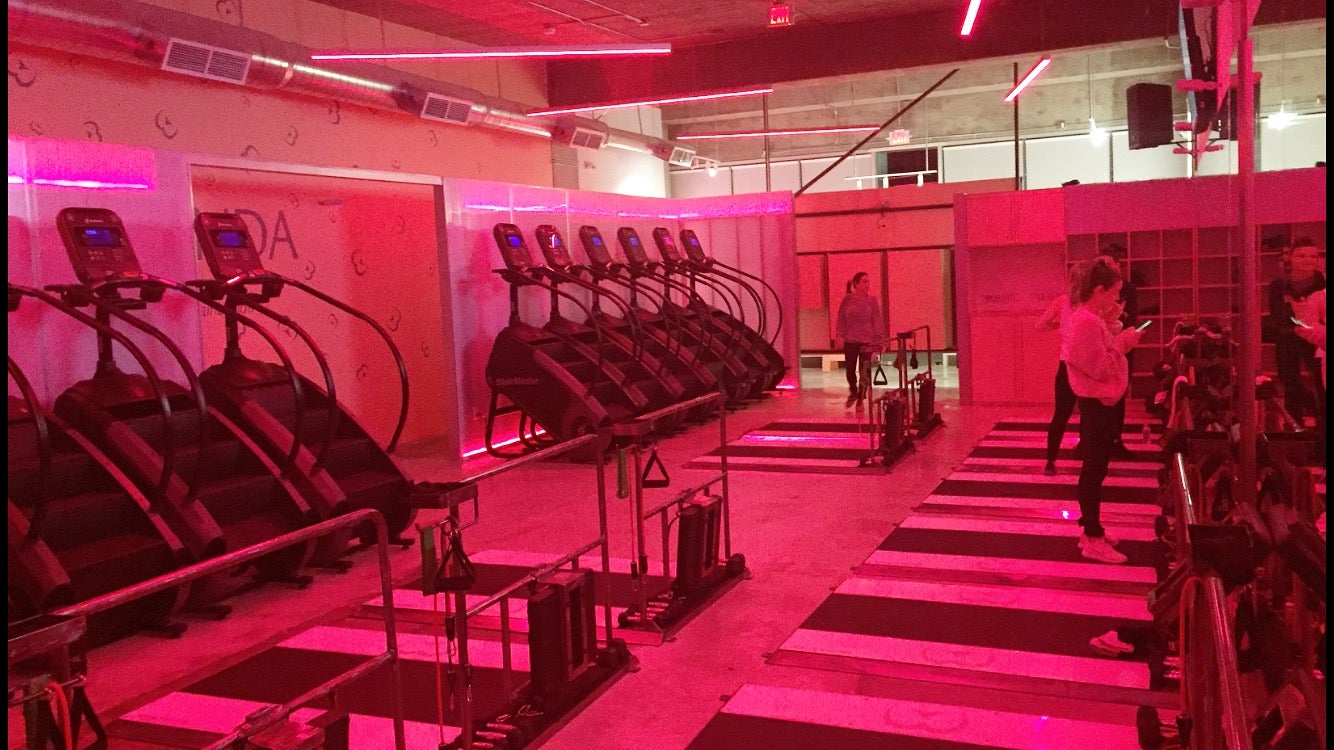 Back at Bünda, after an 8-minute round at our stations on the floor, we move to corresponding StairMasters — the retro revolving staircase popularized in the 1980s — a dozen of which are lined up on the other side of the studio. In addition to straight steps, Lilly directs us through a series of variations (e.g., skip a step, lateral steps, crossing one foot over the other) combined with occasional 60-second bursts at max step speed. Eight minutes later, we return to the floor for more resistance training, then back to the StairMaster, alternating for a total of three sets each over the 50-minute class.
I'm surprised that a seemingly cutting-edge glute fitness class is based almost entirely on exercise equipment my grandmother evangelized during the Reagan administration. But Lilly insists it remains the optimal glute workout. "The number one thing for building your butt is you have to hit it in all different planes of motion, front and back, side-to-side and rotationally, and the Bünda StairMaster exercises give you all of that. It's almost impossible to do that running, spinning or on the elliptical."
Which, incidentally, are three decidedly dude-centric fitness activities. Case in point: For weeks, I'm the only man in the Bünda studio. This seemed odd, given that we were in the middle of L.A.'s gay mecca, West Hollywood. So when I notice a guy (with a great Bünda, incidentally) two StairMasters over, I introduce myself after class. Alas, Conor, a 34-year-old Bay Area native, is straight. In fact, the only reason he's here is because his girlfriend is an instructor.
He says Bünda is predominantly female because it's focused on the lower half of the body, which isn't something that men typically pay to work out. Still, he thinks more of us should. "Working the glutes releases testosterone more than other muscles because it's the biggest muscle group in the body," he explains. "Also, after the first class I did, I haven't slept better in years." When I ask if he's noticed more attention being paid to men's asses of late, he just nods and says "Chubbies," referring to the ass-forward frat boy short-short brand that's steadily gained in popularity since its inception in 2011. "But you gotta have legs dude," Conor cautions. "Your ass needs to look good to wear those things."
Conor is hardly the only straight guy taking note of other dudes asses these days. Run The Damn Brian, for example, tells me via Twitter that "[Philadelphia Eagles running back] Darren Sproles has a phenomenal, powerful butt. Best butt in football." On the subreddit r/manass, with nearly 20,000 subscribers, men of all sexualities post photos of their butts, seeking positive affirmation. "Reddit, what's my ass looking like?" wonders Sten, a 40-year-old straight Swedish man whose butt can also regularly be found on the CAM4 site. Responses are positive, ranging from "Delicious," to "Absolutely scrumptious," to "Good enough to eat." "A big part of posting pics on Reddit is about the response," Sten tells me. "It's fun, exciting and a turn-on reading all the compliments."
Gus, a 22-year-old gay audiologist assistant in Minneapolis, tells me he subscribes to r/manass for the amateur porn. "It's really hot to see a sexy ass knowing that it's some regular guy and not a pornstar." Meanwhile, he posts his own photos for the exhibitionism of it all. "It feels shameful but really hot at the same time. I love reading strangers' comments on my ass about what they like about it, or what they want to do with it. It's a nice ego boost to compare myself to others on the sub as well."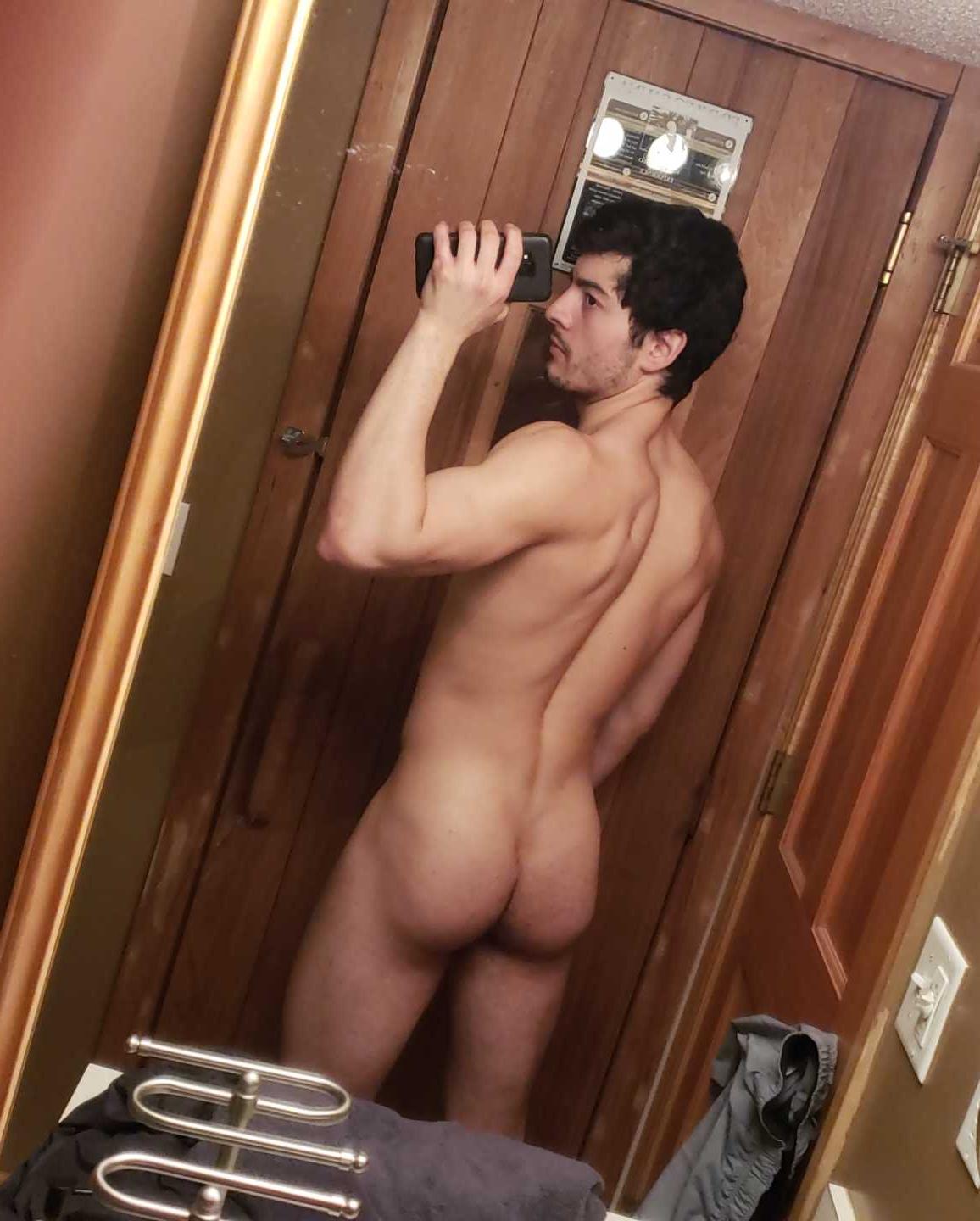 Why is the dude rump suddenly having a moment? Rich Juzwiak, a senior writer at Jezebel, says men's asses have been taboo in mainstream society for a long time because we didn't talk about the usage of men's asses in an erotic way. "There's a lot more talk about that now, though, with a growing acceptance of sex not always being missionary, so people are more open to talking about it. I don't know what women see in men's asses, but it seems a lot like them."
My friend Estelle, a 45-year-old acting teacher in L.A, is one of them. "I'm not looking for hips," she tells me. "I'm looking for globes. Something round and firm that interferes with the drape of your pants in back. Something to hold onto. Something to believe in."
Kylie Langlois is another. The 27-year-old PhD student at Stony Brook University tells me she loves the man butt because she loves the male body. "It's not just the butt itself, though," she explains. "It's how the man wears his butt. If you're putting your butt into saggy pants and cargo shorts, who benefits from that?!?! A man has to be confident in his butt for it to really shine." Physically, she says, a good man butt is either shapely and muscular or a bubble butt. The two needn't be mutually exclusive, though. "Chris Evans has a great muscular butt and all his costume designers know it."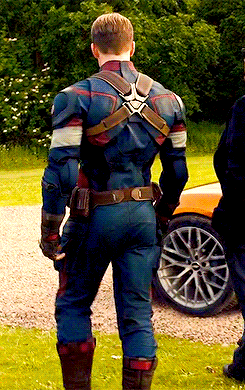 Marcella Guarino, a 26-year-old teachers assistant for special needs students in Upstate New York, echoes Langlois belief that a man butt is only as good as the person wearing it. "The best butts have a 'Good Butt Energy,'" she tells me. "Kind of the same idea as Big Dick Energy. It doesn't really matter what the exact shape, size and roundness of a butt is so long as he can carry himself with pride and confidence. With a great butt comes great responsibility."
Guarino points to two WWE superstars, Seth Rollins and Dean Ambrose, as evidence of optimal Good Butt Energy. "The WWE definitely has switched from sexually objectifying women to sexually objectifying men. They understand that there's definitely ladies watching the show, not just because they like to see people get thrown around a ring, but because they like to look at dude butts."
As for me, I've just begun the 21-Day Bünda Challenge — or 15 classes in two weeks. Most days, I remain the only male in the studio, which I think speaks to the gendered nature of fitness classes more than anything else. But while my Bünda isn't Grindr ready yet, I have seen moderate gains, and FWIW, my ass is constantly sore. Better yet, if I keep up the classes, maybe it'll soon be sore for a completely different reason.
Fingers crossed.