Brian Chan is a 35-year-old stay-at-home dad. He's Taiwanese American. And his clothes are impeccably curated. Take a minute to scroll through the hundreds of fit pics on his Instagram page, and you'll wish you had a fraction of his wardrobe. Everything from the rings on his fingers to the color of his undershirt that pops out from underneath his button-down is meticulously considered. In one photo, he wears a forest green, belted corduroy jacket with matching pants and burnished Chelsea boots. In another, he's sporting a perfectly tailored suit and Cuban collar shirt that make it look like he's just stepped out of a Havana hotel circa 1950. Even when he's dressed casually, in what's essentially an upscale fisherman outfit, the fit is fully considered.
He is, for all intents and purposes, the ideal style sherpa for the average guy. He thinks this is why, in 2019, Amazon Fashion tapped him to be one of their influencers. "I've seen a lot of influencers that wear a little more avant-garde pieces," he says. "I do want to be aspirational and a little outside of the box, but still approachable for the everyday dude."
Basically, he says, if he can't picture one of his close friends wearing something he's featuring on his page, it's probably too much for him. "I think Amazon saw that I can wear many hats," he continues. "I have my suiting. But I can also do casual and Americana — boots, denim and rugged stuff."
That there are clothes to be purchased on Amazon is hardly a secret. Everything is on Amazon. But in recent years, the trillion-dollar company has grown to be more than just a major player in the fashion game. Last March, Amazon surpassed Walmart as the number one retailer of apparel in the U.S. And not by a little either: Amazon has basically taken over the apparel market. Per Wells Fargo analysts Ike Boruchow and Tom Nikic, Amazon's growth represents a 12-percent share of all apparel sold in the U.S. and a 35-percent share of all apparel sold online. "We now estimate Amazon will surpass $45 billion in apparel/footwear sales in 2021," they wrote.
To be clear, Wall Street analysts had predicted this would happen. In 2009, Amazon quietly entered the private-label business by offering a handful of items under a new brand called AmazonBasics. By 2016, the top-performing apparel categories on Amazon included men's bottoms, which pulled in $375 million in sales. Then the pandemic happened, and as more retail shoppers went online, Amazon became the go-to place for everything from underwear to T-shirts to sweats to wear at home.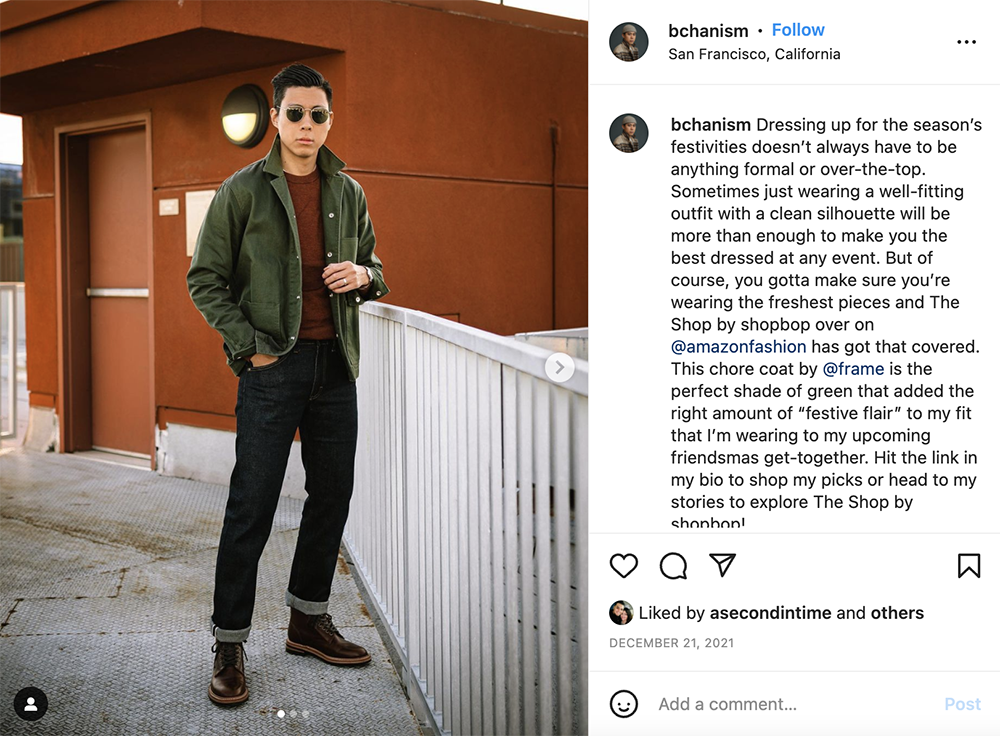 Still, Amazon has lacked a reputation as a place for nice clothes — or anything beyond the basics. But with Chan and influencers like him, they hope to change that. Here's an example: In a recent photo on his Instagram account, Chan wears a cotton twill, green chore coat from the L.A.-based brand Frame. You can find the same jacket for sale on Mr. Porter. But if you can get it on Amazon, a place where you already know exactly how easy it is to return anything you don't like, why wouldn't you?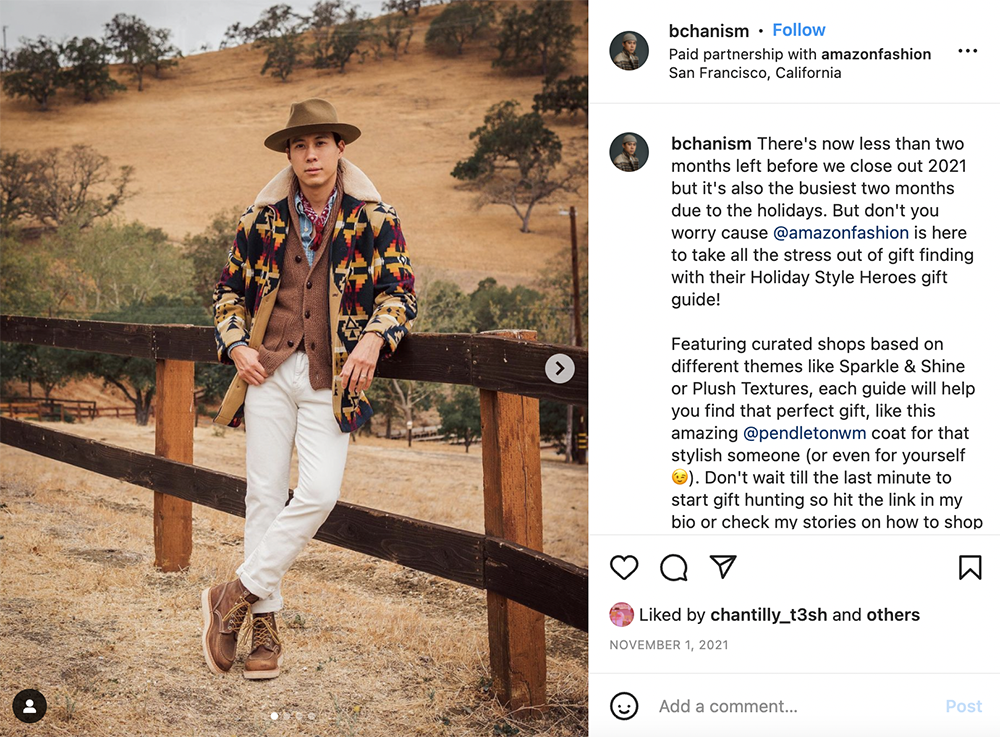 The shearling coat he's wearing in another photo as he leans against a wooden stable? That's from Pendleton, and it's on Amazon, too. So are the selvedge denim jeans, the khakis and the Redwing boots. Basically, by bringing smaller, more exclusive and in some cases, even heritage brands under their roof, Amazon is sending a message to any brand that's not currently featured on their site: If you want to stay relevant, you better hop on board.
To that end, in November 2019, because Amazon reportedly didn't make enough of an effort to police the sale of counterfeit goods and give the brand more control over gray-market goods, Nike stopped selling its goods wholesale to Amazon. So what happened next? Shoppers just bought other brands there instead. "Nike products mostly lost their position after pulling out of Amazon," reports MarketplacePlus.com. That's not to say that Nike's decision has affected their bottom line, but since nearly 90 percent of consumers are more likely to buy from Amazon than other e-commerce platforms, most brands can't afford to cut ties and sell directly to the consumer like Nike.
Amazon's marketing strategy to further bolster their ecommerce supremacy isn't relegated to brand partnerships either. The company is making in-house moves, too. Last July, in the lead-up to the newest episode of the Amazon Prime reality show Making the Cut, which is hosted by Heidi Klum and Tim Gunn and features up-and-coming designers, Amazon sent Chan a copy of the winning jacket. It looks like a traditional Japanese Haori jacket, but it's reversible and comes with metal buttons.
Chan tells me that the representatives from Amazon told him he could style the jacket however he wanted. They just asked that he wait until the day the episode was set to air before he posted a picture of himself wearing it. "And the best part is," Chan wrote alongside his Instagram post, "how after every episode, the winning look is available on @amazonfashion like this super unique @levis jacket which you can shop right now via swipe up in my stories." After just a few days, the jacket had sold out. 
Another face that frequently appears on Amazon Fashion's Instagram page is Diego Leon's. Similar to Chan, Leon's content is also geared toward the aspirational everyman; he wears nicely tailored suits, and his casual getup is fairly similar to the aesthetic of a Banana Republic catalog. Last year, an Amazon representative contacted him prior to National Hispanic Heritage Month. "They wanted me to do some inspired looks from my heritage using clothing that could be found on Amazon," says Leon, who is Cuban-American. And so, they sent him a $300 gift card (the same amount they sent to Chan) and told him to spend it on whatever he wanted.
The clothes Leon purchased, which he says were all part of a very "Cubano aesthetic," included a guayabera (a classic Cuban style linen shirt), a white linen blazer and a Panama hat. "I did some street-style shots in New York City, which is where I'm based," Leon tells me. "Then I posted them to my page."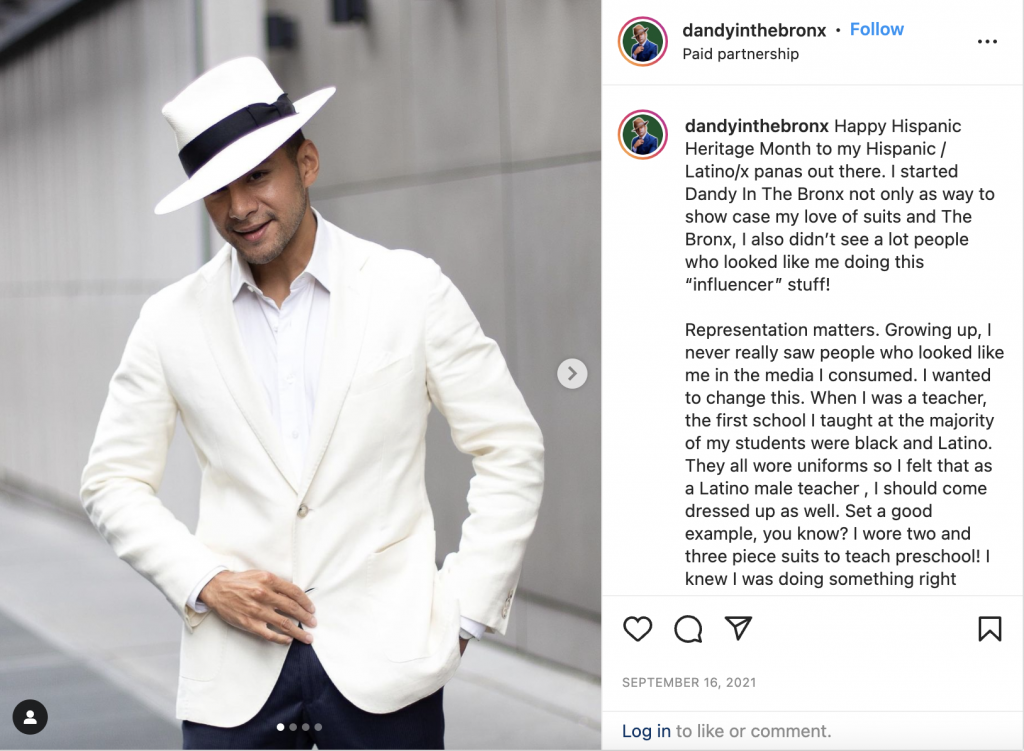 After that, Amazon sent him more gift cards, and Leon did three more posts, all branded with the hashtag #FoundItOnAmazon. "For the holiday season, they asked that I push the fashion brands they were promoting at the time," he tells me. "That was a bit more laser-focused than the Hispanic heritage month." He picked a DKNY men's shearling walking coat with a faux fur collar and styled the jacket in two different ways — first with a black turtleneck, and then over a suit paired with Chelsea boots.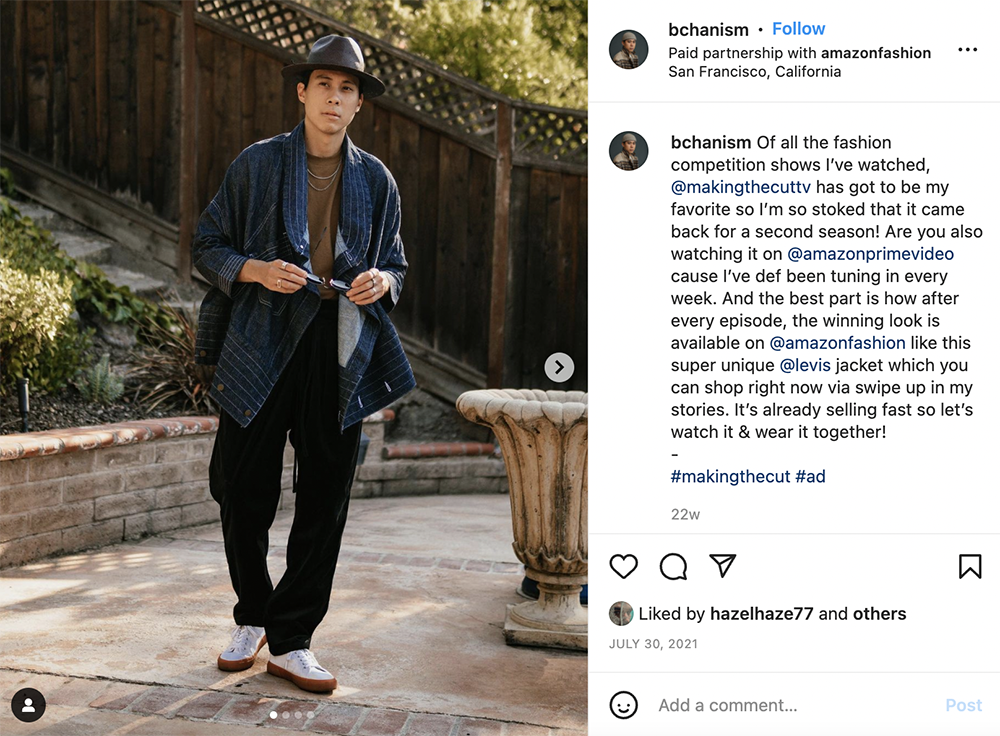 Chan likes the fact that, unlike other brands he partners with, Amazon gives him more flexibility to style the clothes the way he wants to. Basically, since Amazon isn't pushing a single brand so much as they're pushing a service, they could care less about which labels Chan chooses to push. Plus, over time, their selection has grown significantly. When he first began the partnership, Chan says Amazon didn't have as many quality options. "One of the first big brands they added was Billy Reid," he says. "That was a whole month's theme: We want you to pick from Billy Reid."
They've since added Alex Mill, Paul Smith, Obey and Rag & Bone to the mix, and in 2020, they created their latest fashion vertical — Luxury Stores. We know, of course, how this story ends. It's the story of Amazon, really: Target a market. Obsessively focus on dominating that market. And cripple and starve all the other players therein.
All of which is to say, in a world overflowing with fashion influencers, those tapped by Amazon like Chan and Leon might soon be the only ones who matter.