Today was kinda heavy in these parts. It started with Steve Bean's wild, hilarious and heartbreaking story about his two-year battle with nose cancer, which has taken a horrific physical toll but hasn't broken his spirit. Next, we interviewed a collection of homeless men in L.A. who have given up looking for a permanent place to live because of how the system has given up on them. Finally, Justin Cascio took us through the indignity of going through TSA as a trans man, where the compulsion is to either out trans people to their fellow passengers or hassle them because their passport still lists the gender assigned to them at birth.
All that said, while heavy and solemn, I promise they're all incredibly great and insightful, too. (Bean's tale in particular is hard to shake.) Plus, we mix some fun stuff in there as well. And so, check out those stories, an abridged review of killer-shark stinker The Meg and an explainer on why old dudes are seemingly still so strong.
Must Read
"My Year Without a Nose"
Nobody willingly gets their nose cut off. Except, apparently, actor Steve Bean Levy. He had doctors do exactly that in 2016 after months and months of chronic nosebleeds led him to discover that he was suffering from sinonasal squamous cell carcinoma, aka nose cancer. At least after two years of endless surgery, radiation and chemo, his sense of humor is coming back—even if his nose isn't. READ MORE
A Movie Critic On… 'The Meg'
On knowing it's going to bad before even walking in the theater: "If an action film opens in August, watch out: That's a sign the studio knows it's awful."
On the film giving you a headache and making you want to puke: "It's the cinematic equivalent of a hangover."
On the upside of achieving a PG-13 rating by removing all the blood, per The Meg's director:

On things that should have stayed in development hell: "The Meg has been in development for more than 20 years."
On what you should see instead: Crazy Rich Asians, The Happytime Murders or an actually good movie about killer sharks—2004's Open Water, "a low-budget indie that transformed a pretty clever gimmick into a suspenseful, surprisingly moving relationship drama."
On The Meg, and sadness: "There's something melancholic about its very existence."
Read more about why August is traditionally a movie graveyard, how difficult it is to make a bloodless killer-shark movie and the best way to defeat a megalodon here.
Uber Prudes
As anyone who's seen HBO's Taxicab Confessions knows, there's not a lot you can't do in a taxi. The same cannot be said for Uber or Lyft—here's why modern peer-to-peer ridesharers are so against you getting your drink, smoke or fuck on in their back seat.
Grandpa's Gonna Knock You Out
Senior citizens, although slow, and dangerous behind the wheel, can still serve a purpose: Beating the shit out of you. That's because of something called "Old Man Strength," a very real phenomenon that describes how muscles can get stronger in old age due to the density of their fibers.
The Problem With Handsome

Being really, really, really ridiculously good-looking might sound like a dream—no awkward teen years, getting hit on all the time—but all that constant attention can fuck you up. We spoke to two guys, both straight and gay, who told us being absurdly handsome isn't all that it's cracked up to be.
Street Spirit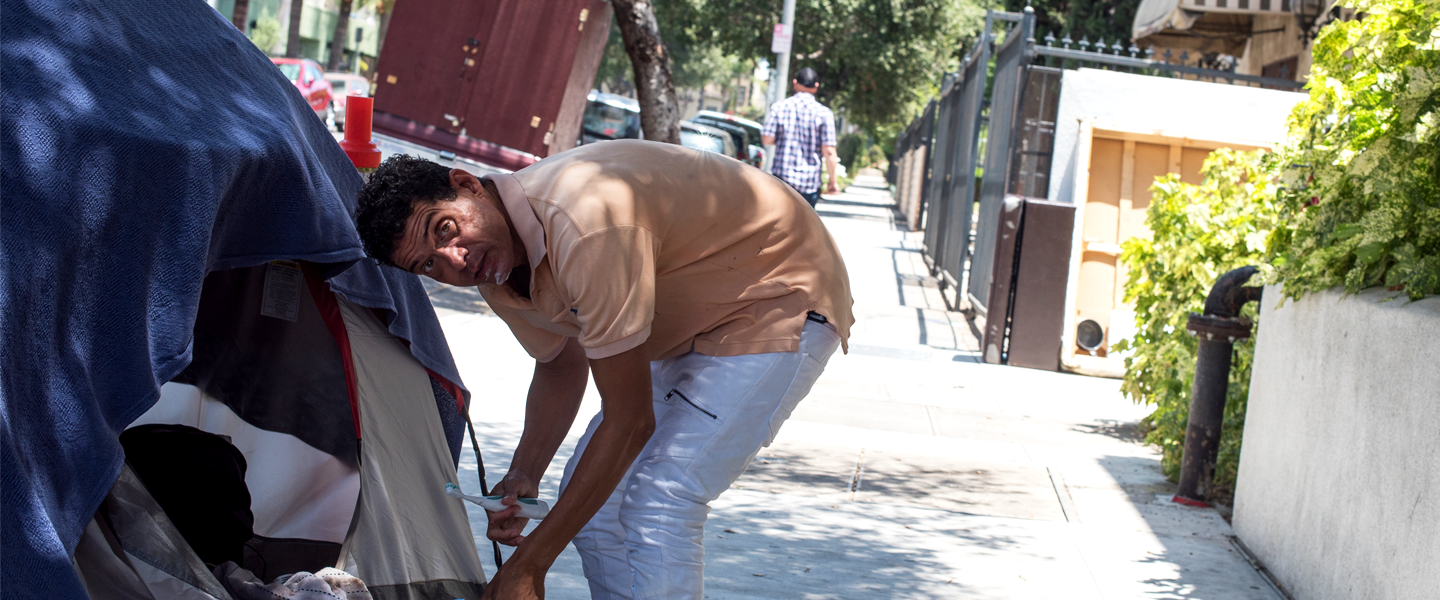 There are a lot of reasons why a person becomes homeless, but it may surprise you that one reason is choice. Not a choice like choosing between a Venice Beach two-bedroom and a Skid Row bus bench; instead, a choice between taking government assistance to transition off the street and one that embraces a life of no rent, little property and few rules. This type of homelessness is called "service resistant." Features writer Eddie Kim spoke to men and women who've chosen to eschew a "way out" for a life of freedom without a net.