Last week, redditor "BerserkBoulderer" described going on a camping trip with friends. After returning to his "sleeping area" — no mention of whether this was a cabin or a pup tent — he went to bed and woke up a few hours later, whereupon he felt a "very extreme pang of pleasure from deep inside me." He then realized he was "going to cum," but the process of reaching climax "took forever." "My whole body was pulsing in rhythm with my heart and alternating between hot and cold," which the poster described as superior to a "prostate orgasm" and "felt much more like what a female orgasm is described as with the slow buildup and afterglow." 
While BerserkBoulderer wasn't sure what had just happened to him, his fellow redditors immediately diagnosed it as a "coregasm," or "a catchy, funny term for a very real phenomenon — it's when you experience a spontaneous orgasm while doing intense exercises that engage (or perhaps overtax) the core."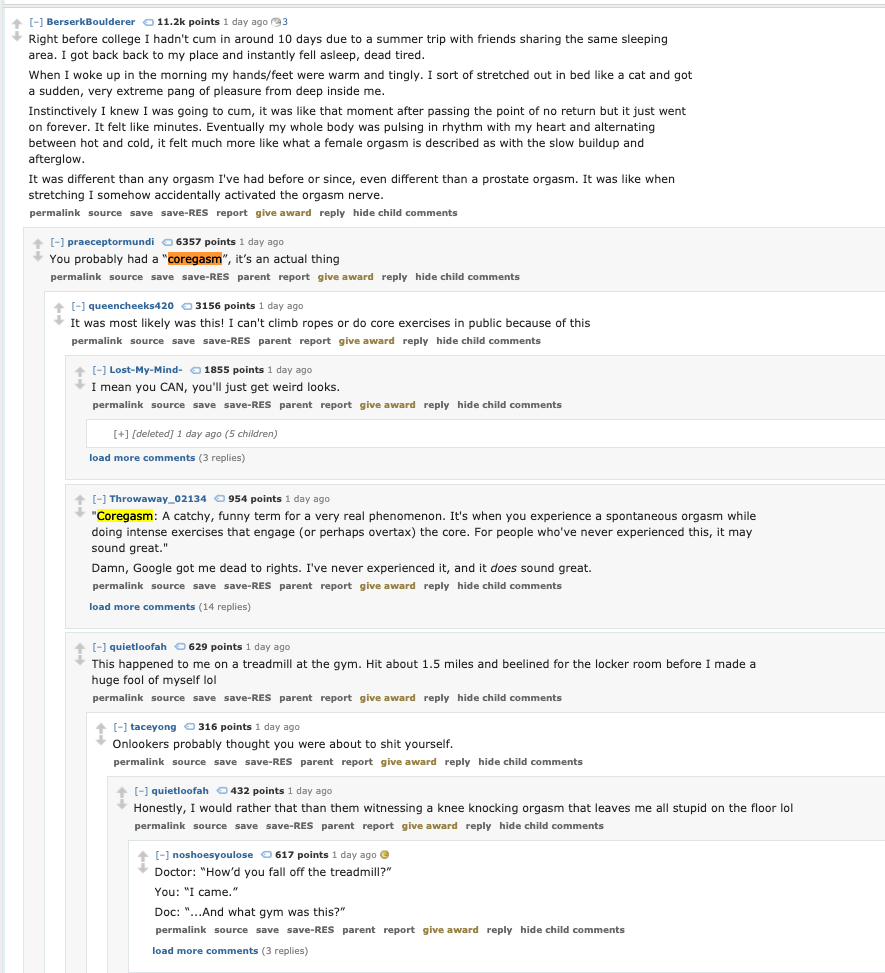 Coregasms are, of course, easy to dismiss. After all, every few years, some spurious or overblown fitness story makes the rounds — bodybuilders drinking breast milk for the gains, people inflating their biceps, influencers inflating their lifting numbers with fake weights, men inflating their testicles. Every foodstuff from raw eggs to desiccated liver has, at some point, been held out as the hardgainer's holy grail, the sine qua non, the ne plus ultra, the staff of life. Which, of course, begs the question: Is the "coregasm" more of the same, or are they an actual real thing experienced by actual real people? 
In terms of experts, Andy Galpin, a professor at Cal State Fullerton's Center for Sport Performance, read the description of the presenting problem and found himself at a loss. "No fucking clue," he writes over text. Meanwhile, Beau Hightower, a New Mexico-based chiropractor with a robust practice among professional athletes, says that he's never encountered any coregasms while performing adjustments. 
To his credit, Anthony Roberts, a sports journalist with an encyclopedic knowledge of bodybuilding and fitness history, looked past the poster's confusing order of operations (for example, there doesn't seem to be any exercise involved?) to address the term itself. "I remember when it was coined," he tells me. "It was in 2007, and the person who first published a serious piece about the 'coregasm' was Cassandra Forsythe, who is now a professor at Central Connecticut State University."
Forsythe, who teaches physical education and health performance at CCSU, is impressed by Roberts' memory. "Yes, I first posed the question about a 'coregasm,' an orgasm induced by exercise, on the T-Nation forums," she tells me. "That was back in 2007, and not long after that, Adam Campbell [now an editor at Men's Health] and I wrote an article about it for T-Nation. That article isn't online anymore, but more pieces kept coming out. You'll see something every few years on the 'coregasm.'"
As for the mechanism, it doesn't really fit the sketchy narrative in the Reddit post. "It has to do with the positioning of the body during the exercise, not so much the amount of weight lifted or the intensity," Forsythe explains. "Roman chair exercises or hanging leg raises can induce a 'coregasm.' For a woman, it's similar to a deep vaginal orgasm, and, I suppose for men, there could be anatomically specific ways to induce it as well [for example, by massaging the prostate]."
Zander, a super heavyweight powerlifter whose "coming out on steroids" story I told two years ago, swears that the "coregasm" is possible for him. "My ex said he would ejaculate while defecating at certain angles due to prostate stimulation, but nobody talks about this," he explains. "And I've had odd experiences with face-down, single-leg hamstring curls. It's just anatomy lining up in the right way." That said, he wasn't convinced this is what had happened to BerserkBoulderer: "This is something altogether different."
Ron, another super heavyweight powerlifter and inside source about "hands-free ejaculation," tells me that "coregasms" were an important part of his adolescence. "I had a 'coregasm' of sorts happen when I was a teen, after just hitting puberty. I was doing leg raises at home and noticed something felt good," he says. It proved an essential activity for the span of several months: "It was actually the only way I knew to jerk off until I realized I could use my hands." 
But there are, Ron adds, a host of "adult performers who can orgasm just by tensing, like this guy [NSFW]" — an entire genre, in fact, and one he has studied in great detail. He isn't quite sure, however, how this Reddit story, with no core tensing and no obvious exertion, fits that narrative.
JR Powell, a longtime friend and fellow writer, spent the first half of the early aughts attempting to achieve the "mental orgasm," a climax without the lifting of a finger or the gritting of teeth. "I was always laboring to achieve erection and orgasm first through the so-called 'hands-free' method, and then via the 'head-free' method, or the ability to orgasm while awake without so much as the slightest thought," he tells me.
To this end, Powell studied John Climacus' The Ladder of Divine Ascent, focusing his attention on this 7th century monastic handbook's 15th chapter, "On Chastity." In that section, Climacus — this isn't family name, but rather a derivation of κλῑ́μᾰκος or "klimakos," meaning "of the ladder" and intended to reference the fame of the book he wrote — writes at length about involuntary (and primarily nocturnal) ejaculations and emissions and how they should be understood spiritually, speculating as well about their possible origins. They were, Climacus reasoned, "something God allows to happen for a while in order that man, after such an accident, which of course is free from sin, may achieve the purest humility." 
Climacus was interested in explaining why these orgasms sometimes couldn't be resisted, but Powell had another objective — how could such spectacular events, being supposedly "free from sin," be induced during one's waking state rather than at night?
Climacus settled on the notion that perfectly resisting whatever passion was on offer was the key to transcendence — "to have mastered one's body is to have taken command of nature, which is surely to have risen above it." Powell, by contrast, came to believe that achieving a "coregasm" without clenching one's core at all, but rather via the tightening of the soul, represented the attainment of bodily mastery.
When I ask him if he ever achieved that state, he shrugs. "In retrospect, it was a metaphor for my ability to lose myself in a world that lacked outside stimulation or entertainment," he says. "You and I didn't know that this was called a 'coregasm,' and I wouldn't have cared even if I did."
As for BerserkBoulderer, none of my experts seem to be able to characterize precisely what happened to him. "Oh, that's probably just a nocturnal emission experienced during a period of extremely light sleep," Powell theorizes. "That's likely why he wrote that it felt like it took forever, which is how it feels when you're paralyzed in a dream yet moments from waking up."
It would seem then that for BerserkBoulderer, as for many others, the actual "coregasm" remains elusive. Perhaps some more hanging raises or time in the Roman chair could remedy that.