Jon Jones, the greatest combat athlete on the planet, had jammed his left shoulder while training for his light heavyweight championship rematch against bitter rival Daniel Cormier, and couldn't lift his left hand above his waist. Calling off a big-money fight like that was a last resort, so Jones turned to Beau Hightower — Jackson Wink MMA Academy's resident chiropractor-cum-naprapath, and a New Mexican scientist who would soon become nearly as popular on YouTube for his hammer-and-chisel adjustments as fictional Albuquerque meth manufacturer Walter White was on cable television. 
"We adjusted his humerus," Hightower tells me. "You can take a hammer and chisel, and far from just swinging wildly, make precision adjustments following specific lines and vectors. And when that match happened, Jones knocked Cormier out…" — here, he pauses for emphasis — "…with his left hand."
"I got top-ranked Polish heavyweight Marcin Tybura over a hamstring tear in a handful of weeks, to the point at which he was able to throw respectable high kicks against then-number one contender Fabricio Werdum in a fight that went the distance," Hightower continues. "I've helped Donald Cerrone, a true warrior, go into fights with serious tears and many nagging injuries."
Hightower is something of an athlete himself, having played college football at the University of New Mexico in the early 2000s before deciding to study chiropractic, a discipline always regarded with a degree of public suspicion given that its 19th-century founder D.D. Palmer claimed that he'd received his innovative ideas about bone-setting from "the other world." 
"That's the first place a lot of people will go when talking about chiropractic medicine," Hightower explains. "The pejorative term 'quack' is impossible to refute in an argument. There's no comeback that will change anything once it's been said. I have three bachelor's degrees, a master's degree, medical degrees and hundreds of hours of post-doctoral and residency work. My career — and my work — ultimately refute that claim. I've built a practice that's working for the athletes I treat, but it's not something I've just stumbled upon randomly with a gimmicky tool."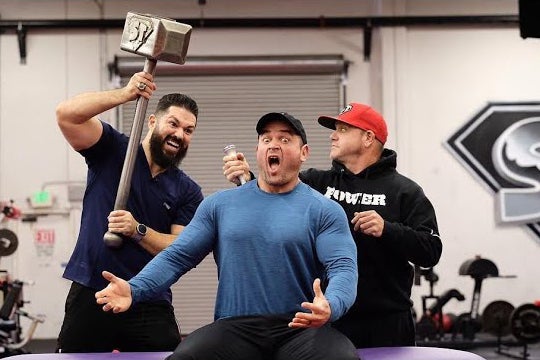 In other words, he didn't just start swinging a hammer overnight. "First, I worked for a place that didn't do chiropractic adjustments, just soft tissue work," Hightower tells me. "And I moved around a bit, attached to offices in Dallas, Cincinnati and San Antonio, before heading home to Albuquerque." Back in New Mexico, he started from the bottom, driving around with a portable adjustment table stuffed in his vehicle trying to scrape up some business. "I was doing $40 treatments one at a time," he says.
All the while, he popped up here and there on social media, photographed alongside MMA stars like Johny Hendricks, slowly broadening his business beyond his car. "My Facebook was already somewhat built up from playing college football and getting friend requests based on that," he says. "So from a marketing standpoint, I had a stronger baseline to start from as social media began to evolve."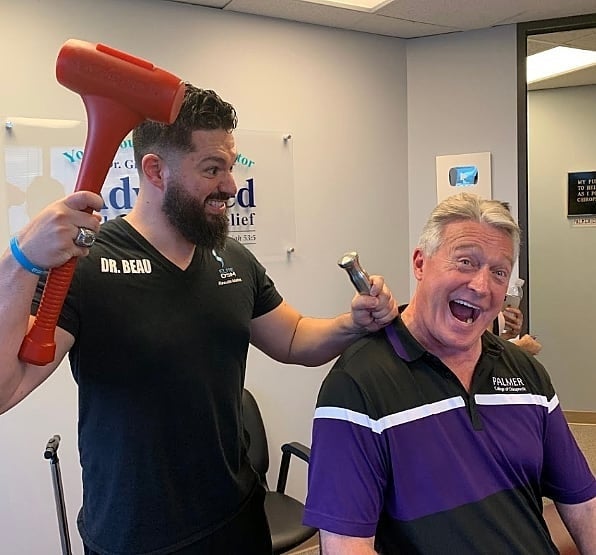 The hammer came next — and because of a completely unexpected reason. "I began having severe gastrointestinal injuries, to the point at which doctors were talking about removing some of my intestines. And even though medication adjustments eventually alleviated those problems, the suffering I endured made me consider alternative treatments. I used ayahuasca, which is legal here in New Mexico provided you're working with a healer. Similarly, I began researching the use of the hammer for adjustment purposes in Asian medicine, a tool that's been utilized for a long time. What I realized is that some of these traditional techniques are indeed efficacious, even if not entirely for the reasons traditional practitioners think they are. I started to try to reverse-engineer why some of this worked, such as the hammer, to determine what I should borrow and refine."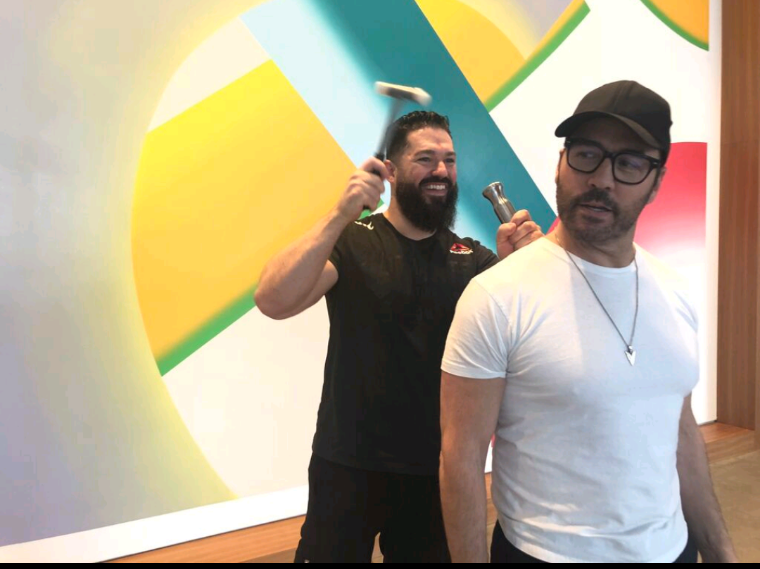 Still, at first, he hammered with his hand, not steel. "I'd hit things with my palm on a piece of metal, to see if I could fix frozen shoulders," he says. "But in order to save some wear and tear on my hand and wrist, I began incorporating a hammer and chisel." 
As for how that healing hand (and hunk of metal) began to work on the battered bodies of MMA fighters, Hightower explains, "I was trading my services for haircuts with this barber, who introduced me to fighter Diego Sanchez, who introduced me to Tim Kennedy, which got me in front of Andrei Arlovski. These were top stars, highly-ranked guys in their weight divisions. From there, I connected with Greg Jackson and Mike Winkeljohn's Jackson Wink MMA Academy. As my practice expanded, they invited me to move into their facility, and I did. It was the right move. Even people who were initially a bit skeptical, like Jon Jones, came around and started working with me. During my time as director of sports medicine for Jackson Wink, encompassing probably 500 or 600 fights across four years, there were only three or four injury pullouts." 
Ironically, it's his body that's become worse for the wear. "I'm 35 now, and I only adjust maybe half my patients. I'm pretty good with angles on this, and we use hydraulic tables in my office, but I tore my rotator cuff working on [6-foot-6, 315-pound] former NFL player Igor Olshansky." The hammer work, too, has taken a toll. "Swinging the hammer with my right arm is already creating imbalances," he says. "Your body will adapt to suit your technique."
Not that his technique is for everyone — by design. "If you go to some chiropractor and he tells you that you're looking at 20 or more treatments right off the bat, that's no good," Hightower says. "I work in terms of four or five treatments, and we'll reevaluate from there if needed. On top of that, you can't rely on a single cure-all method. A manipulation of a joint might temporarily alleviate acute pain, but you need soft tissue work or even strength training undertaken by the patient to deal with chronic problems. Lifestyle is at the root of most problems — whether the patient is slumped in a chair all day or getting brutalized in the Octagon."
So until that changes, you'll find Hightower back in Albuquerque, hammering away.