As good as Miles Klee's analysis of the power that memes are having on the fact that Joe Biden is currently (and sadly!) leading the pack of ravenous Democrats angling for their party's presidential nom, I think it's still safe to say that memes are not the sole factor in the man's success.
I mean, if some dope-ass memes are all someone needs to run out in front, why isn't Andrew Yang winning?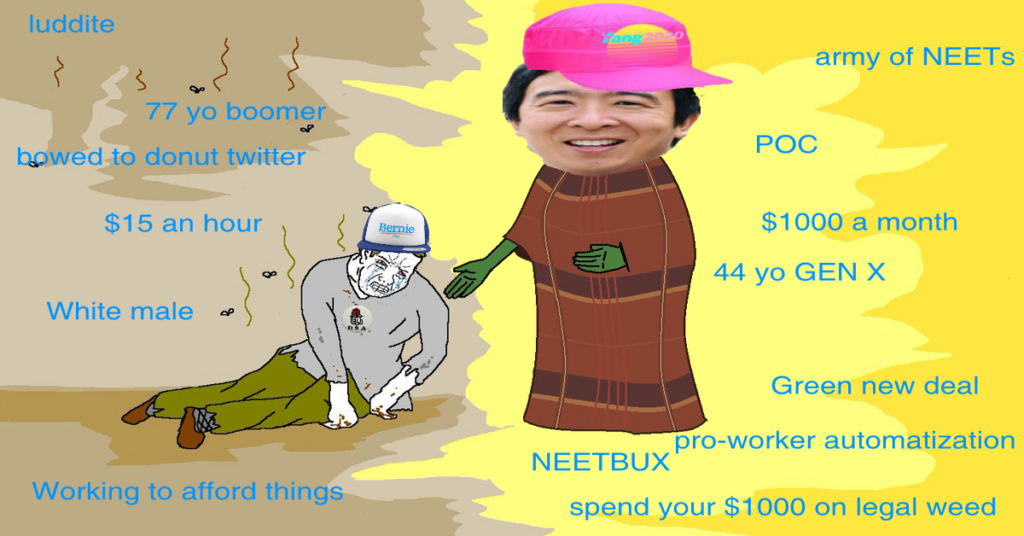 What? He's polling as well as Senators Kirsten Gillibrand and Amy Klobuchar? Maybe memes truly are the dark arts.
Must Read
"Christians Are Upset That Incels Are Co-Opting Celibacy"
In the words of the Highlander, "There can only be one." As in, there can only be one group of zealous virgins staking their identity on their celibacy. For Christians practicing abstinence as an example of sacrifice and devotion to God, watching the incel community weaponize a lack of sexual relationships in a war against women is a painful bastardization of their beliefs. But can reaching out to incel groups help Christians reclaim the narrative around celibacy? They're unsure. READ MORE
Boy Geniuses
Groundbreaking new research has confirmed what many have long suspected: Boys are treated differently by their educators than their female classmates. More specifically, the failure of teachers to properly reprimand boys for disrupting class and speaking out of turn conditions them to believe that their voice is more important than others. The implications of which are that the broader patterns of gender inequality are implicitly learned in middle school, and can have far-reaching effects well into adulthood.
One Man's Trash…
… is another woman's Adirondack chair. That's actually true for Marjia Medina, who spent her childhood dumpster-diving with her father for valuable scrap metal, and now has parlayed that into a successful business that turns trash into furniture.
Ian Lecklitner recently spoke to Medina about how she merges her capitalistic and artistic sensibilities, her one-woman campaign to prevent the spread of bed bugs and her strategy on how to score a Restoration Hardware couch at far less than sticker price.
Lady Dirtbag
If you watch Fleabag, Phoebe Waller-Bridge's masterfully acerbic BBC comedy about a single, early 30s, unnamed hot mess of a woman whose reaction to the tragedies in her life includes constantly engaging in vacuous sex, fucking up her relationships and generally being her own worst enemy, you might think you've got front row seats to the sad, horny life of a female dirtbag.
But Tracy Moore writes that, more than anything, the show succeeds at being brilliantly funny not because Fleabag's choices really are so scandalous or radically dysfunctional, but because they are a brutally honest reflection of the lives many single, modern, urban women live.
Moving On Up
As aspirational as it might sound to leave your blue-collar job to start earning the big bucks in a corner office doing white-collar work, that transition isn't easy. Things like office politics, the way the different workspaces operate and the assumption that white-collar jobs come with a lot of positional power (when they often don't) can lead to struggles for workers making the leap.
Now That's a Juicy Combo
In the latest edition of our ongoing comfort food series Eat Your Heart Out, Eddie Kim caught up with Lucas Peterson, columnist for the L.A. Times covering food and culture, about what dish above all others gives him the warm and fuzzies. And being that Peterson's originally from Chicago, it shouldn't surprise you that his meal of choice involves beef, bread, giardiniera and a whole lot of "gravy."
The Joe We Know
If you were to go off what you see and read on the internet, you might think that former Vice President Joe Biden is a real badass, wrenching on his Trans Am, swagging out in Aviator shades and jumping the Vietnam Memorial on his custom, Evel Knievel-style Harley:
But the internet's memed-out version of "Uncle Joe" doesn't quite match up with his impotent, bumbling, real-life alter ego — the one who voted for the Iraq War, gutted welfare and threw Anita Hill to the wolves. Unfortunately, though, the Biden of our memes might have enough momentum to carry the Biden of our nightmares all the way to the Democratic nomination, and that's a huge problem.