As a society, we get a lot of mixed messages. We're asked to choose between a left or right Twix, yet both are exactly the same. We're told vegetables are good for us, yet vegetable oil is just about the most unhealthy thing in the grocery store. And, while statues of naked baby boys pissing into fountains are incredibly commonplace, most people — myself included — probably don't want kids relieving themselves in public fountains.
On the latter count, there are two major examples most of us envision when we think about statues of naked baby boys pissing in fountains: One derives from Renaissance-era Italy; the other comes from pre-Renaissance Belgium. The Belgian example came first and is the most famous — as well as the most fun — but we have a bit more understanding about the origins of the Italian type.
Often made of marble, clay or bronze, the pissing boy statues from Renaissance-era Italy usually depict joyous proto-men holding their penises and urinating, sometimes with a bit of a mischievous smile. Per art historian David Boffa, these go by a few different names, one of which is putto mictans — putto is a representation of a naked child, and mictans is for micturition (also known as urinating). Puer mingens is another name, with puer meaning "boy" and mingens being another word for urination. There's also spiritello d'acqua or "water sprites," as Boffa notes that some historians say that these sculptures are more of a representation of playful sprites or spirits, as opposed to representations of actual young boys. But Boffa tells me that his favorite name for these sculptures is "pissing putto" as it's "more fun."
Depictions of urinating boys date back to Ancient Rome, but they were reinvented in Renaissance-era Italy by the sculptor Donatello, who lived from 1386 to 1466. According to The Spirit of Water: Reconsidering the Putto Mictans Sculpture in Renaissance Florence by art historian Victor Coonin, "To Donatello goes the principal credit for reinventing the theme of the putto — and by extension the sprite — in a way that is consequential and not merely decorative. While previous manifestations were more ornamental, Donatello endowed the figures with meaning derived from and critical to the works' greater context."
Coonin goes on to explain, "The first such spiritelli are generally considered Donatello's free-standing figures produced for the Siena Baptistery font. They are highly animated and joyful embodiments of music and dancing celebrating the sacred rite of Baptism."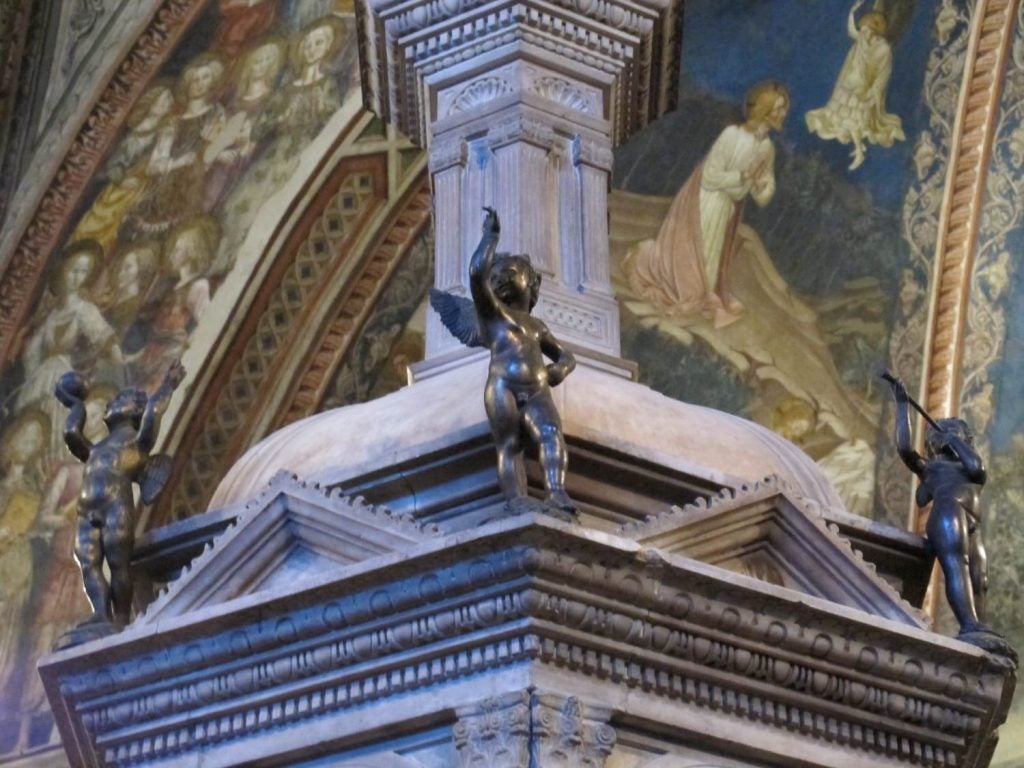 After Donatello, more and more putti became present in Renaissance artwork, and from that — and greater advancements in plumbing — came sculptures that could actually piss water. Boffa notes too that the water coming from those little penises should be thought of as exactly that: water, as opposed to urine. Because these are innocent little spirits, there's a purity to them, and thus the water coming from them would be pure water. "It's also important to understand the [significance] of water in an era where most people didn't have access to running water in their homes," says Boffa. Every day, people would trek to their local fountain for fresh water, and some of these fountains in public squares were made more decorative by including mischievous full-bladder boys situated around the pipe. 
While modern sensibilities around nudity may assign some sexual meaning to such figures, Boffa says that wasn't necessarily the case back then. Nudity wasn't always sexual, as it was common to depict male athletes in the nude, and female breasts were often featured in sculpture as well — there's even such a thing as "lactating fountains" that depict women with water flowing from their breasts as a symbol of fertility and nurturing.
When it comes to the pissing putti, the water itself would symbolize health and vitality, whereas the children would represent innocence and harmless fun. Additionally, Boffa tells me that these sculptures may have been intended to be funny as well. "There's also humor in a lot of these statues that people tend to overlook," says Boffa. "Overall, there's a lot more humor in art from the Renaissance than you may think."
Although the pissing putti of Renaissance-Era Italy provide a number of still-standing sculptures for the world to marvel at, there's one pissing boy statue that stands out among all others: the Manneken Pis — or "Little Pissing Man" — in Brussels. Most likely, when people think of pissing boy statues, this mirthful, resilient little character is who they're thinking of.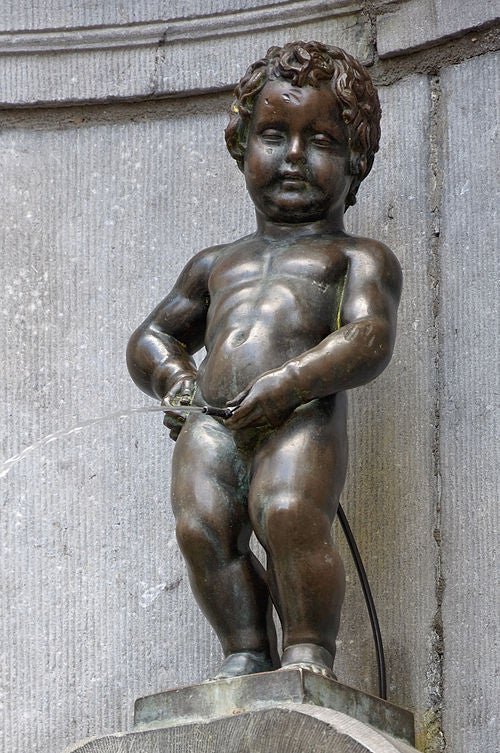 The earliest known examples of Italian pissing putti are from around the 1450s, but Manneken Pis might be almost a century older. While the bronze figure you see above dates back to a 1619 sculpture by Jerome Duquesnoy the Elder, a similar stone sculpture predated it, perhaps as far back as 1388. There's only one known depiction of this original version, however, and it's from a painting dating back to 1615:

If you've tired of the "Where's Waldo" game, here's a close-up, which you can see isn't all that clear: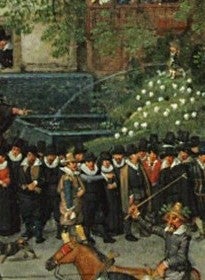 Not only is the date of the original Manneken Pis unconfirmed, but the artist is unknown and so is the meaning. As a result, many stories have been assigned to him over the years. One says that he was created as a nod to the leather industry in Brussels, as urine was often used to soften leather in ancient times. There's also a story that the statue was built to honor a boy who saved the city by urinating on the lit fuse of a bomb. Yet another claims that the sculpture was of a boy who was lost in Brussels, and one of his parents employed the city to help find him. The boy was eventually found peeing in the woods, and the parent had the sculpture made to thank the city.
Whatever its true origin, the original Manneken Pis served a very practical function in Brussels, as it was the main source of water for much of the city, and families would visit it daily. Over the next half-century, he was stolen several times, and despite always being recovered, he usually was damaged or broken in some way. This became such a problem that he was replaced with a replica in 1965, and the original now resides in Brussels' Maison du Roi, which was the former home of the King of France (when Belgium was a part of France).
Because he was once so central to the lives of the people of Belgium, Manneken Pis became more and more important over time, even as his function of supplying water became less critical. Nowadays, the Manneken Pis is perhaps the single most important artistic symbol of the people of Belgium, and he can be found just about everywhere in the country, particularly on kitschy souvenirs like magnets, bottle-openers and, best of all, corkscrews.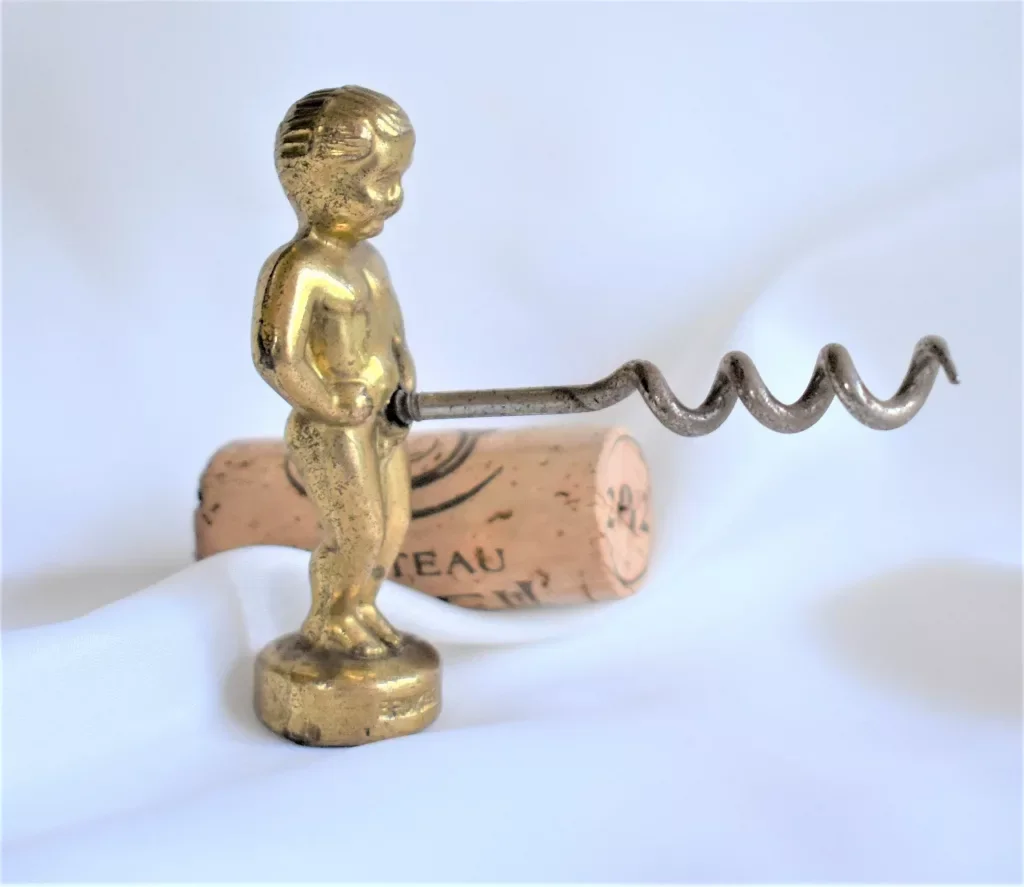 Depictions of the Manneken Pis aren't just present in Brussels gift shops either. If you were to head to your nearest retailer that sells garden statues, any pissing boy fountains will most likely be a replica of the Manneken Pis.
Overall, though, for the past 700 years, pissing boy fountains have provided much of Europe with cultural touchstones representing mirth, purity and resilience — and they managed to do so without mainstreaming the idea that kids can urinate in public fountains. Kids freely urinating in water parks, however, is another matter.