For the bashful beginners amongst us, being pegged — that is, receiving anal penetration from someone in a strap-on — can be an understandably daunting sex act to try. First, you've got to overcome any cultural shame you may have picked up about butt stuff (spoiler alert: enjoying anal doesn't "mean anything" other than that you enjoy anal). Next, you've got to find a partner who's willing to boldly go where no one's gone before. And then? You've got to go shopping.
But getting dicked down by a dildo doesn't have to be scary. In fact, it can be hugely intimate and pleasurable, for both the "strapper" and the "strapee." You just have to follow the same best practices you do for other kinds of penetrative sex: Go slow, start small (like with just one finger), pay attention, use lube, try different things to see what feels best and keep the lines of communication open.
Anal penetration should never hurt, so if it does, just go back to the beginning of the process: more warm-up, more lube, more communication. You'll get there eventually — and even if you don't, it's still fun to try.
The Basics You Need to Get Started
A Harness: This is the underwear-like garment that holds the dildo in place on the wearer's body. These can be strappy and sexy, comfy and minimalist or anywhere in between.
A Dildo: This is what you'll actually be penetrating with or getting penetrated by. You can pick whatever size and shape of dildo your harness can hold, but make sure it has a flared base so that the harness's O-ring can keep it securely anchored against the wearer's pelvis (you'll also want to make sure the dildo fits the diameter of the O-ring). Silicone is generally the best dildo material for pegging because it's both body-safe and flexible.
Lube: Particularly when it comes to anal sex, lube is non-negotiable because — as you may have noticed — your butt doesn't self-lubricate. For pegging, you're usually going to want something on the thicker side of the viscosity spectrum.
Optional Accessories: These include anything you want or need to make the experience more pleasant, such as interchangeable O-rings to accommodate different dildo sizes, a firm pillow to help with positioning or a vibrator you slip inside the harness to give the wearer more pleasure. Again, they're optional, but they can help a lot, depending on what you're going for.
With that shopping list in mind, here are some of the best options out there for first-timer pegging gear.
Dildos
Best Beginner-Friendly Dildo: Fuze Nova
Why It's a Pleasure: Slim, smooth, flexible and easy to maneuver, the Nova is a perfect pegging dildo for beginners. It's angled upward for easier insertion, and has a cool ridged base that gives the wearer some extra clitoral sensation during use. There's even a hole for a bullet vibrator, an addition that can amp up both partners' pleasure. It's also relatively thin — which is good for beginners — and somewhat long — which can make thrusting a little easier.
Why It's a Pain In the Ass: Although it does have a slight curve to it, the Nova isn't designed to hit the prostate with much intensity. Instead, it'll just slide past it, stroking it gently on each thrust.
The Long and Short of It: For total novices in the realm of butt stuff, there could be few introductions better than the Fuze Nova. It makes pegging a more convenient and pleasurable experience from both sides of the dildo.
Best Prostate-Targeting Dildo: Godemiche Ambit
Why It's a Pleasure: The curve and exaggerated coronal ridge of the Godemiche Ambit are just right for hitting the prostate during a pegging session. The upward curve makes it easier to guide into place, too. My partner can easily have prostate orgasms with this dildo, and while I'd like to say my strap skills are just that good, the Ambit brings a lot to the table as well.
Why It's a Pain In the Ass: Due to its intermediate 1.5-inch diameter, most beginners won't be able to take this dildo right off the bat — but that's what warm-up and lube are for. The silicone is also on the firmer side, which ups the intensity of the prostate stimulation it delivers and makes insertion easier, but this may also make it borderline-uncomfortable for some users.
The Long and Short of It: The shape and size of the Godemiche Ambit make it an excellent pick for anyone who wants firm, direct pressure on their prostate while being pegged — provided you can handle the moderate girth.
Best Realistic Dildo: Vixen Creations Mustang
Why It's a Pleasure: If vividly dick-like dildos factor into your pegging fantasies, it's hard to go past Vixen Creations' dual-density silicone toys for sheer realism. Whether you decide to go for a standard skin tone or a more whimsical colorway, this dildo has a pleasing balance of firmness versus squishiness, and has just enough curve to hit the prostate with aplomb.
Why It's a Pain In the Ass: The realistically veiny, wrinkly texture on this toy can feel a bit overwhelming to sensitive butt tissue, though a nice thick lube — or a condom — will smooth things out significantly.
The Long and Short of It: Not everyone digs realistic dildos, but if you do, the Mustang is a solid option that performs wonderfully in a harness.
Harnesses
Best Leather Harness: Aslan Leather Jaguar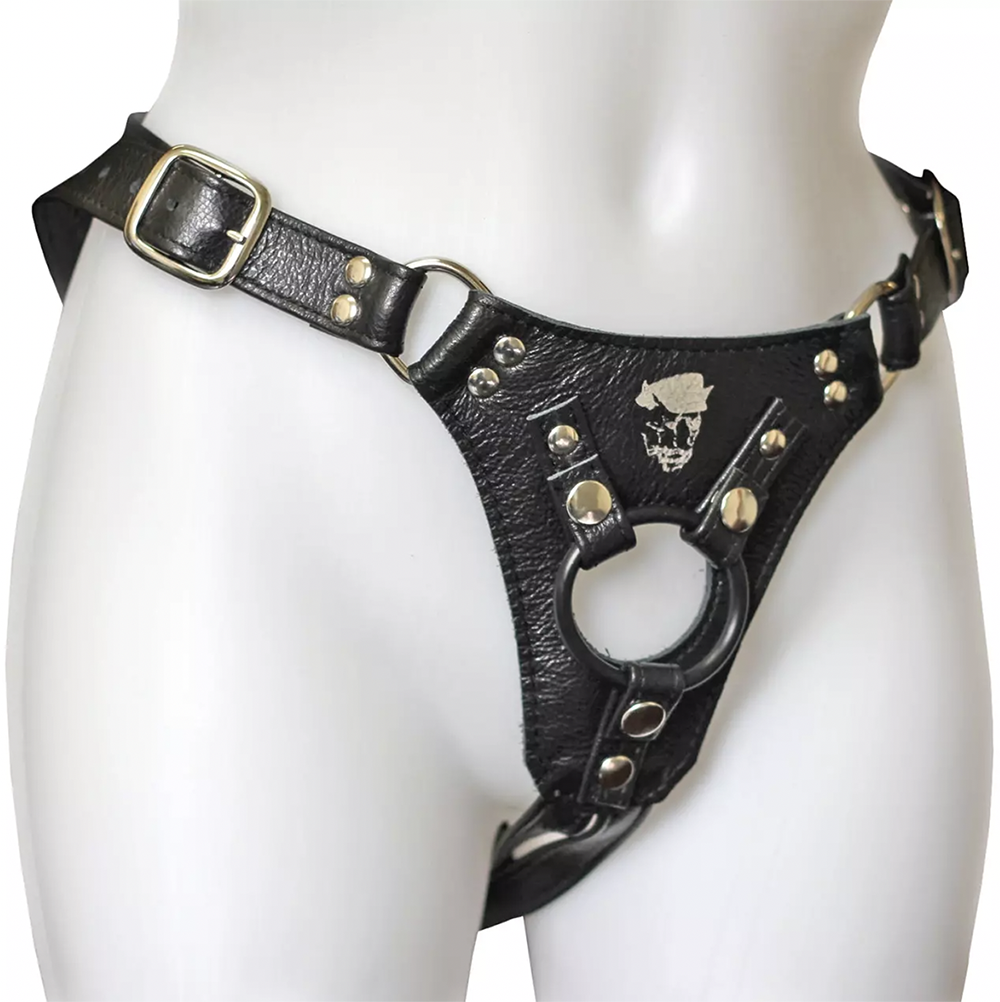 Why It's a Pleasure: Leather is a luscious material for harnesses — it hugs the skin, and it looks (and smells) sexy as hell. This handmade harness fits a wide range of body sizes, and has a double-strap design for optimal stability. It also tends to position the base of the dildo right over the wearer's clit, providing pleasurable pressure in just the right spot. The O-ring can be removed and switched out for one of a different size, making this a smart choice if you plan on using extra-slim or extra-wide dildos with it at any point.
Why It's a Pain In the Ass: Leather is porous, so there's no way to fully sanitize it once you've used it. For this reason, it might not be the best option if you plan on using your harness with multiple partners. It's also less convenient to clean and take care of than fabric harnesses — you'll need saddle soap and a leather conditioner if you want to keep it in tip-top shape. Obviously this harness isn't vegan — although the company also makes some faux leather options, if you're into that.
The Long and Short of It: It's important that you feel sexy in your harness, and many people feel sexier in leather than in, say, spandex. But if practicality is your priority, you might prefer a harness that's easier to keep clean and care for.
Best Fabric Harness: SpareParts Joque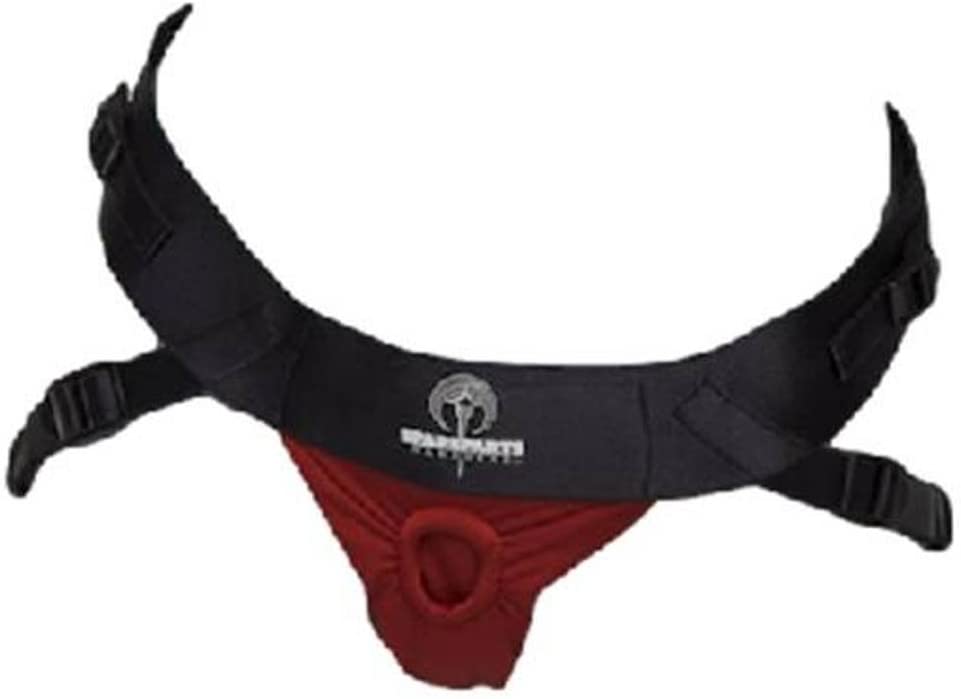 Why It's a Pleasure: The Joque is one of the comfiest, sturdiest harness options out there. It's ultra-adjustable, so you can find just the right fit for your body, and it has two small pouches that each fit a bullet vibrator. Best of all, its nylon/spandex blend is machine-washable — so you'll be able to get it clean no matter how many bodily fluids you throw at it.
Why It's a Pain In the Ass: Depending on your aesthetic tastes, you might not find the Joque as sexy-looking as a leather harness — or you might, in which case, you do you. It also doesn't allow you to swap out its O-ring, but fortunately, the ring is pretty stretchy and can fit dildos up to two inches wide.
The Long and Short of It: If comfort, stability and convenience are high priorities for you, the Joque should serve you very well.
Best Briefs-Style Harness: RodeoH Briefs+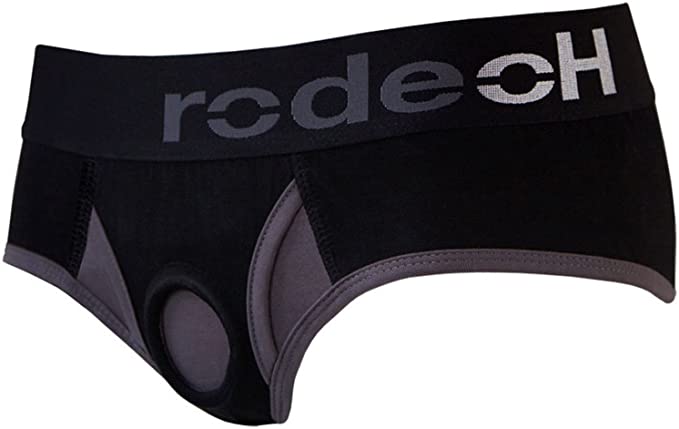 Why It's a Pleasure: The biggest advantage of briefs-style harnesses is that you just pull them on like a pair of underwear. Once yours is on, slip in your dildo and voilà, you're ready to peg somebody. This harness is also supremely comfortable, and features a pocket for a bullet vibe. You can machine-wash it on the delicate cycle and tumble-dry it on low. The androgynous aesthetic of this harness may also feel especially gender-affirming for nonbinary and transmasculine users.
Why It's a Pain In the Ass: Because it lacks traditional leg straps, this style of harness tends to be less stable, especially if you're using a long or floppy dildo, or thrusting very hard or fast. You also can't switch out its O-ring for a different one, but it'll accommodate dildos up to 1.75 inches wide.
The Long and Short of It: This stylish harness is unbeatably fast and convenient to put on, though it doesn't perform as well in action as more traditional, strappy styles.
Lube
Best Water-Based Lube: Sutil Rich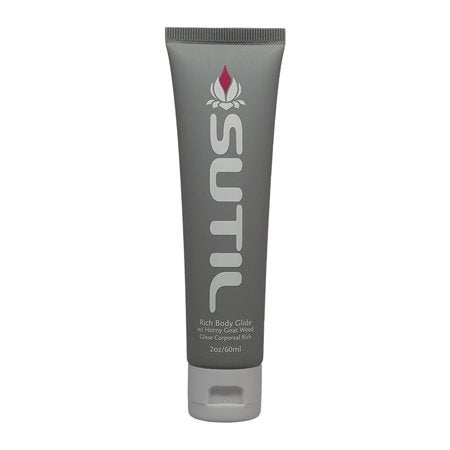 Why It's a Pleasure: Unlike most water-based lubes, this one isn't thin, runny or sticky. Instead, it's thick, cushiony and long-lasting. It stays put when you apply it, instead of dripping all over your hands and bedsheets. You can use it with all kinds of condoms and sex-toy materials, too. Is it weird to be in love with a lube? Because I'm definitely in love with this lube.
Why It's a Pain In the Ass: Like all water-based lubes, Sutil Rich will eventually dry up as your skin absorbs the water in it, although that takes much longer with Sutil Rich than with almost any other water-based option. You can always re-up the slipperiness by adding a bit of water, or just applying more lube (which you should do anyway — it's anal, after all).
The Long and Short of It: When it comes to pegging, lube is mandatory — and the plush feel of Sutil Rich makes it a fantastic choice for anal play.
Best Hybrid Lube: Sliquid Silk

Why It's a Pleasure: Hybrid lubes are essentially water-based lubes with a little silicone-based lube mixed in to provide some extra cushioning and longevity. Sliquid Silk stays slick for ages, helps protect your sensitive skin from friction and irritation, and doesn't make a drippy mess during application.
Why It's a Pain In the Ass: Although Sliquid Silk contains a small enough amount of silicone that it shouldn't cause problems, lots of people prefer to avoid using silicone lubes on silicone toys because they can damage the material. You can do a "spot test" on the base of the toy if you're concerned — if the lube doesn't work with the toy, you'll notice the toy's texture start to change, pill or peel where you applied the lube.
The Long and Short of It: As its name suggests, this lube is super silky-smooth. The silicone creates a protective layer between your skin and the toy that can cut down on drag and discomfort.
Optional Accessories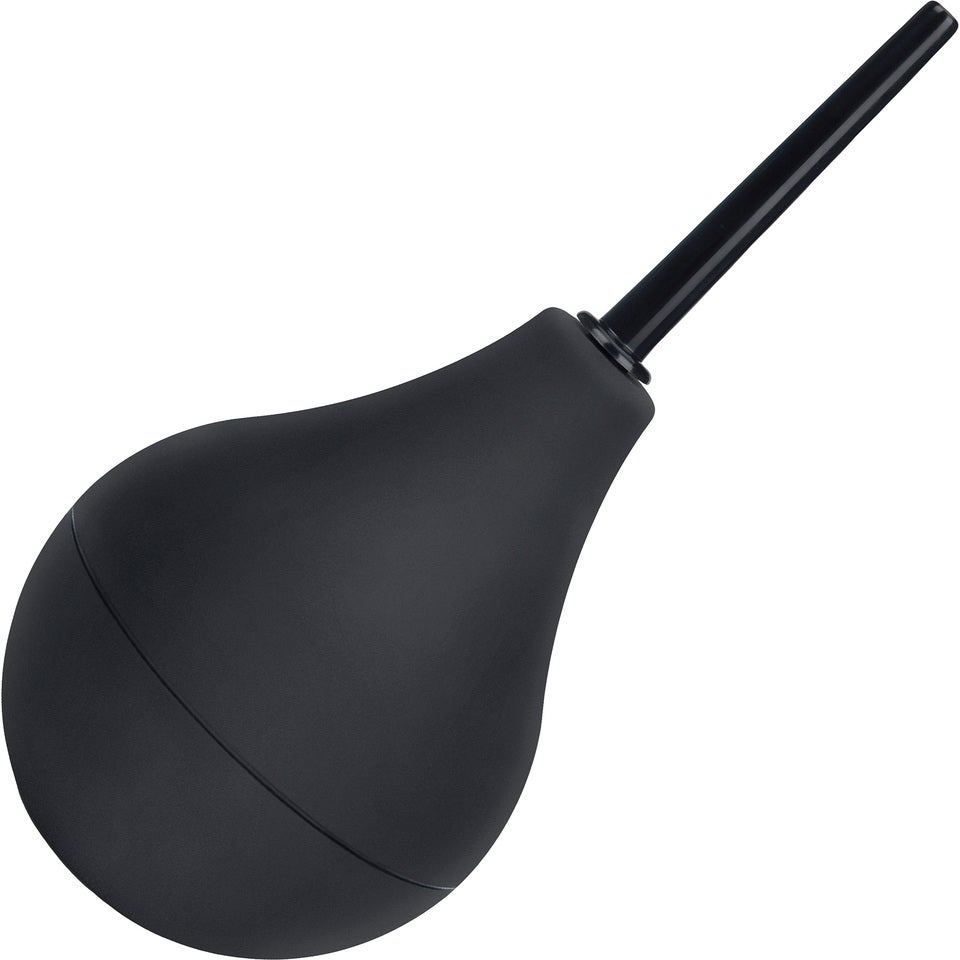 Best Enema Bulb: b-Vibe Classic Enema Bulb Set
Why It's a Pleasure: Doing an enema before a pegging session isn't necessary, but it can give you some peace of mind if you get nervous about the potential messiness involved in butt play. (Hey, shit happens.) This bulb is made of body-safe, non-porous materials and comes with instructions so clear that even a first-timer should be able to douche their own butt just fine.
Why It's a Pain In the Ass: Doing enemas too often can disrupt the natural balance of bacteria in your butt and make the tissue more prone to tearing, but if you're only doing one per week, you should be okay.
The Long and Short of It: For those of you with hygiene concerns, this simple and effective enema bulb will help you clean up and chill out.
Best Vibrator to Wear Under a Harness: Lovense Dolce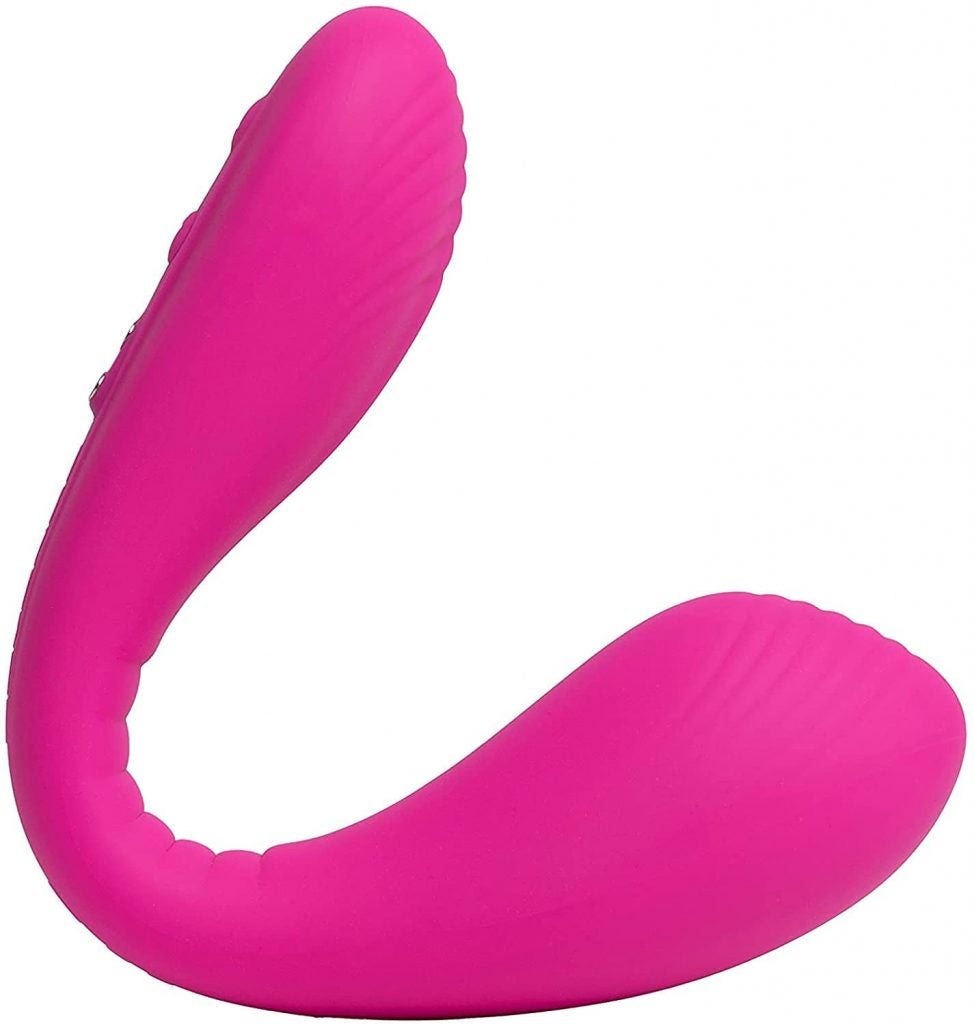 Why It's a Pleasure: This adjustable silicone vibrator has two "arms" — one slips inside the vagina to stimulate the G-spot, and one stays outside the body, on the clit. When worn under a strap-on, it provides that little "something extra" that can turn pegging into a pleasurable or even orgasmic experience for the giver. Since it's wirelessly controllable via Lovense's smartphone app, you won't have to pause what you're doing every time you want to adjust the vibrations (although it can be a little tricky to operate an app when you've got lube on your hands).
Why It's a Pain In the Ass: Not everyone will want a side order of vaginal penetration with their clit stimulation. If you'd rather just keep things external, you could get one of the aforementioned harnesses that has a bullet vibrator pocket, and slip the We-Vibe Tango X inside to get a similar effect (albeit without the Bluetooth controllability).
The Long and Short of It: Being able to orgasm from wielding a strap-on is pretty nifty, and this petite vibe has enough power to give you a good shot at making it happen. It'll work under just about any harness-and-dildo combo.
Best O-Ring Set: Tantus Silicone O-Ring Set

Why It's a Pleasure: While it may not be as glamorous or sexy as some of the other items on this list, a good set of O-rings in varying sizes is a must-have if you plan on using dildos on the slimmer or girthier side of the size spectrum. They help hold your toy in place more securely, so it won't flop or twist around during use. Because these are silicone, they're easier to clean than the rubber O-rings that come with some harnesses, and less likely to cling onto bacteria.
Why It's a Pain In the Ass: You can only use these if your harness has a swappable O-ring (like the Aslan Leather Jaguar above) — otherwise you'll have to stick to whatever dildo sizes will fit the one it already has. It's also a bit annoying to travel with these because they don't come with any kind of carrying case to keep them all together, but that's easily solved with a twist-tie or small storage bag.
The Long and Short of It: Any strap-on connoisseur should eventually add this set to their collection. When you've got an O-ring for any possible dildo size, the world is your horny oyster.
Best Cushioning Dildo Base: Banana Pants BumpHer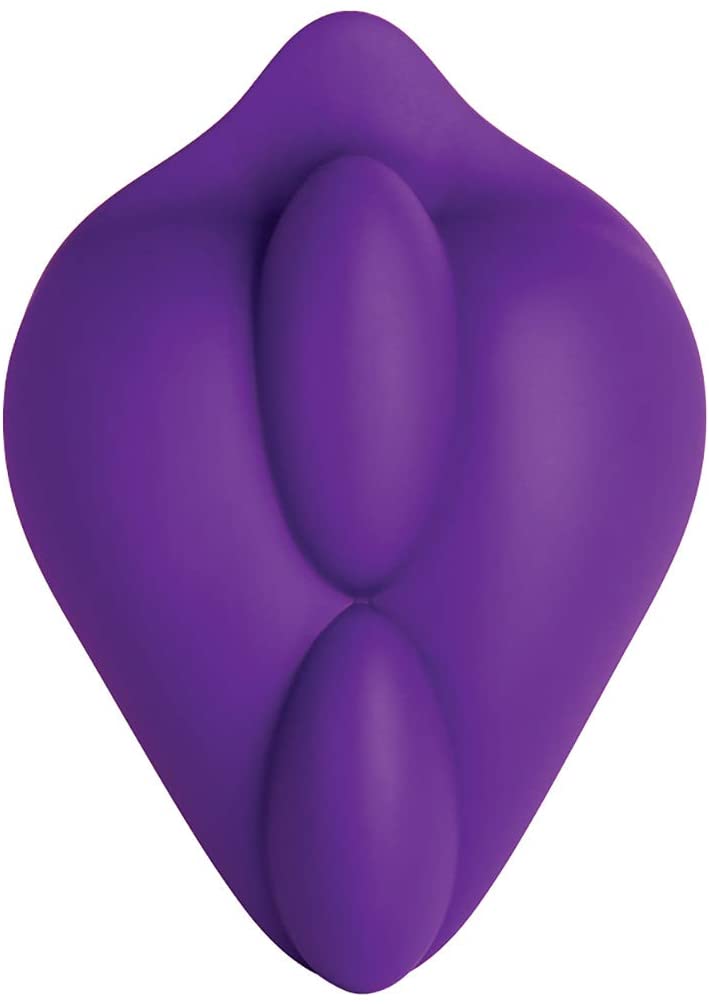 Why It's a Pleasure: Some people find that aggressive strap-on sex can cause discomfort and even bruising on the wearer's mons pubis. This cushiony silicone dildo base is made to address exactly that. Once your dildo is strapped into your harness, slip the BumpHer over its base to provide some extra "padding" and pleasurable stimulation around the clit area.
Why It's a Pain In the Ass: The extra step of putting on the BumpHer can take a minute or two, at a moment when you're eager to get to the sexy stuff already — but it's worth it if pelvic discomfort often bothers you during strap-on sex.
The Long and Short of It: If you like your strap-on sex hard, fast and/or prolonged, you might find it comfier to throw one of these comfy cushion bases into the mix.
Best Positioning Aid: Liberator Jaz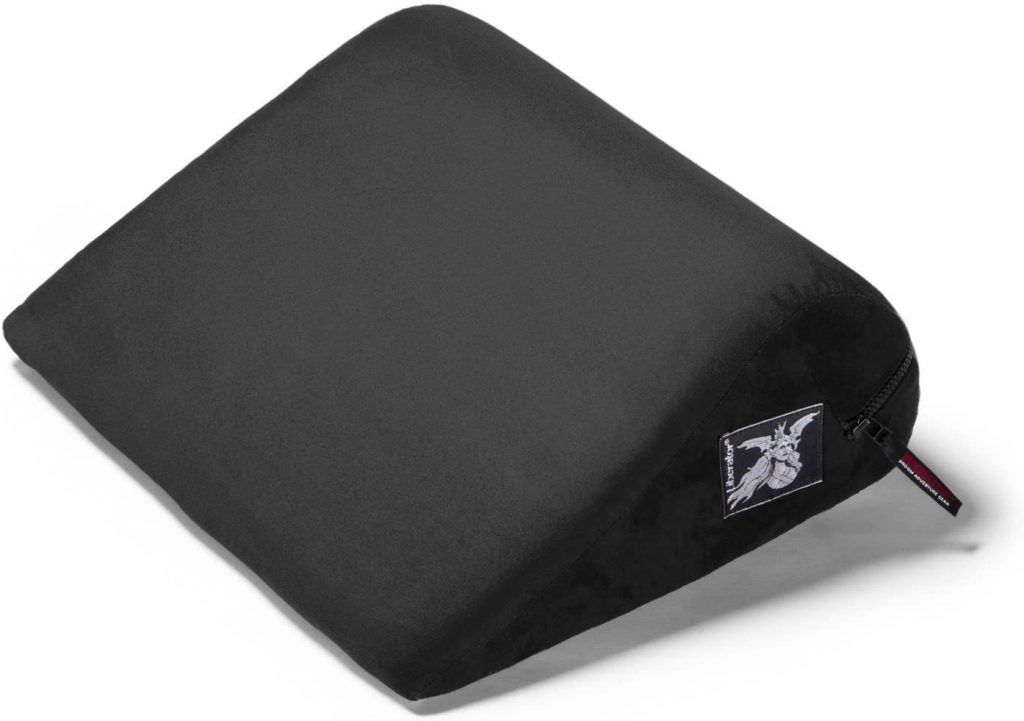 Why It's a Pleasure: Among the trickiest things about pegging is getting the angle right — it has to be comfy for the receiver and sustainable for the giver, and ideally pleasurable for both. The Jaz is a firm, ramp-shaped foam positioning aid that works way better than, say, stacking up a bunch of pillows under the receiver's hips and hoping they don't topple over. The change in angle might seem subtle, but it allows for deeper penetration and more direct prostate contact. The Jaz also has a removable lining that you can throw in the washing machine after sex — no mess, no stress.
Why It's a Pain In the Ass: At 18 inches by 14.5 inches, the Jaz is bulkier and thus harder to store than many other sex products. I stash mine under my bed for easy access. It also won't work as well for people with larger bodies, but Liberator makes a wider Wedge that's more forgiving.
The Long and Short of It: Sometimes just a little clever angling can take a pegging session from "awkward" to "transcendent," and the Liberator Jaz seems to create a comfier angle for both partners in just about any position.