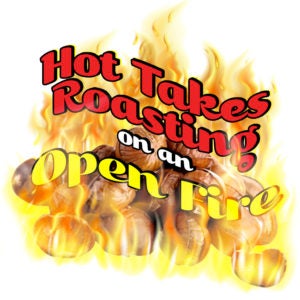 Oh, you thought our Thanksgiving op-eds were bad? Gird your stockings for the least wonderful time of the year, when the merry gentlepeople of MEL attempt to outdo one another with the most heinous holiday takes we can unwrap. We can already feel the angry tweets nipping at our noses.
I've been obsessed with tiny doors from pretty much the moment I found my first piece of waxy chocolate hidden behind the small paper passageways of the advent calendars my mom used to purchase to stop my brother and I from asking how many days were left until Christmas. Even better, as I've gotten older, the advent calendar industry has diversified and begun to tuck much more adult-worthy mischief and excitement inside those miniature doors — from whiskey to dildos.
Which begs the question: Why has such daily joy failed to expand to other months?
Do I even need to mention that now more than ever, we need small ways to celebrate making it to another day? To me, the simplest and sweetest solution is having advent calendars for all 12 months of the year.
Before I go too far down that path, though, it's worth noting that "advent" comes from the Latin word aventus, which translates to "coming." (Nice.) More accurately, it means the arrival of something significant. Nineteenth century German Lutherans were the first to make advent calendars, but they're now popular among secular Americans who like to build up to the relief of finally getting the holidays over and done with. (Their mainstreaming more or less began in 1953 when Newsweek published a picture of Dwight D. Eisenhower's grandchildren with one.)
Ironically, for a calendar, they're not all that accurate. That is, advent technically starts the fourth Sunday before Christmas, which changes slightly each year. For example, advent officially began on November 29th this year, December 1st last year and will kick off on November 28th next year. Advent calendars, however, always start the countdown 24 days before Christmas regardless, because it's easier that way.
But back to the real point at hand: They shouldn't just be a Christmas/December thing. They should extend to January, February, March, April, May, June, July, August, September, October and November, too. I'm also way ahead of you on what they could be. Better yet, it won't take much from Big Advent Calendar to make it happen, as everything below is already being offered as part of their aforementioned holiday-season diversification effort.
January: Health and Wellness Advent
Holiday eating and drinking can be rough on our bodies, and even before the pandemic, January was peak flu season. Thus, January advent calendars should be full of vitamins, healthy snacks and mindfulness exercises that can help us get a running start on our New Year's resolutions.
February: Beauty Advent
To keep the self-care theme going, advent calendars with sheet masks and/or beard oil will hopefully help you exercise enough self-love to get through both Valentine's Day and Side-Piece Day — whether you're in a relationship or not.
March: Botanical Advent
Spring is a great time to make use of seeds for fresh flowers (April showers, May flowers and all that shit), or if you're feeling creative, make your own succulent calendar. Also, feel free to bump this theme to October if you live in warmer weather where you can plant year-round.
April: Stash Box Advent
It's 420, which means a cannabis-themed advent calendar is in order. (Do I have to think of everything around here?)
May: Snack Advent
Get a Pringles advent calendar because you're still high, man. Other snack-calendar options similarly apply.
June: Summer Blockbuster Advent
From Star Wars to Pokémon to Frozen, there are a shit-load of advent calendars for kids based on their favorite movies. And since most of those kids are out of school for the summer, annoyed parents can keep them busy with enough advent calendars to build forts out of.
July: Drunk Advent
The drunkest month of the year is July — don't fight me, it's fact — and beer advent calendars seem the most appropriate for summer barbecues. If you're not a beer person, there are plenty of options for hard liquor and wine, as well.
August: Sex Advent
Though there's some debate as to what the horniest month of the year is — more babies are conceived in December, but more people smash in August — I would prefer to have an advent calendar full of sex toys in a month where I don't have to crash with my parents to celebrate the holidays.
September: Educational Advent
It's back-to-school season, and after getting wasted and having sex all summer, we could afford to regain a few brain cells and learn something via math– and science-related advent calendars. By far, the coolest might be the one that helps you build a retro FM radio.
October: Pet Advent
If you're the type to dress up your dog or cat in a Halloween costume, they deserve their own advent calendar of treats for putting up with you.
November: Cooking Advent
As Thanksgiving approaches, take advantage of recipe, spice and condiment advent calendars, along with numerous other food-related countdowns (including cookies, teas, cheeses and chilies). 'Tis the season to be cooking and eating, and the right calendar can make things all the more delicious.
December: Classic Advent
It's important to remember our roots. And again, for me, my love of advent calendars started with milk chocolate that was so mediocre that I would've passed on it if it weren't hidden behind a tiny door. So yeah, sure, I could upgrade to better chocolate, but that hit of nostalgia (and cardboard) is always more than enough.