We're living through an era of devastatingly sad stories from those who've poured their lives into their work. "I own an ice cream company called Molly Moon's homemade ice cream," Molly Moon, a small business owner in Seattle told CBS News. "I had over 100 employees before coronavirus and did about $7.9 million in ice cream sales last year, and I was on track to break the $10 million mark, which almost no women-owned business does. I now have 9 employees and I am selling $5,000 worth of ice cream pints to grocery stores a month."
Moon's ice cream shop, like so many other small businesses — the "backbone" of this country, as elected officials like to say — is in a state of perpetual hemorrhaging. With the majority of storefronts having all but shuttered, the few that remain are selling what they can to keep as many of their employees on payroll and their doors open for at least one more day. 
Of course, there are certain — mainly corporate — sectors that are flourishing in this time of mass isolation. According to a Wall Street Journal report, streaming services and online education services jumped 32 percent and 24 percent respectively since the virus outbreak. Additionally, Business Wire reported that Domino's Pizza was adding an additional 1,000 employees amid the increased demand for delivery pizza, while Papa John's announced in late March that the company "is hiring up to 20,000 new restaurant team members." "The pizza company is committed to the communities it serves by delivering meals and offering carryout, meeting a valuable need during these challenging times," per their report. 
Clearly, even amidst the economic meltdown, there are always certain corporate entities that surge to success — just look at the growth of Amazon's fortune at the expense of its workers in the last few weeks. But often forgotten — primarily because they're so few and far between — are the twinkles of small business success stories that are finding their way through the carnage. 
One example is Butcher Box, which, as their website claims, "delivers 100 percent grass-fed beef, free-range organic chicken and heritage breed pork directly to your door." Currently, their demand is so high amidst the stay-at-home orders across the country that there's a waitlist to sign up for their meat delivery program, according to a customer representative I spoke to over the phone.
In Florida, Fort Myers Schwinn Cyclery has seen their sales increase by 30 percent, since so many people are trying to find alternative ways of exercising. "They say the spike is because of COVID-19," reports Wink News. "The state deems their store as essential because of the service it provides." Which is debatable, but nonetheless is a net positive for the small business sector of the economy. 
These aren't your typical stories of contemporary small business prosperity. There's little, if any time to celebrate significant milestones, like doubling your customer base in less than a week. There is no grand opening (in part, of course, because there's a countrywide mandate that nearly everything remains closed). But set against the bleak days most small business folks and their employees are experiencing right now, these glimmers of hope are a welcome sight.
They could also be transformative, turning, for example, a small business like L.A.-based ready-to-heat meal service, Mama's Gotchu, from a neighborhood meal delivery service to the next frontier in community-driven subscription services. "Some days it feels good, some days it feels bad," says chef Wendy Zeng, chef and co-founder of Mama's Gotchu, who describes her business as "Freshly with a soul." "When coronavirus hit, it actually was devastating, because our meal delivery was still so young, and the user base was still pretty small." 
Zeng tells me that before the pandemic forced the catering side of her businesses to close, the majority of their profits were coming from "big, cool events." "We had big production catering to other L.A. celebrity events," she says. But even then, she and her partners had been cooking up a different avenue to help with the uncertainty of the catering industry. "We were looking at our catering business and all of our overhead costs, and we were like, 'Okay, we should build a side of our business that has more of an anticipated regular income,'" she tells me over the phone. "And that's when we started doing meal delivery."
In part, Zeng attributes their preparedness for the moment to the nature of the catering business. "I don't know how familiar you are with catering, but it's basically like Mission: Impossible every time," she tells me. "Overnight, you have to cook all of these eight different things, and you have to have a veggie or vegan substitute for everything, and you have to serve it at all these different hours to 200 or 400 people. And when you run things like that, it gives you that methodical mentality to scale up as you need, and respond to these changes."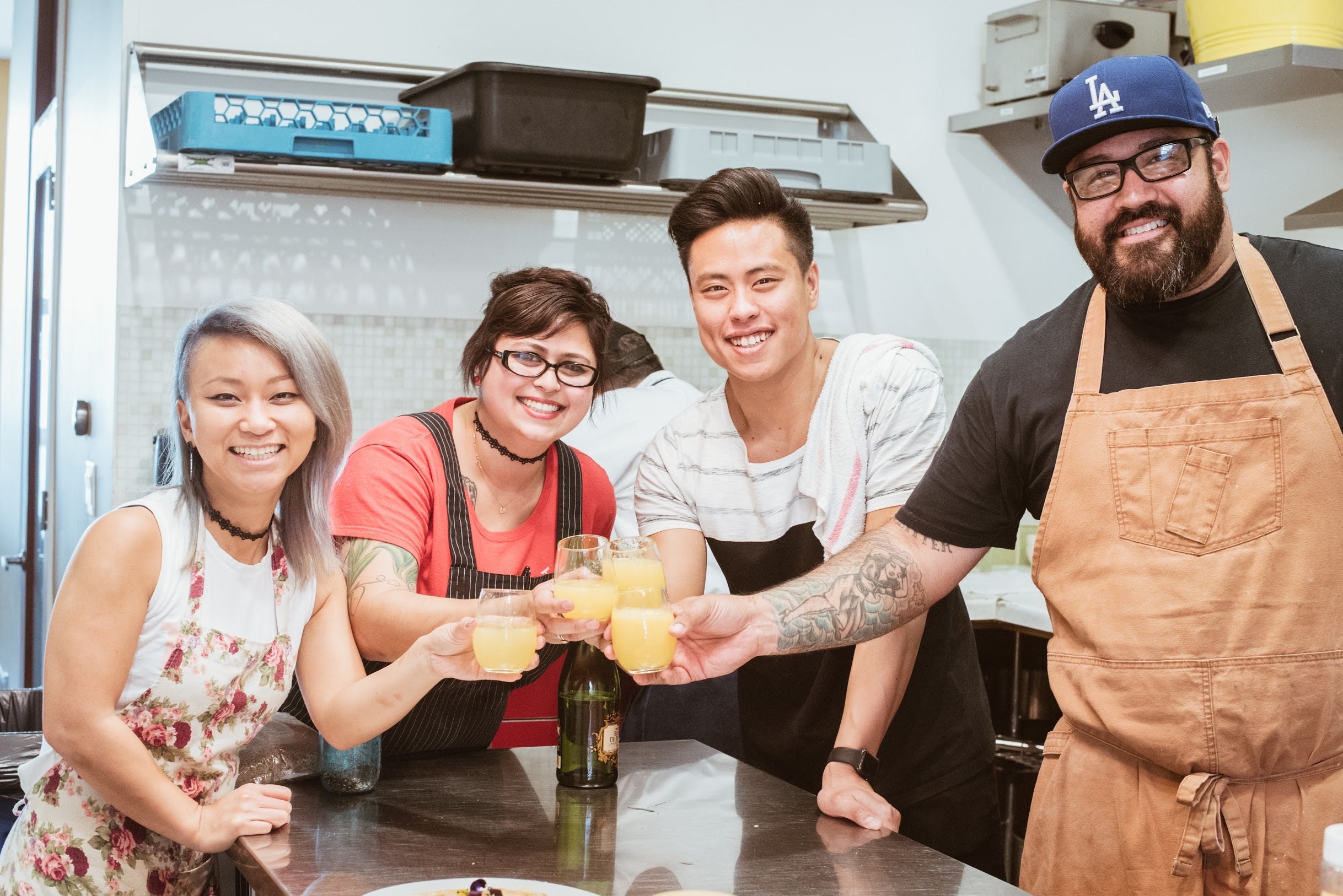 To help, Zeng's husband, "a full-stack engineer" who "has a bunch of engineering friends who we're all really good friends with," quickly began ramping up efforts to build an app for the food delivery service. Meanwhile, Zeng and her partners continued to market their weekly menus featuring everything from spicy crispy chicken to Sichuan fragrant eggplant on their Instagram page. As such, in the weeks since the shelter-at-home mandate in L.A., and with the catering side of her business all but shuttered, the number of customers subscribing to Mama's Gotchu's meal delivery service has nearly doubled. "Some days we're like, 'Oh wow, the thing we did yesterday [to build out the brand] actually brought in a few more customers.'" 
Still, despite their recent growth, the feeling of success during this time of global despair isn't particularly sweet. "It's been really, really hard because every day we wake up, you see all the horrible news about the death tolls and the just horrible shit about coronavirus," she says. "Then from just our peers in the industry — they're all losing their jobs and businesses. So your days are always inundated with so much bad and terrible shit right off the bat."
But, she says, "There's no time to grieve, process or feel those things because we're on overdrive in terms of productivity and overworking right now." Because as "survivors" of the food industry, Mama's Gotchu has emerged as the lifeboat for service workers in L.A. whose livelihoods have been devastated by the pandemic. "We wanted to balance the growth with how we're impacting our communities," she says. "So it's been nice being able to keep people on the staff to do the driving and to do the prep, and all of that. Our hope is that we get enough volume, and we're able to continue to hire more people that have been laid off, because so many of us in the industry have lost their jobs or their business overnight."
Their self-appointed service industry rescue mission also includes trying to supply small mom-and-pop restaurants with essentials like rice and beans so they can sell it, in smaller portions, to people who aren't able to get it at the grocery stores. "And we're also doing subsidized meals for East L.A. Women's Center for women escaping from domestic violence and abuse."
All of which, in this moment of one-day-at-a-time survival, bring us to Zeng's goal for the future of her small business. "It would be amazing if, by this time next year, we're in a bigger kitchen with so many more of the amazing people we work with in our industry as part of our team," she says. "I mean, that would be so amazing. But it's just so hard to think about that right now. We're so tired."