Tom, a 27-year-old in Virginia, has spent his entire life in the pool. "I was a competitive swimmer from ages 5 to 18, a professional pool rat every summer from age 10 to 16 and a certified lifeguard, pool operator and swim coach for the last 11 years," he says. And pretty much during all of that time in the water, Tom has worn underwear beneath his trunks. "Unless they come with that extra layer of mesh, I've never felt comfortable wearing trunks without having that extra layer of fabric," he explains.
This makes him, of course, an outcast and heretic in the casual swim world. The main beef being twofold: 1) Who wears underwear beneath their swimsuits? And 2) why would you want your junk secured in soaking-wet fabric all day?
For what it's worth, the folks over at Chubbies, one of the leading manufacturers of men's swimsuits, refused to take sides on the issue. "It looks like all of our swim trunks have netting," a customer service rep writes via email. "And you can most definitely wear them with or without underwear, whichever is more comfortable and convenient for you." 
Even John Gore, a urologist at the University of Washington, says there's no right or wrong answer here. Personally, Gore believes "wearing underwear under board shorts is gross and dumb."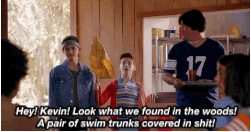 But from a urological standpoint, he adds, doing so is "neither good nor bad." 
Like Tom, Ben, a 25-year-old in Florida, is one of these so-called gross and dumb men. In fact, he refuses to wear "any pants without underwear, swimming shorts most of all." Or as he explains, "When you're moving around a bunch, the wet fabric can aggravate your skin; underwear is a buffer against that." (As such, Ben will wear underwear under "those with the nets," too. "They're absolutely useless," he tells me.)
Ben recalls the moment he became an underwear believer: "When I was 14, my shorts came off when I jumped into the pool from the big diving board. Everyone started laughing — until I emerged with backup. Ever since that day, most of my friends followed suit."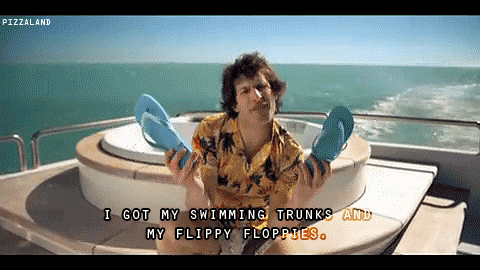 Tom, who would simply put his trunks over his Speedo after morning practice, realized he needed a better method once puberty hit. "The Speedo was too constricting, so I did what all the teenage boys did at my pool and wore trunks with boxers," he explains. "How did I know they wore boxers under their trunks? Because this was the 2000s, and for some reason, showing everyone the tops of your boxers was a fashion trend." 
Ever since, Tom has never felt comfortable wearing trunks "without having that extra layer of fabric." For him, it's not just about physical comfort, it's emotional as well. The undie layer lets his privates stay private. "Everyone knows that when you exit a pool or body of water, the fabric clings to your skin. The thinner and more flexible the fabric, the more tightly it clings and the more of an imprint it leaves of what's underneath your swimsuit," he argues. "By adding boxers, you're thickening the layer of fabric so that the creeps at your pool don't get a glimpse of the outline of your dick and balls."
"If you look at competitive swimsuits, they all have an added layer of fabric around the private parts for both male and female swimsuits," he adds.
"If you want to badmouth someone for wearing underwear while swimming, try it yourself," Ben concludes. "It's a major eye-opener, a game-changer. The comfort is amazing, and you barely notice them."