Rick and Morty fans have twice the reason to rejoice: Not only has the hit Adult Swim series returned with the second half of its fourth season, but Hulu also made yesterday (May 8th) the release date for the full first season of Solar Opposites, a sci-fi cartoon comedy co-created by Rick and Morty's Justin Roiland and Mike McMahan. 
Solar Opposites is a fish-out-of-water sitcom that follows a family of aliens who have crash-landed on Earth. To survive, they must coexist with their human neighbors and make sense of human culture that alternately entices, repulses and enrages them (that is, when it's not rising up to destroy their home and kill them outright). 
As such, Solar Opposites is positively stuffed with pop-culture references. There are name-dropping jokes about everything from Friends and Frasier to Mortal Kombat, Polly Pocket, Harry Potter, Space Jam, Van Wilder, The Abyss and the Look Who's Talking trilogy. There's iconic scenes plucked from The Lady from Shanghai, Fight Club and Pet Sematary, gags about RoboCop, Guitar Hero and The Avengers. And that's just scratching the surface. 
What are the allusions you might have missed? 
Well, how about… 
Fuzzbucket (1986) 
In "The Matter Transfer Array," main characters Korvo and Terry become enchanted with Funbucket Tadstockings, the central critter of a children's television show. He's furry and fun, going on adventures, sporting star-covered boots and spouting catchphrases like "Bingo Bango!" What's not to love? Aching to befriend the fictional beast, the extraterrestrial twosome uses sci-fi gadgetry to bring Funbucket to life. But that doesn't play out as they'd dreamed. 
Children of the 1980s will recognize Funbucket as a spirited spoof of Fuzzbucket, the titular character of a strange episode of The Magical World of Disney. The 46-minute movie followed a 12-year-old boy who befriends a furry and pot-bellied creature called Fuzzbucket. Together, they go on a bizarre adventure involving potions, invisibility curses and a rat-infested dumpster. In name, appearance and choice of bestie, Fuzzbucket is clearly a muse for Funbucket. 
1980s Sitcoms
The other half of the Funbucket equation is absolutely ALF (1986-1990), a kid-friendly sitcom about a cat-eating, wisecracking Alien Life Form who hides out in the Tanner family's home. Being a hijinks-focused TV series, ALF has more in common with the Funbucket TV montage than Fuzzbucket's flick did. Plus, Funbucket's love of nightlife and socializing is very on brand for the Melmacian, as is Funbucket's borderline abrasive brand of humor that mocks his would-be besties. Sure, it's hard to imagine Alf shouting, "You guys aren't going to try to f*ck me, are you?" But if he were on Hulu, who knows? 
More broadly, Solar Opposites' premise is essentially a blend of ALF with My Two Dads (1987-1990) and Perfect Strangers (1986-1993). The show's title playing on "polar opposites" reflects the dynamic of both of these classic 1980s sitcoms, which each centered on a pair of platonic men who had dynamically different attitudes. Terry is the Balki/Joey, an excitable and optimistic goofball, while Korvo is the Cousin Larry/Michael, the scowling and neurotic cynic. Like My Two Dads, this alien odd couple shares parenting duties, caring for their replicant/children with a mix of frustration and funny antics. And when Terry makes clear he and Korvo are only mission partners not romantic partners, he sounds like he could be talking about the seminal dual-dads sitcom: "Are they lovers? No we're friends!"
TV Moms 
The age-old battle of nagging wife versus lovably doofy husband gets played out to a suitably sensational sci-fi spectacle in "The P.A.T.R.I.C.I.A. Device." Coveting their neighbor's flashy man cave, Korvo and Terry decide to build their own "Manc Ave." However, even with an Entourage pinball machine and posters of such manly movies as Boys Don't Cry, Boys On The Side and How To Lose A Guy In 10 Days, something's missing. "The best part of being in a Manc Ave," Korvo determines, "is someone being irritated that you're in a Manc Ave!" 
So, naturally, they build an android whose artificial intelligence is modeled on a cavalcade of harried homemakers, miffed moms and quipping battle axes. 
Once P.A.T.R.I.C.I.A. (Patricia Automated Television Retrofitted Intelligent Companion In Action) is completed, Korvo boasts, "She's 20 percent annoyed wife from [Everybody Loves] Raymond, 20 percent doting hot mom from Modern Family, 15 percent fast-talking Gilmore Girls mom and 10 percent Marge Simpson, because she's got blue hair… (and) a pinch of Sophia from Golden Girls. That was one sassy old lady. I couldn't resist."
Aside from Marge hair color, P.A.T.R.I.C.I.A. is designed in a metallic pencil skirt, high heels and a busty bodice that makes her seem like the love child of Donna Reed and The Jetsons' Rosie the robot maid. Otherwise, as promised, she's got the zings of Sophia, the emasculating innuendo of Patricia Heaton's Everybody Loves Raymond character (plus her first name), the quick wit of Lorelai Gilmore and the jarringly sultry coddling of Sofía Vergara's Modern Family momma. Plus, it seems her filler code has a bit of Married… With Children's Peggy Bundy as she swirls a cigarette while zinging Korvo's lack of sexual prowess, declaring, "The only time I can organism* is when I'm watching Outlander!" She even provides her own laugh track. 
*Yes, organism
Teacher Dramas of the 1980s & 1990s
In "The Lavatic Reactor," a misunderstanding of their principal's latest lecture spurs the replicants to attend an empty school for the whole of the summer. Believing they're being observed and secretly tested, they decide to teach each other. So, naturally, they turn to the movies for lessons on how. 
First up is Jesse, who straddles a backwards-facing chair and declares, "Everyone sit down and shut up or I swear to god, I'll have you back on the streets before lunch." Her attitude and seating pose are snatched from the 1995 Michelle Pfeiffer vehicle Dangerous Minds. Based on the memoir of retired U.S. Marine LouAnne Johnson, the movie follows a determined, leather-jacket-wearing teacher into the hardened halls of an inner-city high school, where she teaches poetry to at-risk youth. 
Then, Jesse switches it up, spinning from Dangerous Minds to Renaissance Man, declaring, "I'm going to get real with you: I bet you didn't know Shakespeare was the original rapper." The premise of the 1994 Danny DeVito dramedy had a flustered teacher inspiring underachieving army cadets through the power of Shakespeare and rap. Of course, Mark Wahlberg (formerly Marky Mark) co-starred. 
Yumyulack takes a different tack, digging into Robin Williams' Dead Poets Society. Affecting a vaguely Williams' accent, the replicant jumps on top of his desk and urges his student to throw out her textbook. "I won't be needing it!" he exalts. "I teach from the heart." The Academy Award-winning drama showcased the eccentric methods of a charismatic poetry teacher, who pushes the students at an all-boys prep school to reject conformity, seize the day and stand on desks. 
1980s Action Movies
It's not just the aliens who are obsessed with pop culture in Solar Opposites. Within the replicants' wall, a whole dystopian world festers, full of shrunken adults who lean on action movie tropes to survive. Trapped in a labyrinth of connected terrariums where candy is the only reliable food source, a strange society has emerged that has a cruel caste system of criminals, like 1981's Escape From New York. 
When a Benihana waitress named Sherry is unceremoniously dumped in this world, she's immediately ambushed by thieves, hungry for whatever lies in her pockets, like how Snake Plissken is ambushed by vagrants as soon as he hits the streets in an imprisoned Manhattan. However, Sherry is saved by red-shirted Tim. "Come with me if you want to live!" he says, adding, "That's from Predator." It's not, and she corrects him, "It's from The Terminator." Sherry soon learns the only law in the wall is a bunch of goons who do the bidding of the Duke. Yeah, it's just "like The Duke in Escape From New York." By hoarding resources and feeding his minions, he holds control of a world gone savage. 
Solar Opposites employs these references as shorthand to swiftly pitch us into a Lilliputian dystopian adventure, where LEGO blocks serve as body armor and class conflict will result in blood, death, destruction and betrayal. Similarly, the romance between Sherry and Tim is fast-tracked with a winking recreation of the scar-comparing scene from Lethal Weapon 3 (1992). 
Green Room (2015) 
In "The Unstable Grey Hole," replicants Yumyulack and Jesse discover how jerks can be good if they're given a chance. However, this hopeful life lesson goes off the rails once they enter a neo-Nazi bar. Not even the gift of chocolate-vanilla-swirl pudding cups and a song about interracial friendship can turn the hearts of these bellowing, brawling bigots. When the replicants are chased into a closet to escape the violence, Jesse yells, "This is just like Green Room!" And yes, yes it is. 
Written and directed by Jeremy Saulnier, this indie thriller follows a scrappy punk band on a deadly gig. Realizing they're performing for neo-Nazis, the band rebels by breaking into a cover of the Dead Kennedys' "Nazi Punks Fuck Off." Violence goes down, leaving the band trapped in a backroom, forced to fight for their lives to escape. Green Room is a ruthlessly unnerving and criminally underseen horror movie that's totally worth your time. But be forewarned, these punks don't have Yumyulack's defense suit to save the day. 
The Girl With All The Gifts (2016) 
In "The Booster Manifold," the replicants race to the top of the social ladder, thanks to some "head flowers" that spout intoxicants on their classmates. However, when their scents collide, the partying teens go ravenous, ripping off their jaws and tearing into each other with a zombie-like abandon. Calling their monstrous peers "Crazies," Yumyulack alludes to the 1973 horror film, The Crazies, from groundbreaking zombie-moviemaker George Romero. However, the path to contagion harkens to a lesser-known yet superbly scary flick. 
The Girl With All The Gifts begins with a classroom of zombie-infected kids who want nothing more than to make a meal of their kind-hearted teacher. In Solar Opposites, Korvo chides the replicants that their poor hygiene has sprouted brain-controlling fungus, which ties to this English offering, as a parasitic fungus is what drives the zombie plague. But the scariest bit is that The Girl With All The Gifts snatched that concept from real life. Ophiocordyceps unilateralis (also known as the zombie-ant fungus) infects a carpenter ant, feeds off it, then drives the hijacked ant to infect the rest of its colony, making zombie ants of the lot! 
Star Wars
There are plenty of references to Star Wars throughout Season 1 of Solar Opposites. Some are easy to spot, like Terry's double-bladed lightsaber, which mirrors Darth Maul's weapon of choice. Some require a keener eye, like the name of the mall being Gretchen-Darth Mall (a nod to the Sith villain and 2000s It Girl, Gretchen Mol). But did you catch the T-shirt Terry wears in "The Quantum Ring"? It reads: 17'5 4 7R4P. At a distance, it looks like that famous Admiral Ackbar quote, "It's a trap!"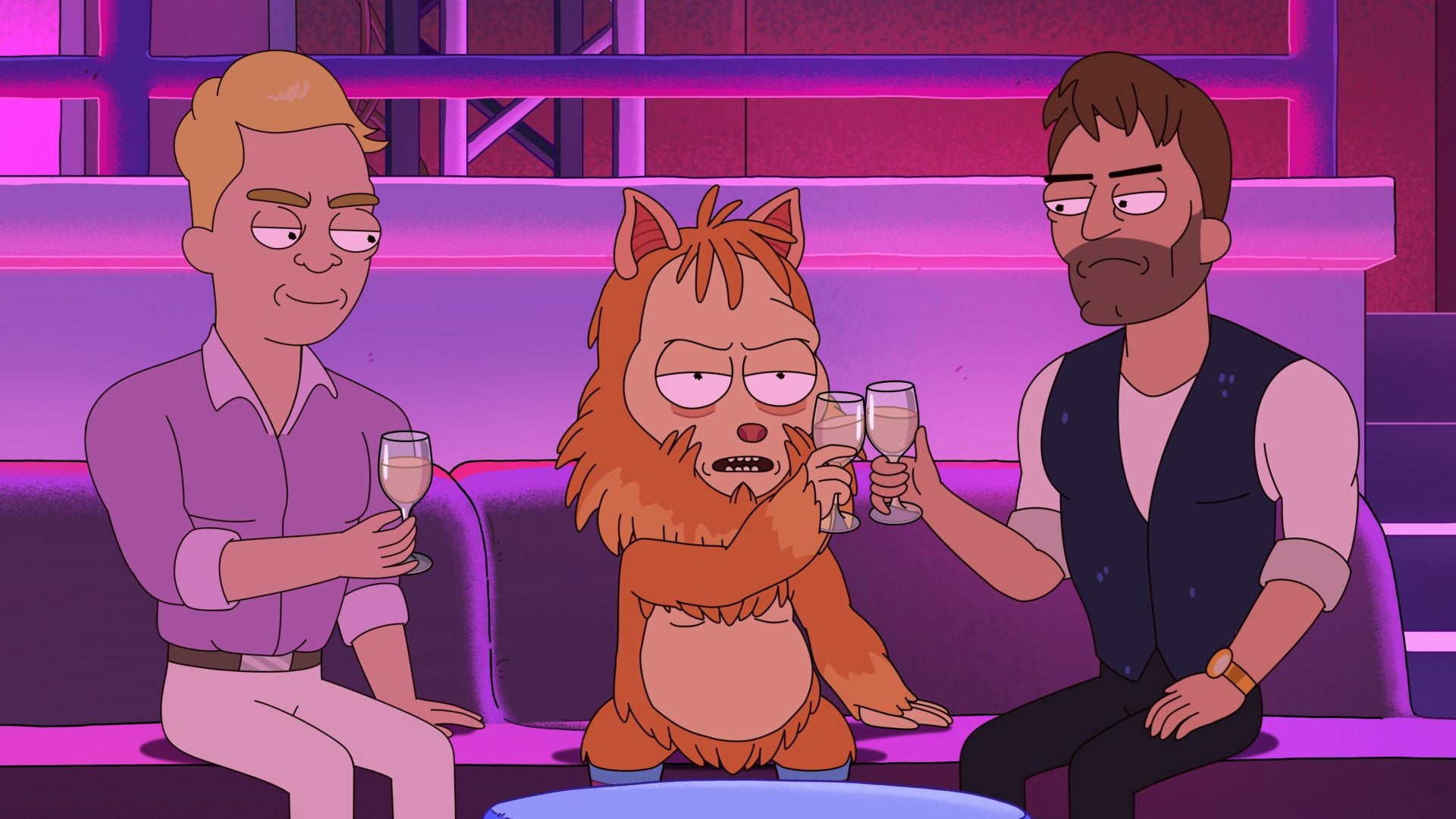 Yet, Solar Opposites slyest Star Wars allusion can be found in its first episode, when Funbucket makes some new friends at the club. Sure, these jacked dudes in distinctive clothes call themselves Travis and Avery. But they look a lot like Han Solo and Prince Adam from the 1980s cartoon He-Man and The Masters of The Universe. One wears a dark vest over a white long-sleeve shirt with sleeves rolled to the elbows, and roguishly tousled brown hair. The other is blonde, sporting a skin-tight pink shirt and white slacks that recall the cartoon hero's color scheme. 
If you were going to come up with two cool dudes that Terry and Korvo couldn't possibly compete with, of course it'd be Han and He-Man.