Thank god for Euphoria, the rare show bold enough to buck reliable trends in premium cable and give us all the full-frontal male nudity we deserve, boners and all.
The buzzy new series about teenagers and their illustrious digital lives stars Zendaya as Rue, a drug-addicted 17-year-old fresh out of rehab and with no desire to stay sober. The first episode chronicles her upbringing, and each subsequent episode follows a different student at the suburban Southern California high school. The joy and perils of drugs, texting, Juuling and high school parties all connect the characters.
So does the overwhelming presence of nudity in their lives. Specifically, dick pics. The show's penchant for penis has become a hallmark of the show after the Hollywood Reporter ran an article claiming "close to 30 penises flash onscreen" in one episode.
For this hot young gay writer, though, "close to 30" is hardly specific enough — I need hard data. If the Hollywood Reporter won't do it, I'll do the Lord's work and count all the penises in Euphoria, episode by episode.
My dick criteria are simple: The penis must be shown onscreen. Characters walking around naked or having sex with shadows conveniently hiding their appendages does not count. We. Need. To. See. The. Dick. That's it.
Disclaimers: Spoilers are abundant in my dick data analysis. Also, it's worth noting that I rewatched the first four episodes on a rickety charter bus and at a Washington, D.C., coffee shop. There is a possibility my numbers might be slightly off as I tried my best to maintain a sense of dignity while starring at countless dicks in public. But you can trust me — I'm an expert.
Read on for details. After four episodes, our total is: 69. Nice.
Euphoria Episode One Dick Count: 5
🍆🍆🍆🍆🍆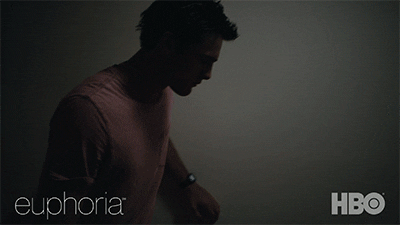 We get the first glimmer of a dick five minutes into the episode — during a lockdown drill, of all things. The camera pans over to Rue's classmate playing a blowjob porn video on his phone and miming along with his hand. The scene is brief and a little too aggressive, just like a bad blowjob.
Next comes our first dick pic. Jules, who is trans, explores the world of queer hookup apps as a man on Scruff sends her an unsolicited dick pic. This is what I'd call a bad dick pic: a floating penis next to a shampoo bottle. What's the penis-to-thigh ratio? What are we working with at the base? (In a few episodes, we'll see triple the dick pics and get these answers in the most vital television tutorial of the year.)
Later, there's a rather shocking montage of popular Pornhub videos. It was very difficult for me to hide while watching the episode on a charter bus. I counted two dicks as I struggled to shield my phone from the middle-aged women sitting behind me. Unfortunately, I think they saw the man getting fisted, and I might be banned from Peter Pan buses for life because of it. 
And just like the bus company's claim that its Wi-Fi worked, the biggest dick of the episode is fake. Eric Dane wore a prosthetic erect penis (although we famously saw McSteamy's real one in a sex tape that circulated in 2009) as Cal Jacobs, aka "DominantDaddy," statutorily rapes 17-year-old Jules after they connect on Scruff. He's also the father of her classmate, Nate Jacobs, but she doesn't know that yet. The scene is uncomfortable, but that's entirely the point. 
The dicks, like everything else in the first episode, are really just edging toward what's to come later.
Euphoria Episode Two Dick Count: 27 🍆🍆🍆🍆🍆🍆🍆🍆🍆🍆🍆🍆🍆🍆🍆🍆🍆🍆🍆🍆🍆🍆🍆🍆🍆🍆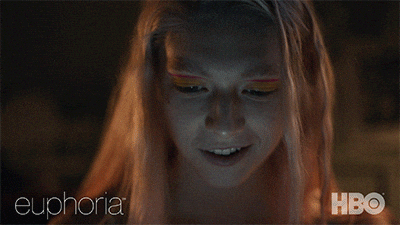 The second episode is the cure for the blue balls we got in the pilot. Nate, the star quarterback and son of "DominantDaddy," is shown navigating a post-football game locker room. The scene is an homage to the shower scene in Carrie, but instead of breasts, dicks are everywhere. Small dicks. Big dicks. Flapping dicks. But, interestingly, only soft dicks. Where's the closeted gay teen trying to hide his boner?
This is largely believed to be the infamous 30-dick scene. Well, they're wrong. As the investigative journalist I am, I'm putting my reputation on the line to say I counted only 21 dicks. Celebrity nude experts Mr. Skin got the same number, the Ringer reports. What's more, some of these penises are repeats of dicks we'd already seen a few seconds earlier! I hope there's another 30-dick scene to come, because watching this was not worth possibly getting banned from this D.C. coffee shop.
Our second set of dicks this episode comes when the body-conscious Kat starts exploring her sexuality and scrolls through the comment section of Pornhub. Why do men love to set naked selfies as their profile pic? Anyway, we can add another six dicks to the count for episode two.
Euphoria Episode Three Dick Count: 36 🍆🍆🍆🍆🍆🍆🍆🍆🍆🍆🍆🍆🍆🍆🍆🍆🍆🍆🍆🍆🍆🍆🍆🍆🍆🍆🍆🍆🍆🍆🍆🍆🍆🍆🍆🍆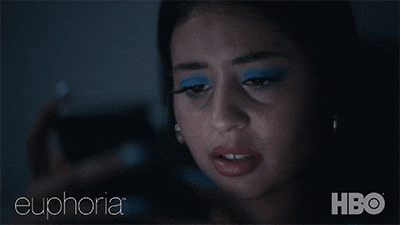 Most articles heralded the second episode as the magnum opus of dicks. But episode three offers a better array. Not only do we get some glorious and oh-so-accurate Larry Stylinson fanfiction (sadly, there's no cartoon One Direction nudity), we also get an exploration of CFNM porn — i.e., clothed female, naked male. Kat stumbles upon a CFNM video on Pornhub and grants us our first three dicks this episode. 
But nothing quite compares to Rue and Jules' very true, very funny and very important dick pic tutorial. While I saw only nine penises in their PowerPoint, I left with insurmountable knowledge about what constitutes a horrifying dick pic (a messy room) and a terrifying one (fucking swords in your photo?!).
After her sex tape goes viral on Pornhub with unexpectedly flattering and feedback, Kat decides to enter the world of camming. In her first online session under the username KittenKween, Kat chats with a man with a micropenis who wants to be humiliated. Unlike the man's penis, the scene is surprisingly long. Brace yourself. 
Our final set of dicks is when resident high school hottie Maddy investigates her boyfriend Nate's phone and stumbles upon 24 (!) dick pics saved in his photos app. Twenty-four glorious pictures of erect dicks of all skin tones, lengths and size comparisons with shampoo bottles.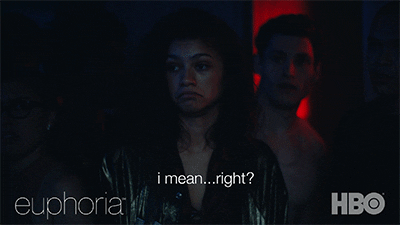 Euphoria Episode Four Dick Count: 1 🍆
Euphoria came early and enthusiastically with its dicks, so by the fourth episode, the show's sputtered out. Honestly, it's a well-needed breather, going soft on the penises to go hard on the plot and proving the show offers real substance and not just exposition.
We do get a single and very sudden dick. This episode follows Jules as her parents trick her into entering a mental hospital to handle her burgeoning gender transition. There, Jules immediately witnesses another "patient" aggressively pull out his dick in front of other kids and workers. It's deeply uncomfortable, just like the belief that trans children need to be locked up in mental hospitals.
*****
My ongoing Euphoria dick pic investigation, which I'll chronicle all season long, has already taught me a few things.
First, don't watch Euphoria on a charter bus or at a coffee shop on July 4th weekend. People will notice and they will judge you. 
Boys, put some effort into your dick pics. No filters needed, but clean up your goddamn room before dropping your drawers to Snapchat a pic. We dick appreciators will be analyzing that photo for carpet stains, dirty mirrors and dirty fingernails.
Don't be Whoopi Goldberg. The View star slut-shamed actress Bella Thorne for taking nude photos, which she released publicly after being blackmailed. As Rue so eloquently puts it, "I know your generation relied on flowers and your father's permission, but it's 2019. And unless you're Amish, nudes are the currency of love, so stop shaming us."
See you, and hopefully some new dicks, next week!