Welcome to Misleading Men, a regular feature where we look back at the actors who ruled Hollywood for one brief shining moment.
Ted Danson takes every opportunity he can to tell people that he's nothing like Sam Malone. The cocksure, alcoholic former Red Sox relief pitcher who owned a Boston bar called Cheers was one of the 1980s' most popular television characters — a dimbulb lothario who tried very hard to prove he was utterly shallow, when actually he was a fairly soulful dude, even if he never understood why some poems didn't have to rhyme. For the first year or so of Cheers, Danson (who was in his mid-30s when he got the role) thought he was awful as Sam. Danson wasn't a drinker, wasn't really a jock, never considered himself god's gift to women. He didn't have Sam's strut, and he certainly didn't know how to mix a cocktail. He didn't think it would work, so of course he was perfect in the role. When he tells that story now about his initial insecurities, people are always surprised he thought he was all wrong to be Sam.
I can't be the only one who's charmed by Danson when he goes on this kick. Some actors denigrate their most famous characters, complaining that the role was beneath their talents or too easy to play. Danson doesn't do that — instead, he's telling us something about himself, revealing a limitation that he thought he had that he ultimately realized was a strength. "You need to get the joke of being a womanizer. … [If] you don't get that it's kinda funny, then it's going to be hard to play Sam Malone," he said on Off Camera With Sam Jones a few years ago. "You need to get the joke that there is a degree of horseshit in there. There's a human frailty in there that if you are willing to take a look at the human frailty of being macho, that's funny. Now you can have fun."
Sam Malone is a guy in real life you ought to hate. But despite his horndog worldview, he's a lovely guy — loyal to his friends, a good boss, happy to put people at ease. When Cheers dominated the ratings for years, it was hard to know how much of Sam's appeal was the writing and how much was the performance. And although the creative team deserves an immense amount of credit, what Danson has done in the nearly 30 years since has proven that what you really loved about Sam was what you came to love in Danson. 
Television stars are often doomed to be defined by their biggest part, and even now Danson will always be connected to Cheers, no matter the acclaim and Emmy nominations that came afterward. But the actor, who recently turned 73, has managed to transcend that show and, really, anything he does. The ads for his new sitcom Mr. Mayor, about a retired businessman who becomes the unlikely mayor of L.A., use a simple tagline: "New house. Same Ted." Ted Danson is in the Ted Danson business, and has been for a while. But the seeds of Sam Malone are still there.
Growing up in Arizona, he went to Stanford, and despite his insistence that he's not a jock, he initially thought he'd play basketball. "That's what I really wanted to do in life," he said in 2015, "and that dream ended for me abruptly freshman year at Stanford. But I love team sports, which is what I find acting to be." Later attending Carnegie Mellon, he eventually got gigs in commercials, soap operas, a few bit parts in TV shows and movies. But Cheers was what put him on the map, although his casting was no sure thing. The producers auditioned actors in pairs, wanting to find the right combo to play Sam Malone and the brainy, pretentious, insecure Diane Chambers. NBC wanted Fred Dryer for Sam, but co-creator James Burrows (who directed the majority of the program's episodes) disagreed, preferring the rapport that Danson and his scene partner Shelley Long possessed. Burrows got his way, but he did give Danson advice: "You watch Fred. Watch how he moves. Watch how he preens. He's a peacock. That's who Sam Malone is." 
Danson clearly took the suggestion to heart, but his Sam's preen was always undercut by the character's recognition of his failings. Sam was cocky, but he was also vain, which meant he was needy — and Danson made that vulnerability endearing. It was part of the reason that the opposites-attract pairing of Sam and Diane worked so well: He was a ladykiller with women who weren't very bright, so he was no match for Diane, who could see right through him. Long brought out Sam's humanity, but of course Danson did, too. As a result, the characters' relationship was the platonic ideal of the old narrative cliché of the player who gets domesticated by the right gal. Sam was a showboat, but deep down he wanted someone to call him out on his bullshit. Danson made Sam worthy of Diane falling in love with.
Danson won two Emmys for the role, and the show was a phenomenon. "It was huge," he said in 2015, 22 years removed from Cheers' final episode. "I don't think I had any idea how huge it was at the time. I think it was maybe five or 10 years after the fact. I sat there one day and had the thought, 'Oh, my: I got to play Sam Malone!'" He laughed. "What an amazing thing I got to do."
For a lot of television actors, Cheers would have been enough. Or, rather, it would have been their pigeonhole — the financial windfall and professional albatross they couldn't escape. Think of some of the stars of the biggest sitcoms — Cheers, The Cosby Show, Seinfeld, Everybody Loves Raymond, Friends, Frasier, Modern Family, The Big Bang Theory — and how they never quite broke out of their particular straightjacket. There are many worse fates, but it's no doubt frustrating when you're an actor trying to prove that you're more than that guy you played on TV years ago. And yet, Danson looked like he'd avoid the problem after being part of the 1987 comedy Three Men and a Baby, that year's biggest smash. But film stardom wasn't going to be his: He never had another movie pop off the way that one did. And by the time he and his co-stars Tom Selleck and Steve Guttenberg reunited for 1990's Three Men and a Little Lady, audiences decided they'd had enough of that thin premise of adolescent men learning to grow up.
But Danson soon had bigger problems: He and his second wife, Casey Coates, split in the early 1990s after about 15 years of marriage, its end prompted by his affair with Whoopi Goldberg. They had hit it off during an appearance on The Arsenio Hall Show. ("I was on before Whoopi came on," Danson recalled, "and he started on about how male comedians can be good-looking and funny but how women can't be good-looking and funny. … I decided to nail this guy. I said, 'You're wrong; here comes a very sexy and very funny lady.'") The relationship led to an unfunny comedy in which they co-starred, Made in America, about a harried single mom who meets the cocksure sperm donor who helped her conceive her daughter, never realizing he was white. ("I don't think people care about your color; in the dark you don't know the difference," Goldberg said at the time. "This film is not about Ted being white and me being Black — that just allows the story to take off. I know lots of interracial couples and it never comes up. You don't sit up in bed drinking your coffee and say, 'Damn, you look white today.'")
The relationship's nadir wasn't the movie, though — it's what happened about five months later when the couple appeared at a Friars Club roast for Goldberg. As the Associated Press reported later, "Danson, appearing in a top hat and blackface with big white painted lips, used the [N-word] more than a dozen times as he joked about his and Goldberg's sex life and other topics." Goldberg had been aware of what Danson was going to do for his roast performance — and later said that she loved it. ("If you can't see the humor at a place where there's supposed to be over-the-line jokes, then there's something really wrong," she said in the same news story, later adding, "I was in stitches.") But the insular ecosystem of outrageous, proudly inappropriate Friars Club roasts didn't sit well with others — including New York Mayor David Dinkins and TV host Montel Williams, who were in attendance. "When Ted made the jokes about the racially mixed kids, and everyone knows my wife is white and just gave birth to our child, I could see my wife start to cry," said Williams, who walked out during the performance with his wife. "If that's what Whoopi and Ted find funny in their bedroom, it's not funny to the outside world."
It's hard to know how much more of a bombshell Danson's blackface appearance would have been in 2021. More than likely, it would have destroyed his career. No matter the fact that Goldberg had approved of the bit, it was insensitive even back in 1993. But the scandal also signaled a general downward spiral for Danson, who was growing increasingly disillusioned with his life. About a week after the incident, he was driving along L.A.'s twisty Topanga Canyon when an idea seized him: What if he sped up rather than slowed down on the curves? Soon, his car was spinning out of control, ultimately resulting in his getting hit by a truck. Remarkably, he ended up virtually unscathed, but as he was taken to the hospital, a thought emerged: "Time to get on with whatever you're going to do with the rest of your life." Soon, a mantra started to form for him: "Move on. Let go. Don't hold on. Move on. Let go…"
Danson has talked about how that crash jump-started his maturation. How he gave up smoking cigars, went into therapy and tried to figure himself out. As he said on Off Camera, "At one point, [I] decided I wanted to stop being a liar. I wanted to spend most of my life — 90 percent of my life — being creative. I really worked very hard to get in touch with me and what made me tick and why. It was dark and hard."
It was during this time he met Oscar-winner Mary Steenburgen​, whom he married in 1995, and got on the road to his second act. After an unsuccessful stint on a sitcom with his wife, Ink, he had better luck in the role of a cranky-but-secretly-lovable doctor on the CBS sitcom Becker. Before Becker happened, though, he was feeling a bit restless, which explains why he had a very small part as a platoon captain in the acclaimed 1998 war drama Saving Private Ryan. "This was at the time when I didn't know what I wanted to do," Danson admitted in 2018. "I didn't want to do TV anymore so I called my friend Jeffrey Katzenberg and I said, 'If there's anything that comes along, you don't have to pay me.' I just wanted to be in a movie. And this came along. I did only two or three days on set. But to me the pleasure of being in a scene with Tom Hanks and watching him work and then watching Steven [Spielberg] work was worth it." Danson was perfectly fine in the film, but his appearance was jarring: What was Sam Malone doing in World War II?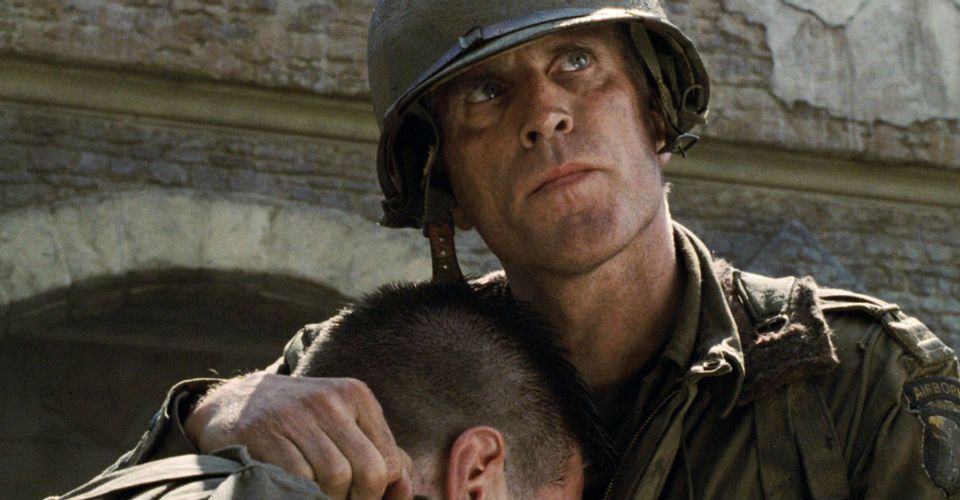 So how did he ultimately go from being Sam Malone to Beloved Hollywood Institution Ted Danson™? You could point to his decision to let his hair go white. Or, you could go back to his appearance in the second episode of Larry David's Curb Your Enthusiasm, in which he and Steenburgen​ play versions of themselves who are longtime friends of Larry and Cheryl. Danson's hair was still dark then, but in the first scene, in a bowling alley, you can see his bald spot — the one he tried to hide for so long on Cheers. Beyond the shedding of that vanity, though, Curb also allowed Danson to do an edgier brand of comedy than he'd shown on his hit sitcoms. Curb made him seem hip, which is funny considering that when Danson watched the original pilot, he wasn't sure if the show had any future. To be nice, though, he told David that if he and Steenburgen could help out, just let them know. Well, the joke was on Danson when David called his bluff about a year later and cast him.
"It turned out to be one of the best things that happened to me, career-wise, because I think I'd just gotten to the point where I had thought that I had stayed too long at the half-hour comedy party," he later told The A.V. Club, "and I didn't have anything to offer, I didn't find myself funny, other people were doing more interesting work, and I just felt kind of demoralized. And going and working with him was so casual and fun. I mean, literally, you'd get a call: 'What are you doing tomorrow? Bring your clothes and sit in your car and put your own makeup on.' It was almost that kind of thing in the first year of Curb. But it was just fun. We went to our friend's place, and it was no stress or anything. You just played with your friend on camera. And I think I kind of fell in love with acting again, in a way." Danson paused, thinking better of what he said. "Ah, that's overly dramatic. But I had fun."
The looseness Danson brought to Curb suggested that he wasn't just an old-school sitcom guy. He could play in this new world of single-camera cringe comedy. From there, whether it was on a drama like Damages or a cult series like Bored to Death, this new Ted Danson felt liberated from being Sam Malone. When you're associated with a bygone character, you also get entombed in a certain era of entertainment culture, and those phases shift so quickly, turning what was once fresh into something inexorably stale and lame. Danson's new demeanor — the change in his very presence — helped him make the leap to a new generation of viewers. Sure, he could do something programmatic like CSI, but producers also thought of him for cutting-edge series like Fargo. He was never going to be a movie star, and Cheers would always be the first credit listed on his obituary. But maybe Danson could find another gear and be accepted by viewers as more than just Sam Malone — not to mention reach people too young to remember that he ever was Sam Malone.
That reinvention was cemented by his role as Michael, a demon in the Bad Place trying to trick his new tenants into thinking they're in the Good Place, on the much-beloved NBC comedy The Good Place. Quickly, Michael proves to be a good soul who comes to care about humans, and with his friendly smile and slightly dorky demeanor — he doesn't entirely understand human behavior — Danson became TV's official Cool Grandpa, the wholesome older male role model everybody wants. You hear it in how his younger co-stars talk about him — there's nothing creepy or leering about Danson, no sense that he's a diva lording his celebrity and experience over others. So many aging Hollywood stars, especially men, just seem like gross predators desperately clinging to some unattainable fountain of youth. But seemingly not Danson.
"When you're getting older, you definitely bump into 'I'm diminishing,'" he told (appropriately) AARP in 2017, "but that's usually what you think about when you're in the middle of a passage, not when you've landed into whatever the new age is. When you're 37, you go, 'Oh my God, I'm not 25 anymore. How horrible.' Then you're 55, and you go, 'I hope I'm still relevant. I hope I can still run with the bulls.' Then you get past that, and you start to really enjoy being around younger people. You're not competitive anymore. You just kind of marvel."
After two episodes of Mr. Mayor, I can't say I'm enthused about keeping up with the show. But I might because of Danson. What's been so rewarding about his second act is that it answers a question we'd always had about his Cheers character: What would it be like for Sam Malone to grow old? That tension powered some of the show's later seasons, as Sam got laughs trying to accept that he was no longer the young stud who could bag every babe who walked into the bar. And Danson felt that encroaching mortality acutely: Near the end of Cheers' run, he said, "[Sam's] 45 now. I'm 45. It's okay to be chasing around when you're 37. But when you're 45, it's kind of sad to be chasing around that way." 
We haven't seen Sam since a 1995 episode of Frasier — roughly around the same time that Danson married Steenburgen and got on with his life. But in 2018, we were hit with a collective déjà vu during The Good Place when his character Michael goes down to Earth to communicate with Eleanor (Kristen Bell), who at that point doesn't know who he is. It was cosmically perfect that Michael meets her in a bar where he's working.
The idea of putting Danson back behind a bar was Good Place creator Michael Schur's, who wrote the episode. "I cleared it with Ted first — told him the idea and asked if he'd be okay with it," Schur said. "He, of course, was. Directing him was predictably lovely, as it always is. And I had written into the script that he was cutting limes and had a towel over his shoulder, because the thought of him playing a bartender and not doing those things was too depressing to deal with."
But Michael wasn't Sam Malone in the scene — he was Michael or, more accurately, he was Ted Danson. Naturally, when Danson was later asked about playing a bartender again, he returned to his usual line. "I never went to bars, I never picked up women. … So playing Sam Malone was anathema to me for the longest time," he said on Late Night With Seth Meyers a few months after the episode aired. "So going back was, all of a sudden, I was full of insecurity. Just felt horrible." 
When actors say stuff like this, a part of me doesn't buy it. It sounds too much like false modesty — or a calculatingly self-deprecating anecdote you can pull out for talk shows. But with Danson, I actually believe him. Many stars are shackled to their most iconic role, often because it encapsulated all they could do. But Danson never was Sam Malone, which is why he played him so beautifully. He understood what was touchingly flawed about a guy like that — and he got us to find it touching, too. 
Ted Danson asked us to have compassion for a cocky horndog, asked us to see that there was more to him than we'd assume. When you get right down to it, Sam's a really sweet person. That sweetness emanated from Danson, who has found a way to bring it to so many other roles ever since. We don't know what Sam is like as an older man, but I'm very glad we know what Ted Danson is like as one.