The Super Bowl is here once again, and if you learned anything from our last ranking of the snacks that we customarily serve and suck in during the big game, football-watching parties might as well be a public-health crisis. Bearing that in mind, you decided to serve a lighter spread this time around, and hey, pretzels are kinda sorta healthy and good for dipping, at least.
Then again, there are, like, a million different kinds of pretzels, so I asked Dana Hunnes, senior dietitian at the Ronald Reagan UCLA Medical Center, to rank several kinds (not a million, though, because that would be silly) by how healthy they are — from somewhat decent to, honestly, you might as well have just served mini corn dogs, my dude.
First, though, a couple of quick things: For starters, pretzels are, at a baseline level, not exactly healthy per se. They do tend to have fewer calories than fried snacks, like potato chips, but those calories are mostly devoid of nutrients, and pretzels are often sprinkled with large amounts of salt, which could contribute to your heart not feeling so great. Furthermore, if you decide to dip your pretzel into something else, you could be adding unhealthy fats and extra calories. We covered various dips in our previous ranking of Super Bowl snacks, but generally speaking, hummus is an okay choice, while artichoke dips, onion dips and cheese dips are all pretty awful for you.
Now, on to our ranking!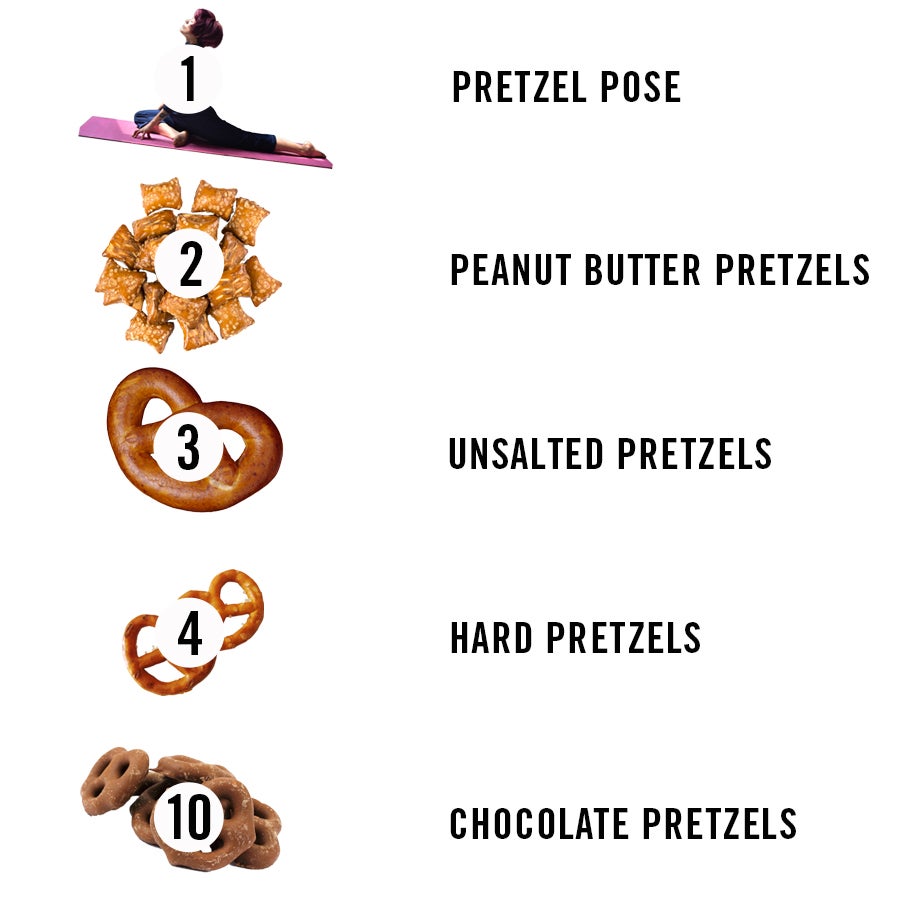 1) Pretzel Pose: Not an actual pretzel, I know, but hey, doing some yoga and engaging in the pretzel pose stretches your muscles, opens your hips and just generally improves your health, which, sadly, is better for you than any other type of pretzel on this list. "This yoga pose is probably the healthiest item here," Hunnes says. "But only if you can actually get yourself into that pose."
2) Peanut-Butter-Filled Pretzels: These being number two is great news, because I mostly subsist on peanut-butter-filled pretzels. That said, they come with a bit of a caveat. "It might depend a little on what the peanut butter filling is," Hunnes says. "Is it just peanuts, or are there trans fats, palm oil [which is high in unhealthy fats] or sugar added to the peanut butter? Depending on the filling, this could be slightly healthier than normal pretzels, but if it has some of the other additives, then not so much." The reason these would, theoretically, be healthier than regular old pretzels is because plain peanut butter contains fats that are helpful for your heart and a decent dose of protein. But check that label for any extra stuff first.
3) Unsalted Pretzels: "Unsalted pretzels are mildly healthier than the other kind," Hunnes says, because, obviously, they lack the high amounts of salt that might otherwise encourage your heart to stop beating.
4) Hard Pretzels, Pretzel Rods, Pretzel Nuggets and Pretzel Crisps (tied): Despite the various shapes and some of these seeming to be healthier than others — I see you, pretzel crisps — Hunnes says all of these pretzel items are, more or less, the same in terms of healthiness. "They aren't super healthy, because they're basically just white flour and salt," she says. "But they also aren't super unhealthy, since they're not fried, and they're low in fat." In other words, these are all still a better choice than chips, which, hooray, I guess.
8) Soft Pretzels and Pretzel Buns (tied): "Soft pretzels tend to perhaps have a few added ingredients in them, since they're more chewy and doughy, like a bagel," Hunnes says, adding that they can be especially high in salt, too. Perhaps the most damning characteristic of soft pretzels, though, is their sheer size: They tend to be much larger than their hard counterparts, which could lead you to consume many more calories and much more salt than you would have otherwise. Pretzel buns, meanwhile, are made in much the same way, and therefore pose the same problems.
10) Chocolate-Covered Pretzels: "Chocolate-covered pretzels make a nice dessert," Hunnes admits. "But they typically have palm oil added to them. They also have a lot of sugar, so these rank low on the list. Stick to one or two, max, and try to find them without the added palm oil." Yeah, I just had one or two… hundred.
Fuck it, I'm making mini corn dogs.