The culture cycle insists upon the rapid development of new memes and endless attempts to recycle old ones. Every day, we're fed innumerable images vying for our attention, especially on Instagram. Who has the edgiest meme page? What account is putting out the freshest content? We may feel stuck in this formidable ouroboros of text and visual churning, but there's an escape to be found, one that uses the very same language of the meme to offer a soothing form of digital relief. It's called @my_country_corner.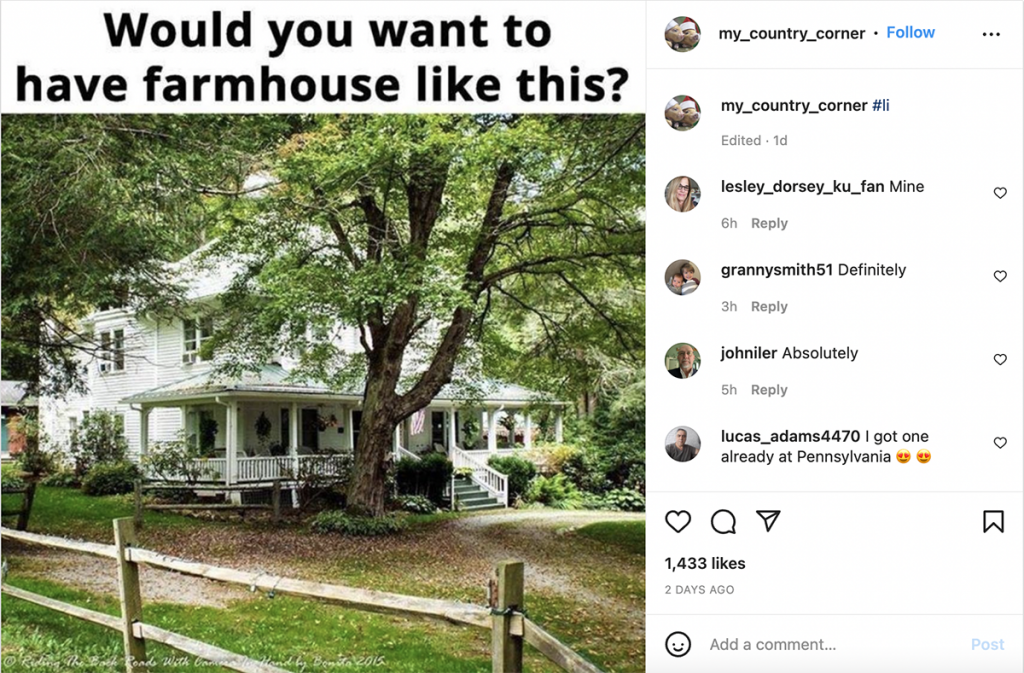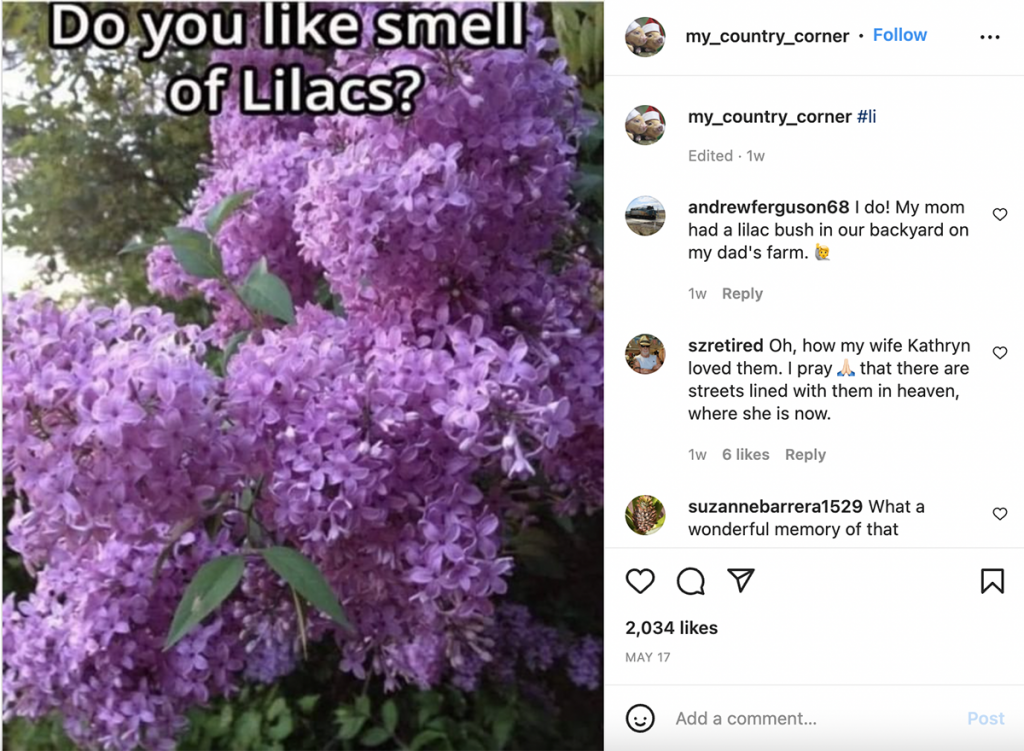 @My_country_corner is an Instagram account with more than 120,000 followers devoted to "country living" and "farmhouse style." But don't expect any sort of Joanna Gaines or HGTV mom-fluencer content trying to sell you a way to live. Instead, the account offers pure earnestness and nostalgia for rural settings and simple days. Often, it features memes in familiar-looking formats, like a Boomer-y Facebook-style post that reads, "Country people don't even tell you when you miss your exit. They just wait until you pass it, then ask, 'Where you going?'" Naturally, it's surrounded by cry-laughing emojis.
Most often, though, the account posts straightforward questions that are so sincere they feel ironic. There are dozens of posts that are just pictures of quaint farm houses or wraparound porches that ask, "Could you live here?" and photos of country stores that say, "Would you buy an RC Cola and a bologna sandwich from an old country store?"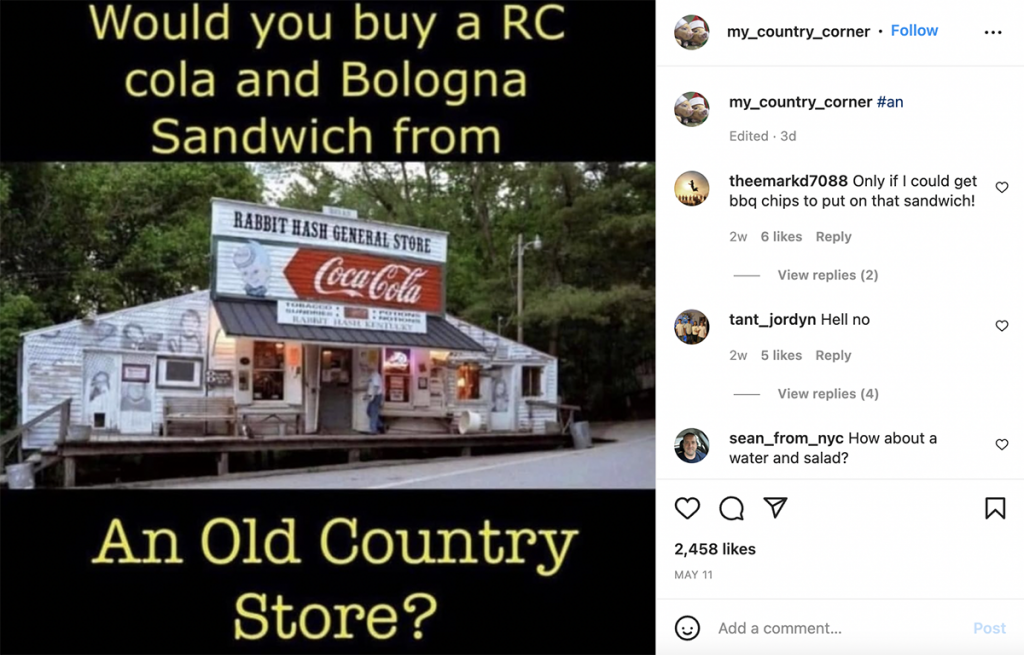 The responses these posts get are given with that same level of sincerity. Almost all the comments are a simple "Yes," though some take the time to elaborate, too. "An RC Cola but I'm not crazy for bologna sandwich," one guy wrote on the country store post. Good talk!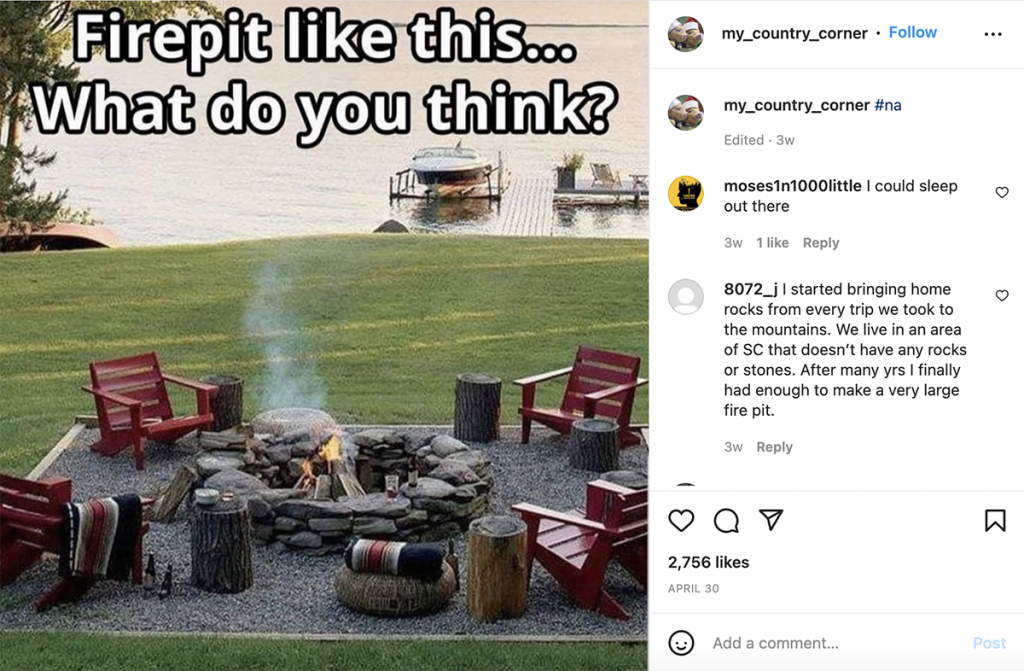 Of course, there's an inherent politic to this content, too, even if it's not explicit. The account never comments on any particular topic or makes reference to a politician or party, but a desire for an old school way of thinking does proliferate. "Gender-neutral for over 200 years," one picture of an outhouse says. "When Y'all Want A Real Halftime Show Let Me Know," says another with a picture of George Strait, in reference to the most recent Super Bowl halftime show featuring Dr. Dre, Snoop Dogg, Eminem, Kendrick Lamar, Mary J. Blige and 50 Cent. This one photo, as well as several others on the account, has been reposted several times for no discernible reason.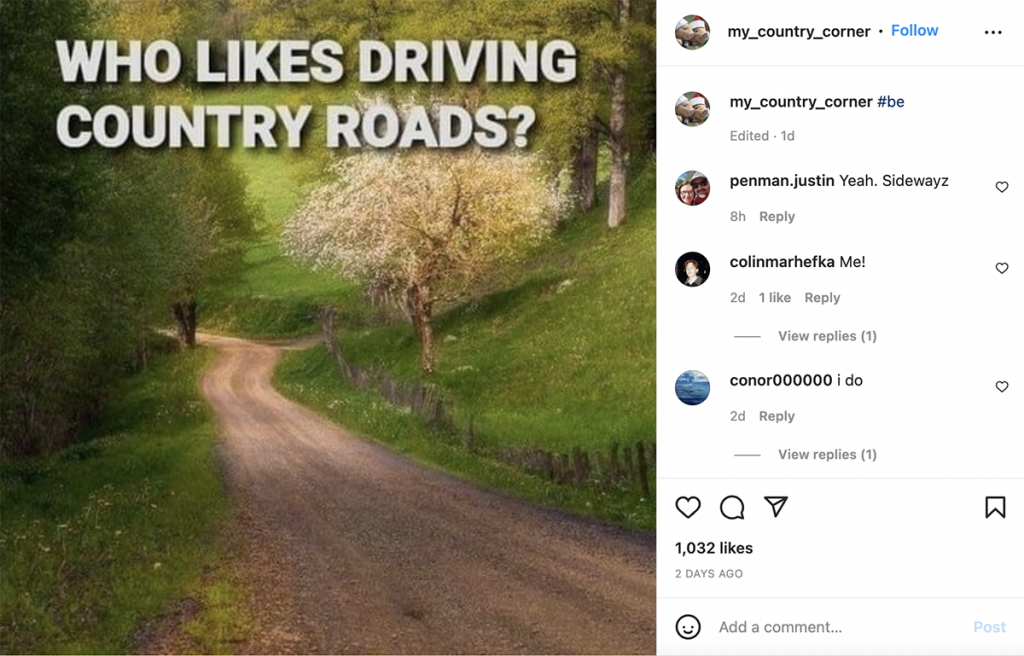 But beyond the occasional post with some conservative undertone, the page remains a digital bath of beautiful landscapes and the ease of country life. What's apparent in its style, too, is that there's little effort to actually keep up with trends or meme aesthetics. It's merely posting on the theme of simple living, and provides a tone one can find in few other parts of the internet. There's no expectation of keeping up with the times, just photos of dirt roads, piglets and tire swings. @My_country_corner is a place that repeatedly asks, "Would you like to live this life and pretend Instagram doesn't exist?" And without even thinking of your current state on the platform, all you can say is "yes."