It's too damn hot, and we can't go anywhere. It's the height of summer (in the Northern Hemisphere, at least), and few things seem more appealing than submerging oneself in water, but thanks to this whole "pandemic" thing, pools are closed, vacations are on hold and going to the beach seems really inadvisable.
That's where kiddie pools come in. But as you sit there, drinking a beer, gloriously drenched in once-cold water warmed to a beautifully ambient temperature by the sun, you're at the end point — for now — of a centuries-long story of war, technology, innovation and social change. Let's do what you definitely shouldn't do with a kiddie pool, and dive right in. 
Kiddie pools as we know them today required several technologies to mature. While PVC was first created in the 19th century, the plasticized version didn't come about until 1926, and then World War II led to it really taking off as a waterproofing material. Time claims the beach ball was invented in 1938 in California by Jonathan DeLonge, although this is disputed. Whoever invented it, the post-war boom saw more innovations in the inflatables world, and by the 1960s, inflatable balls were everywhere — a whole subgenre of 1960s movies, "beach party films," used "guy accidentally throws a beach ball into a group of pretty girls and romance ensues" as a plot point. Hose technology improved, with rubber being replaced by plastic, and in 1959, Hozelock began selling connectors for the ends of hoses, allowing for things like trigger mechanisms.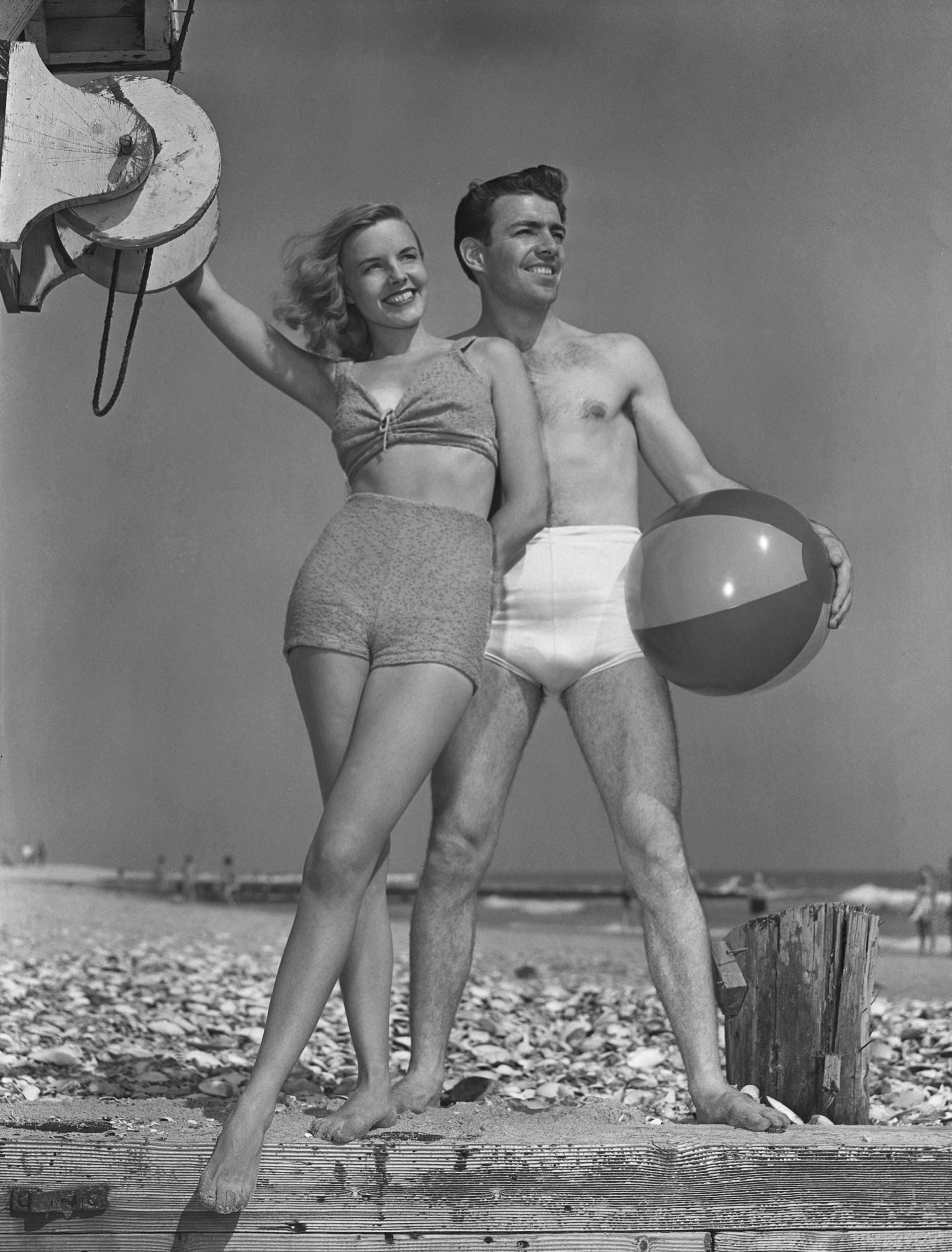 While this was happening, America was changing. The aftermath of World War II saw a huge financial boom, which led to millions of Americans leaving cities to move to newly created suburbs — the number of houses built increased sixfold compared to before the war, and veterans were offered low-cost house loans, all leading to a huge increase in home ownership. Car ownership almost doubled between 1945 and 1960 as suburban life became the norm for millions, and increased disposable incomes, 40-hour weeks and white-collar jobs meant newfound leisure time: weekends spent grilling, watering the lawn and working on projects for the hell of it.
"Uniform backyards were transformed into personalized havens devoted, in part, to rest and recreation," write Kate Fox and Cindy Brown, curators of the Smithsonian exhibition "Patios, Pools, and the Invention of the American Backyard." "Wartime manufacturers of materials like aluminum and concrete pivoted production for the consumer market following the war, with new products catering to a suburban lifestyle. Everything from aluminum grill spatulas and tongs, patio furniture and colorful and tough outdoor fabrics became readily available to the average consumer. During World War II, restrictions on chlorine and concrete once meant private in-ground pools were only accessible to the ultra-rich. Afterwards, in-ground pools became affordable thanks to the sudden surplus and availability of these materials." One of the first companies to market plastic "splasher pools," Doughboy Plastics, started out sealing Army ration packs in World War I.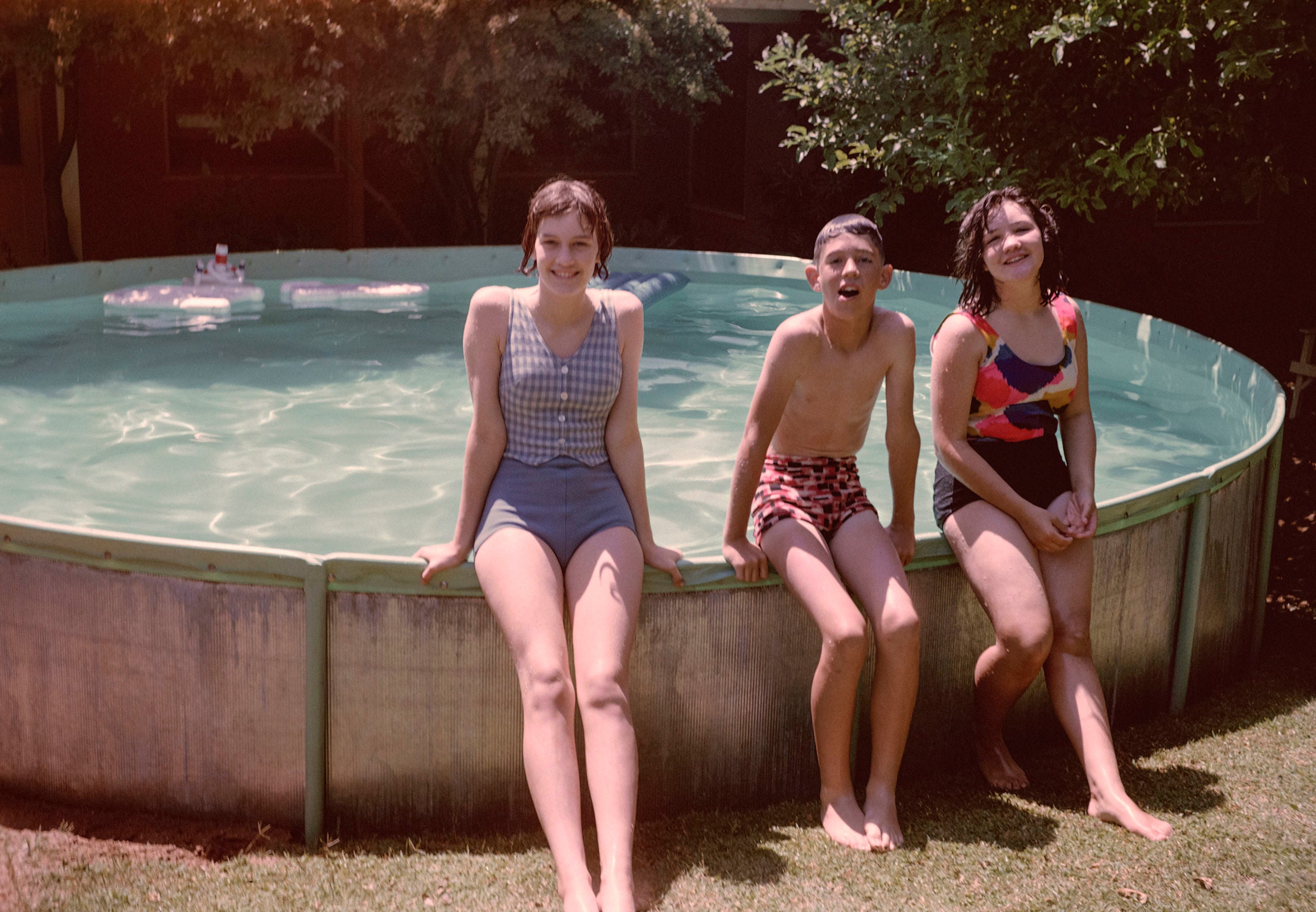 "The backyard pool industry blew up in America in the late 1960s and 1970s," says Scott Webb, editor of pool industry bible AQUA Magazine. "There were pools before then, but that was when people started doing it on their own. It wasn't a very professional industry at first — you had a lot of construction people going, 'I'm going to dig a hole in my backyard and line it with concrete.' Hot tubs and spas came about the same time and kind of in the same way, as a non-professional outgrowth. People in California would take wine barrels, fill them with hot water and have a party. It was a real fad, and then people started working on shells for them in their garages, and then businesses grew."
While AQUA doesn't cover kiddie pools, Webb assumes they would have started out in a similar DIY fashion, with other equipment being repurposed, saying, "I'd bet people were using wash tubs and different smaller things long before anyone came out with a plastic kiddie pool." (This spirit of innovation among people who fancy a dip continues to this day with DIY works of genius like Philadelphia's dumpster pool and the Coachella-originated Swimming Containers.)
There are, of course, lots of uses for kiddie pools besides splashing around in them. Dogs love them, and they provide a perfect space for hosing down your hound. People use them to house miniature gardens or as substitute ponds for pet turtles. They can be used as storage solutions, as sandboxes, as carpet-saving devices for parents of messy painters or you can stack a bunch of them up to keep beers cool. The possibilities are endless. 
However, they tend to look like crap.
While kiddie pools became incredibly common in households both with and without children, they were never things to show off. They were a means to an end — a way to keep your kids, your beer or your feet cool on a summer's day, and not much more. Largely available only in pale blue or emblazoned with off-model cartoon fish, they've never been the most grown-up of products. Country singer Joe Nichols used "Lawn chair, kiddie pool, soakin' up the sun" as a way of describing a proud lack of ambition in his 2007 single "It Ain't No Crime." If you were in a kiddie pool and weren't a kid, you weren't doing well — see Andrew McCarthy in Weekend At Bernie's, smoking in one and shouting, "This sucks, I am so unhappy."
Emily Vaca, the founder of Minnidip, the world's first designer inflatable pool brand, founded her company to fill a gap in the market she couldn't believe existed. "I grew up in a small city house with a tiny backyard in St. Louis, and my pool growing up was a metal stock tank, a big galvanized tin tub like animals would drink from on farms," she tells me. "They're super trendy now; they're called cowboy tubs. When I had a rooftop deck in Chicago I was throwing a party and wanted one of those, but it was a rental, and that much weight and that much water on the roof seemed like a bad idea. The only option was an inflatable kiddie pool, and my heart just sank. I'm a designer — I'd put all this attention to detail into the decor and this big blue pool would kill it. It stayed in the box."
Then, in the summer of 2015, the world went bonkers for novelty pool toys, as everyone's Instagram feed became dominated by images of celebrities on large inflatables. Taylor Swift's Fourth of July party, a collection of impossibly photogenic people cavorting on floating swans, sent the internet nuts. Vogue wrote: "The latest summer trend is all about inflatable float fever — with style to match. Taylor Swift had a fleet of floats at the ready for her Independence Day party, where friends including Gigi Hadid, Joe Jonas, Kendall Jenner, and Swift's boyfriend Calvin Harris were seen mounting oversize versions from luxury pool float company Funboy."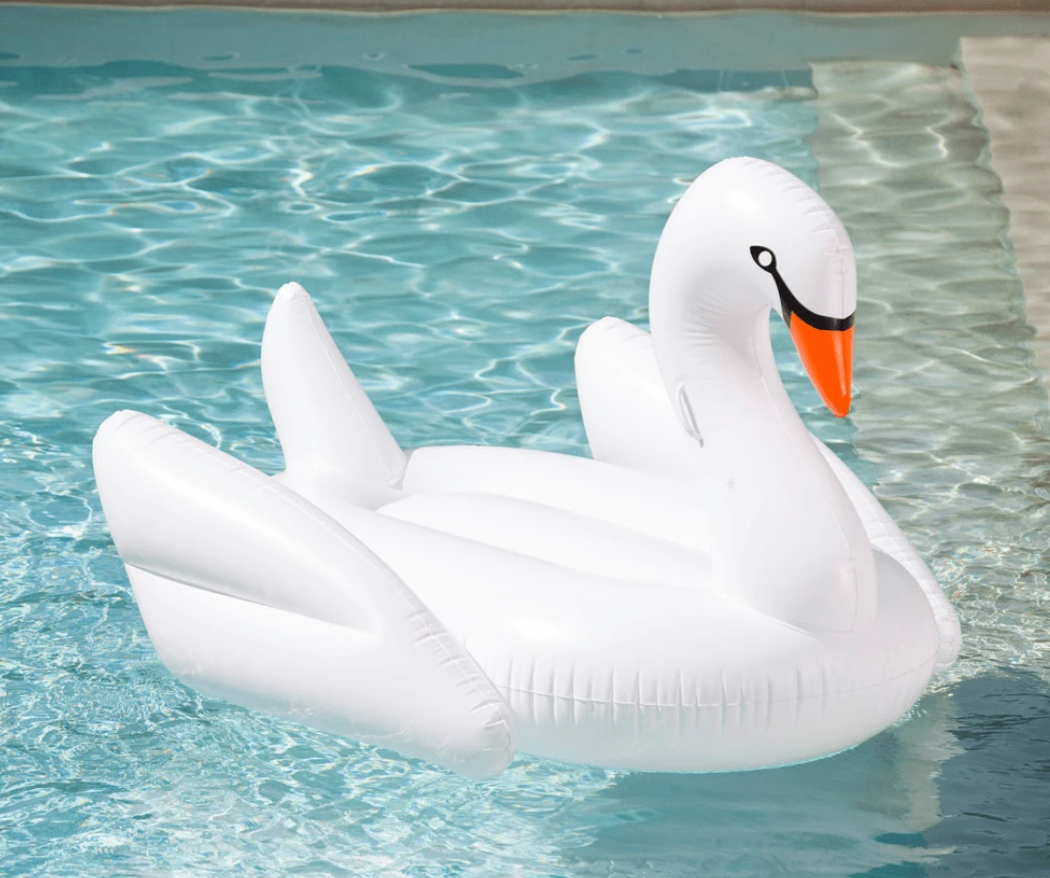 "The toy industry has really taken off in the last 10 or 15 years," says AQUA editor Webb. "The big inflatables, the glow-in-the-dark appliques that you put on the bottom of the pool, the floating beer coolers…" Where pool toys had previously just been for kids, Funboy marketed high-end, high-quality inflatables that millionaires looked good on. And, while living the same lifestyle or dressing the same as beautiful celebrities is out of the question for most people, they were just about accessible — over a hundred bucks for a toy swan is a lot of money, but not if it means guaranteed Likes, right? 

They sold in astonishing numbers, with fast-fashion outlets immediately bringing out cheap lookalikes. "That had all exploded, but nobody was doing cute inflatable pools, and it seemed like such a missed opportunity," says Vaca. "Everything out there was still a sad blue pool or covered in cartoon fishes. There was nothing on the market that I would want to see in my own backyard."
Minnidip's "adult kiddie pools," beautifully printed and endlessly Instagrammable without a copyright-infringing Nemo-alike in sight, ended up in Target, Bloomingdales and Urban Outfitters (and Funboy subsequently started making their own pools), but good luck getting your hands on one right now. As soon as lockdowns were announced and millions of plans got cancelled, kiddie pools flew off shelves. The L.A Times described a kiddie pool in a hot, cramped city as an "emotional life raft, a 66-inch island of childlike joy in an ocean of pandemic upheaval." Vaca has seen pictures of her pools in people's living rooms with beach scenes playing on the TV behind them. 
Sales of inexpensive above-ground pools — like the ones that are pretty much a big bag in a frame — regularly soar, with heat waves leading to impulse purchases, but this year's rush is unprecedented, says Webb. "I've been in the pool industry for 20 years, and we've never seen an explosion of demand the way we have since the pandemic began. What happened with kiddie pools at Target also happened with built-ins, this enormous surge in demand with the supply chain getting crimped at the same time due to foreign suppliers unable to get their goods to the U.S. or factories shut down."
If you have access to a pool of any kind in these times, you're lucky — the coronavirus has somehow led to a point where sitting in the yard in a cheap inflatable designed for children can make you the envy of your friends. But that cheap inflatable is only there due to innovation, engineering, creativity and capitalism. In a way, the kiddie pool encapsulates the American Dream. Put like that, it's almost a shame to dip your sweaty ass in it.