Depending on where you stand, Justyn Myers is either a heroic party genius or a bombastic renegade with no respect for city ordinances. But this much isn't in doubt: For at least two days in 2016, the 35-year-old architectural designer in Philadelphia made international headlines for what he gleefully refers to as his first breakthrough — the "Alternative Swimming Solution," or "A.S.S."
That breakthrough, of course, was turning a dumpster into a swimming pool for his annual block party.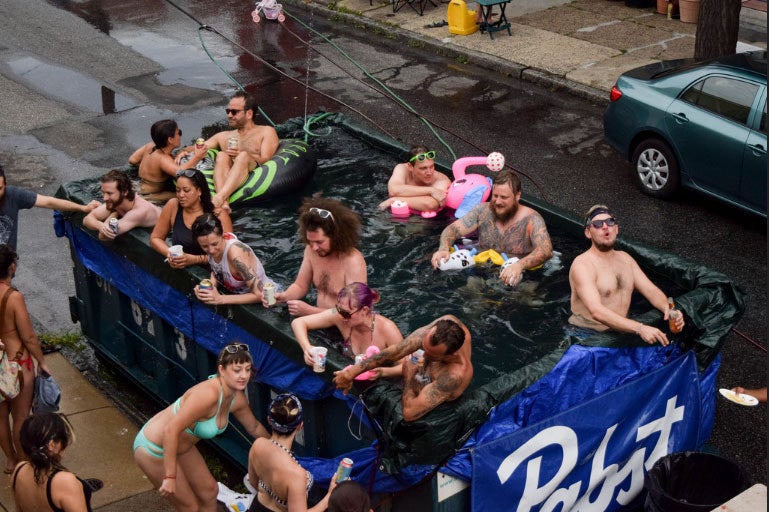 "We did truck pools the year prior, and they were great," he tells me. "But you can only fit five or six people in them. So we're like, 'Let's just turn it up and get a dumpster.'" The logistical challenges, however, were more or less immediate. "I called about 10 [local dumpster vendors], but I screwed up because I was telling them what I was using the dumpster for," he recalls. "One guy finally called me back: 'Justyn! Dumpster pool, love the idea. Talked to my boss, not gonna happen, sorry man — you have a great day though!'"
After phrasing it a bit differently on the next call, Myers secured a 20-yard-long, four-foot dumpster that would be dropped off Thursday and picked up Monday. Plus, he got it for half the price. "I told them I was just using it to store some stuff and would return it to them empty, so I asked for a discount," he laughs.
But, you're probably asking, isn't it a little gross to swim in a garbage vessel?
Myers points out that this dumpster was typically used for construction, not trash, so there's "no moldy waste, just debris." Still, he and a few friends power-washed the dumpster, then lined it with four layers of tarp before hacking a fire hydrant to fill it. "It only took about 90 minutes to fill up," he says. "And you know that film that kind of happens in pools? All that just spilled over the top, so fresh water just kept getting pumped in, and the pool stayed clean and fresh all day."
His grand plan, however, was nearly cut short the night before, when an inspector from the Philadelphia Department of Licenses and Inspections happened upon the dumpster sitting on the street. "They came by with a little business card and wrote 'Permit?' and put it on the dumpster," Myers tells me. "He must've been like, 'Shit!' after seeing what happened next."
Needless to say, the block party was a huge success, capped off by throwing the keg into the pool and "bull-riding it while chugging" at 3 a.m.
As for all the press that followed, typically, making headlines the Monday after a party doesn't bode well for the party's organizers, but Myers proved to be the exception. "Meet the Philly Genius Who Turned a Dumpster Into a Pool," reads the 2016 headline in Billy Penn, a local Philadelphia news outlet.
And for about 48 hours, even the city seemed bemused by the idea. "Sure, temporary dumpster pool, okay, right on," Karen Guss, spokesperson for the Philadelphia Department of Licenses and Inspections, wrote in an email to Billy Penn. "A building permit is required to put up, even temporarily, any pool that is longer and/or wider than 12 feet and that holds water at a depth greater than two feet."
So Myers didn't exactly play by the book. But the message was at least out: If you want to do your own dumpster pool, you just need a permit. "By Tuesday, people were calling the city saying, 'I want to do a dumpster pool, too!' So the city had to release this official statement [to Billy Penn] saying, 'We're not screwing around, you can't do this,'" Myers recalls.
Cassie Owens, the reporter who broke the story and followed the ensuing drama for Billy Penn, doesn't recall that any other dumpster pools actually happened in Philadelphia. But when the city followed up with a second, very serious condemnation of dumpster pools, the story took a turn. "It quickly became a story about a 'crackdown,'" she tells me.
"In view of the city's commitment to public health, safety and basic common sense, we will not issue permits for block party dumpster pools," the city's statement to Billy Penn reads. Illegally opening a hydrant could break a water main, lead to a lack of water for potential fires or even "loss of life by injury due to the hydrant water pushing a small child or even an adult into oncoming traffic," the statement explains.
"We are not screwing around, Philly," it concludes.
"That's what bit 'em in the butt, because it made it seem like it was a bigger thing than it was," Myers says. "When I talked to Karen [Guss], she was really sweet, really understanding and just trying to her job, which is unfortunate for her to have to put up with my shit. But she was like, 'Is the party over? Did you have a good time? All right, then that's the end of it.' I was like, 'Sweet, thanks!'"
Within a span of three days, the story exploded beyond local outlets. Thanks to Myers, the world believed Philadelphia had a major dumpster pool problem, and the city continued to push back, levying all the ordinances and permits one would need to build a legal dumpster pool. "Frankly, for the cost of what is needed to do this legally, a resident could install an actual above-ground pool," Guss told Owens.
Myers, though, got away with it — despite, he says, strangers calling his boss to get him fired. The next year, 2017, Philadelphia made a point to put "no dumpster pools" in his block party permit, which he complied with — by making a pool from street barricades.
"That's the part about being a renegade," he says. "If you get caught, you gotta be like, 'All right, see ya!' and roll onto the next one."
Which is the reason the dumpster pool story has been making its rounds again, four years later. Myers is back, bringing the party to Philly in 2020's pandemic summer, hoping his story will inspire a season of renegade A.S.S. "I'm a huge water nut, so I want to inspire people to get out and think of all the Alternative Swimming Solutions they can," Myers tells me. "And I don't know if I'll get in trouble for saying this, but it's hot out there, people are just going nuts and all the public pools are closed, so we're trying to do pop-up hydrant parties."
Since dumpster pools don't bode well for social distancing, Myers says, he's hopping around Philadelphia neighborhoods and inviting people to "come hang." "It's socially distancing, it's outside. We'll just enjoy the sprinklers and maybe get some DJs lined up, just trying to have these renegade block parties," he says.
And as illegal and potentially dangerous as opening hydrants without permission can be, Myers says at least he's not leaving them "blaring all day long," as some do. "I have a manifold with hoses and sprinklers and really utilize the water efficiently," he argues. "Plus, I'm trying to create a block-cleaning initiative. We'll bring brooms and shovels, and once the hydrant is running, we'll clean the corner." That way, he says, he'll leave it better than it was.
"Look," he concludes. "We're just trying to get wet."