Like many porn creators and fans alike, Jimmy Collins, 23 from Illinois, spent last weekend at Exxxotica, an adult content conference in Chicago. There, he took a photo with actress Violet Myers, and shared the picture on Twitter commenting on how she's even more beautiful in person. "You don't have enough meat for all that, lil' bro," a random man commented. But lo and behold, Collins did indeed have enough meat for all that, and wordlessly dropped his OnlyFans link as proof, yielding a viral Twitter encounter that now has over 113,000 likes.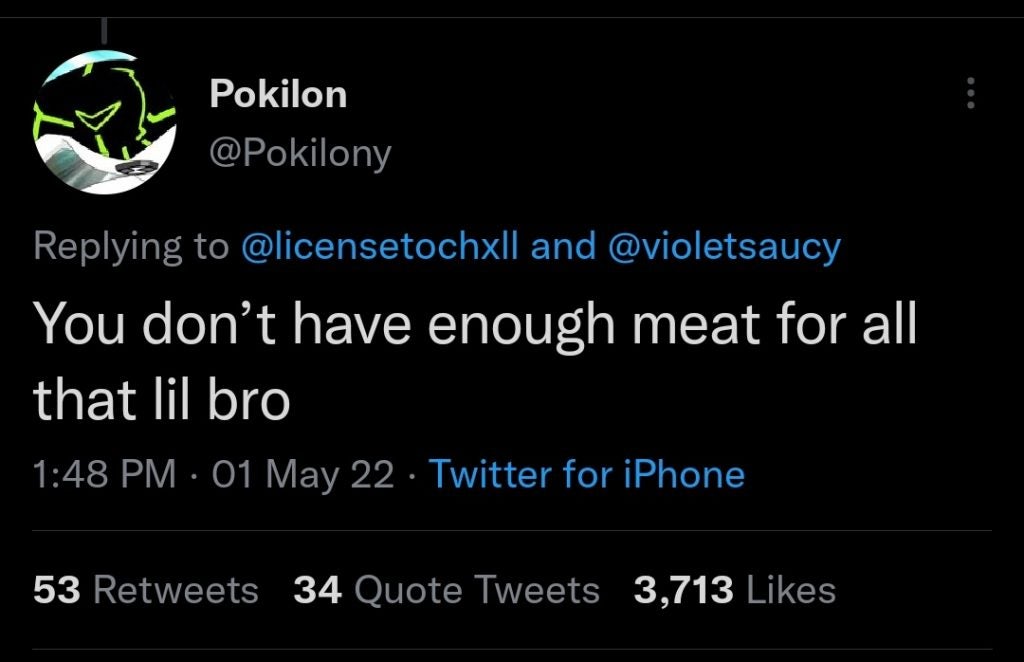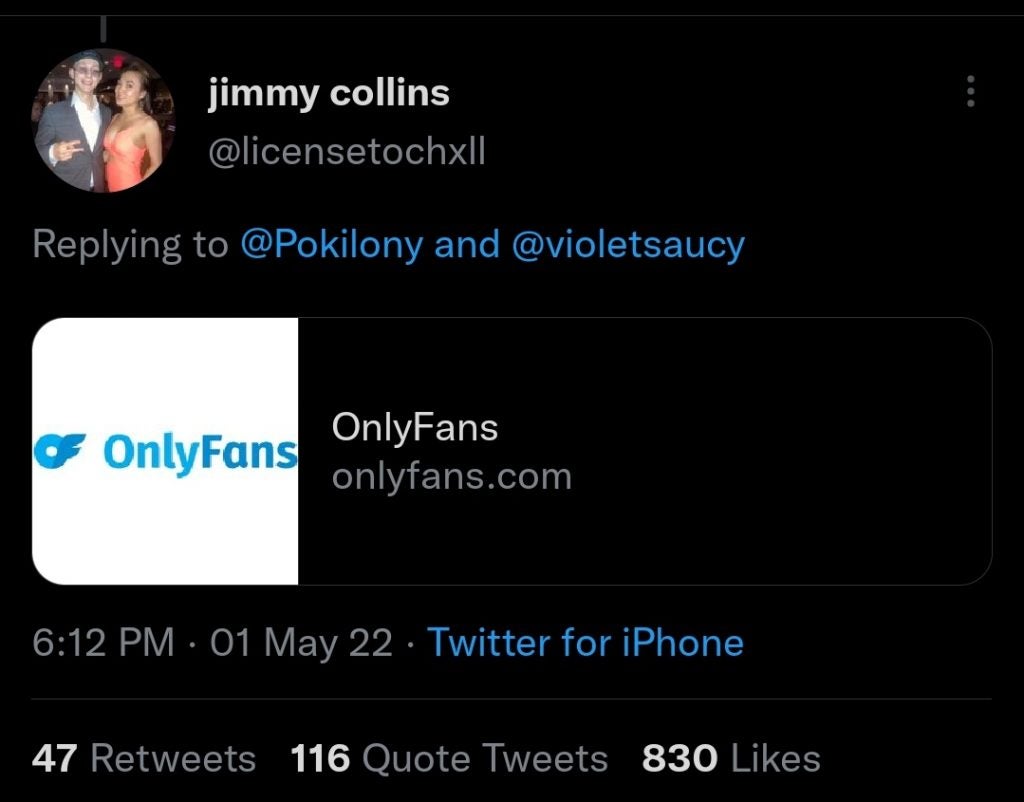 And thus, a man many assumed was merely a porn viewer left the conference a star in his own right — just as Collins had hoped. 
Thanks to Twitter, Collins, a well-endowed former bar manager, has grown his OnlyFans subscribers from around 20 subscribers to more than 600, in a matter of only three days. Collins has been making porn independently for just under a year, originally shooting various sex tapes with women he dated who had OnlyFans accounts themselves. He was an appropriate partner for filming not just because of his willingness to be on camera, but also because he's, well, packing. "I went on some dates with a girl who had a decent following. We'd record together, she'd post it and then buy me macaroni from Panera," he tells me. "I felt like it was a pretty fair trade until I figured out the type of money OnlyFans creators were actually making."
With all that prior OnlyFans experience — and thanks to some other friends in the industry — Collins decided to potentially pursue the adult industry more seriously himself. His visit to Exxxotica, then, was a way of networking. The tweet that emerged from it, though, has brought him more success than the conference itself — thanks to it, Collins is hoping to pursue studio porn with a major production company later this year.
He's totally fine with how it all unfolded, too. "I don't mind it at all, especially when it's getting new subs on my OnlyFans, tips in my CashApp, etc.," he says. "Any exposure is good exposure."
He knows, though, that part of why the tweet went viral is because of the assumptions people make about porn conference fan attendees. The initial response to Collins' photo — "you don't have enough meat for all that" — was one of many examples over the weekend of people attempting to paint attendees as weird or pathetic, even though they likely watch the same porn in private or would otherwise say they support porn performers. "The fans and consumers, they're the people who sustain our industry," says Collins. "So when it comes to these people talking shit, their hypocrisy is showing. Like, are you sex positive or not?"
In any event, Collins didn't need to say anything to prove himself. He just showed his OnlyFans receipts. Now, the guys who ragged on him might be seeing him in the company of their favorite female porn stars in a totally different way. And yeah, he's got the meat for it.