Not sure what to read on the internet this weekend? We've got some options! You could start with our review of Sacha Baron Cohen's new Showtime series, Who is America?, which we found to be kinda good—and kinda frustrating. Or, perhaps, your wife or girlfriend just told you she's getting an IUD, and you're not entirely sure what those are (they aren't plugs, FYI), but you want to learn, in which case check out this handy guide. Finally, you could catch up on the seven stages on a woman's scorn, as explained by a woman who knows a thing or two about the subject.
But if you'd just like to skip directly to the really, really good stuff — the best of the best, even — you could just check out the stories below.
Must Reads
"Meet the Male Business Thots of Instagram"
"Thot" is a term that's been used on the internet since 2014. It's an acronym for "That Ho Over There," was meant to be negative and has almost entirely applied to women, acting as shorthand for slut. But recently a new breed of thot has appeared on Instagram: The "male business thot" — a uniquely contemporary young businessman who puts an extraordinary amount of care into his social media feeds while trying to appear not to — all as a way of showing off how hot he is. READ MORE
"In 2018, Does Anyone Still Care If You Fuck on the First Date?"
Who died and made the three-date rule king, anyway? Oh, that's right, Charlotte York from Sex and the City. Columnist merritt k writes that, with the advent of hook-up apps and social media, it's easier (and less taboo) than ever to get busy on the first date. But after talking with a number of millennials active in the dating scene, there are actually a number of great reasons to follow Charlotte's famed Rule of Three. READ MORE
"The World of MAGA Thirst Traps"
Unlike thot, "Thirst trap" is a relatively new term describing the sexy photos people post on social media to get attention. And while thirst traps have traditionally been more-or-less agenda-free, young conservatives like Tomi Lahren, Kaitlin Bennett and Brenna Spencer have recently figured out that they make excellent propaganda for the Second Amendment — and that the ensuing outrage cycle is an even better opportunity for self-promotion. READ MORE
"Wu-Tang Clan's U-God on Being a Child of Rape, Nearly Fighting Leonardo DiCaprio and Talking to Ol' Dirty Bastard From Beyond the Grave"
Ask hip hop fans to name their Top 5 emcees in the Wu-Tang Clan, and you'll likely get some combo of Method Man, Ghostface Killah, GZA, RZA and Ol' Dirty Bastard. They'll almost always overlook U-God, though, which is a shame, because he's one of the truest members of the Clan. And, as Zaron Burnett found out when he interviewed the rapper and new author, definitely the most honest. READ MORE
5 Things We Learned This Week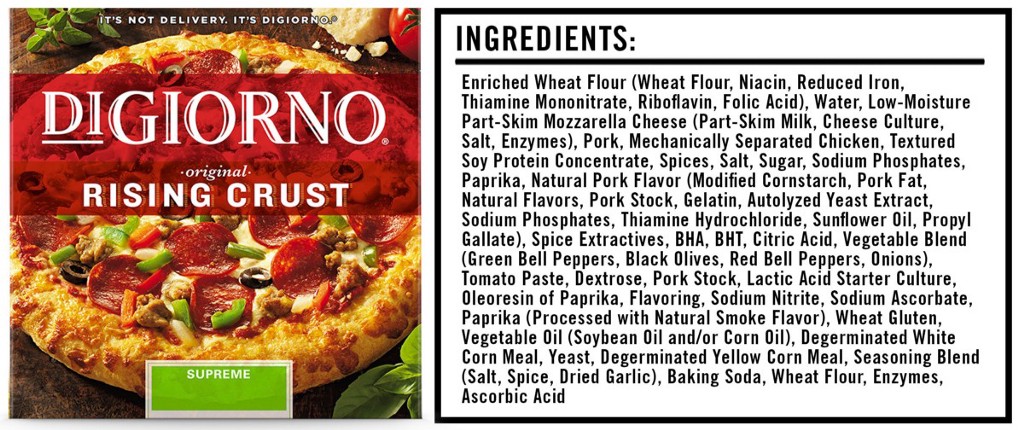 So much for flour, water, cheese and tomato sauce. What the heck is BHA anyways? Well, BHA is short for butylated hydroxyanisole (no wonder they shortened that, butylated hydroxyanisole sounds like something undertakers use on dead bodies), and it's a common preservative. Sure it is.
Quote of the Week

One of the funniest sentences I've read in a while, courtesy of staff writer Tracy Moore. Read her piece on loving dicks, here.
And Now a Word From Our Readers…
"The 'Days Without Sex' Meme and the Importance of Being Horny Online"
This week Miles Klee wrote about how the recent "days without sex" meme, which people have been using to express their horniest selves to complete randos on Twitter, is an example of how we've begun to confuse our yearning for physical connection with our need for any connection at all. But this commenter thinks we're missing the larger issue: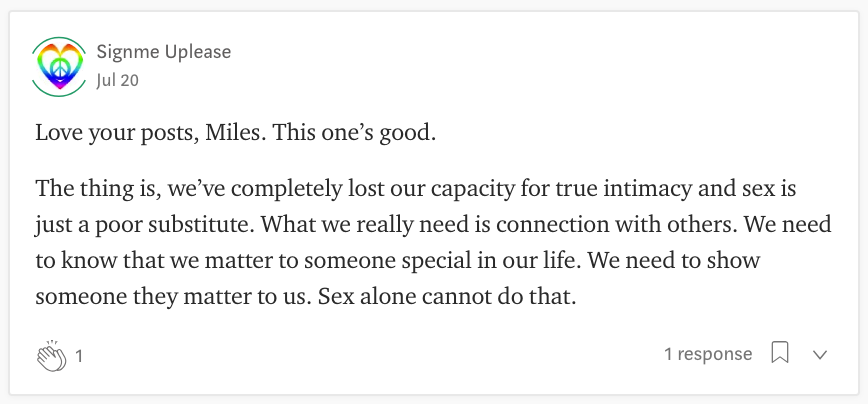 "A Salute to 'Weekend at Bernie's,' the Stupidest Comedy You Secretly Love"
On Wednesday, MEL film critic Tim Grierson gave us a 5,200-word love letter to one of the 1980s best buddy comedies, and this commenter was pumped:

Yes you did, Jim. Yes you did.