So many good stories today, it's hard to pick a favorite. Lemme break it down for you.
For tears: Oh man. This story about Dave Dave, the kid who was set on fire by his father in the midst of a nasty custody battle, will definitely do the trick. Heartbreaking stuff.
For lols: An interview with the internet's most famous flatulence-filled security guard—Paul Flart, anyone? Or, if politics are more your speed, how about this piece from Miles Klee on Donald Trump's obsession with all-things-massive?
For help: Here's how to really talk—to your doctor about all that drinking, smoking and unprotected sex. And: A primer on how to decide between your girlfriend and your job.
Like I said, it's all good today, so get cracking.
Must Read
"The Boy That Fire Couldn't Destroy: The Life and Death of Dave Dave"
This is the incredible story of Dave Dave, who, at the age of six, was doused in kerosene and torched by his own father in a motel room on a trip to Disneyland. And while Dave Dave's attempted murder was horrifying, his ensuing celebrity, renown as a conceptual artist and a lasting friendship with Michael Jackson also yielded something remarkably redeeming—a life truly well lived. READ MORE
YUUUUUUGGGE
Fuck "loyalty"—the real defining value that Donald Trump appreciates above all others is "massiveness." Walls, crowds, planes, buildings, heck, even manly men:
Face it: Dude's a size queen.**
Paul Flart, Fart Cop
Features writer C. Brian Smith scored this hilarious interview with "Paul Flart," aka "The Fart Authority," a Florida security guard who's been documenting his farts daily for the past five months, and it's giving me life:
Sadly, Flart has been fired from the Florida hospital where he worked and made his "art." Turns out, when asked to cease-and-desist on farting at work in order to keep his job, Flart opted for the road less traveled:

Catch up on the entire interview, here.
Doctor Knows Best
Have you ever gone to the doctor and lied your fucking ass off when asked, "How many drinks a week do you have?" Or: "What drugs have you taken recently?" If you answered yes, don't feel too bad—you're hardly alone (me: ). But stop. Like, right now. Here's why.
Career v. Girlfriend
No one wants to be put in the position where they have to choose between their significant other and their job. But sometimes, it happens—and it sucks. But knowing when you're at that point can be difficult to parse. So with that in mind, when should you choose work over your relationship? Here's a helpful guide to making that fateful decision:
Don't immediately threaten to leave. You don't want to put anyone on the defensive.
Ask them what their needs are. Empower them to help you figure out what a happy middle looks like. Maybe the gap isn't as wide as you thought.
Ask yourself what matters most. Have an honest conversation with yourself: Are you more interested in furthering your career than you are in your partner? Maybe this is the perfect chance to unburden you both from an unhappy situation.
Put simply, if you love someone, work can suck it. And if you don't love someone? Do your relationship a favor and GTFO.
Relationship Napalm
Speaking of breakups, here's some food for thought: Gossip sucks, but revenge gossip is fucking napalm. Unfortunately, in our Extremely Online world, stories of jilted lovers burning their exes in public have become more of the rule, and less of the exception.

The Truth About Cancer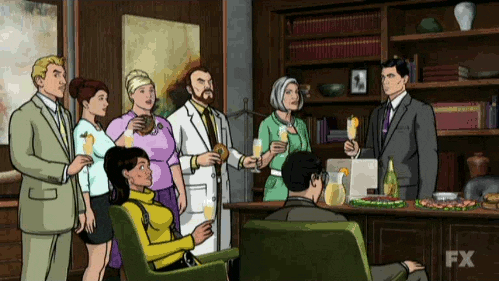 If a doctor looks deep enough, they'll probably find something in you that could potentially become a life-threatening form of cancer—even if it's unlikely to do so in reality. So if everything is cancer, and nothing is cancer, maybe we should update our definition of cancer… whaddaya think??
**Sometimes We Get It Wrong
Look, we're not always, how do you say, "factual." We fuck up, and when we fuck up, it's nice to know that you, our beloved readers, are right there to correct our wrongs. Like this guy, who had some kind words and a clarification for us on what exactly constitutes a "size queen" in the aforementioned piece about Donald Trump's obsession with mass: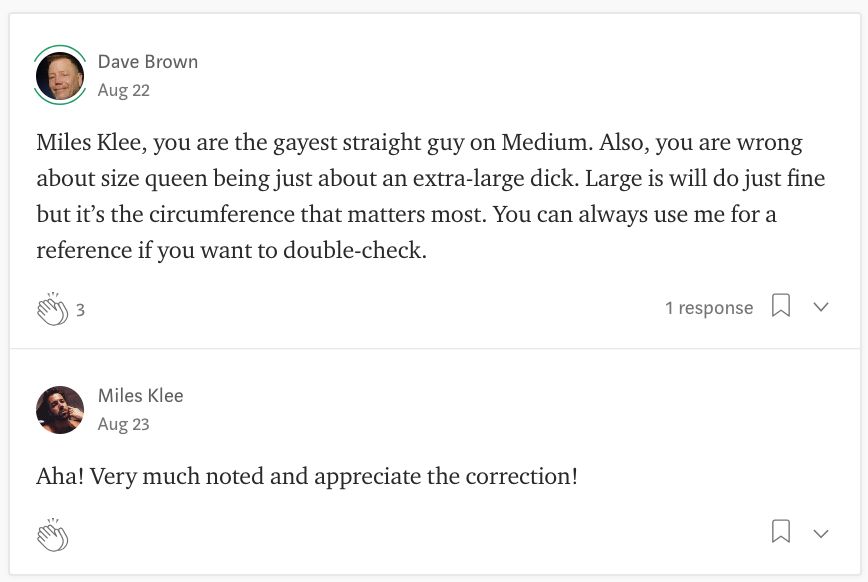 Thank you, Dave. Thank. You.