Yes, you read that last one correctly. A man on the internet claims to have taken a 15-pound dump, and to use the parlance of our times, I'm shook.
I won't get into what kind of hellish circumstances conspired to place this man in the eye of the perfect shit storm, but alas, here we are. I also won't regale you with tales of my own poop adventures—for one, I'm fairly regular, and two, that'd be gross. But I will say that there's something alluring about calculating the loss of mass that occurs when you take the Browns to the Super Bowl.
Most people who embark on this endeavor will simply weigh themselves before and after. Others—like self-help guru Timothy Ferriss, as famously mentioned in his book, The 4-Hour Body—weigh their actual stool. Regardless of the method, I get what the draw is. It's probably like the feeling you get when you pop the perfect zit, or pluck out that crazy-long ear hair. There's a sense of accomplishment.
That, however, doesn't mean I'm going to do it, you sickos. I'm not a monster.
Find out what a doctor had to say about that massive log—and the best of everything else we published today—below.
Must Read
"A Guide to Sober Dating (And, Of Course, Sober Sex)"
When you're an addict and you get sober, the idea of dating and having sex, with all its awkwardness and clarity in lieu of your preferred substance, might scare the shit out of you. Contributing writer and recovering addict Bridget Phetasy details the pitfalls (e.g., don't date anyone from a meeting!) and the pleasant surprises (e.g., sober sex is great!) you can expect on your road to recovery. READ MORE
Money For Nothing

For men turned on by financial domination, or "findom," it's the thought of their bank balances getting spanked — not their asses — that turns them on. The problem, however, is when your kink involves the exchange of money over the internet, you're going to run into scammers—and that's pissing off doms and subs alike.
You Got Iced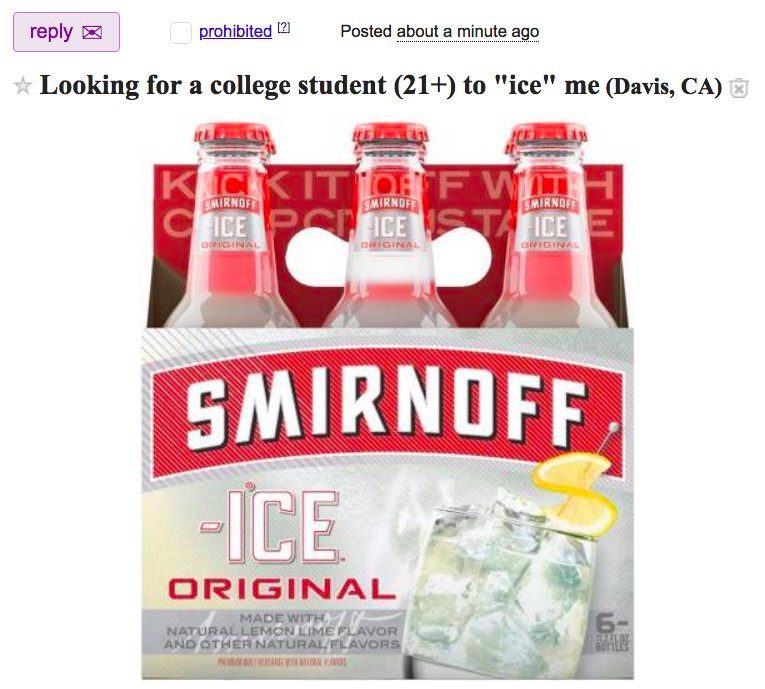 According to you, our readers, "icing" hasn't gone away—as Miles Klee argued last month—it's alive and well. So, for his comeuppance, he placed an ad on Craigslist asking for people to ice him. Well, he got what he wished for—a quartet of kind (and willing) participants—and then some. As in, some barf. Because he barfed (twice).
https://twitter.com/MilesKlee/status/1039342722727862277
Tick (Slurp), Tock (Slurp)
Ever get a beej and your partner dismounts right before the big finish? It's situations like that when you might wish there was an agreed-upon amount of time a blowjob should last. As a public service, Tracy Moore set out to discover what that number is, and while it might not be perfect, this is what she found. Well, that and this redditor's crazy formula:
The most basic Blowjob Formula = S — (D + E)
Where S = Stamina of the one giving the blowjob, D = Duration required to reach orgasm and E = Time spent edging. If the values of D and E exceed the value of S, and the final answer becomes a negative, the blowjob has failed, and its length is the value of S. Therefore, higher values of S (gained by enthusiastic practice sessions) allow for higher values of both D and E. As long as S outweighs the combined time of D and E (the lowest E can always be 0), then the length of the blowjob is simply D + E.
You try to make sense of that nonsense.
Divorce: It'll Cost Ya
Do you think you can play nice with your soon-to-be-ex-spouse? Or would it be more like a knife fight? If it's the latter—and you opt for a lawyer—be prepared to pay bigly:
If you settle out of court: Anywhere from $15,000 to $30,000.
If it goes to court: Possibly north of $100,000.
Keep in mind, costs do vary widely, but you get the idea. Here's where and how all that money is being spent.
I'm a Briefs Man, Baby

Tighty-whities, aka briefs, aka the white underwear your dad wore in the 1960s, are about as passé as leisure suits. First off, they're decidedly un-sexy. Second, there are far better alternatives that accomplish the same goal—cradling your junk—minus the fashion faux pas. But there are men who still live and die by their granny panties, and to them, it's the rest of us who are crazy.
Grow the Beard of Your Dreams

And here I thought I was destined to live a patchy-beard life. Turns out, a little moxie—and a lot of Rogaine—is helping men grow thicker beards. Here's how you can do it:
Wash your face. (Plain water is fine.)
Apply Minoxidil/Rogaine—either via liquid (with the aid of a dropper) or foam.
Massage into your existing beard for 10 minutes.
For four hours, avoid the following: cats, kissing, sunscreen, swimming and/or sweating.
Wash your face a second time, and apply moisturizer.
Repeat in 10 to 12 hours — and every day thereafter for the next couple of years (bare minimum).
Okay, so it's a bit, how do you say, involved. But men like me with patchy beards—as well as trans men—swear by it. And they've formed a subculture online, with beard-growth support forums filled with everything from before-and-after photos to recommendations and progress reports.
A Legendary Shit
And finally, we bring you the incredible story of a man who claims he lost 15 pounds in one dump.

We managed to track down not one, but two professionals willing to respond to our most asinine questions about the theoretical limits of human shit, and whether this poop for the record books was even possible.