How was everyone's Fourth? Good? Worst thing about the Fourth falling on a Wednesday is having to come back to work the next day. Bet there were some hungover folks in your offices/workplaces on Thursday. On the flip side, Pedialyte probably broke their sales record for the year.
If you thought MEL might take the day off on Wednesday, you'd be wrong. Dead wrong. We published a lot of stuff. So much of stuff we had to create a separate post just to put it all. Sure, America's birthday is over and done with, but hot weather, beer and barbecue are timeless, so you should definitely go check it out.
As for everything else, well, the best of the best can be found below.
Must Reads
"'Progressive' Liberals Can't Stop Making Gay Jokes About Trump"
Donald J. Trump is easy to hate. But as Miles Klee writes, people on Twitter have got to knock it off with jokes about Trump doing sex with men. Whether he's fucking Kim Jong-un or fucking Putin, middle-of-the-road liberals aren't making a great case for themselves as a moral counterweight to a rabidly anti-LGBTQ White House with this "lol ur gay" shit. READ MORE
"The Men's Guide to the War on Reproductive Rights"
If you, a dude, think about birth control at all, it's likely that the extent of it is just hoping you don't knock someone up. But if you care about keeping your right (and, ahem, hers) to decide if and when to breed — and how to prevent that pregnancy in the first place — Supreme Court Justice Anthony Kennedy's retirement should have you shaking in the boots you want to knock so badly. READ MORE
Sex Parties in 4 Easy Steps
Got a hankering for some group sex? Of course, you do. After all, it sounds wild! Before you go for it, though, make sure you do your homework:
Get prepped. Know the room. Know the rules. Know what you're supposed to wear, and what not to. Make sure you know who to call if you need help, and make sure to practice safe sex.
Get a friend. If you're feeling less than comfortable, recruit a buddy to come with. Just don't hang out too much — as Trent from the movie Swingers says, you might scare off a nice baby who's ready to party.
Get comfortable. Don't feel pressured to dive right into the sex. Chat up some folks, get a drink, play some Twister. The most important thing about an orgy is that you enjoy yourself.
Get reflective. When the night is over, debrief. What worked for you? What didn't? If you had a blast, great. If you didn't, don't sweat it — sex parties aren't for everyone.
Read the whole thing here.
Smoke Out Your Hangover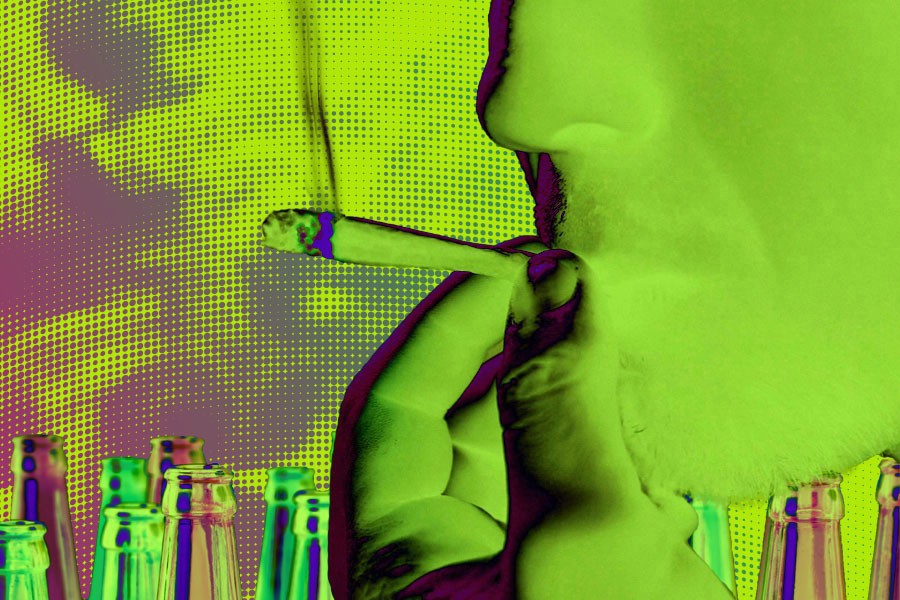 Had too much to drink last night? You can totally burn off that hangover with a doobie.
Your Smartphone is Fucking Gross
How gross? This fucking gross.
Milk Was a Bad Choice
This week we asked Dana Hunnes, senior dietitian at the Ronald Reagan UCLA Medical Center, to help us rank every dairy product, from most healthy to least healthy. Surprisingly, out of six dairy products, milk came in fifth place. Find out what was healthier, and what was even worse, here.
A Little Off the Top

Want your hair cut and all your senses tickled? Head to India! Barbers there combine hairdressing with highly unique massages that have become a huge hit with the ASMR crowd on YouTube.
Deez Tiny Nuts
Wanna laugh? Think about every athlete/yoked movie star who's ever taken steroids, and then think about the fact that no matter how big they got, their balls did the opposite. Yes, your testicles shrink on 'roids, and that's because all that excess testosterone is like an invitation to your gonads to never make the stuff ever again.