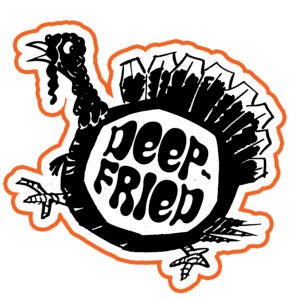 Our Thanksgiving op-eds have been coated in butter and dunked in a barrel of boiling oil. Now our house is on fire. But nothing, nothing will convince us otherwise. So pass the alcoholic gravy — here are our deep-fried holiday takes.
Quiz! What's the ingredient that unites the varied servings on a Thanksgiving plate? You'd probably say gravy — and you'd be wrong. Yes, gravy, savory and rich, adds much-needed moisture to dry items like turkey and stuffing. But those foods are also savory and rich. In basketball, gravy would be the sixth man, entering the court in the second quarter to freshen up the lineup and relieve some fading muscle.
But the true Finals MVP, the LeBron James of leftovers, the teammate that complements every player on the floor and makes each position the best version of itself? That's horseradish, baby.
Sorry, but if your nostrils aren't on fire while you eat Thanksgiving dinner, you're severely missing out.
The Jews (and halfie-but-not-really-legal, non–Bar Mitzvah-ed, only-Dad-is-Jewish pretenders like me) understand. Horseradish is a traditional bitter herb eaten at the Passover seder. It's been popping up in The Tradition since the 12th and 13th centuries, when rabbis Eliezer ben Nathan and Eleazar of Worms wrote of horseradish in the fruity, nutty seder dish haroset, reports Haaretz. Think of them as you plop horseradish-infused walnut-cranberry relish on your turkey this Thursday (and for days after).
I'm non-practicing, and I'm not a big religious-holiday guy anyway. But today, horseradish conjures up some powerful childhood shit. As a kid in one of the few Jewish families in our Ohio small town, the bites of salty Passover parsley and horseradish meant family, safety and community. They were tasty enough, too, to tide me over until the latke plates in December (I held the family record, eating 14 in one sitting). In the Jewish-holiday offseason, my dad and I would drive to Arby's and sate ourselves with extra horsey sauce on roast beef sandwiches.
If horseradish (and, hoo boy, that cheddar sauce!) had the power to rescue Arby's pink slime, it absolutely transforms a Thanksgiving plate and its piles of dry meat and salty sides.
Why is that, exactly? Jim Mumford, the chef and blogger behind Jim Cooks Food Good, knows his chemistry, and he broke it down for me this way: Horseradish's sharp bite, which is caused by the release of isothiocyanate, "is a match made in heaven with the ultra-savory pairings on your Thanksgiving table — much like you'd pair mustard with sausage, or cabbage with slow-roasted pork. Prepared horseradish also contains vinegar, which is excellent for cleansing the palette of fatty/salty foods and helping sweet and savory dishes marry." Mumford advises putting a little horseradish in your gravy (and your cornbread).
Rax King, James Beard Award nominee and MEL contributor, has never tried horseradish at Thanksgiving, and she regrets it: "The main foods of Thanksgiving (turkey, stuffing, mashed potatoes, green bean casserole) are all so nauseatingly rich that I bet the horseradish's bite cuts right through." In our email chain about Jewish Thanksgiving things, she came up with a brilliant hack I cannot wait to try: matzo ball soup, made with turkey broth. "I'm experiencing so many feelings about it," she says. "I don't even like turkey!"
She's not alone: Many Thanksgiving-food haters, like MEL's Andrew Fiouzi, blame turkey and its dryness for making Americans work too damn hard for a good meal. But I swear, the solution is horseradish. It's great on beans, potatoes, meat, stuffing — everything.
The only not-so-great thing?
"Breath and farts after a horsey Thanksgiving," Rax King says. "Absolutely unspeakable."