In the infamous carol "The 12 Days of Christmas," the singer brags about all the bossy gifts their "true love" gave them for the holidays. But since since six geese-a-laying and a bunch of turtle doves seem unsanitary — not to mention a violation of city ordinances — we decided to gift you with 12 of something better: A handful of sex workers you should absolutely know about. Whether they're becoming literary superstars, breaking the "stunt cock" mold or literally embodying gay Jesus himself, they're the real gifts we need this Christmas. And no, not one of them is a turtle dove.
It's a clear summer afternoon and Jesus Christ is hanging from a crucifix, his curly, brown locks tangled in a crown of thorns. There's blood pooling at his wrists and ankles, and sweat is dripping down his torso. Clearly visible through the fabric of his flimsy, white loincloth is a giant boner, which stiffens as several men approach. Jesus, it appears, is into it — or at least that's what we see in Him, the infamous gay Jesus porn film from 1974.
According to the Bible, Jesus was strung up on the cross for six long hours before he gasped his last breath, only to be resurrected a few days later. Him's crucifixion scene is a lot more eventful. Jesus' disciples take turns pulling out his cock and sucking on his hung, holy member. Before long, he's the star of a Biblical gang bang. Per one review, written by Al Goldstein and published in pioneering porn magazine Screw, the "sex on the cross" scene contains "graphic anal probings, not unlike a World War II boat launching depth charges." With their sexy, immortal deity strung up and powerless, Him's thirsty disciples seize the opportunity to explore his asshole with their mouths, fingers and cocks before receiving a blessing of jizz from their Lord and savior himself.
Even by porn standards, Him is pretty no-holds-barred. Goldstein was a seasoned reviewer of the world's filthiest movies, but even he exclaimed: "I thought I had seen everything, but this movie brings in a whole new battery of backyard banterings, from the opening credits, which are played against a stiff cock being licked by a very pretty white pussycat, to a delicious, decadent sequel where a guy fucks a vacuum cleaner." But despite the low budget and "mismatched editing," Goldstein ultimately praises the movie as a "hymn to sodomy and the other brazen activities that mark the twilight world of perversity with so much pain and prurience."
This all sounds hot, but also wildly blasphemous. Surely good Christians were up in arms at this depiction of Christ as a gay gang-bang star?
Apparently not. After an extremely limited run in 1974, the sacrilegious film vanished into thin air. Conspiracy theorists have called it a hoax, and others have dedicated countless hours, days and years of their lives to tracking down a copy of this filthy, queer masterpiece. So far, nobody has succeeded. Nearly five decades after Him's theatrical release, the hunt for gay porn's long-lost Jesus is still on.
Jack Holman, a 21-year-old academic in Ireland, first heard about Him on the podcast Lost in the Static when he was 12. He quickly forgot about it, but in 2016, he was browsing the web with a friend when a Wikipedia list of lost films jogged his memory. Out of a "sense of teenage immaturity," he turned to his friend and said, "Hey, do you know that there's this lost gay Jesus porno?" Before long, they were spending hours Googling potential leads and mapping out plans to make a documentary about the movie's elusive disappearance.
That idea fell through, but Holman remained dedicated to researching the porno classic. In 2017, he self-published the academic essay "Why Are They Talking About 'Him'?" a document designed to "bring any potentially new detectives up-to-speed on the basics of what has been found relating to this film." Even now, he's hopelessly invested in Him; he's sporadically updated the essay over the last few years, regularly fielding new inquiries and leads from various other lost movie fanatics.
A handful of other sleuths have spent years in search of more information, and like Holman, they're usually average, everyday folks engrossed by the straight-up scandalousness of the movie. These aren't porn researchers, queer historians or notable movie archivists, though — they're die-hard, mostly straight internet obsessives who've collectively spent years chasing down leads and sharing their updates.
An anonymous blogger known only as Captain Obscurity seems to be their ringleader. In 2010, he launched a Blogspot page to publish an in-depth investigation of the movie's history. Eleven years later, it's still the go-to resource for those looking to get to the bottom of gay porn Jesus' disappearance — it even features a transcription of the earlier-referenced Screw review, now impossible to find elsewhere online.
There's no explanation as to why Captain Obscurity grew so obsessed with the movie. In fact, he's not even sure himself. "As a straight male, I never imagined I would ever spend so much time trying to prove the existence of some gay porn," he writes. (He, unfortunately, didn't respond to my interview request.)
Nevertheless, his blog has unearthed some of the main findings about the movie. According to it, Him was directed by a man known only as Ed D. Louie, a director whose IMDb page has no other listings. As a result, plenty of die-hard movie junkies believe it's a pseudonym (more on that later). There's also evidence to prove the movie premiered at New York's now-defunct 55th Street Playhouse on March 28, 1974, and was promoted by a cheesy, black-and-white ad in The Village Voice. In it, a bushy-bearded Jesus is pictured beside a tagline: "Are you curious about HIS sexual life?" Further down, the ad promises an "X-rated" color movie with an "all-male cast."
Apparently, the film ran through to May 23, 1974 in New York, and commenters on Captain Obscurity's article write that Him also made it to theaters in Chicago, Boston and Philadelphia. But it was hardly a box office hit, hence its near-total obscurity. Interestingly, the guy being blown on the cross in the movie's most memorable scene isn't actually supposed to be Jesus, either. Him chronicles the life of a sexy, young pervert, whose erotic fixation with Jesus Christ consumes him totally. As a result, he begins to replicate key Biblical scenes in a quest to satisfy his blasphemous kink, and to feel closer to the immortal object of his most debased desires. He isn't a god-figure at all — just a thirsty acolyte who, instead of turning water into wine, turns his lust for the world's alleged creator into messy, voluminous cumshots.
The stud who played this impious kinkster was Austrian-born Gustav von Will, better known by his artist pseudonym, Tava. A now-deleted article lists him as one of the most iconic muralists to have lived and worked in New York throughout the 1970s, and it's clear his work mirrored the themes of Him. In a 2012 exhibition entitled The Piers: Art and Sex Along the New York Waterfront, a handful of Tava's murals were captured on camera. In one, "a bawdy satyr and a human man" are painted onto a "derelict wall." In the corner, there are "two men jerking each other off." Basically, Tava's art was just like Him: extremely horny and extremely political.
Not much else is known about Tava — he passed away due to AIDS-related complications in 1991 — but it seems reasonable to assume he hustled and shot gay porn to fund his murals. In one of the only surviving photographs of the artist, shot in 1979 by queer fetish photographer Stanley Stellar and posted to the AIDS Memorial Instagram account, Tava's shaggy, brown bangs frame his slim face. Glance down, and you'll see his cock hanging out of his unbuttoned jeans, covered only by a gray, semi-transparent jock strap. His hands are tucked nonchalantly behind his back, and he wears a hot pink T-shirt and a beat-up denim jacket with one key detail: a hand-studded, upside-down crucifix on the right arm.
There's debate around the exact meaning of this symbol, but it's notably used by anti-Christian protest groups and even Satanists. In another photo — a behind-the-scenes still from Him — Tava walks naked through New York holding the crucifix that eventually made it into the movie.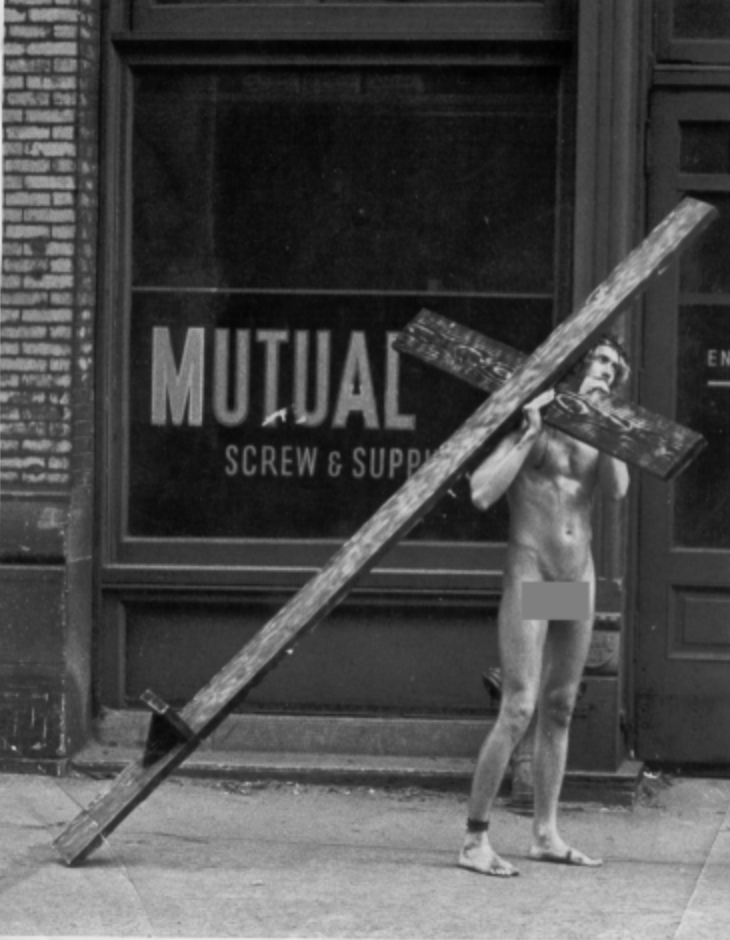 So, controversial movie featuring a Biblical gang bang? Check. Gay porn Jesus lookalike with a tendency to casually wear blasphemous, Satanic symbols? Check. Surely this was a recipe custom-made to rile up Catholic protestors into a frenzied, pitchfork-wielding fury?
Apparently not. Early movie reviews in Variety (which seemingly covered porn as well as big-budget blockbusters throughout the 1970s) and Screw trickled out to little fanfare, and though the movie contained sacrilgious scenes like a priest jacking off to the protagonist's perverted gay fantasies, it flew under the radar of hardcore Catholics. In 1980, movie critics Michael and Harry Medved gave it the "Most Un-Erotic Concept in Pornography" award in their jokey book The Golden Turkey Awards — basically the Oscars of the world's shittiest movies. "For sheer tastelessness, this film has no equals," they wrote in their introduction to Him.
It was this honorable mention that first caught the eye of author and FilmThreat journalist Phil Hall, who launched his own investigation as part of his research on lost movies. "I first learned of the film through that book," he tells me. "But I didn't give it any further thought until the early 2000s, when I was writing about lost films for FilmThreat. I discovered that Him is considered lost, which is strange considering it was made in 1974 and the majority of lost films are from the 1890s through the 1930s."
When he started writing about Him, he was flooded with responses by conspiracy theorists who insisted the movie didn't exist. "That's because The Golden Turkey Awards included a hoax film inserted into the text," Hall continues — to fuel speculation, the authors didn't specify which movie was the fake. Fans clearly read descriptions of a gay porn Jesus being gangbanged and assumed it must be the hoax, but they were wrong — as Hall confirmed with the Medveds, the actual hoax movie was Dog of Norway, accompanied by a mocked-up movie poster starring the authors' own pet pooch.
Conspiracy theorists debunked, a new question plagued Hall: Who was the mysterious Ed D. Louie, Him's director? Was it a real person or a pseudonym? Could this queer masterpiece have actually been the secret brainchild of a cinematic genius like Spielberg or Scorsese?
In the comments of Captain Obscurity's blog post, a popular name recurred: Ed Wood Jr. His campy, unpolished movies fit the description of Him's shitty camerawork and messy editing, and he wasn't exactly afraid to dive into controversial territory. A cross-dresser himself, Wood's debut release was 1953's Glen or Glenda, the story of a self-described "transvestite" who hides his cross-dressing from his wife for fear she'll reject him. It's a trippy fever dream of a movie, which contains a badly edited dream sequence made up of BDSM, rape fantasies and kitsch striptease. David Lynch has called it one of his favorites.
Wood dove headfirst into so-bad-they're sexy, divisive "skin flicks" from that point onwards. From man-eating plants to black-magic sex, there's no shortage of controversy in his films. Active in the sexploitation genre until 1977, it seemed plausible that Him could have been the product of Wood's gloriously depraved imagination, but there are a few inconsistencies. For one, Him was shot guerrilla-style in New York, whereas Wood's career was based in L.A. Plus, with psychedelic orgies and casket sex scenes already on his resumé, why would he create a pseudonym to distance himself from Him's depictions of Biblical sodomy? Surely it would be the crown jewel of his brilliantly perverted catalogue.
Hall's inquiries led him to Wakefield Poole, a gay porn legend who granted him an email interview for his FilmThreat article on Him. According to Poole, Louie was a real person — throughout the 1970s, he was the manager of New York's 55th Street Theater, which makes sense given the venue premiered Him in 1974. Louie gobbled up money from the theater despite the lease being in the name of his relative, Frank Lee (Poole offers no more specificity here). "Mr. Louie, as we called him, decided to make a film and cash in," Poole told Hall. "Unfortunately, he was a little late. The theater was run down, with no air conditioner and loaded with pickpockets. There was no audience left."
In his essay "Why Are They Talking About Him?" Holman followed up on these leads and pieced together tidbits of information from other gay-porn sleuths. He stumbled upon a key lead in the form of director and publisher Sam Ashby, who he says conducted various interviews with people who knew Louie. They largely corroborated Poole's claims, but found that Ed D. Louie was actually Ed Lui, a multidisciplinary, bisexual artist who was "cynical about religion." Lui was also the nephew of Frank Lee, a San Francisco-based theater owner whose portfolio included the 55th Street Playhouse.
After that, most of Homan's leads went cold. It's too bad — unravelling the threads of this theatrical mystery indicates that Him could be culturally important, both from queer and pornographic perspectives. Tava's story could tell us more about the lost, artistic legacies of AIDS activists, as well as the countless, unknown queer talents whose lives were lost to the AIDS crisis. But alas, Holman and the other dedicated disciples of Him still soldier on. "These days, it's mostly a waiting game," concludes Holman when I ask if there are any new leads. "Sometimes sources can take months or even years to get back in touch with any new info."
Despite the lack of new, concrete evidence, Holman's inbox occasionally pings with snippets of information gleaned by fellow researchers. "I can't commit as much time to it as I used to, what with other pieces in the pipeline and going through college, but I think this film will certainly be a bit of a white whale for me," he concludes. "One thing I am certain of is that, in one form or another, I'll be talking about Him for a long time."
May the power of gay Christ compel him.