"Picture it: A beautiful woman in a nightie, strapped to a bed, waiting for her boyfriend to join her in a kinky romp. Yet, she's looking over at him frustrated, because his attention is, instead, on a game of Tetris. The caption reads: 'The New Game Boy Pocket. Seriously Distracting.'" 
This, I imagine, is something like what the advertising pitch must have been for this Game Boy ad, which ran back in 1997.
The only problem was that "frustrated" looked an awful lot like "terrified" and the "boyfriend" could just as easily have been her kidnapper — which is why, unsurprisingly, the ad received a number of complaints and was quickly pulled. Today, nearly 25 years later, it can be found in online lists of the most offensive video game ads ever and is regarded as simply a gross product of its time. But this image — though certainly offensive — is hardly unique. Instead, it's just a small part of Game Boy's oddly sordid advertising history.
The advertising for Game Boy — which debuted in 1989 — started out simply enough. As Don Coyner, Nintendo of America's former marketing manager, told Polygon, "Pretty much everything we did was targeted to nine to 14-year-old boys." But the challenge was that the original Game Boy's screen was so dim that you couldn't actually see people playing it in a TV commercial, so, right off the bat, the ads for Game Boy had to be bizarre and creative, which is why the product debuted with a commercial that had a kid playing Tetris against an alien robot, with almost no footage of the system actually being used. 
As for print, things were pretty straightforward, with ads that told kids, "Just Don't Smile When They Say You're Grounded."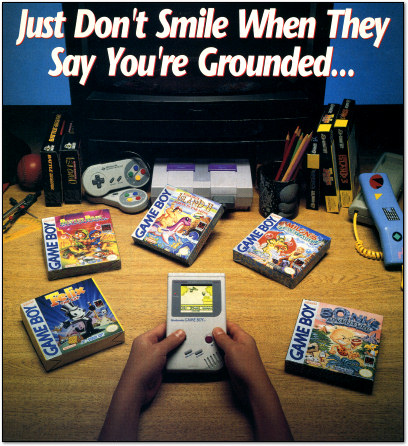 With boys being the primary demographic Nintendo hoped to reach, girls and adults were regarded as a "secondary market." They did run ads specifically targeted at adults in magazines like Forbes and Time, but sex appeal wasn't in their original strategy — instead, the ads simply tried to urge adults to have a little fun during the day, be it on a lunch break or when waiting for a flight. 
Game Boy was, to put it mildly, a tremendous success, outselling the Nintendo Entertainment System and every other handheld system of the era. So successful was it that there was no need for a new system for another decade. That would eventually come in 1998 with the Game Boy Color, but, in the meantime, Game Boy went through some aesthetic changes, with different colored models being introduced in 1995 and the Game Boy Pocket — a slimmed down Game Boy with the same tech — in 1996. 
As for the advertising, there were always new games to promote and a particularly offensive print ad came in 1995 with the release of Donkey Kong Land. 
Hard as it is to believe, most likely this ad wasn't trying to be offensive, but was simply another product of the casual disregard for race that was widespread in advertising at the time. In 1996, though, when it came time for Nintendo to debut the Game Boy Pocket, Nintendo was intentionally attempting to be a little risque. Crispin Reed, who was the account director for Nintendo at Leo Burnett back then, tells me, "At the time, gaming was still considered a children's pastime — Nintendo, especially, was a kid's brand — but in the late 1990s the gaming industry was at a bridging point where it was becoming more adult."
As for the Game Boy Pocket specifically, Reed says, "Game Boy Pocket was a slightly more slick product. Dare I say, it was almost a forerunner for Apple styling, in that it was sleeker and it had that mock-brushed aluminum finish, whereas the original Game Boy was that gray plastic." To put it simply, Reed says, "Game Boy Pocket looked like a more adult product," thus it was more directly marketed to adults. With that came suggestive advertising with lines like, "Keep it in your pants."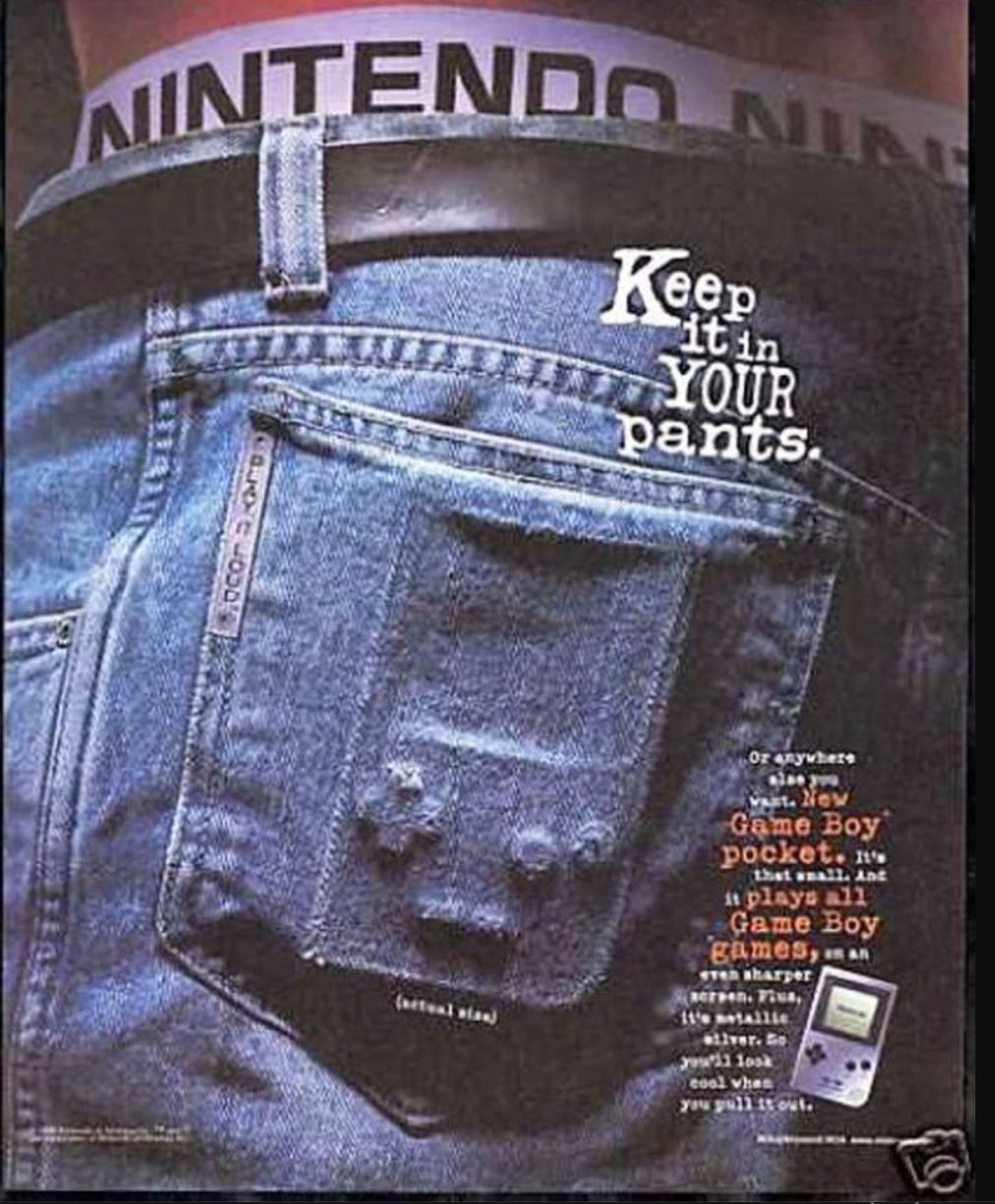 The boldest of these ads was, of course, the image of the woman strapped to the bed, which Reed, who oversaw the ad, now refers to as "totally inappropriate" and "way over the line." When I ask him if there was anything more complicated to the strategy other than the dictum that "Sex sells," he says, "No, I think that's pretty much it."
But while this ad was Nintendo's first foray into more adult advertising, the trend seems to have begun several years earlier, with the debut of the little-remembered Neo Geo system. To rewind a little, the Nintendo Entertainment System debuted in late 1983 and single-handedly revived the video game industry, which crashed earlier that year for a variety of reasons (including the notoriously horrible E.T. game). NES was pretty much the gaming system until 1989, when Game Boy and Sega Genesis debuted (Super Nintendo would debut in late 1990). Late to the party, in early 1990, was Neo Geo, a gaming system that promised better graphics, but cost hundreds of dollars more and featured very few games based on licensed properties, such as Teenage Mutant Ninja Turtles, Ghostbusters and the like, which meant it lacked popular brand recognition with its titles.
To try their best to make an impact on the marketplace, Neo Geo had a famously aggressive marketing campaign, which, in one ad, called gamers "weenies" if they still played Nintendo or Sega, which they referred to as "limp." The most famous of their ads featured a woman in lingerie with the caption, "I remember when he couldn't keep his hands off me!" as her man plays a Neo Geo in the background with a very phallic image on the TV screen. Although far from the first advertising campaign to utilize sex, the Neo Geo ads seem to be the first involving gaming consoles.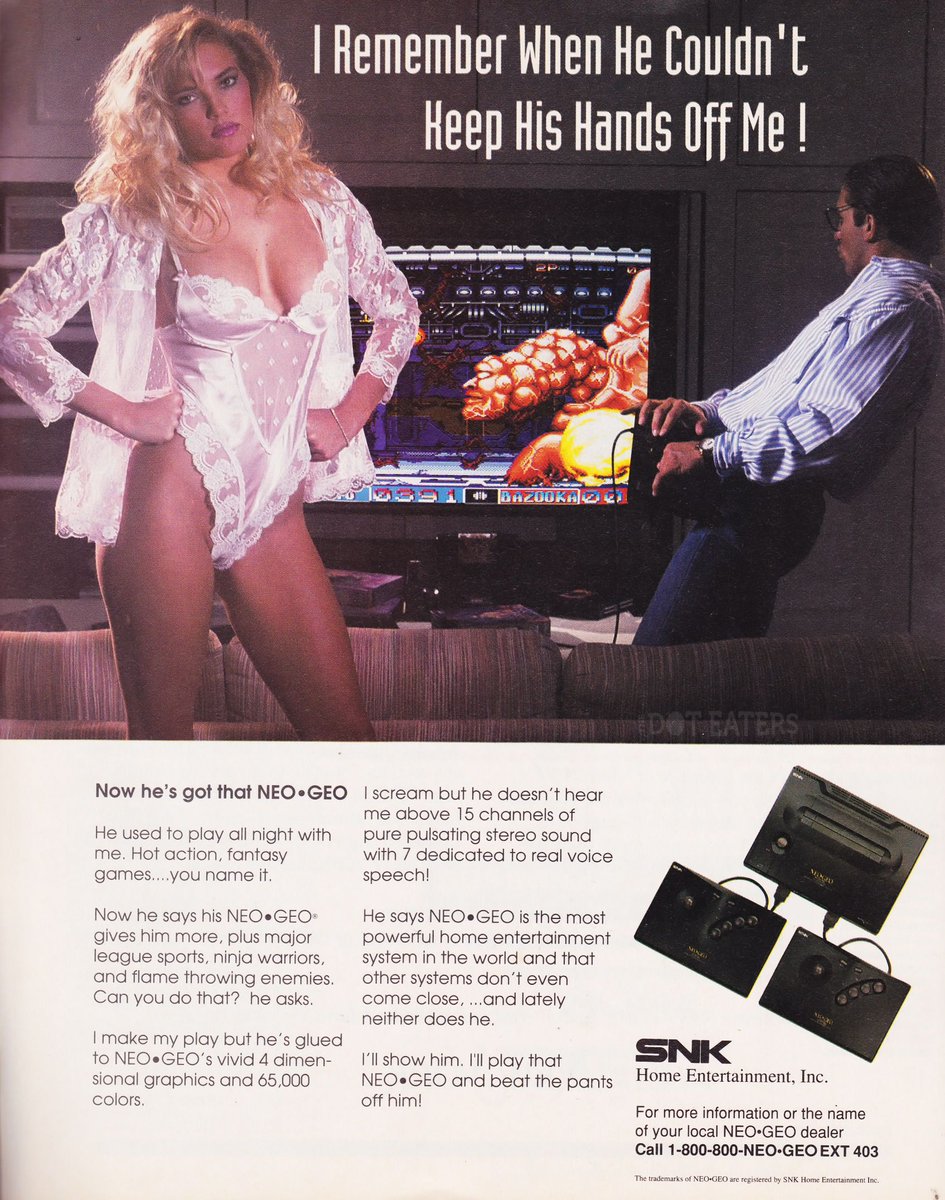 To bring it back to Game Boy, the first actual new system for the line was the Game Boy Color in 1998, which looked like the Game Boy Pocket, but finally featured color games. For this one, it seems that Nintendo was excited about the new technology — especially since it could now be photographed properly — so perhaps they didn't need sex to sell it. However, Game Boy Color was only created because Nintendo was receiving pressure from game developers for an upgrade, so they engineered that system at the same time as its successor, Game Boy Advance, which debuted in mid-2001. 
With graphics about as good as the SNES, Nintendo, once again, seemed happy to show off the upgraded visuals. Most of the ads for Game Boy Advance seem to be aimed at kids, yet I did find a commercial where an adult was getting a colonoscopy as they played the system, which I doubt was intended for children. 
In 2003, the Game Boy Advance received an upgrade with the Game Boy Advance SP, and a brand new batch of sexy ads arrived in tow. Reed wasn't a part of this campaign, but he speculates that, because this was once again a sleeker product, it was also geared toward adults. Unlike the bright, kid-friendly blue body of the Game Boy Advance, the SP model was smaller, could close shut and came in shiny chrome colors. Similar to the Game Boy Pocket as well, Nintendo had no new technology to show off, so they once again turned to sex to help sell it. 
In a U.K.-based campaign that touted the SP as "For Men," lots of sexual images were used to push the system. There was, for example, a guy with an SP shoved in his pants with the caption "Size Matters," and another that read, "Which one takes your fancy?" with a variety of different women standing nearby. The most famous of these ads was a series of images that touted the SP as "the second best thing to do in the dark," along with images of a couple in bed. 
The images weren't quite as terrifying as the "Seriously Distracting" Game Boy Pocket ad (though they were certainly as sexist), but it's easy to see how the ads are related. However, while the first ad was entirely gratuitous, at least the SP's ad did make a little bit of sense, in that the SP did feature one new piece of technology: a light. For the first time ever — outside of Japan, anyway — a Game Boy could be played in the dark without the need for some goofy accessory, and several ads showed off this feature. In addition to that "For Men" U.K. ad, there was one ad that showed the system as the light on a Christmas tree and another, somewhat creepy, ad that called the SP the "Warrior of Light." 
Unfortunately, the Game Boy systems would go out with a whimper instead of the bang they deserved. In 2004, Nintendo released the Nintendo DS, which would be their new line of handheld systems until 2017. In late 2005, however, Nintendo sold one more, barely remembered system, the Game Boy Micro. About the size of an original NES controller, the Game Boy Micro was tiny and well-lit, but it was the first system that wasn't backwards compatible with other Game Boy games. Since the DS was released a year earlier, many retailers opted to not even carry the Micro. 
Nintendo, however, still had one more outrageous ad in their system. For this Canadian commercial, two scientists are trying to prove how addicting the Game Boy Micro is, so they put a mouse in a maze who can choose between getting cheese or a Game Boy Micro. And, well, I hate to ruin it for you, but let's just say that the mouse showed the Micro a lot more love than the general public would ever show the system.