Last week, Reddit's r/WallStreetBets exposed what hedge funds really are — wolves in sheep's clothing. That said, I can't give you a nuanced analysis of what's happening with the stock market. It took a Survivor analogy for me to finally get a base understanding of why hedge funds are bastards. Thankfully, my colleague Miles Klee has a good explainer.
What I do know about is style — namely, that these hedge fund dudes don't have any. These Wolves of Wall Street (really, Mopes of Midtown) masquerade as suave businessmen. However, behind the soft fleece vests and slick khakis is… nothing. Nearly all finance bros dress exactly the same.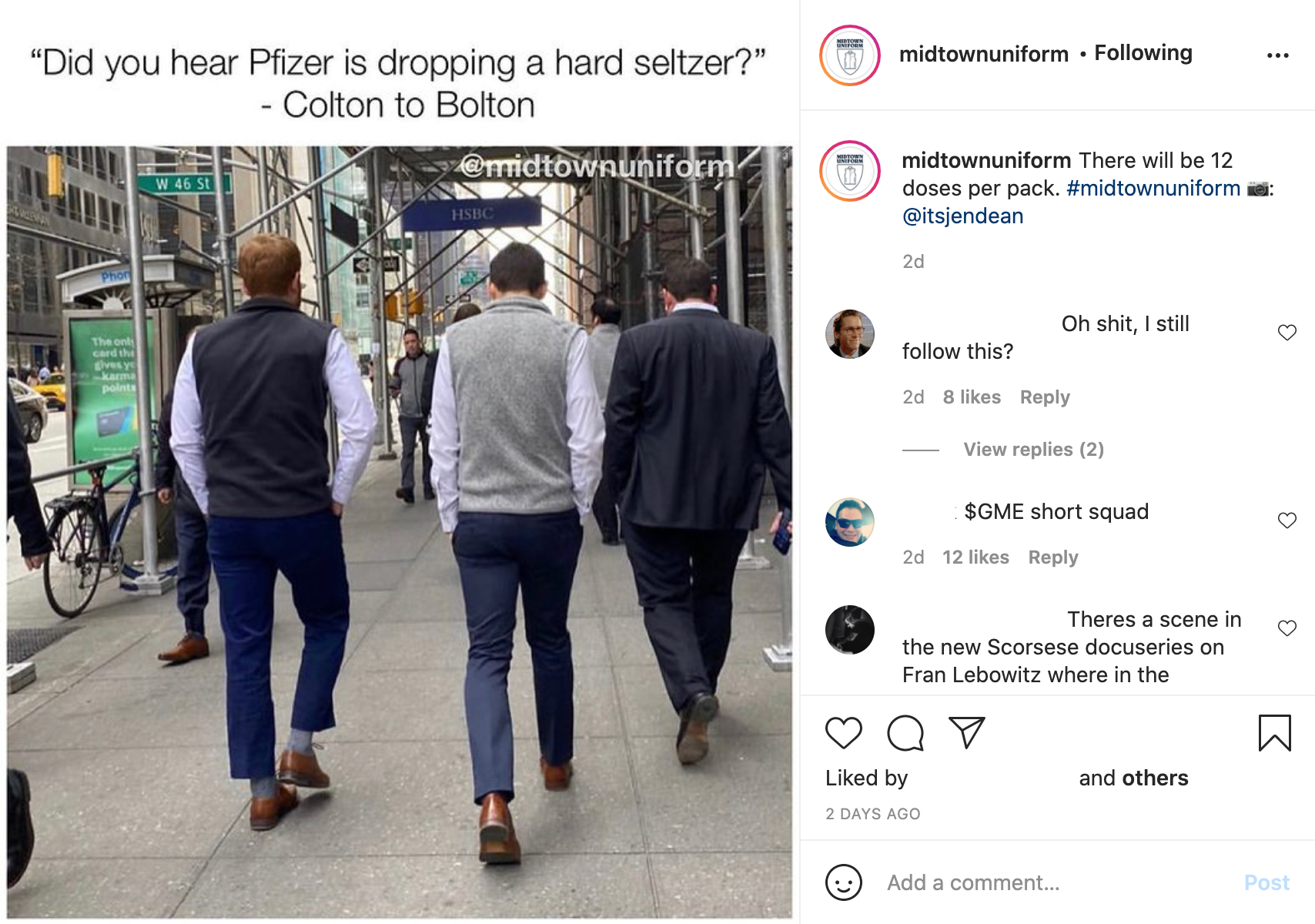 Finance bro style — also known as banker bro or business bro — is the tendency for clean-cut white dudes to walk around in fleece Patagonia vests, pastel button-downs, ill-fitting khakis and brown loafers. Swap out the footwear for Allbirds if they work at a startup. You can spot these screaming hyenas in their natural environments: talking too loudly on Bluetooth headsets in business districts, subway cars and the cubicle next to you. If two are together, the alpha will have their capitalist company's logo embroidered on their clothing.
These fits have come to represent a certain breed of dude more concerned with his investment portfolio than the everyman he's screwing over by short selling stocks. It's the type of guy who idolizes Succession's Kendall Roy. And so, since we're taking down hedge funds these days, it's only right we also burn their Barbour, Bonobos and Vineyard Vines attire. In the Reddit Revolution, there's no room for gingham.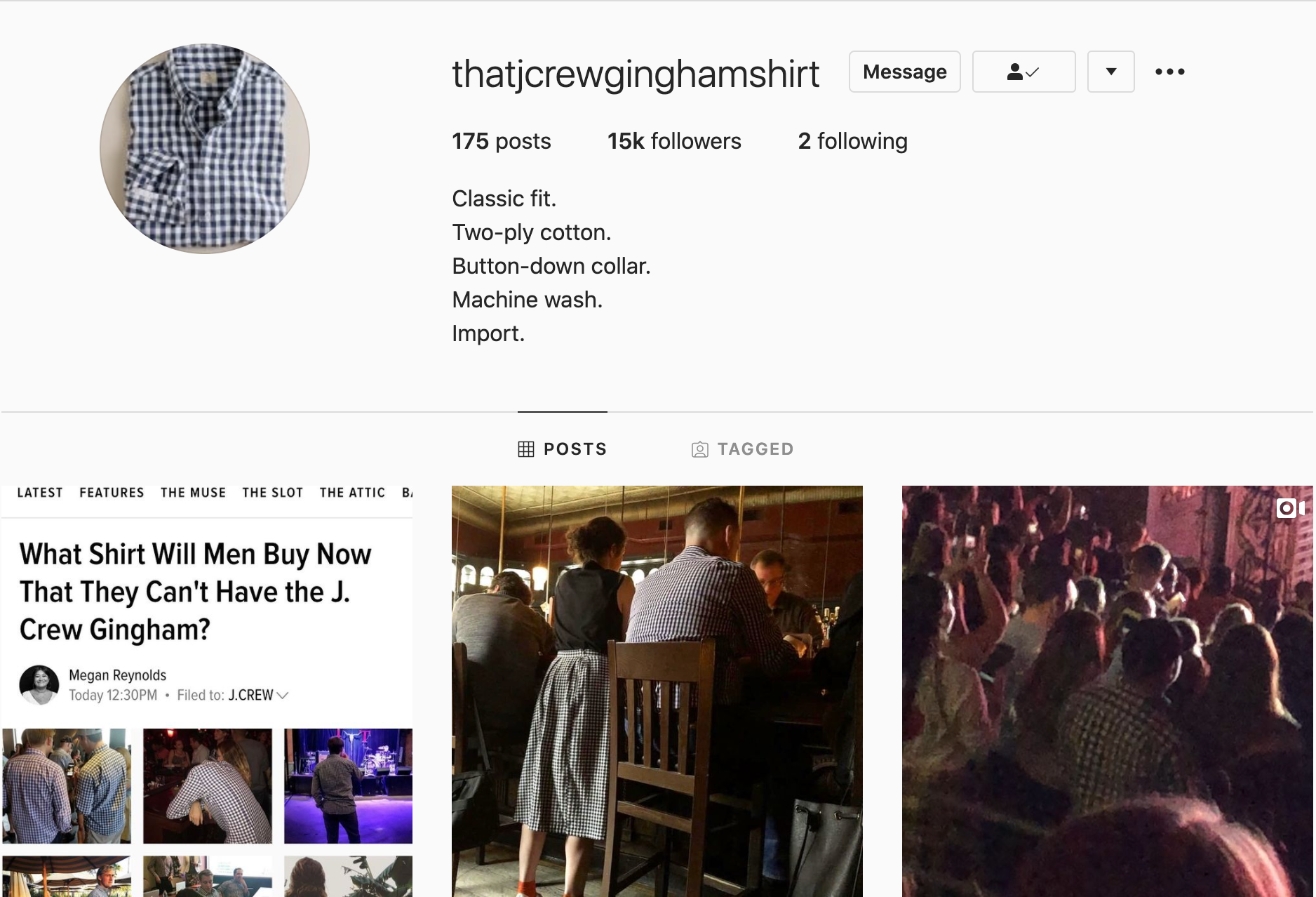 Unofficial uniforms dominate every industry, signifying you're part of the team. Media people love to show in Everlane slacks and Uniqlo chore coats, while stores like J.Crew and Banana Republic thrive off casual business wear for the everyday corporate worker — unassuming polos, crew-cut sweaters and slimming puffer jackets. Even in the pandemic, where sweatpants are now professional, Entireworld's activewear rose to the top. They make you feel like you're still trendy, despite the fact that no one on your work Zoom will see them. 
However, in the pandemic, the finance guy's sartorial endeavors aren't faring too well. Don't worry about his money: The top billionaires still added $931 billion to their net worth. But when they're working from home, there's no Sweetgreen server to berate or SoulCycle instructor to hit on. His fleece vests are useless and no longer demand they be taken seriously. 
Certainly, not every dude who works in finance is an entitled arse. But the clothes we wear signify to the world what our personalities might be: Just as a MAGA hat says you're a Trump supporter or Carhartt beanie implies you vape and probably don't call your mom back, a Patagonia fleece vest connotes a certain toxic masculinity. Also, these dudes call everyone, "Bro." Nor is the issue here that brands like Brooks Brothers or J.Crew are inherently egotistical and aggressively masculine — you can certainly find quality basics at both stores. It's just that their most common consumer has ruined any goodwill their logo and name once held. 
But for guys who've donned the business bro aesthetic to fit in, there's a path out of this culture that still allows for you to appear professional in traditional workplaces. Swap out the fleece vests for full jackets (not zip-ups). Better yet, take a risk and wear merino wool. It's warmer, more slimming and better for the environment.
As for pants, invest in actual slacks, not crappy chinos or khaki pants. Doing so is cost-effective. You can dress them up with a blazer for a post-pandemic casual wedding or scale them down with well-fitting T-shirts for a casual date night. 
Really, these finance bros have set the bar so low that anything is better than the Midtown uniform. It's time to stop giving off the impression that you enjoy listening to ODESZA while typing annual reports and wearing your high school lacrosse jersey on casual Fridays. The economy can't handle it, and neither can I.