Pete Davidson and Travis Scott rocking a snapback cap from "Uncle Paulie's," a deli in L.A. Jake Gyllenhaal donning a $150 Russ & Daughters hoodie that reads "LOX" across the front. Luxury brand Coach launching a collaboration with NYC grocery institution Zabar's.
Welcome to the rise of "delicore": A seemingly odd niche in modern fashion, but one that we probably could've seen coming a mile away.
The term hit the zeitgeist thanks to a recent New York Post writeup of the burgeoning trend, featuring anecdotes from people who love rocking merch from their favorite deli. The appeal is a mix of the approachable aesthetic — often simple, retro-inflected graphics and text that recall vintage thrift-store finds — and tribalistic fun, with multiple delicore fans noting that they enjoy repping an eatery and getting reactions from others.
"I feel inclined to support my favorite local spots," Alexis Chernoff, 32, told the Post. "Everyone wears the same fashion brands, but wearing your neighborhood spot that only those who know recognize, it feels like you're in a secret club."
Consider it the everyman's streetwear trend. "It's not like Balenciaga, or something," Davidson reportedly said. "It's blue-collar."
Uncle Paulie's Deli co-founder Paul James offered a similar take to the Post, observing delicore is relatively accessible: "It's like band T-shirts — anybody rocks a Metallica band T-shirt, why not rock your favorite fucking deli?"
So far, so good… until you start looking at the actual prices of delicore merch.
That Zabar's collection from Coach? Oh, it's just a casual $495 sweater and a $550 leather tote, both of which sold out in days. The merch from Uncle Paulie's in L.A.? The cap worn by Davidson might not be too bad at $40, but isn't a $90 crewneck and $85 hoodie damn near offensive in this economy? Edith's Eatery and Grocery in Brooklyn, also noted in the Post story, offers a simple dark blue hoodie with their logo for $60 — better, but still pricey!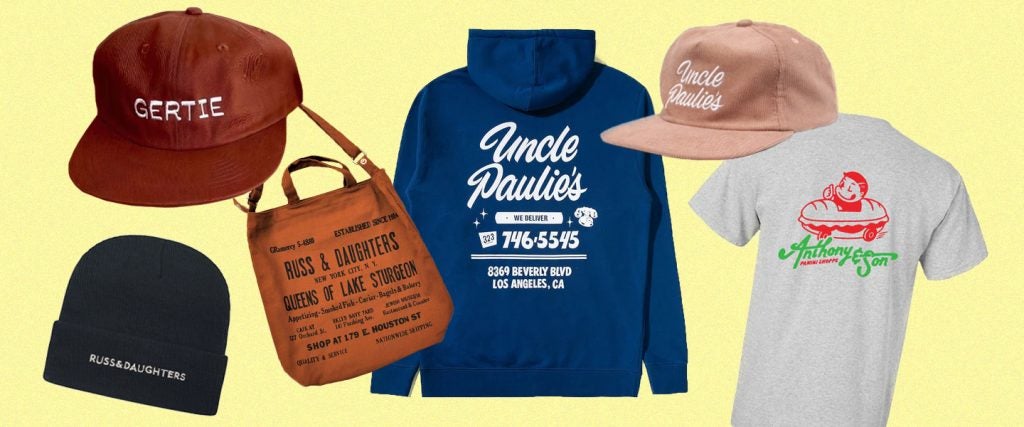 What, exactly, is "blue collar" or accessible about copping restaurant merch at luxe department-store prices? I don't think it's a coincidence that so much expensive delicore is coming from shops that opened within the last few years, not historical joints. All of it taints the aesthetic with a sheen of gentrification, making it seem designed for young hipsters with money to burn.
Consider the aforementioned Edith's, a massively hyped pop-up that was written up by the New York Times and Eater NY when it debuted earlier this year. It's quickly become a buzzy neighborhood favorite, but with all respect to founder Elyssa Heller, this is a spot that sells a $28 smoked salmon omelet, $34 "pastrami steak and eggs" and a $2.75 bagel that's nearly twice the price of the same thing from the legendary Russ & Daughters. No wonder a $60 hoodie makes sense in this context. (I'm more confused by Uncle Paulie's, which really is a fairly affordable deli by L.A. standards; who the hell is buying these $90 shirts?)
Ironically, the old-school institutions seem to have their merch priced in a different tax bracket: Katz's Delicatessen, considered by some to be a NYC tourist trap in 2022, sells cute sweaters for $30 and T-shirts and caps for a very reasonable $20. Russ & Daughters, meanwhile, is guilty of that $150 "LOX" collab with Gyllenhaal, but at least it was a fundraiser for the nonprofit Actors Fund to assist theater workers during the pandemic; other shirts and knit caps are, like Katz's, around $20.
So what's the excuse from hipster spots like Edith's and Gertie, another Brooklyn newcomer that sells $40 corduroy caps? Is it that their items are significantly higher quality and constructed in the U.S.? Is it simply because they can charge that much and still get repped by budding delicore stans?
A big point of normcore/dadcore was the implicit elevation of old, affordable standards like New Balance shoes as inherently valuable, without needing a modern makeover. Today, the very best delicore fits recall the joy of thrifting beautiful vintage sweaters and T-shirts from now-shuttered pizzerias, record stores and niche community events — stuff intended to be worn with a mix of neighborhood pride, an appreciation of kitsch and a gently ironic nostalgia for the past.
For what it's worth, you can always find the real deal online, as with this shirt from the Bagel + Deli Shop of Oxford, Ohio (still going strong after nearly 50 years in business), or this one from Lockes Party Shop & Deli in Fenton, Michigan. So there certainly is an accessible kind of delicore to be found amid the $500 sweaters and $80 hoodies. And this is just the beginning of a potentially intriguing trend, especially as brands start working with beloved restaurants to drop exclusive merch in the vein of Supreme and BAPE.
Thankfully, this trend doesn't always lead to gentrified prices for cute, unique basics. Consider the projects for Punjabi Grocery and Deli, located in Manhattan — in two separate efforts, skate brand Jenkem and Merch Aid worked with Punjabi in 2020 to drop exclusive merch items and help the business stay afloat as the pandemic peaked. "While Manhattan continues to become more expensive, more gentrified and even more white, one institution frequented by skateboarders and anyone else in search of $5 and under meals has remained for the past 25 years," the Jenkem team wrote. "The place: Punjabi Deli. The deal: Actually delicious, healthy, 100% vegetarian food, served 24 hours a day."
It might not be a traditional deli in the New York Jewish tradition, but I love this tale of delicore most. The merch drop wasn't just about cool clothes at fairly affordable prices (the Merch Aid drop consisted of $25 shirts and $20 totes). The rally literally helped a small business survive the pandemic for all the right reasons, buoyed by its history and the love it showed customers, no matter how few bucks they had to spend.
Consider it the antithesis of that heinous $500 Coach x Zabar's sweater.