Jason, a 43-year-old environmental consultant, spends his workdays climbing rooftops, kicking up dirt and stepping on wooden boards booby-trapped with casing nails that could slice through rubber. It's a job that clearly calls for work boots — ones with a thick steel toe no less. Yet when he gets home — his feet dog-tired and soggy in sweaty tube socks (wool in the winter) — he reaches for a different kind of boot: his nearly $700 Goodyear black python leather cowboy boots with a 1.5-inch heel and 13-inch shaft.
They are, in effect, his house slippers. Without them, he tells me, he's not really home.  
What does he do in them exactly? "What don't I do in them?" he responds. He watches TV. He cooks. He shuffles around the house with a drink in hand. He listens to music. He smokes a cigar. And most of all, he kicks up his feet and proudly admires the construction of the leather that swaddles them. "I do it because I can't wear boots where I work, and I didn't buy them so they could just sit there and collect dust," he explains. "Why work if you can't come home and enjoy the finer things you work for?"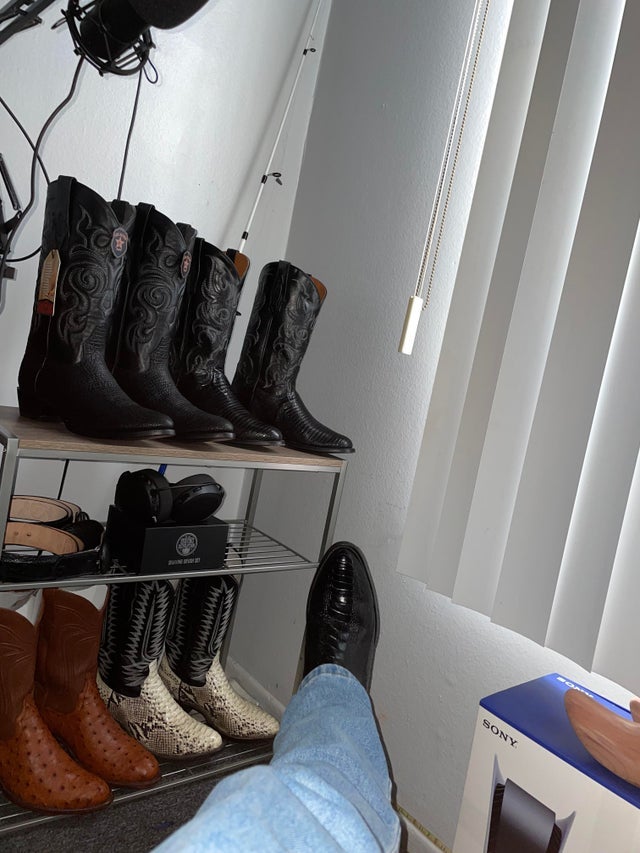 Historically, of course, cowboy boots haven't been known for their comfort. Their origins are murky, but there's no disputing that their pointy toe and tough leather — the former helped its owner more easily slide into a saddle's stirrups and the latter served as protection against thorns, barbed wire and snakes — could be hard on Old West tootsies. The modern cowboy boot, though, has different practical considerations. 
"Comfort is close to the top — if not the top — benefit that we design our boots for," says Paul Hedrick, the co-founder and CEO of Western-style bootmaker Tecovas. "It happens to be a relatively common myth about cowboy boots that they're uncomfortable. But great cowboy boots are designed with supple leathers, cushioned footbeds and cork-bed midsoles." 
To that end, Hedrick swears that they're typically more comfortable than leather-soled dress shoes. That said, they're not exactly Uggs either. They're meant to be stiff enough to hold their shape: "That's what the elaborate stitchery is for," Jason boasts. 
Like Jason, 63-year-old Stan, a piercer at a tattoo shop, also slips on a pair of cowboy boots when it's relaxation time. "I generally don't take them off until I'm getting ready for bed," he explains. "I even brush my teeth in them." 
Stan's collection includes over 17 different variations — ranging from exotic leather pairs made of crocodile skin, ostrich skin and lizard skin to the more standard cowhide leather — but his favorites are his Bowman Wilson's #3, which climb all the way to his knees. "There isn't anything I find more comfortable," he claims.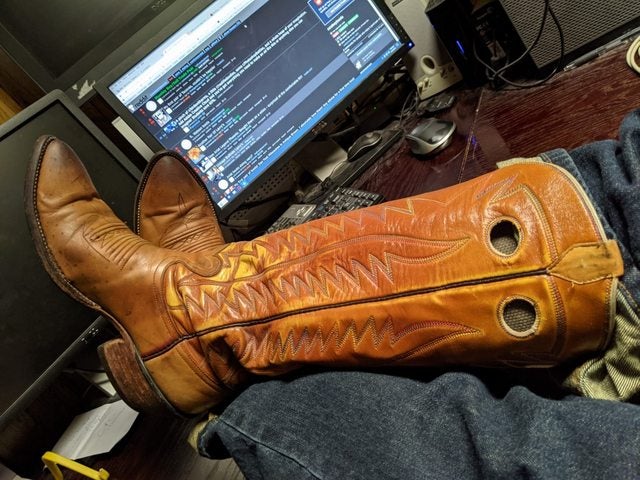 His attachment to his "shitkickers," as he calls them, runs deep. "I remember going to the store to get a new pair the week before kindergarten started," he says, inspired by all the cowboy TV shows he used to watch as well as the boots his dad and uncle would wear. 
As for what they provide for him today — especially when chilling out at home — it's sort of the idea of dressing for success in reverse. Wearing cowboy boots when he's not doing fuck-all in his living room creates a clear divide between the person who punches the clock and the person who's free to do as they damn well please — you know, like any other comfy house pant or shoe.
Ryan, an HVAC engineer, can certainly relate. He, too, trudges along in steel-toe Chippewa engineer boots while crawling through air-conditioning ducts from 9 to 5. The moment he busts through his front door, though, he pops on his Teju lizard skin Tony Lama's with 13-inch matte black shaft. They aren't so much footwear — or even a way to wind down — as they are a part of him. 
Or as he puts it, "They're like a second skin."