These days, pivoting to OnlyFans is as much a meme as it is a career choice. But for a young woman with a massive online following, to shirk the OnlyFans path would be to lose out on thousands, potentially millions of dollars. Of course, as OnlyFans will be the first to tell you, they aren't just an adult site. One could hypothetically build an audience on the platform by sharing workout routines or platonically interacting with fans, but the most successful creators on the site do indeed post, under the broadest definition of the term, pornography. And in many cases, this only serves to elevate their star power. Such is the case with Corinna Kopf.
Prior to starting her OnlyFans in July 2021, Kopf, 26, already enjoyed significant online fame as an original member of David Dobrik's Vlog Squad. Starting on Vine in 2015, Dobrik assembled one of the earliest creator collectives, akin to the many "Hype House" style groups of TikTok today. Dobrik and his team shared snippets of their lives in five-minute videos on YouTube, combining the mundane with organized pranks and stunts that, somehow, translated into millions of followers and the money that comes with such a massive audience.
For years, Dobrik and friends, including Kopf, essentially dominated the YouTube vlog genre. That all shifted, though, in March 2021, when then-Insider reporter Kat Tenbarge revealed that a member of the Vlog Squad, Dominykas "Durte Dom" Zeglaitis, had been accused of sexual assault. More accusations followed, including those against other Vlog Squad members, and with them, Dobrik's reputation soured. This controversy, as well as Dobrik's calculated attempts to regain public respect, are covered in the new documentary Under the Influence, which debuted at SXSW last month.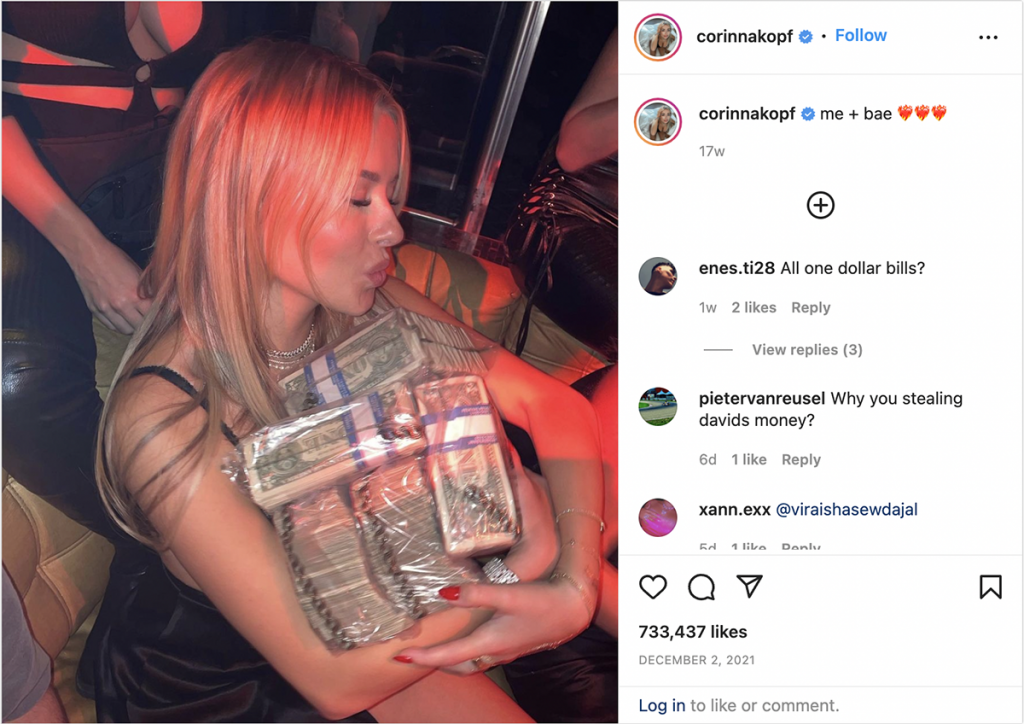 Despite all of this, Kopf has managed to largely write herself out of the broader narrative, with OnlyFans as her tool. Shortly after the announcement of her OnlyFans in June 2021, she returned to one of Dobrik's vlogs, where she casually mentioned making over $1 million in just under 48 hours. In later vlogs of Dobrik's, she takes private jets and says that she's giving everyone in her family $5,000 for Christmas. Dobrik jokes she's like El Chapo, but instead of dealing in blood money, she's dealing in cum money. In Dobrik's most recent vlog, posted on March 30th, she wears a towel over her chest in a hot tub and says, "I want cock in my ass" in German.
Overall, Kopf's OnlyFans is relatively tame, at least in the grand scheme of pornography. She shares in her bio that her page contains "lewds," and on her main feed, for which she charges $20 a month, the most she shows is her breasts. She does, however, offer more explicit content for an extra cost in her DMs. At the same time, she also markets herself as a gamer and hosts regular Twitch streams. It's through these two mutually-beneficial avenues, gaming and porn, that Kopf has maintained her status — not YouTube or Instagram. By extension, you could argue Kopf is among the most famous porn stars in the country, even if we don't quite identify her as such.
And even if she were perceived this way, it doesn't really matter. OnlyFans has become like every other social media platform — a place for yielding influence.