The most famous drug kingpin in the world — Joaquín Archivaldo Guzmán Loera, aka "El Chapo" — was being held at the Federal Social Readaptation Center No. 1 maximum security prison in Almoloya de Juárez, Mexico. For all the obvious reasons, he didn't want to stay there. And so, on the outside, his wife, Emma Coronel Aispuro, handled her end of his escape plan. 
Land was purchased near the prison. A tunnel was dug. When the first tunnel connected to the wrong cell, El Chapo was given a GPS monitor, ensuring that the second tunnel didn't miss. Then, in July 2015, surveillance footage shows that he walked over to the shower in his cell and disappeared. 
The escape tunnel was 5-feet tall and 2-feet wide. It was roughly 30 feet underground and had semi-permanent lighting and ventilation. When El Chapo climbed down into the tunnel, Aispuro's brother was there waiting for him, seated on a modified motorcycle. It was on a rail, outfitted with metal wheels like a train and attached to a pulley system. El Chapo hopped on the back. He and his brother-in-law took off, racing down the mile-long metal track. 
At the other end, there was a hole in the ground and a wooden ladder. From there, El Chapo was whisked away on an ATV, taken to a nearby warehouse, and finally, to a private plane. His most trusted pilot was behind the controls. Eventually, he flew to where he felt most safe –– his hometown, La Tuna, located in the state of Sinaloa, high up in the mountains. Per one of the men who helped him escape, a week later, El Chapo was "relaxing at a palatial house on a mountaintop that overlooks La Tuna and the surrounding valley." 
It was all made possible by Aispuro. Thirty years his junior, she stands accused of orchestrating his notorious escape from the maximum security prison in Mexico, as well as helping him run his criminal enterprise from inside that same prison. She's been noted to have an implacable cool. Yet, she's also known for bizarre outbursts of emotion. She once sat in a New York courtroom and "cackled in laughter" at one of El Chapo's mistresses as the woman cried on the witness stand. She eventually had to be removed from the courtroom because she wouldn't stop laughing.
Back in 2016, she gave a rare interview to the L.A. Times and promised, "I will follow him wherever he is. I am in love with him. He is the father of my children."
And now, she's done that, quite literally — they're both in federal holding.
Last week, the Department of Justice announced in a press release that "Emma Coronel Aispuro, 31, a dual U.S.-Mexican citizen, of Culiacan, Sinaloa, Mexico, was arrested at Dulles International Airport." She was officially charged on "one count criminal complaint with a conspiracy to distribute one kilogram or more of heroin, five kilograms or more of cocaine, 1,000 kilograms or more of marijuana and 500 grams or more of methamphetamines for unlawful importation into the U.S." 
"Additionally," the release read, "Coronel Aispuro is alleged to have conspired with others to assist Guzman in his July 11, 2015 escape from prison. After Guzman was re-arrested in Mexico in January 2016, Coronel Aispuro is alleged to have engaged in planning yet another prison escape with others prior to Guzman's extradition to the U.S. in January 2017."
A cooperating witness also alleged that Aispuro was a go-between for El Chapo and his cartel command structure. He laid bare evidence, letters to him from El Chapo, that said Aispuro would inform everyone of El Chapo's thinking while he was locked up. The letters (samples of which are below) were submitted by the prosecution; in them, Aispuro is identified by El Chapo as "the twins' mother," and is specifically named as the one person responsible for communicating his intentions.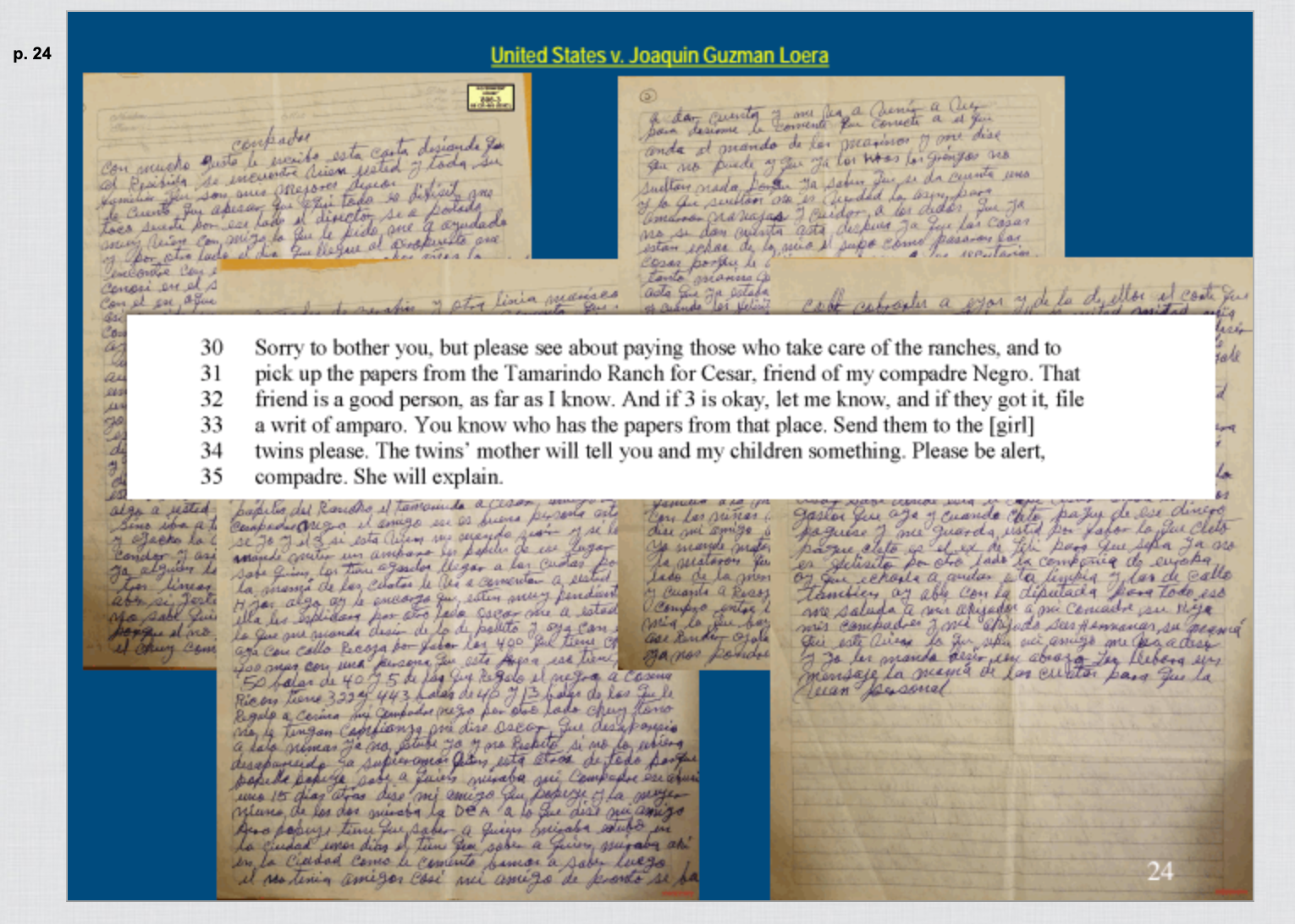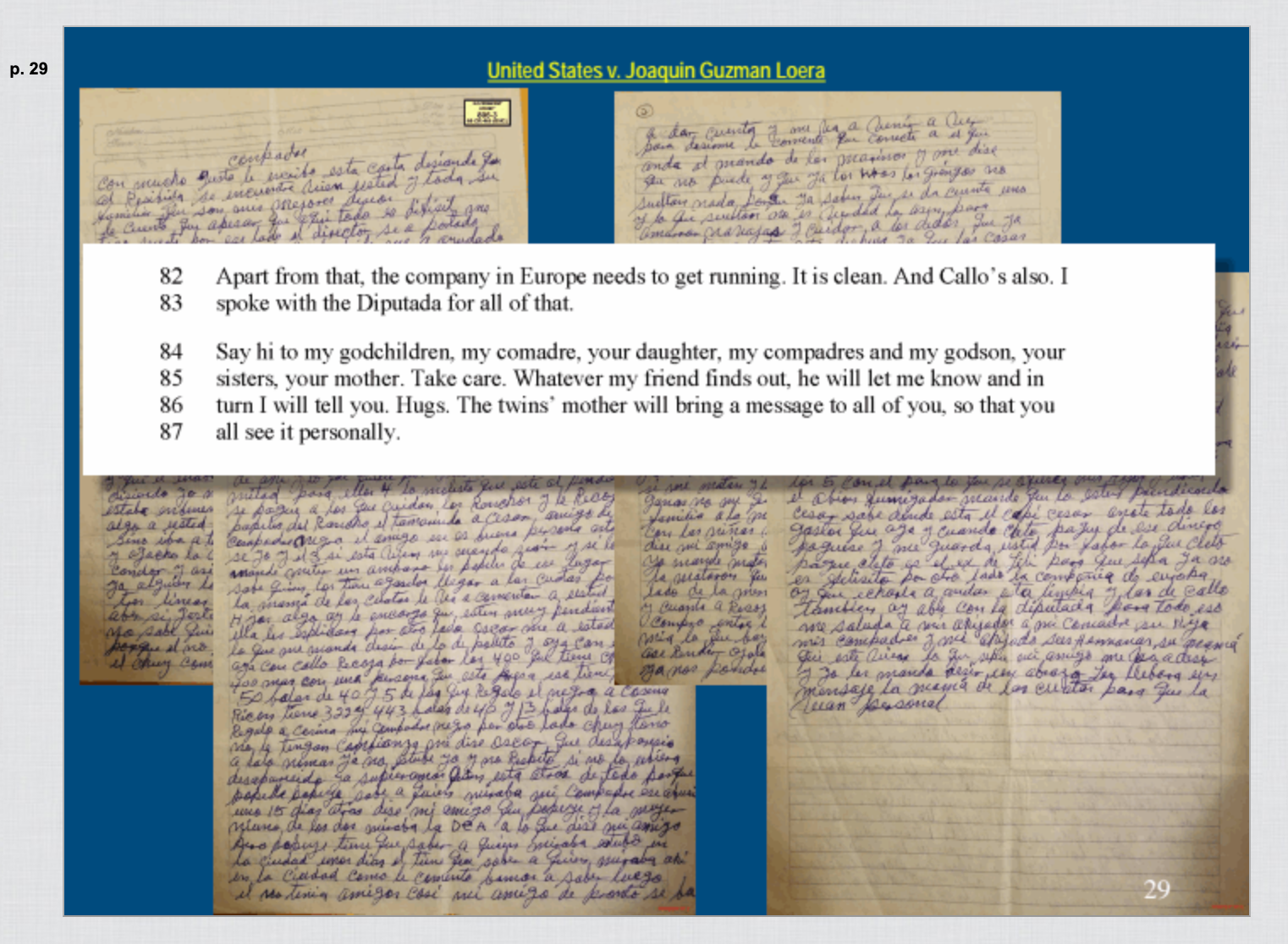 Aispuro was born in Santa Clara, California on July 2, 1989. It's a medium-sized town in the Bay Area, roughly 45 miles south of San Francisco. As a girl, she lived on both sides of the border but preferred life in Mexico, more or less moving there permanently at 11.
At 17, she had a fortuitous encounter with El Chapo on the dance floor. She recounted their fateful first meeting to the L.A. Times in 2016 while she was doing a press tour in order to call attention to her husband's treatment in Mexican prison and the likelihood that corrupt officials in the government would have El Chapo killed for knowing too much. To "clean the face" of her husband, to portray him as more of a narco-folk hero and a figure worth saving from such a cruel fate, she told stories of their love affair.
"He was dancing with another girl," she explained. "I was dancing with my boyfriend, and we crossed paths right in the center of the dance floor. He flirtatiously smiled at me. After a while, a person told me, 'The man asks if you want to dance with him.' And I said, 'Okay.' Because in the ranchos, even though you have a boyfriend, you can dance with every person who asks you to dance. So I said, 'Of course!'"
A few months later, the high school student entered a beauty pageant at a local fair. There are rumors El Chapo paid off the judges, but Aispuro insists she would've won with or without El Chapo's help. Afterward, El Chapo walked up to congratulate her surrounded by his personal militia, roughly 100 men armed with assault rifles. He asked for some of her time. It was the start of their love affair. 
"I would say what won me over was … his way of talking, how he treated me, the way we began to get along — first as friends and from that came everything else," Aispuro told the L.A. Times. "He tends to win over people by his manner of being, of acting, the way he treats people in general."
"Once married, she moved to Culiacan, Guzman's base of operations, finished high school and entered the university to study journalism," the L.A. Times reported. "She saw her fugitive husband only sporadically — sometimes it was every weekend, sometimes she'd wait months before being summoned." 
It was reported that their wedding "was not only a union of a powerful, 50-year-old man and a teenager who had fallen in love with him, but of two influential factions in Sinaloa's complex drug-producing hierarchy. Ignacio 'Nacho' Coronel Villarreal, a high-ranking member of the Sinaloa cartel shot to death by authorities in 2010, has frequently been identified as Emma Coronel's uncle (this has never been officially stated by the Mexican government, and Coronel insists it is not the case)."
We do, though, know who her father is, and he's definitely in the drug business. Back in 2013, the Treasury Department named "Ines Coronel Barreras, as a major drug trafficker — and one of Guzman's two top lieutenants." Her brother, Ines Omar Coronel Aispuro, was also identified by the feds as a trafficker. Later that same year, her father and her brother were both popped on federal drug-trafficking charges. Along those lines, her younger brother, Edgar, would later be arrested and charged with aiding in the tunnel escape of El Chapo. 
In terms of her and El Chapo's nuclear family, in 2011, Aispuro drove across the U.S. border to give birth to her twin daughters — Emalí Guadalupe and Maria Joaquína — at Antelope Valley Hospital in Lancaster, California, ensuring that they would be, like her, American citizens. On their birth certificates, the name of the father was left blank. 
There was a period of time where there was only one known photograph of Aispuro. It was from 2007, "when she was crowned the beauty queen of the festival in Canelas, the town where she grew up. She wore an enormous crown and a closed-mouth smile, and looked directly at the camera." After that, she kept a super-low profile. As Adrián López, executive editor of Sinaloa's Noroeste newspaper has noted, "Emma had remained anonymous like practically all of partners of Sinaloa cartel capos," but then inexplicably, "she begins to take on more of a celebrity attitude. This breaks a tradition of secrecy and a style specifically within the leadership of the Sinaloa cartel."
To this end, a journalist in Mexico, Anabel Hernández, attempted for years to get an interview with Aispuro. "But I was told: 'Emma doesn't talk' over and over," Hernández said, in 2018. "Then, after El Chapo's last arrest, she suddenly did. I think she had two reasons, or El Chapo did. One: As Emma said, the Mexican government wanted to kill El Chapo, and I think they did. Because of Guzmán's friends in high government, he was dangerous, a liability. The fact that she understood they wanted to kill him, and said so publicly, made it less likely to happen." 
In the interview with Telemundo, Aispuro attempted to extricate herself and her holdings from her husband's criminal empire, stating, "I have irrigation land, things like that, which I prefer not to talk about. … I do not have anything illegal. I know the government has been checking or verifying if I have something unlawful."
All of this may also explain why Aispuro attempted to become something of a cartel influencer. She flirted with having a fashion brand and registered a trademark for "El Chapo Guzman." And in 2019, she appeared on the VH1 show, Cartel Crew. While on a yacht, speaking with the failson of some cartel underboss, Aispuro said, "I consider myself a normal woman," adding that, "It's sad that they judge us without knowing us. It's hard."
These days, it seems Aispuro has flipped and become a cooperating witness against the cartels (she turned herself in to authorities). A federal law enforcement source told the New York Post, "She's definitely cooperating. Emma wants to get far away from the violence, and has always wanted to live in the U.S. She already had her defense attorney lined up before she got on a plane to turn herself in. Her number one priority is to protect her kids and remain in the U.S."
Interestingly, she's being represented by "a team of lawyers led by Manhattan attorney Jeffrey Lichtman, who also defended her husband," which complicates the idea that she's snitching. If anything, it would seem she's parachuting out, with El Chapo's blessing. 
She now faces 10 years in prison, depending on what information she has to trade. If she rolls over to lessen her sentence so she can see her twins grow up (they're now nine years old), she must know that she risks getting killed as retaliation by the Sinaloa cartel. Or perhaps she may be targeted by the Sinaloa cartel's former ally turned chief rival, Cártel de Jalisco Nueva Generación. They'd do it just as a show of force, or to shame El Chapo. 
Either way, there's no escaping her current predicament — no one loyally working on the outside to spring her from prison. And so, it's likely that she's trying to save herself. But instead of a tunnel, she picked a fast track to federal holding.