In each of the fantasy training montages that's whirled through my imagination, there's always been the unmistakable, shiny droplets of sweat that illuminate the strain of my muscles as I bravely toil against time, iron and often my own body weight. In such fictional scenarios, sweat is an accentuating element that transforms me into a mythical, dragon-slaying demigod in my pursuit of self-improvement.
But back in the real world, sweat is a stinky, oily, obnoxious liquid that causes the dirt from my hair and skin to leach out into my eyes, and leaves unsightly smears on every piece of gym equipment I so much as rest my damp fingers upon.
Unless you want to wear some sort of pretentious headband to the gym like a discount Roger Federer, your best bet for restraining your sweat from dampening your mood, your spirits and the seat of the lat pulldown machine is going to be a gym towel. Now, I know what you're thinking: "I'll just grab my bath towel and carry that around with me." Absolutely not. First of all, everyone is gonna make fun of you. Second, your bath towel is probably 100-percent cotton, in addition to being massive.
This structural feature makes obvious sense; its sole purpose is to rapidly soak up as much water as possible. However, that 100-percent cotton behemoth wasn't designed to prioritize rapid drying. So, if you're a profuse sweater, toting a bath towel around the gym will ultimately entail carrying your entire collection of sweat with you from one place to another. It's for this reason that most gym towels are optimally constructed out of some sort of microfiber blend to be small, light and quick-drying.
What to Look for in a Gym Towel
Quick Drying: Again, there's no sense in using your towel to wipe up sweat if it's going to linger within the towel's treads for an eternity. Otherwise, you'll merely be wiping sweat from one surface and smearing it onto another one just a few moments later. In order for your towel to be effective at accomplishing its foremost goal, it must remove liquid from surfaces, dissipate that moisture quickly and then be prepared to soak up another sweaty salvo.
Odor Free: Being able to rapidly disperse water into the atmosphere is a crucial feature, to be sure, but having your sweaty funk lingering behind in the towel — either before or after you wash it — is never preferred. Hopefully, your towel has been pre-treated in some way to help eliminate whatever body odors are transferred into it.
Color Conscious: No one wants to drag something ugly around the gym behind them — not a hoodie, not a gym bag and certainly not a towel. There are enough specialty gym towels on the market these days that certainly some consideration can be paid to the aesthetic appeal of whatever towel remains in your clutches as you make your gym floor rounds.
The Best Gym Towels
Best Solid Color Gym Towel: The Rag Company Sport & Workout Towel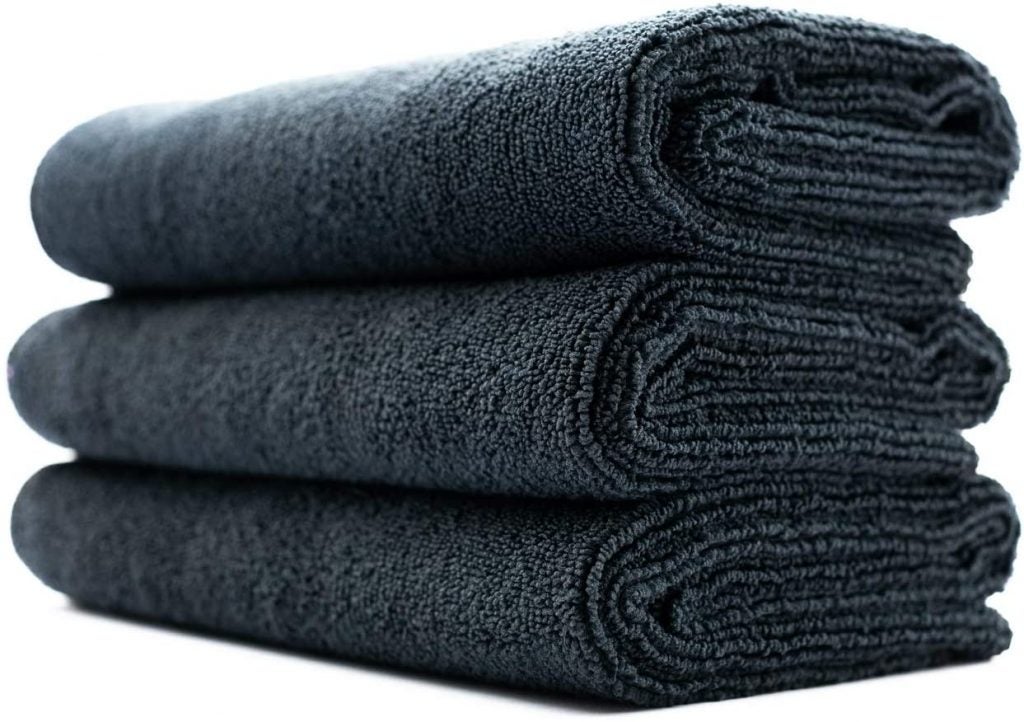 Why You Should Let It Soak You In: At only two-and-a-half feet long and with 300,000 microfibers per square inch, these towels are optimally sized and proportioned to dismiss your sweat easily, and they'll rid themselves of that moisture just as rapidly. Another bonus: They're available in eight different solid colors, enabling you to coordinate your gym towel with your favorite gym outfit, and preventing that towel from contributing to any kind of fashion faux pas. Also, a three-pack is under $11 — it's tough to beat that.
Why You Should Towel Off With Something Else: Optimal size? Check. Quick-drying ability? Check. Color variety? Big check. Inexpensive price? Double check. Odor-eliminating enhancement? Uh oh. These towels score highly in most areas of significance, but the absence of innate odor-fighting properties is a hefty drawback, and one that may have you looking to replace them sooner rather than later.
Best Gray Gym Towel: Acteon Premium Gym Towel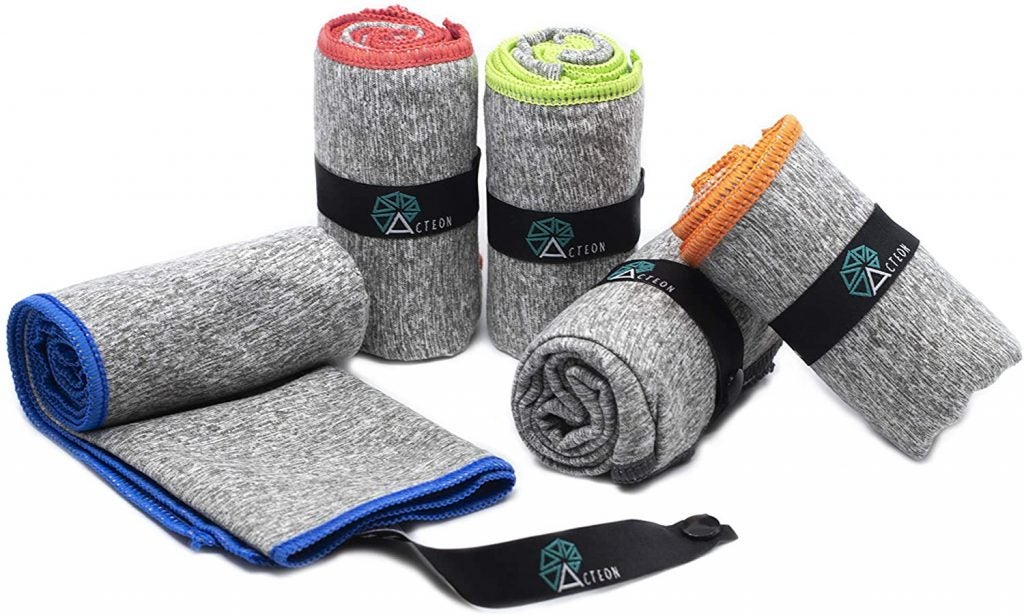 Why You Should Let It Soak You In: At $20 for a five-pack, these towels are rather easy on your bank account. Price aside, they've got it where it counts. They're appropriately sized, highly absorbent and lightweight, while also being pre-treated with silver ions to hinder the collection of bacterial cells. This means your towels will stay fresh-smelling for longer than most. To top it off, they also have tiny loops that encourage you to hang the towels up, accelerating their drying capabilities further.
Why You Should Towel Off With Something Else: There is a clear benefit to being able to plainly see how damp your towel is, but few sights are more unpleasant than glaringly sweat-soaked spots on heather gray surfaces. Also, the fact that all of these towels have tiny accent stripes on their edges may make matters worse, as they cause you to focus even more attention on whatever stains are framed by the brightly colored exteriors.
Best Swimmer-Friendly Gym Towel: OlimpiaFit Quick Dry Towel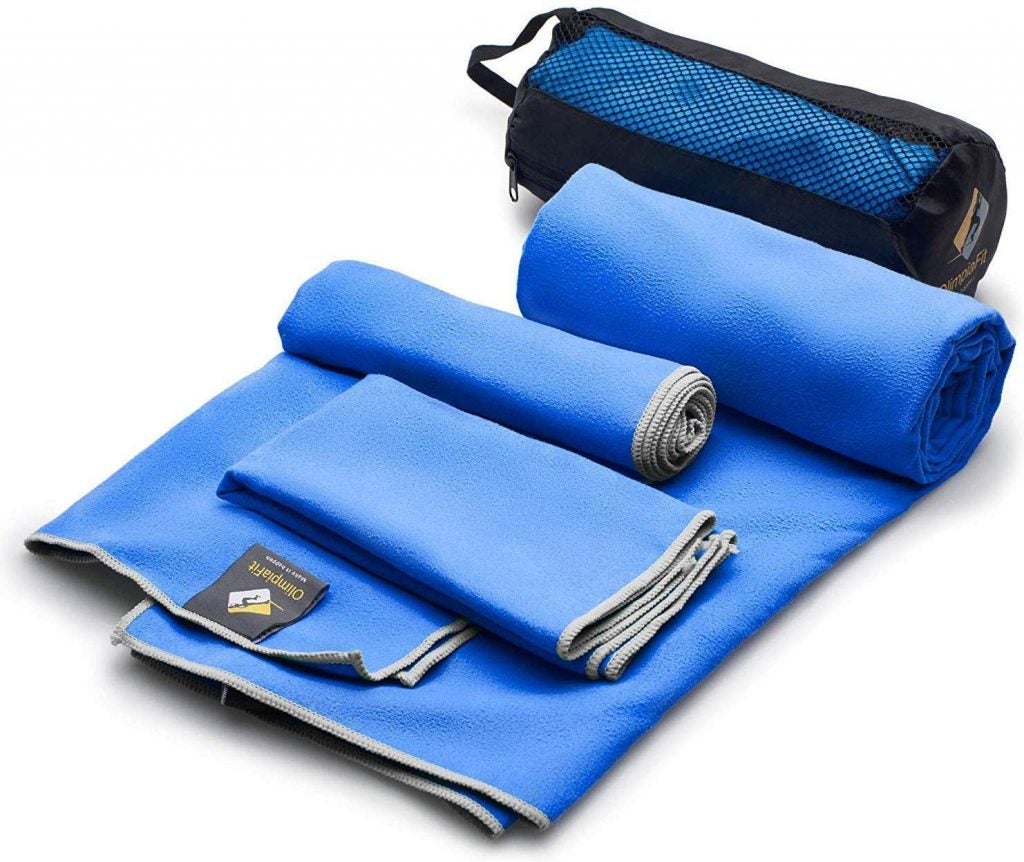 Why You Should Let It Soak You In: No athletes are more concerned with toweling themselves off than swimmers, so leave it to them to show you how it's done. This extra-thin microfiber towel also has a satin-smooth surface, and is designed to be soft, slick, gentle and odor-eliminating. Also, a pack provides you with three different sizes for three distinct body surfaces: your face, your head and your body. After all, you don't always need the biggest towel in your arsenal to dab away a tiny bit of sweat, especially if your towel is designed to dry rapidly.
Why You Should Towel Off With Something Else: Sometimes you still want your towel to feel something like the classic conception of a towel, and these ultra-thin, super-slick surfaces may not be everyone's cup of tea. Not to mention, while there's an argument to made that having three towels of different sizes is advisable, I can just as easily make the argument that three one-size-fits-all towels of an acceptable length and width are a more suitable purchase than three towels of varying sizes, especially if I'm unlikely to ever use the two towels of the least practical length.