Over the last four months, Skelly, a 12-foot-tall skeleton residing in the front yard of Ali Nugent's New Jersey home, has been a Trader Joe's crew member, the Statue of Liberty, Hagrid from Harry Potter, "Extra Long" John Silver and "a bunch of other random things," Nugent says. For Skelly's Christmas attire, though, Nugent has big plans. "I've challenged myself to make him a whole Grinch suit from scratch, and maybe even a Jack-from-The Nightmare Before Christmas suit," she says. "The thing is, this guy requires a lot of yardage."
Before the jumbo skeleton became a viral phenomenon over Halloween and completely sold out for the year, Nugent spotted one at her local Home Depot and fell in love. "I was completely enamored," she explains. "My head could fit into the palm of his hand like a basketball." But Nugent, who claims she's "always had an affinity for miniature or giant things," says it took a few months of convincing her family that the colossal bag of bones was worth the price.
When she finally did — in the middle of the 12-foot skeleton craze — she had to travel all the way to Staten Island to secure one.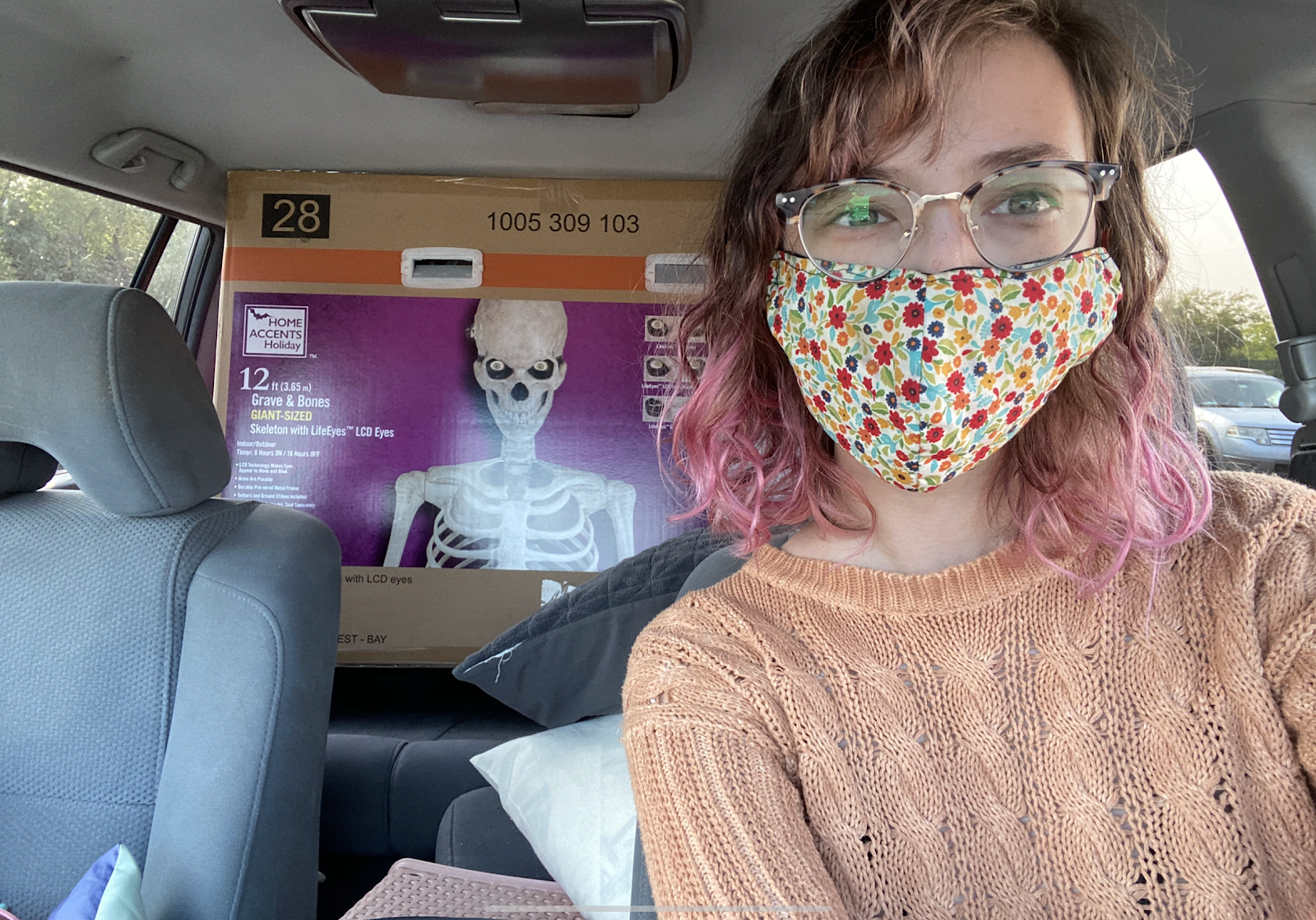 "I made the 50-minute trek up the parkway and over the Goethals Bridge, but I was finally was able to take the big guy home, with his box barely fitting into my Honda Pilot," Nugent says. "The plan from the get-go has been to make him lots of costumes — Baby New Year, Cupid, St. Paddy and anything else I can come up with. So yeah, I'm hoping to keep him up year-round. I don't know where I'd even store him anyway."
In other words, Skelly — who, to reiterate, is an honest-to-god 12 feet tall (or roughly the length of a Volkswagen Beetle) — is gonna lord over Nugent's neighborhood for the foreseeable future.
The same can be said, it seems, for pretty much everyone else who purchased the supersized skeleton to magnify their Halloween fun.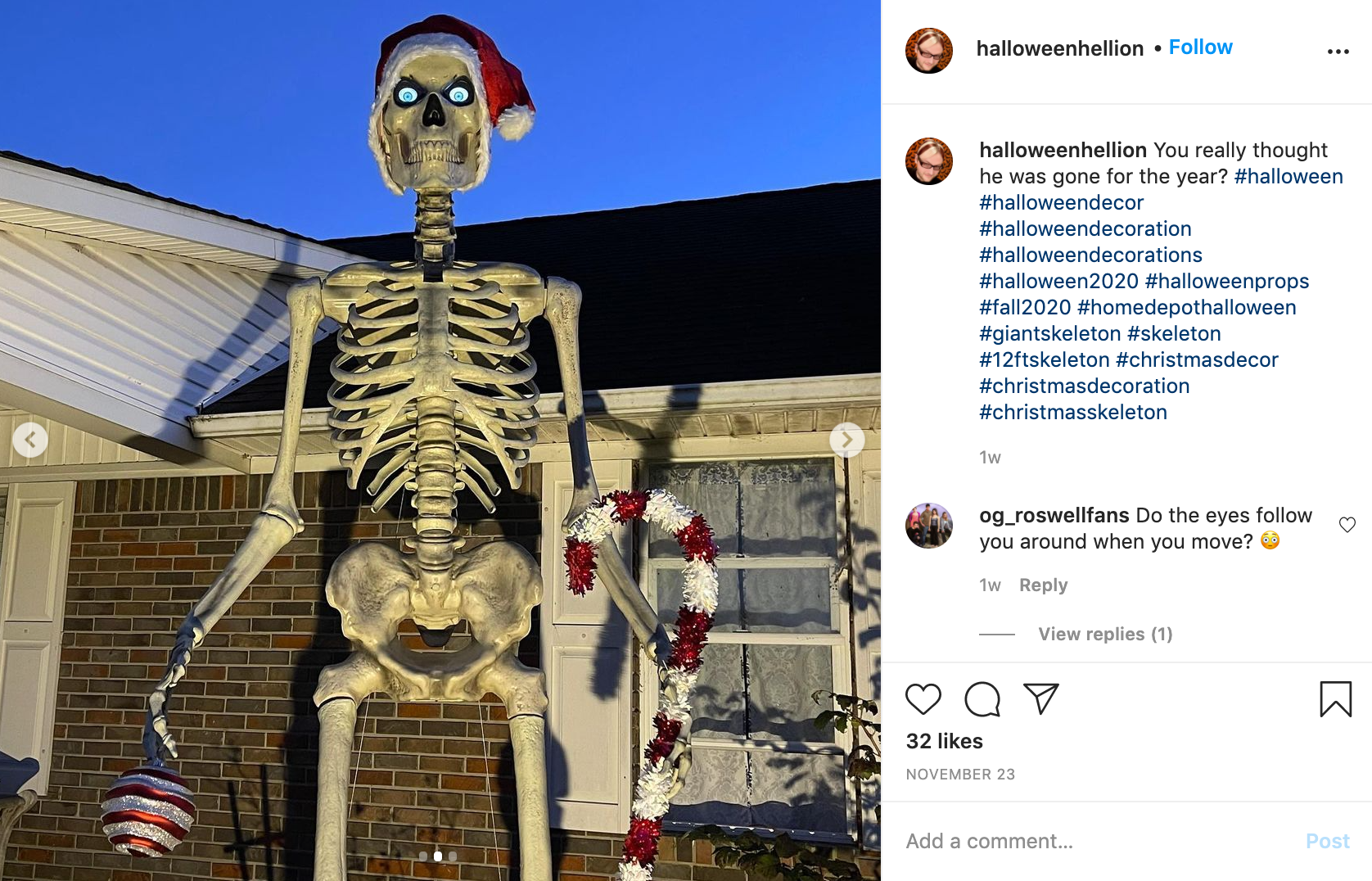 Case in point: Twenty-year-old Makayla McDaniel and her mom, Dianna Stoneburner, have already mapped out the next 10 months or so for theirs, who they've named "Grim Raider," after the local high school mascot. For Christmas, McDaniel says her mom "bought a 7-foot Christmas tree to go next to him and make it seem like he's putting the star on it, as well as a huge Santa hat!"
"In January," Stoneburner adds, "he will celebrate what will hopefully be a way better year than 2020. In February, he will have a big glowing heart full of love. In March, he will celebrate St. Patrick's Day with beer. For April, I'm working on an Easter outfit, and for May, I'm leaning toward him being a maypole. And in June, it's all about fathers, of course!"
By July, Stoneburner is hoping Home Depot will be restocked enough so that she can "get one more and also an 8-foot one so I can have a family of skeletons." Either way, the Grim Raider will celebrate the Fourth of July with "sparklers and a tutu." After a back-to-school and football-themed August and September, "we will start all over again with new Halloween ideas!"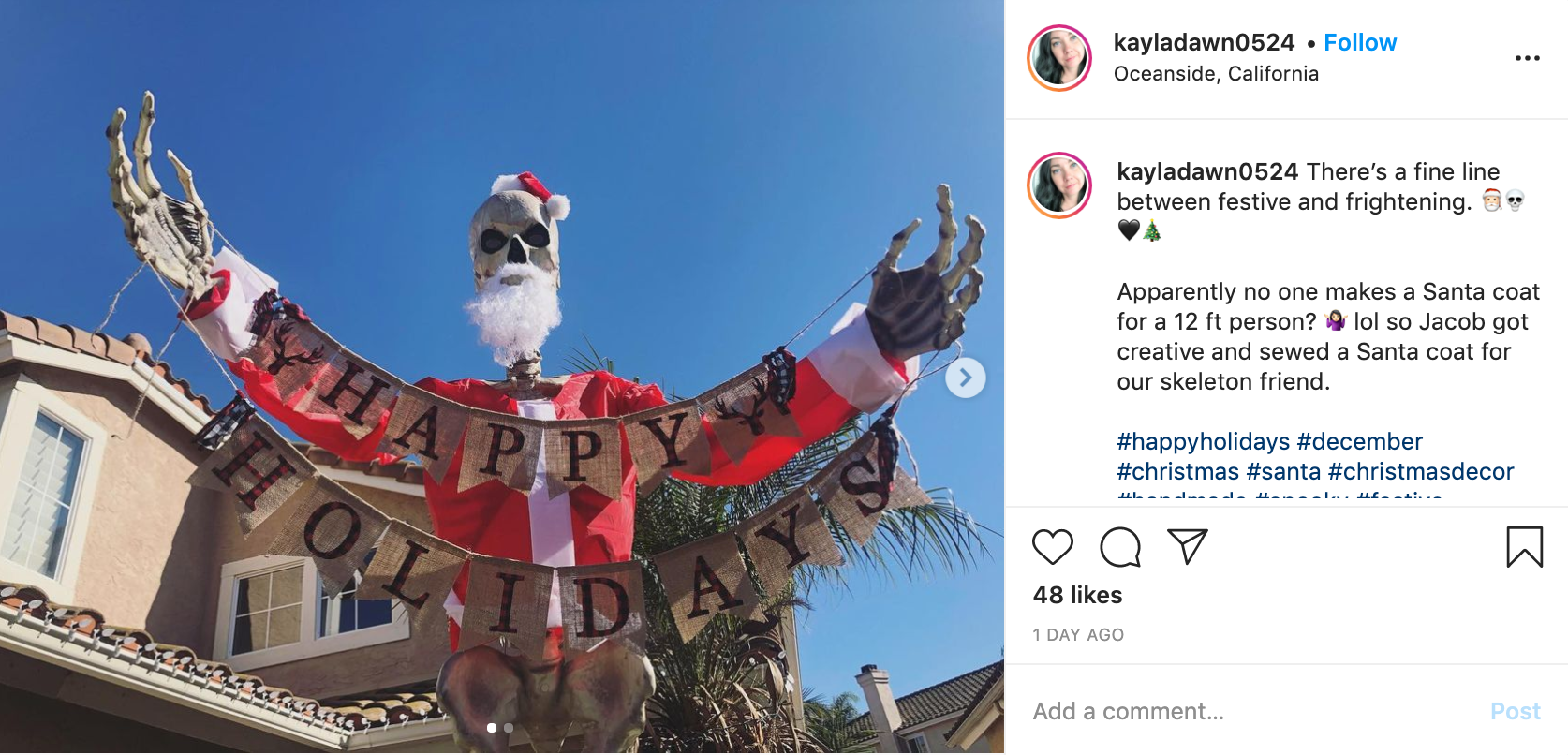 Stoneburner's enthusiasm is mirrored by more than 8,400 of her peers in the "12′ Skeleton Halloween Club," the official Facebook group for 12-foot-tall skeleton owners. That said, "the people in the group go hard and take things way too seriously," says one group member, who asked to go by Rachel.
"I really only lurk, but man, it gets WEIRD," she writes over Facebook Messenger. "People get mad at each other for making similar costumes or getting press. Everyone's pushing their own corny merch like hoodies that read 'Don't be jelly of my 12-foot Skelly.'" Like everywhere else on Facebook, things can also become quickly politicized. "In October," she says, "there was like a 400-comment thread with people arguing about masks."
Back in the real world, though, Stoneburner and Nugent view their skeletons as something far deeper than a cynical attempt to go viral (or sell merch). For them, these fleshless monsters have become a small shred of positivity (and fun) in 2020. "The neighborhood kids love him and all had to get pictures with him on Halloween; even the police and Department of Transportation joined in," Stoneburner says. "He will be with our family for as long as he can remain standing on his two bony feet."