They called him "Sir Pigeon," and as you may already have gathered, he was indeed a pigeon. He resided in Home Depot store number 1289 in Amsterdam, New York, and spent his days fluttering around the Home Depot Garden Department, pooping indiscriminately on the highest-shelved items in the store. At night, he'd poke holes in Home Depot's giant bags of bird seed along with his accomplices "George" and "Fluffy." Overall, it was a pretty good life for a pigeon, but that all came to an end around 6:30 p.m. on May 13, 2019, when Sir Pigeon was killed by a forklift when he was sleeping inside of a pallet. 
"I felt terrible about it," says Jake Myers, an ex-employee of Home Depot who was operating the forklift at the time. "We made it our goal to create a safe environment for the shoppers and workers and all the little creatures and critters running around in there." For example, Jake recalls seeing frogs, praying mantises, cicadas and even some stray cats in his store. It's the birds, though, that are easily the most prominent, as they've become a fairly universal sight in Home Depots across America.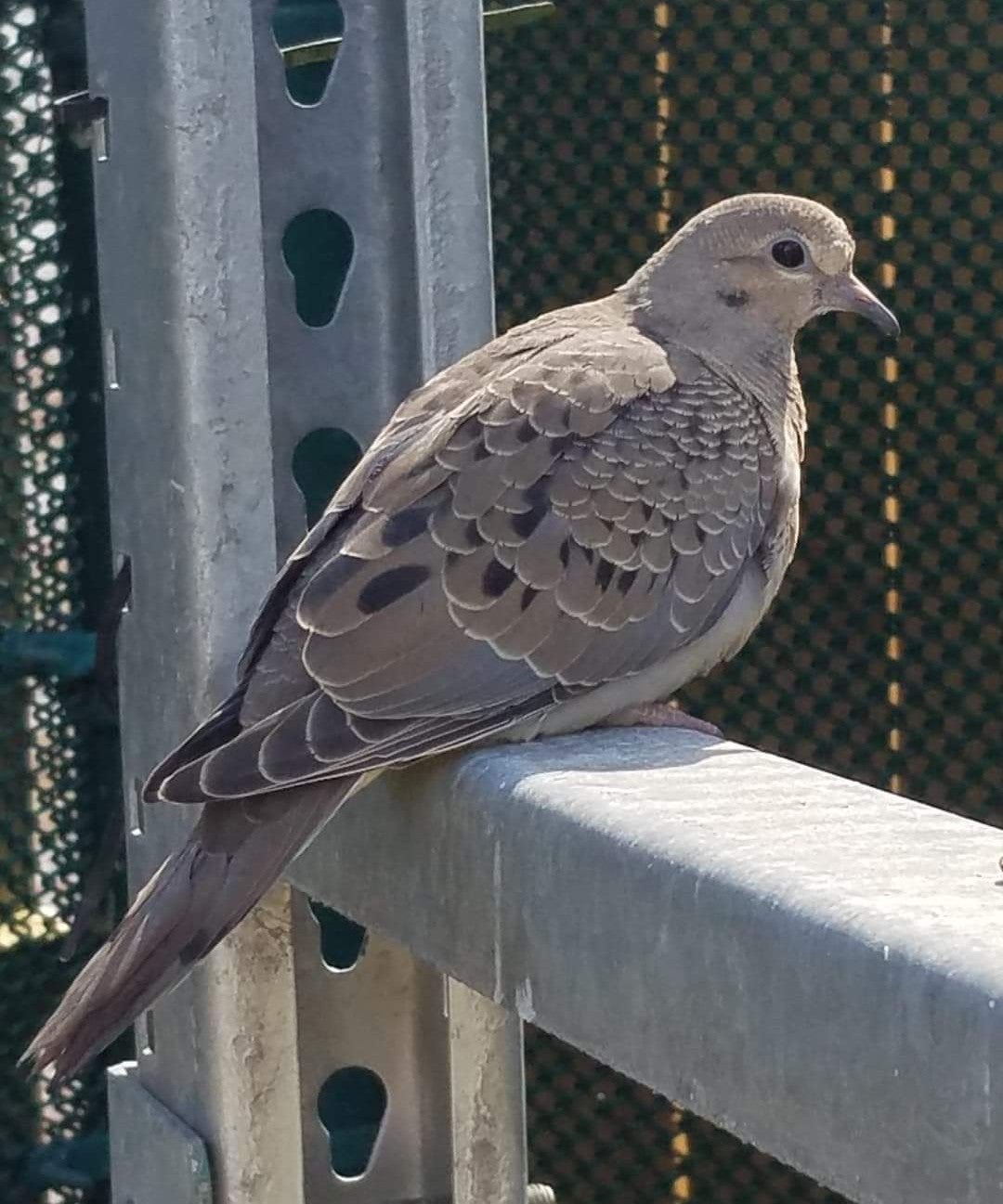 During Myers' tenure at Home Depot — and despite the fact that he's been pooped on several times — he regarded the wildlife there with affection, as he and his co-workers often named the birds that stuck around in the garden section (and sometimes in the main store). On one occasion, Myers even saved a nest of baby birds that had been knocked down off of a shelf. "I was doing routine work, dropping pallets and cleaning the aisles, when one pallet I pulled out felt odd. I picked it up and pulled it out, and when I did, a whole nest fell to the ground from about 15 feet up. I then hopped off the machine and immediately took action. They didn't even have feathers yet, so I put on my gloves and picked all three of them up gently and set them in a box with paper towels and bedding in it. I told the assistant manager about the situation, and he told me to [take] some food and whatever else I needed to help them out. So I [picked up] a bag of seeds and got them a small bottle of milk from the break room. I made them a nice little box home until the animal rescue came the next day to rehabilitate them."
For Maggie, who works in another Home Depot in upstate New York, she says that the birds are almost like unofficial store mascots. "I would say we all pretty much love them," Maggie says, "both employees and managers care a lot and try to help the birds out, even though they leave bird poop everywhere." Another Home Depot employee told me much the same on Reddit, explaining, "Birds are an integral part of our store. They [woke] me up when I was working freight. I knew it was 5 a.m. because they let me know by chirping before sunrise. They keep [the] garden [section] clean by picking up all the pieces of paper and string and bits and of food that the mice and rats don't eat."
But not every Home Depot employee feels this way. "Employees name them, but management thinks they're a nuisance," Shiela, another Home Depot employee in upstate New York, tells me. For Patty, an employee in New Jersey, she describes it as "a battle for the ages" between the birds and Home Depot management. "There's nothing they do or can do," she laments.
That though, isn't entirely correct, as the Home Depot PR team informs me that there is an official procedure surrounding the Home Depot bird population. The statement I received reads, "In many of our locations, part of the Garden Center is open air which can lead to birds flying inside. We contract vendors to safely and humanely catch and release the birds. We never allow our bird remediation vendors to use lethal force against any animals." 
Myers can attest to this, saying that the pest control guys came to his store monthly, bagged the birds in nets and released them nearby. "The only problem is that they always came back, and in greater numbers, so staff often have to try to chase them out," Myers says. "I got pretty good at it myself — I used to use the order picker machine and extend it up to the ceiling and then I shooed them out with a cardboard tube."
While others I speak to don't love the task of cleaning up bird poop every morning before the customers arrive, Myers regards most of his old bird-related tasks with affection, as they broke up an otherwise monotonous day working in retail. They were also tasks that were mostly unique to the garden section of Home Depot, which, according to Myers, has an entirely different vibe than the rest of the store. While the indoor employees are busy working the registers and explaining the differences between two different washing machines, in the garden section, people are slapping bags of soil in the summertime and binding up Christmas trees during the winter. And all year round, they're watching, chasing and naming the birds that find shelter there.
As Myers describes it, "the garden section felt like Eden to me, with so many sounds and the smell of the flowers and the sun — it felt like a different store out there." And while he left Home Depot several months ago, he still goes back on occasion to visit some friends in the garden section, both human and otherwise. "Last I checked, Fluffy still lives there — he's a fat little guy. I really miss the garden section, as it opened my eyes to so much hidden beauty that I didn't even realize existed. It brought me closer to nature and what she has to offer — some good, some bad, but all in all its part of life."