There's a fine art to the drunk buy—it's both gift and punishment to your future self. There's nothing more reckless than bringing more crap into an already cluttered home, but the great thing about the late-night Amazon Prime one-day delivery is that it arrives before you remember ordering it. The fever dream was real. You now own taxidermy.
The drunk buy is your truest, purest self coming out, too, like a late-stage-capitalism "me irl." MEL senior designer Sam Dworkin is a guy who has a dead hairless bat in his house. Before that fateful order, he was sober and batless. Who even is that guy? No one knows, or cares. Now he's basically Batman.
Here's what the rest of our staff of degenerates submitted…
It's a tiny moon—a 3-inch, 3D-printed plastic sphere that sits on a little wooden stand by the bed. Tap it once and it glows warm; tap it again and it glows cool. Turn it on at night and it feels a little like a Midwestern campout. In a tiny Brooklyn bedroom, the sounds of sirens and angry cooped-up dogs melt away. Saw it at a party and my wife and I decided we had to have it. It showed up before we remembered buying it, and now we sleep beneath a soporific lunar glow. And as a bedside lamp, it's just enough light not to bother the sleepy person on the other side of the bed.
The weather in L.A. is starting to cool in autumn, which means it's time to bust out the comforter I bought while shitfaced on a Saturday evening in April. The email confirmation reads 10:37 p.m., which seems kind of late but not nearly late enough to have been so drunk. I don't know where I was—it was a dim bar, probably one specializing in dark liquor—but I remember scrolling on my phone to an advertisement on Instagram for a light, fluffy, "sustainable" comforter that would arrive vacuum-packed in a box, no shopping necessary. Damn these targeted ads. I fell for "soft eucalyptus fiber" in a heartbeat. I also remember leaning over to my girlfriend to mutter, "Ya dare me to buy a comforter right now?" She could barely say, "Eddie, no," before I hit purchase and shed $150. It's a truly great comforter, though, so golf claps for my drunk self.
Sam Dworkin: Hairless Bat from Thailand
Last winter. Wasted. Ordered a dead bat on Etsy. From Thailand. It smells like shit.
Miles Klee: Every Outfit
Basically my entire wardrobe. If you look at what I'm wearing on any given day, you'll probably think: "That's not a man who shops for clothes sober." This is a major element of my trashy yet vibrant beach dirtbag look: I'm scrolling through Instagram after five or six vodka-sodas, and eventually some targeted ad presents me with a ridiculous tank top I can't live without. The latest triumphs have included a LaCroix bathing suit and this feline number: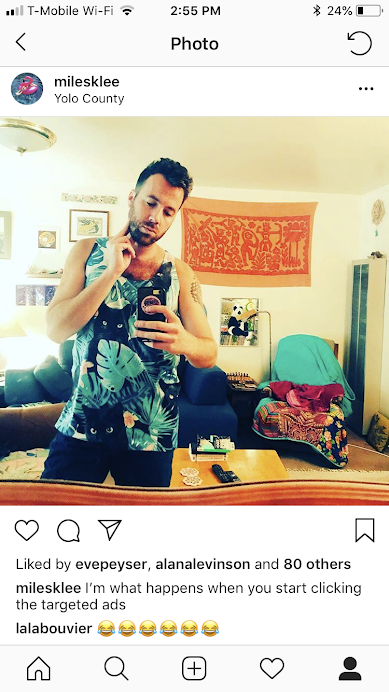 Jeff Gross: Noise-Canceling Headphones
Specifically, Bose™ QuietComfort 35 Active Noise-Canceling Headphones®. I'd been in the market for some new over-ear headphones for a while, but sober me was too stingy to pull the trigger. While I was forced to skip meals for about a month afterward, they're still the best 350 drunk dollars I ever spent. No more crying babies on flights. No more overhearing Kanye pouring out from my editor-in-chief's open-back studio monitors. [Editor's note: Fuck you.] Simply: the sounds of silence. Plus, if someone I don't want to talk to is trying to get my attention, I can pretend I don't hear them. Productivity is through the roof!
Ian Lecklitner: More Booze
That is all.
Andrew Fiouzi: A shot of Jäger
The best thing I've ever bought while drunk is the worst thing I've bought: a shot of Jäger just before last call. On the one hand, it's Jäger, which means… bad idea. On the other hand, there's no other hand here because, again, it's Jäger. As a result of ordering that shitty shot, however, I'll never forget the face of terror on the woman at the bar who served me the sludge-colored liquid. She knew what I would find out a few seconds later: You really, really, really don't need that.
Josh Schollmeyer: Pop Art(?)
This exquisite painting of my favorite Howard Stern Wack Pack member—Hank the Angry Drunken Dwarf (RIP). Still haven't gotten drunk enough to hang it in the house, though.
Magdalene Taylor: Horny Dutch Pigs
In a recent trip to Amsterdam, I was mild to moderately drunk the entire time. In one of the plethora of gaudy gift shops near the Red Light District, I came across a salt and pepper shaker set of two pigs going at it, similar to this one here. Aren't they cute?
Nick Leftley: More Booze
I can't get into this again. I still have regrets from last time.