We're often told that you should never eat something if you don't recognize everything on the ingredients list. But since most of us have no idea what xanthan gum or potassium benzoate are — or more importantly, what they're doing to our bodies — we're decoding the ingredients in the many things Americans put in themselves with the help of an expert.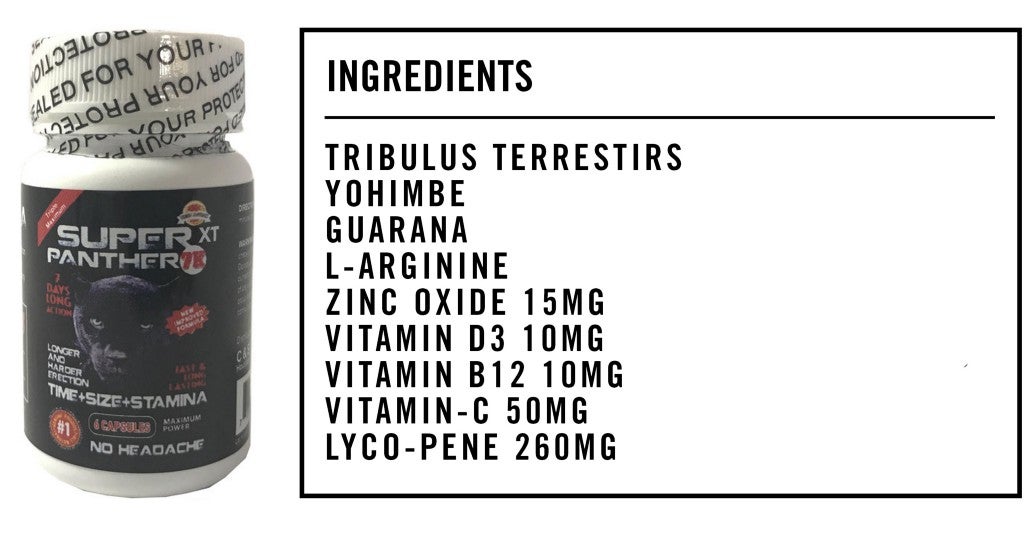 This edition: Super Panther 7K Male Enhancement Pill, which is made from 11 separate ingredients (some of which aren't even listed on the ingredients list) that we've broken down in the exact order they appear on a website selling the supplement.

The Listed Ingredients
1) Tribulus Terrestris: Tribulus terrestris is a fruit-producing Mediterranean plant used to treat those suffering from a wide range of sexual issues. And apparently, it works: "In 2017, a phase IV, prospective, randomized, double-blind, placebo-controlled clinical trial was conducted in men with erectile dysfunction or hypoactive sexual desire disorder and showed that the men taking tribulus terrestris had improved intercourse satisfaction, orgasmic function and sexual desire," explains naturopathic physician Jennifer Stagg. "The treatment was well-tolerated, and there was no difference in adverse effects when compared to placebo." Recent studies also found similar effects in women taking tribulus terrestris.
2) Yohimbe: Similar to tribulus terrestris, bark from the yohimbe tree has long been thought to boost sex drive; studies supporting this claim, however, are lacking. "Yohimbe can increase or decrease blood pressure, which is why it may affect erectile function," Stagg explains. "Because yohimbe affects blood pressure, men should talk with their doctor before taking this supplement." If you already experience high blood pressure, for instance, a heavy dose of yohimbe could mean a trip to the ER.
3) Guarana: Guarana is a South American fruit with seeds containing twice as much caffeine as coffee beans. Because of this high caffeine content, Stagg recommends questioning your doctor before consuming guarana supplements. Some studies have found that caffeine — like that in guarana — improves sperm production and the longevity of spermatozoa, which is why this supplement is oftentimes found in male enhancement drugs.
4) L-Arginine: L-arginine is an amino acid found in protein-rich foods. "L-arginine supplements have been shown to improve sperm quality and help men with mild erectile dysfunction achieve erections," Stagg explains. That said: "Men who have had a heart attack should not take L-arginine [since it can affect blood pressure]." In fact, six patients died during a randomized trial exploring the connection between pre-existing heart conditions and L-arginine supplements, and the study was prematurely terminated as a result.
5) Zinc Oxide: "Zinc is required during sperm production — each ejaculation uses about five milligrams of zinc," Stagg explains, noting that this is probably why zinc oxide is found in this supplement. "Low zinc levels are associated with erectile dysfunction and low testosterone."
6) Vitamin D3: Studies show that a vitamin D deficiency can reduce testosterone levels and motivate early-onset erectile dysfunction.
7) Vitamin B12: "Low levels of vitamin B12 have been associated with premature ejaculation," Stagg notes.
8) Vitamin C: Vitamin C has been proven to improve sperm quality.
9) Lycopene: "Lycopene is a pigment found in red fruits and vegetables [including tomatoes, apricots, guavas and watermelon]," Stagg explains. "It's important for prostate health and can reduce the risk of prostate cancer." Science backs her up: Several studies suggest that lycopene has chemopreventive effects for cancers of the prostate.
The Unlisted Ingredients
Earlier this year, the FDA issued a warning titled "Super Panther 7K Contains Hidden Drug Ingredients." Those two ingredients are sildenafil and tadalafil, the active ingredients in Viagra and Cialis. Here's how the FDA warning reads:
FDA laboratory analysis confirmed that Super Panther 7K contains sildenafil and tadalafil. Sildenafil and tadalafil, the active ingredients in the FDA-approved prescription drugs Viagra and Cialis, respectively, are used to treat erectile dysfunction. These undeclared ingredients may interact with nitrates found in some prescription drugs, such as nitroglycerin, and may lower blood pressure to dangerous levels. Men with diabetes, high blood pressure, high cholesterol or heart disease often take nitrates.
In other words, you're getting more than you bargained for when taking Super Panther 7K, and under the wrong circumstance, it could be the death of you.
The Takeaway
First things first: There's a good chance that taking Super Panther 7K might actually give you an erection, since it contains sildenafil and tadalafil. Combine that with tribulus terrestris (which increases libido) and guarana (which provides a small energy boost), and you're probably in for a good time between the sheets. This does not in any way mean Super Panther 7K is safe, however, or anywhere near as effective as the alternatives (when prescribed in the right doses).
You can actually find most of the other ingredients in a multivitamin, and frankly, you'd be better off taking one of those instead, if you don't want to be unknowingly dosed with prescription-strength Viagra (which can lead to any number of ailments, from headaches all the way to death). So rather than grabbing some sketchy boner pill while stopping for gas, improve your sex life the right way: Eat your veggies, enlist a sex educator and/or ask your doctor about a real-deal male enhancement pill.