The first time 28-year-old talk show host Mitch Mitchell read Lou Sullivan's We Both Laughed in Pleasure, he felt an immediate jolt of self-recognition. "When I read Lou's feelings on navigating the world as a gay trans man, I felt shocked that something could resonate so deeply with me," they tell me. "There's already so little representation for trans guys, so it feels really special to have this first-person account. In that moment, I felt a strong, unbreakable connection to gay trans history."
Collated and published in 2019, We Both Laughed in Pleasure is a collection of Sullivan's diaries written between 1961 and 1991, the year he died of AIDS-related complications. Since then, it's been a near-constant fixture in trans-centric social media groups such as Reddit's FTM subreddit. There, users gather at least once a month to wax poetic about what the diaries mean to them. "I nearly cried reading about his life," writes one. "Nothing has ever hit so close to home." Another expresses gratitude that the book exists: "Knowing that I'm allowed to live unapologetically as a bi/gay man, that I'm not a 'new trend' or 'intruding' on gay spaces has allowed me to accept that part of myself more." 
At face value, We Both Laughed in Pleasure is glimpse into the life of a renowned gay, trans activist — prior to the book's release, Sullivan was best known as the founder of San Francisco-based FTM International, an organization founded in 1986 to help FTM (female-to-male) trans guys access hormones, peer support and gender confirmation surgeries. Widely considered to be the first publicly gay trans man to medically transition (or at least one of the most visible), he was known as a powerful writer and public speaker, but vast swathes of his personal life remained a mystery.
We Both Laughed in Pleasure changed everything. These diaries are gloriously no-holds-barred, but they're also mundane in a way that trans people so rarely get to be in a world that sensationalizes their existence. Across more than 400 pages, Sullivan writes about top surgery, anonymous sex with strangers and piecing together the language for his identity in a world that didn't yet understand it. "He included everything from desperate loneliness to shameless horniness," says Mitchell. "The reader really gets to traverse alongside him throughout his whole life."
The horniness is actually pivotal, here — trans guys in porn are still uncommon, which means they're often desexualized, especially when they're gay. As a result, We Laughed in Pleasure has become a Bible of sorts — it's a glimpse into the life of an average, everyday trans guy navigating life, love, sex and politics in the midst of the AIDS crisis. There's almost something comforting about its mundanity, too. At least in the context of mainstream media transphobia, to be trans in 2021 is to be perpetually exhausted — from headlines lambasting a mythical "trans lobby" to various states proposing anti-trans bills on an almost daily basis, life as a trans person can feel draining. Thus, Sullivan's day-to-day musings about things like his obsession with the Beatles as a child or sleeping with his first strap-on fastened to his body are almost relaxing.
"He was really skilled at documenting joy," continues Mitchell. "It's really important to hear those stories, because we're so frequently inundated with stories of trans grief. Lou showed us it's possible for trans people to be loved, to have good sex, to transition, to be accepted by their families." His sexual confidence, in particular, has been an inspiration to Mitchell: "I feel like re-reading his diaries helps me subconsciously project horny transfag confidence borrowed from my forefather."
Sullivan also had a sense of humor, even when he was dying. A few months before he lost his life to AIDS, he wrote: "I took a certain pleasure in informing the gender clinic that even though their program told me I could not live as a gay man, it looks like I'm going to die like one." His diaries are wrought with dry humor — in an excerpt tweeted by Mitchell earlier this year, Sullivan wrote: "I'm no longer a fucked-up female. Hallelujah! I'm now a fucked-up male!"
This quick wit and sharp tongue in the face of a world that tried to deny his existence have made Sullivan an undeniable gay trans icon, as evidenced by the fact that his face has wound up on the merch of gay trans artists. He laughed, loved and fucked freely, and a whole new generation of trans youth is following in his footsteps.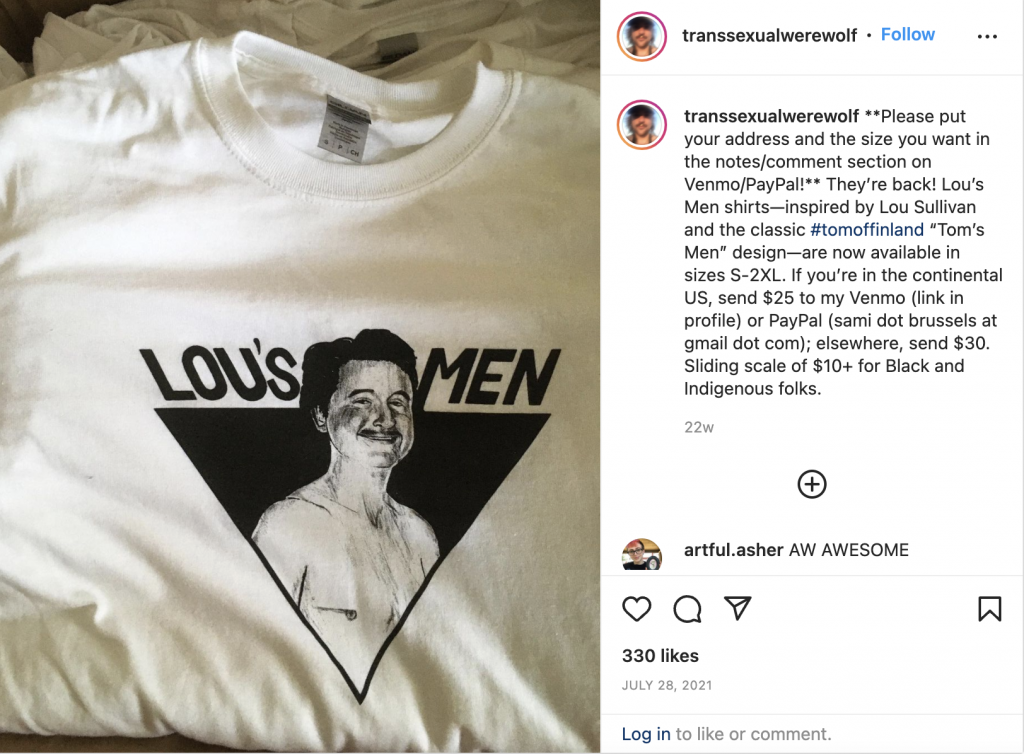 "There have been improvements in gay trans representation in the past decade, but nothing has felt as visceral and real as Lou's diaries," concludes Mitchell. "It's still the ultimate blueprint for me."