Whereas the U.S. military once appealed to horny male recruits with posters featuring seductive pin-up girls in uniform and the tagline, "I want you… for the Navy," they now seem to have a new target market: waifu guys. Last week, a poster propped up at a Marines recruiting booth in San Francisco went viral for its depiction of an anime girl in military uniform. The image is a twist on a century-old poster illustrated by artist Sidney Riesenberg in 1917, which originally featured a male Marine in uniform carrying a gun, alongside the words, "Service on land and sea."
Since then, Waifu Reddit has been abuzz with speculation about who the girl could be, with the top contenders being Saber — a heroic warrior who appears in Fate/stay night — or Violet Evergarden — a former soldier who stars in her own eponymous series. As one redditor noted, "The latter would be kinda dark, since she was basically a brainwashed child soldier… Not sure what message that sends."
As it turns out, the girl is actually an original character, as confirmed by Arthur Chou, the person responsible for the poster's anime upgrade. Chou is a self-described "weeb" — a Westerner obsessed with Japanese culture — who told our sister site Task & Purpose that he wanted to combine his passion for anime with his new career as a Marine Corps recruiter. The viral poster is one of four that Chou has commissioned so far (he sources artists through a freelancer-finding website called Fiverr), with each following the same format: A male Marine in an old WWI or WWII poster is swapped out for a cute anime girl.
Chou, whose desk is reportedly littered with anime paraphernalia, believes he might be onto something when it comes to recruiting anime fans. "Literally every [recruit] that comes in and sees my corner, they're like, 'Oh, this is cool,'" he explained to T&P, adding that "geek culture is a huge thing" in the military. "The whole reason I made these posters was to break the stereotype. People think we're all crazy and buff, but we're people too. All the best Marines I know, they're not even big — they just have a lot of heart. They're just trying to become better."
Responses to the viral poster among anime superfans and those indifferent to the genre were mixed, with some declaring that they "want to join the military now," while others labeled the recruitment attempt "so sad" and "cringe." Perhaps unsurprisingly, the new anime character has made waifu guys kinda horny, too. "To support and serve the good ol' US-of-A and all she represents: Truth, tits, justice, ass and the American way of life," wrote one redditor. Another simply said, "Fuck, man, I will inlist (sic)."
Guy, a pseudonymous 20-year-old anime fan from Texas, sees the campaign positively, though admits he already has "favorable views of the military." "Honestly, good for them," he says of the Marines' recruiting effort. "If the military actually committed to launching national ad campaigns using anime chicks, I'd be genuinely impressed. It's a very modern and unexpected strategy — when you think of the military, you think of out-of-touch Boomers, so it'd be genuinely surprising to me."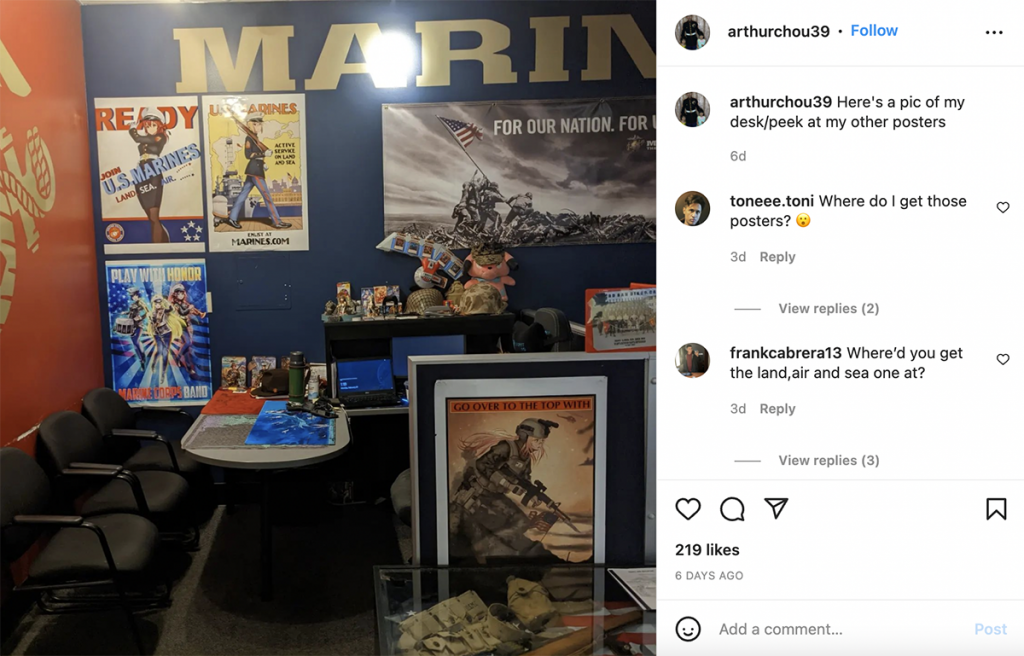 Toby (a pseudonym) — who's not a fan of anime — disagrees. "It's extremely cringey," he tells me, "but not entirely surprising. The military has used video games to try and lure kids into recruitment centers, too. It feels like they're preying on groups of teenagers who are known for having a looser grip on reality — they've got to get them while they're 'young and dumb.' Though, looking into history — when they had women hand out white feathers to men not in uniform, to shame them into service — putting an anime girl on a poster isn't even close to the most manipulative tactic they've employed." (This actually happened in the U.K. during WWI and WWII, as opposed to the U.S., though it does exemplify the extremes global militaries are willing to go to when it comes to recruitment.)
Of course, the use of women in military posters is nothing new, either. In America, it's been happening since World War I, with potential recruits being tempted to join via images of women as victims — portraying them as damsels in distress who need to be rescued — or seductresses looking for big, strong men to fight for their country. Women were also depicted as nurses or patriots working hard at home, in an attempt to encourage other Americans to join the home-front efforts, or lend their support to organizations like the Red Cross.
But while those posters attempted to manipulate men in general, these anime upgrades are targeting a very specific group of people, who Chicago-based Jeff describes as "Gen Z basement dwellers." Many people on Reddit regard the poster — and the military's recruitment process in general — as predatory in its targeting of teenagers, and, in the case of 18-year-old anime fan Alex (not his real name) from New York, it seems to be working. He says the new poster has "encouraged [him] to consider joining the military even more," explaining that it reassures him that he'd "somehow connect with others there, whether they're an applicant, a poolee or an actual member of the military."
If Chou's inside knowledge and recruitment instincts are right — which, according to anime fans, they are — waifus might soon become the official face of the U.S. military. "I know a bunch of dudes from high school who enlisted [in the military], and they're some of the biggest anime fans around," says Guy. "So this is probably a really effective way to appeal to their target age group."
Looks like the U.S. is on its way to having its own weeb army.