Nudes are a wonderful form of communication, and after more than a decade on our smartphones, we've more or less figured out the best practices for exchanging them. The rule of thumb is to make sure that someone wants to see you naked before you hit them with the boudoir shots. Of course, there will always be horndogs who prefer to skip that step.
Straight men are, unsurprisingly, the worst offenders, which in years past led to plenty of discourse on "unsolicited dick pics," broadly reviled by women who receive them. Those guys still dropping the junk into a Tinder chat or Twitter DM without warning are, at the very least, not publicly advocating for this approach — they seem to understand that whatever they hope to gain this way, they will never have society's blessing. Maybe that's why, when it comes to talking about consent for nudes, they like to raise the counterexample of an "unsolicited tit pic."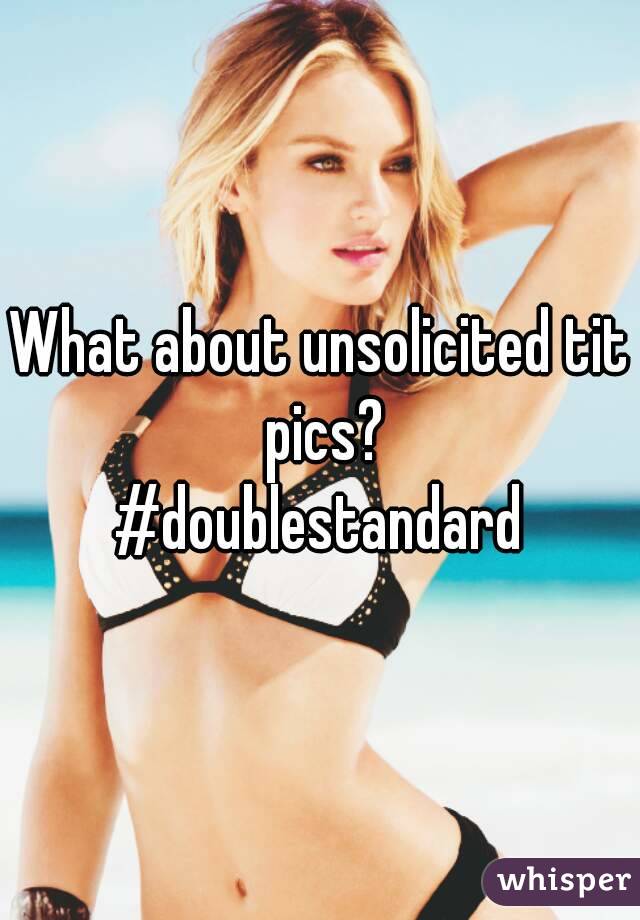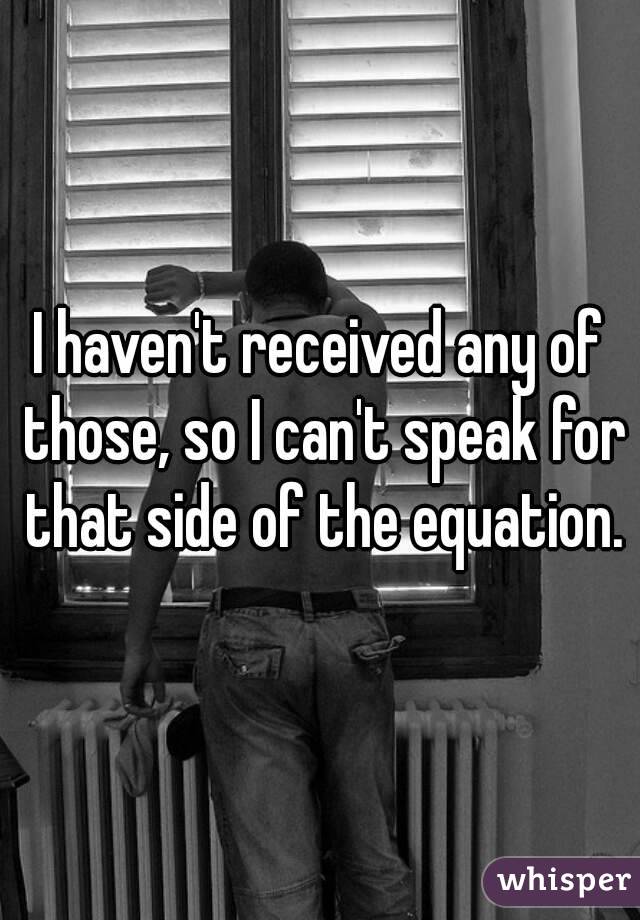 But here's the thing: While women's complaints about dick pics from creepy randos are incredibly common, it's damn hard to find a man expressing the same revulsion at surprise boobs in his messages. Far more often, dudes are hinting that they'd love to be selected for this treatment, and a few lucky fellas will brag on the rare occasions when it happens. Women, meanwhile, can be rather open as to their habit of spreading topless pics far and wide, confident that they'll be appreciated by anyone who sees them. The notion that unsolicited tits are just as inappropriate as unsolicited dicks is usually argued in theory, not from real-life examples: Self-appointed ethicists of all genders have made the case, chiding women for flouting the etiquette they expect men to follow. Yet almost never has a guy posted that he felt harassed or discomfited by rogue breasts. The male "victim" in these scenarios is almost always hypothetical. (The lesbians of Reddit, however, confirm that they're not fans of the overture.)
Never willing to give up a chance to act like they're being oppressed, certain lads of the anti-feminist manosphere have condemned unsolicited boob pics as well. Only, because they're not getting any from women interested in hooking up or sexting with them, they're reduced to whining that porn advertising and salacious bots are evidence of female privilege.
"Receiving random OnlyFans/nudes advertisements from women are just as disrespectful as unsolicited dick pics," wrote a user on the r/mensrights subreddit in July. "Last night I opened up my Snapchat and saw that I received a snap from a random woman advertising her OnlyFans. She sent several nudes — including a video of her masturbating. It made me think, what if a male did this to a female? She would be offended wouldn't she? Wouldn't she feel harassed?"
The thread raises one legitimate issue around this type of content and marketing: It can easily reach minors. But that is more of a piece with what the men are actually complaining about, which is graphic spam and catfishing. In no way are these guys being targeted like women who find strangers' dicks, devoid of context, in their DMs; that the lure of female nudity is employed in order to extract money is somewhat incidental and not a measure of personal interest, obsession or badgering, let alone "sexual harassment, sexual battery, stalking or rape," as another redditor wildly exaggerated. Another dude who recounted lewd texts from an unknown woman couldn't be convinced of the obvious: It was a scam, not an authentic proposition.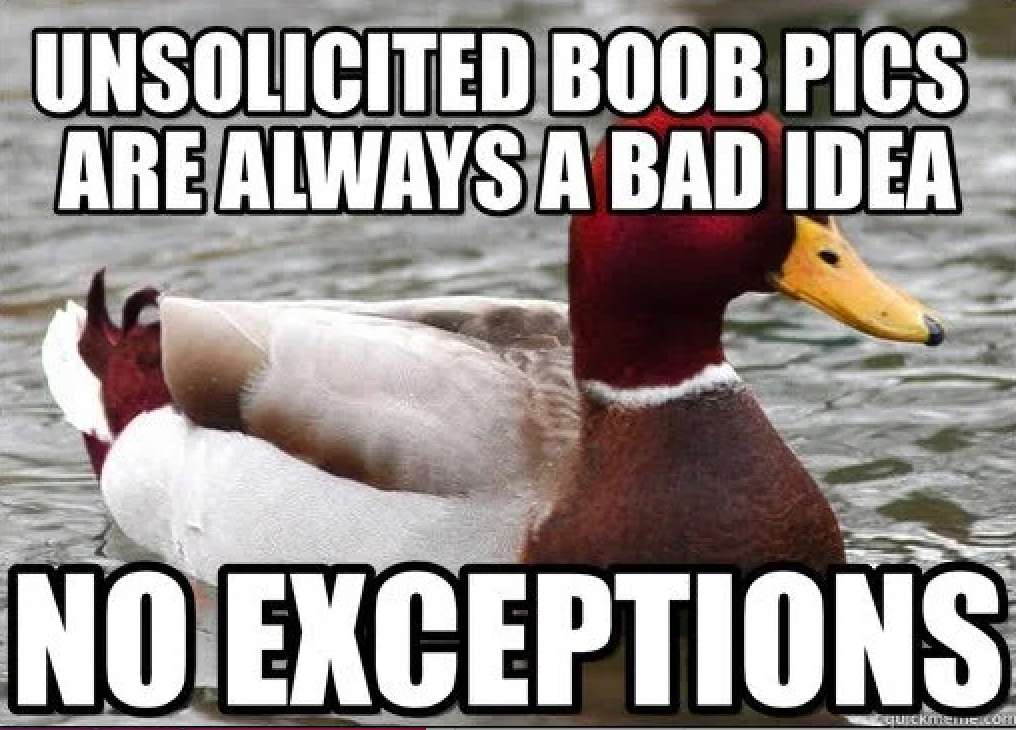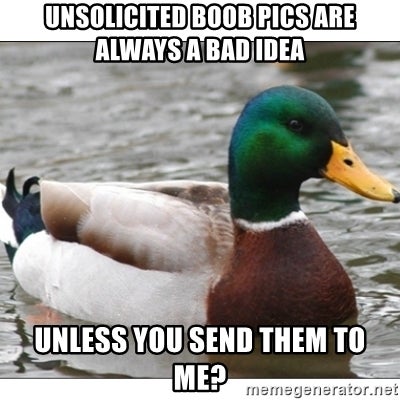 All that said, and despite the many, many, many dudes inviting them, one cannot hope to justify truly unsolicited and specifically targeted tit pics. If a man says he's hoping for unsolicited boobs, any you send him are, in fact, solicited and obviously welcome. If he doesn't voice this desire, then there's no telling what his reaction will be — and you may not like it. Sure, 90 percent of straight guys might roll with the rack and respond in kind. On the other hand, they could be shocked and embarrassed into silence, as in this anecdote from a young woman who decided to risk it: "After that he totally ghosted me, without a reason. Should I apologize to him for that? I waited him to message me but it's been a month lol. I still overthink about it, because I know how it feels to be sent an unsolicited dick pic." Then you have men who, perhaps flustered by lack of experience in this regard, type a crushingly noncommittal reply.
It must be noted, though, that the concern trolling which equates unsolicited tits and unsolicited dicks will never quite land, since tits and dicks are very different. It's an apples-to-bananas comparison. Tits are far more on display in daily life than dicks ever will be, and this is the cultural norm that drives our response to either. Nudes should be consensual no matter what parts you want to show off, but to act as if there's a scourge of women inflicting their jugs (or pussies!) on disgusted, unwilling men — as clearly as there's a pattern of men bombarding women with their dongs — is a bad-faith framing that distracts from the genuine power imbalance at work between the sexes. There's no both-sides debate to be had here here, even if men and women alike suffer lapses in judgment. Guys can quit worrying that boob-havers are getting away with something, and all of us can find an appropriate outlet for our horniness.