Long before most of us had so much as entertained the possibility of a Donald Trump presidency that ended with his supporters storming the Capitol because he lost his reelection bid and incited them to violence, he was really just another dumb, ugly butthole on Twitter. His brain was already quite melted — he thought nothing of retweeting praise from someone with the handle @catpenis, for example — and when he wasn't doling out racist smears against Obama, he was consumed with battling his "haters," like any proper reality TV character.
Occasionally, a shitpost from that era surfaces again. There was his campaign to break up Robert Pattinson and Kristen Stewart. His love-hate relationship with Diet Coke. There's a ton of lore like this. One chapter, however, remains semi-mysterious. That would be Trump's cryptic tweeting, in June 2013, about some kind of conspiracy linking the death of actor James Gandolfini — Tony Soprano of The Sopranos — and Obamacare, or the Affordable Care Act.
What in the fuck, as a certain Jersey mob boss might have said, does Obamacare have to do with a beloved TV star dying on vacation in Italy? If anything, you'd think the continental divide was a decent alibi for American health care. Trump anthropologists and observers have been puzzling over (and joking about) these weird tweets for a while, but I'm sorry to report that there's no fantastic, forgotten hoax the future president was referencing. As it happens, he was angry at a guy named Ryan Anderson, @kolchak on Twitter, who had trolled him most effortlessly.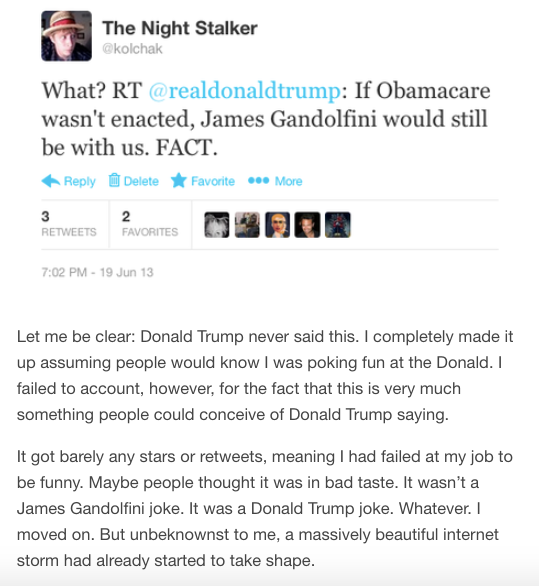 You see, back then, the "manual retweet" — copy-pasting a tweet with a tag for the original author, and often your own comment — was still the norm. Seamless quote-tweeting would not become an option until 2015. Trump was particularly fond of the manual retweet, obviously unwilling to display any avatar but his own on the timeline when sharing commentary from the @catpensises of the internet. But the MT, as it was known, could be faked with ease. All you had to do was write the tweet yourself, add the supposed author's credential, and react as though you found it on their account. That's what Anderson, or @kolchak, did to frame Trump.
According to Anderson's Tumblr post of June 20, 2013, the accidentally effective hoax and Trump's attention to it were totally unexpected. None of this could have happened, of course, if the blowhard real estate mogul weren't so odious in real life — Twitter users readily believed that he had cast reckless blame on Obama for Gandolfini's death, then quickly deleted the tweet — or without Trump's particular brand of overreaction. Much as he would later excoriate the purveyors of so-called "Fake News," the wax-faced grievance machine threatened the "sick" person, or "dope," who had clowned him, implying another lawsuit in his endless parade of legal complaint.
The warnings did not come to any fruition, it seems, yet Trump's fury was unmistakable and hilarious. How, he asked without irony, could anyone believe he'd be that much of a dick? Ah, the past — what a time to be alive. Judging by his reaction to the baseless rumor, he saw it as more damaging than associations with the actual mafia.
And now these bizarre comments endure without any immediate or explanatory frame, as the feverish ramblings of an old guy mentally incapable of ignoring gossip, let alone running for president a few years later. Too bad they weren't disqualifying. I'll tell you what: the next debate, we better pull up their social feeds on stage.