It's 5:30 a.m. on a Monday morning at the Pickwick Ice Center — mere blocks away from Walt Disney Studios in Burbank, California — where I'm seemingly the oldest, tallest and least-awake person in the building. The frigid, mid-century arena is eerily quiet but for the mechanized drone of a lumbering zamboni and the twack twack twack of a 10-year-old girl metronomically jumping rope in the corner.
A pair of prepubescent tweens in sweat suits and sneakers rehearse their respective routines near the snack bar — a Lutz here, a double Salchow there — while the 2017 Adult National Men's Champion, Antonio Conte, laces up a pair of Italian black leather and carbon fiber Edea skates beside me. "The top skaters in the world wear these now because they're doing triples and quads," explains Conte, a cardiac anesthesiologist whose boyish face and underwear model physique betray his 54 years. "Leather boots will break down in a matter of months, whereas these will last about three years. They cost $600 and another $600 for the blades, which I sharpen every three months."
Like most competitive adult figure skaters, Conte is on the ice most days of the week. After an hour-long session this morning (he's working on upright spins and a choreographed step sequence), he'll head to the operating room at Kaiser Medical Center for a 12-hour shift (he has two open-heart surgeries scheduled for 7 a.m.), and then to the gym for cross-training to maximize his physical endurance (e.g., swimming, stretching, light weights). "I'm 45 years older than these kids," he says, pointing to the rehearsing duo at the snack bar. "For adult competitive figure skaters like me, endurance is the biggest challenge."
Conte — along with fellow top adult competitive skaters Michael Rubke (a thirty-something CFO and 6-time national champion) and Eric Bilardi (a fifty-something hairstylist) — trains with Pickwick's Los Angeles Figure Skating Club (LAFSC), whose alumni include Olympians Michelle Kwan and Todd Eldredge, as well as world-champion pairs team Tai Babilonia and Randy Gardner. The adult U.S. Figure Skating program is designed for both people who have skated as kids and are returning to the ice as adults and for adults who are new to the sport; these skaters can progress through and compete at five levels: bronze, silver, gold, intermediate novice and junior-senior. (Elite, Olympic skaters are all "senior.") Each level has corresponding "moves in the field test" and a "freeskate" where judges determine if the skater has mastered the requisite elements of each category.
Yesterday, I sat in on Bilardi's demanding and complex "Novice Moves in the Field" test. When I speak to him afterward, though, he's deflated. "I'm really depressed," he sighs, blaming his disappointing performance on nerves and some judges he wasn't expecting. "It was the worst I've skated. This is a sport that requires all the boxes to be checked and technical perfection. There's no way I passed."
Fortunately, Bilardi has a support network to fall back on: LAFSC provides coaching, choreography, judging and technical specialist critiques, as well as social events for the adult skaters. As such, Conte says, the LAFSC is among the country's most inclusive figure-skating organizations for adults in a sport that's almost entirely devoted to children. Ironically then, it's the grown-up figure skaters who tend to need more coddling. Perhaps it's because they don't have as far to fall, but kids are fearless on the ice — a luxury adults can't afford. "It can be terrifying trying to learn jumps, spins and footwork at 35 or 40 years old," Conte says. "We have responsibilities; if we get hurt, we can't work." 
More generally, LAFSC stands in stark contrast to rinks in most other cities, where competitive adult skaters are looked down upon. "They'll say, 'Why are we wasting ice time on a 54-year-old man?'" Conte says. "'My kid's going to the Olympics.' That's not the atmosphere here at Pickwick. We know we're not going to the Olympics, but we share the same ice as Olympians and the respect on the ice is mutual."
Before heading off to the operating room, Conte introduces me to Shawn Gutierrez, a 39-year-old TV editor from L.A. who won the 2013 Men's Silver event at the U.S. National Adult Figure Skating Championship in Scottsdale, Arizona. Adult Nationals are held annually and comprise both non-qualifying and qualifying events in singles, pairs, dance and solo dance. Sectional competitions are held in the Pacific, Midwest and Eastern sections, wherein the top four skaters advance to the national championships. "The whole world of adult figure skating blew my mind when I learned it existed," Gutierrez tells me. "Figure skating gets a bad rap. People think it's just dancing on ice and not really a sport. But it's the hardest thing I've ever done, especially as I get older."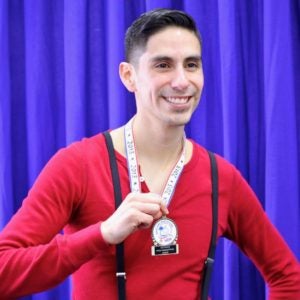 Shawn Gutierrez
Gutierrez credits his championship win with completing two single axels in combination, which at the time was considered unheard of for a silver-level skater because every jump in figure skating is toe-assisted and kicked off backwards. But the Axel kicks off going forward, so it's like you're sprinting really fast and suddenly slamming on the brakes to fly into the air. "It's very scary," Gutierrez says. He adds that he even second-guessed himself in the moments leading up to the jump. "I thought, Why am I, a 32-year-old man dressed in sequins, standing in the middle of an empty ice rink with five angry people judging my every move? It's insane."
As Monday morning progresses at the Pickwick Ice Center, I finish my fourth cup of snack bar coffee to stay warm and notice the demographics on the ice have changed dramatically. The preteens have all dispersed — off to middle school, presumably — replaced by a dozen or so middle-aged soccer moms and retired men, the members of LAFSC's Adult Coffee Club, which meets from noon to 1 p.m. three days a week.
There, I cross paths with 60-year-old Randy Gardner, one-half of the aforementioned world champion pairs team that now runs the Randy Gardner School of Skating at Ice at Santa Monica and here at Pickwick a couple of days a week. He says he's seen more and more adult men coming to the rink to get their exercise, many of whom attend the Adult Coffee Club on their lunch break.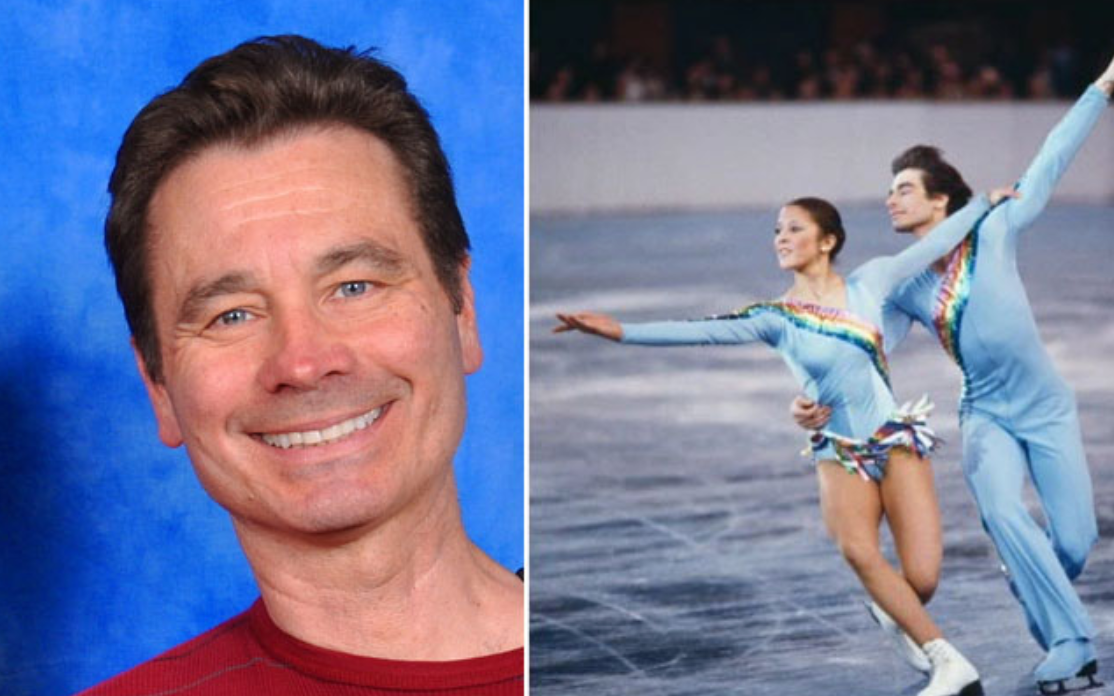 "But you gotta be careful with adult men getting into figure skating later in life," he cautions. "It depends how their body is developed, but there's always a potential for injury because they tend to be a little more stiff than the women. The first thing I do when working with an adult male skater is change their diet to trim them down a bit. The challenge is getting him to feel comfortable on his skates. So I usually send them to dance class — ballet or jazz — to work on artistic and musical interpretation."
To that end, by far the least likely skater I've run across in my 48 hours at Pickwick is 63-year-old Gary Correa, who looks more like a fireman than a figure skater. He's practicing Salchows and loop jumps for the LAFSC holiday show. "I blame this all on my daughter," the retired AT&T project manager says with a smile. After watching the Olympics as an 11-year-old, she pestered her dad for figure-skating lessons, so he enrolled her in the kids program at Pickwick, the sessions of which he'd watch from the hockey box.
"The coaches started skating by and harassing me, like, 'Hey Dad, when are you gonna get out here? But I smoked cigarettes and was really overweight." The coaches, however, persisted and eventually booked him for a couple private lessons, which Correa calls "the best thing I ever did." He quit smoking, dropped the weight and adopted a healthy lifestyle. "I've always been an introverted person and never much of a public speaker," he adds. "It freaked me out to be in front of people. Figure skating got me over that quick, though, because you're up there in front of an arena filled with people and judges."
I ask Gary why he's one of only two men on the ice today, to which he rolls his eyes. "There's a false stigma about the type of men who skate. Sure, there are plenty of American male figure skaters who are gay, but a lot of us aren't. It's a pretty diverse community, in many ways."
Which, he adds, includes their reasoning for lacing up figure skates in the first place. "For me, it was an escape from being on call 24/7 with my job at AT&T. Skating was a total disconnect; I'd step on the ice and be totally unreachable." Twenty years later, Corea is now treasurer of the LAFSC and regularly competes at the Bronze level, developing routines around the music of Baby Boomer legends like Neil Diamond, Phil Collins and The Beatles. He even joined "The Tribe," a Waiting for Guffman-esque amateur adult production company on skates. "It's really fun," he says with a proud grin. "We did Hair on Ice, James Bond, The Producers. Last year we went all out with The Rocky Horror Ice Show!"
Gardner won't let me leave the rink before speaking with Richard Dwyer, the oldest LAFSC member and Guinness Record holder for the longest career as a professional ice skater. "I just turned 83 and always do an axel on my birthday," he proudly tells me. "But I just had surgery to have cataracts removed, and I think I might have screwed up, because I got back on the ice the next day." (Fortunately, the surgery didn't fade his piercing blue eyes.)
Since winning a bronze medal behind a pair of Olympic Gold medalists at the U.S. Figure Skating Championships in 1950, Dwyer has delighted audiences around the world as "Mr. Debonair," a persona he adopted on ice for decades. "I've done nothing but skate by whole life," he tells me. When Dwyer was just 14 years old, Roy Shipstad, of Shipstads and Johnson Ice Follies ,decided to retire from performing and was looking for an nonthreatening young skater to take on his role of "Debonair." Dwyer, who had just won the national junior men's figure skating title, scored the role. Wearing a top hat, white tie and tails, Dwyer toured the country skating alongside six hourglass-figured women in glamorous dresses. "And there I was," Dwyer recalls with a smile. "Fifteen years old and right in the middle of them."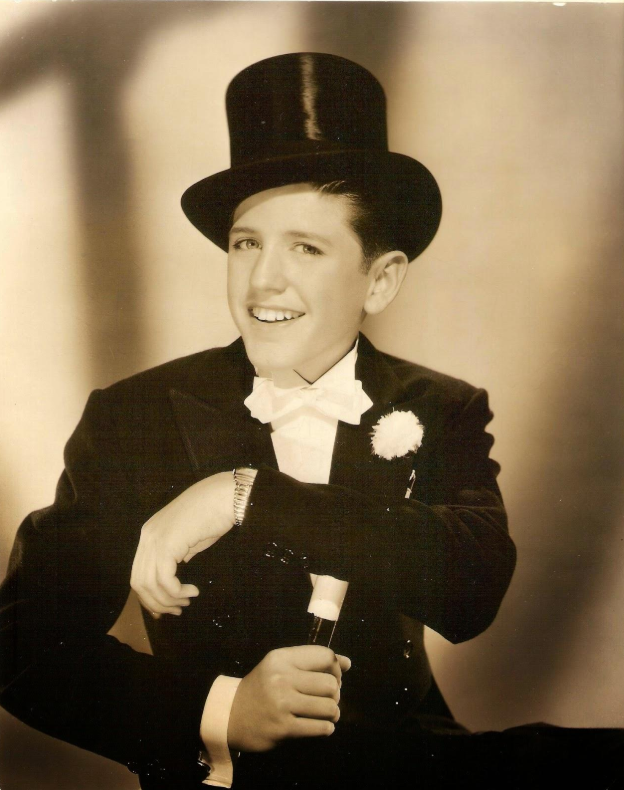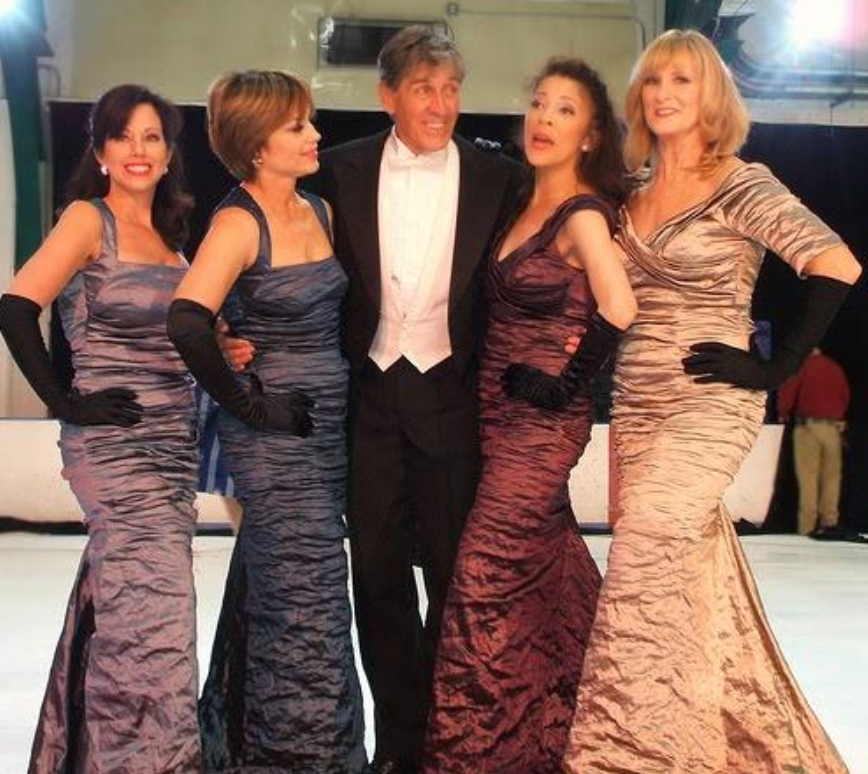 As he aged, so too did his title. When Dwyer turned thirty, he changed his performing name from "Young Debonaire" to "The Debonair," and later, "Mr. Debonair." He left the Ice Follies in 1978 at age 43 — still capable of landing axels, the jump that gave Shawn Gutierrez so much trepidation at age 32 — and skated with the Ice Capades until 1993.
He continues to skate Monday through Friday for 45 minutes to this day. "I don't golf, so this is my one athletic exercise," he says. "Nobody should ever give up this sport because they think there's a cut-off point. I'm proof that if you love skating, you can do it forever. That's the wonderful, unique thrill of being an adult figure skater."